Getting life insurance with pre-existing conditions is usually possible. Having a health issue doesn't automatically disqualify you from coverage. However, the cost of your policy may be higher depending on your health status.
In this guide, we'll explain how it's possible for you to get life insurance with your pre-existing condition and provide advice on how you can get the best deal.
Can You Get Life Insurance with Pre-Existing Conditions?
A pre-existing condition may make finding a life insurance policy more difficult, but getting coverage isn't impossible.
If you have a pre-existing condition, here are a few quick things to know:
The type of medical condition you have will impact the policies you can qualify for and their cost.
Don't try to hide your medical history from the insurance company. They can order your medical records and Medical Information Bureau file.
Work with an independent broker who can shop around for the best price.
Prepare to be flexible. You may have to lower your coverage expectations to find an affordable policy.
How Does a Medical Condition Impact Life Insurance Rates?
Medical conditions may raise your life insurance rates or disqualify you. Why?
A life insurance company pays out a death benefit to the policy's beneficiary if an insured person dies. Each policy can be worth anywhere from $10,000 to over $65,000,000. Each insurance company has thousands or millions of customers.
Insurance companies need to be smart about who they insure. They cannot accept every applicant. Risk and long-term financial viability must be balanced in order to pay out future claims.
To determine how much an applicant with a medical condition will pay for life insurance coverage, companies want to know:
What is your condition?
When was it diagnosed?
How severe is it?
Your treatment options
After you apply, the company's underwriters will review your application, medical records, and life insurance medical exam results to assess your risk level and assign a corresponding risk class.
Above-average health means lower premiums
Average health means average premiums
Below-average health often means higher premiums
Learn more about the life insurance medical exam, how it works, and why it matters.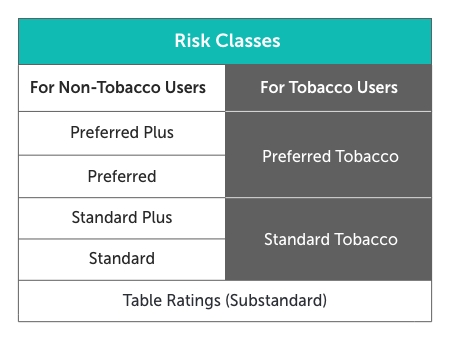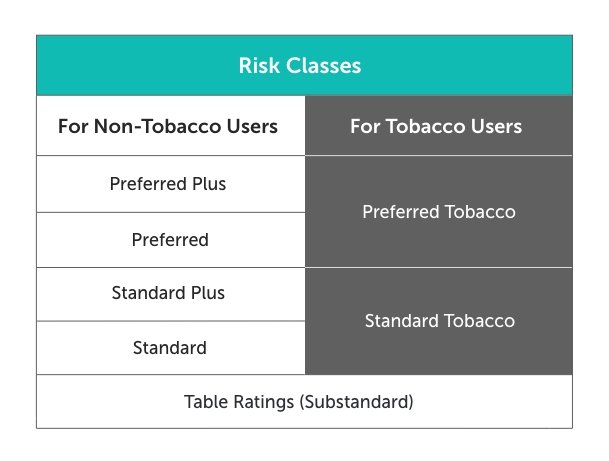 What Are Pre-Existing Conditions?
A pre-existing condition is a medical illness or injury you were diagnosed with before buying insurance. Some pre-existing conditions can impact your life insurance rate or make you uninsurable for traditional life insurance.
Below is a list of common pre-existing medical conditions:
What Medical Conditions Prevent You From Getting Life Insurance?
Because there are many different types of life insurance, even individuals with severe medical issues can get coverage. Some medical diagnoses will make you ineligible for traditional life insurance, however.
The following are disqualifying conditions for traditional life insurance:
Current cancer diagnosis and/or receiving treatment
Vital organ transplant
Kidney disease with dialysis treatment
Alzheimer's disease/dementia
Bipolar diagnosis if on SSDI
HIV diagnosis with other comorbidities
Diabetes with a coronary artery disease diagnosis
Heart attack before age 40
Down's syndrome
Recent suicide attempt
Medications: antabuse, aricept, campral, lupron, memantine, methadone, morphine, naltrexone, namenda, suboxone, vivitrol
If something on the list above is part of your medical history, life insurance isn't out of the question.
See what you'd pay for life insurance
Comparison shop prices on custom coverage amounts from the nation's top carriers with Quotacy.
What Is the Best Life Insurance for Pre-Existing Conditions?
Working with a good broker will give you the best chance at finding affordable coverage if you have a pre-existing condition. First apply for traditional life insurance. If you aren't eligible, there are other options available.
Traditional life insurance (term, whole, universal) is the most comprehensive type of life insurance, but can be strict underwriting serious medical conditions.
Guaranteed-issue life insurance will accept you regardless of your health, but coverage limitations exist.
Simplified-issue life insurance accepts more applicants than traditional but fewer than guaranteed-issue.
Group life insurance through your employer is available without medical underwriting up to specific coverage amounts.
Let's dig more into each type so you can find the best life insurance for your pre-existing condition.


Traditional Life Insurance
Traditionally underwritten life insurance means your health is used to determine your eligibility and costs.
Term life insurance is the most affordable type. Once you buy the policy, your rate is guaranteed. The cost won't increase as you age or if your medical condition worsens.
If you have a pre-existing condition, it's worth applying and seeing if you're approved. Even if you only qualify for Standard rates or are table rated, a term policy will likely be cheaper than any guaranteed-issue policy.
Work with an independent broker to find which life insurance companies will accept your pre-existing condition(s). Not all life insurance companies underwrite medical conditions in the same way.
For example, some insurers are far more lenient with anxiety medication than others. And some insurers will accept a pregnant woman's pre-pregnancy weight versus her current weight.
Life insurance rates can vary drastically between companies when medical conditions are involved. A broker can compare carriers and advocate for your needs.
Need life insurance but unsure how much? Use our free life insurance needs calculator.
Guaranteed-Issue Life Insurance
Guaranteed-issue life insurance, also known as guaranteed acceptance, is essentially whole life insurance with restrictions. You can't be refused coverage if you're between 50 and 80.
It's known as "last resort life insurance" because you typically only apply for it if you've struck out for traditional life insurance. Guaranteed-issue life insurance will accept you regardless of your pre-existing condition. Be aware of the following risks:
Coverage is limited, ranging from $2,500 to $50,000
Premiums are extremely high relative to the small amount of coverage you get
Benefits are limited during the first two years
Simplified-Issue Life Insurance
Simplified-issue life insurance requires an applicant to answer a short medical questionnaire. You can get coverage if you can say "No" to all the health conditions on that specific list.
This type of insurance has fewer underwriting requirements than traditional life insurance but more than guaranteed-issue. It also offers less coverage than traditional, but higher premiums.
Group Life Insurance
If your employer offers group life insurance, accept it. Coverage is usually only equal to your annual salary, but it's usually free or cheap. You don't need to answer any medical questions to qualify for group life insurance.
Some employers also offer you the option to buy up more coverage. This is called voluntary life insurance. We only recommend buying this additional coverage if you are denied a traditional policy. Group and voluntary life insurance policies don't follow you if you leave the company, and their premiums increase as you age.
What to Do if You're Denied Life Insurance
Applying for an individually-owned term life insurance policy is always advisable before resorting to more expensive options. If your pre-existing medical history prevents you from finding coverage, consider the following options.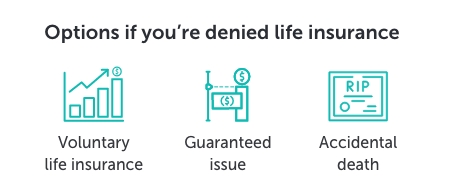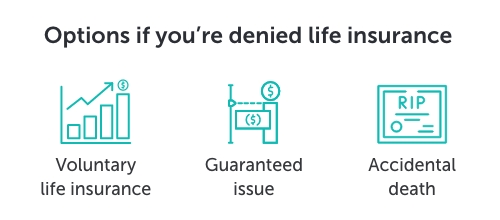 Voluntary Life Insurance
If you are denied life insurance and your employer offers buy-up voluntary life insurance, buy as much as you can afford. You can often buy up to 3-5 times your annual salary without needing to provide any medical information. Ask these questions before buying:
Is the policy portable?
Is there a conversion option?
How much will your rate increase with age?
Guaranteed-Issue Life Insurance
Again, if you meet the age requirements, you cannot be turned down for guaranteed-issue life insurance.
Because of the low coverage amounts and high premiums, this type of insurance is really only beneficial if:
You have a few years left to live
You want to leave money behind for final expenses
Accidental Death Life Insurance
Accidental death life insurance only pays out a death benefit if you die due to an accident. Because it doesn't cover illness, it's easy to buy, even if you have pre-existing conditions.
An accidental death insurance policy covers fewer causes of death, which means:
The application process is quick
It's not strict
The premiums are inexpensive
If you're not eligible for full coverage life insurance and want affordable peace of mind, accidental death life insurance can provide that.
Learn more about your options if you've been denied life insurance. 
Explore the Best Life Insurance Options with Quotacy
The benefits of working with an independent broker to find affordable life insurance cannot be overstated if you have pre-existing conditions. Here at Quotacy, we work with over 25 of the nation's top life insurance companies. Your dedicated agent will try their hardest to find coverage for you by shopping across all our insurers.
Start by getting a free, anonymous term life insurance quote. The online application only takes a few minutes to complete. Then your agent will go to work for you. Our services are free, and our agents do not work on commission.
Our mission is for everyone with a loved one who depends upon them to have life insurance. Whether you're incredibly healthy or have pre-existing conditions, Quotacy can help.
Watch the Life Insurance and Pre-Existing Conditions Video