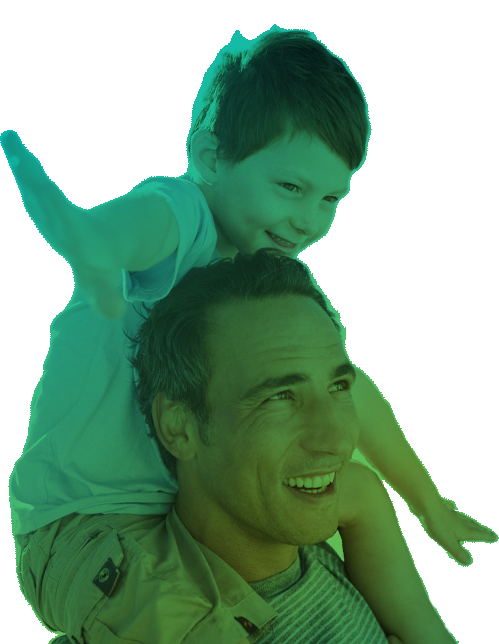 Term Life Insurance
The hassle-free way to buy term life insurance. We search across term life insurance carriers to find the plan you need at the price you want – faster than you ever imagined.




Build a quote
Researching and shopping for life insurance
just got easier, faster and way more private –
because you're in control.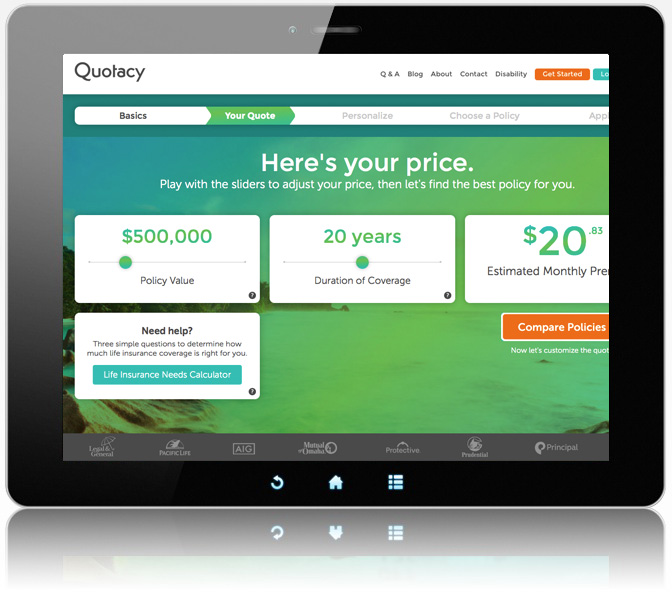 Choose a plan
You'll have plenty of choices,
from the most trusted
life insurance providers.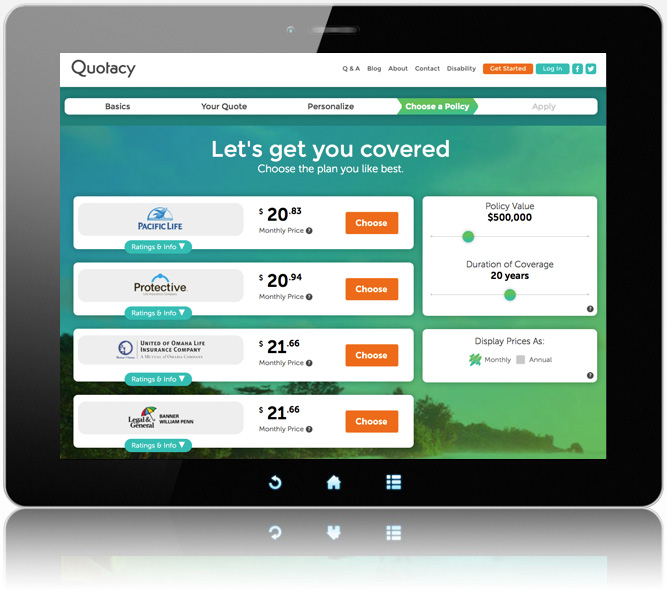 Apply Online
We'll be with you every step of the way,
and if you ever need personal assistance,
we're just a phone call away.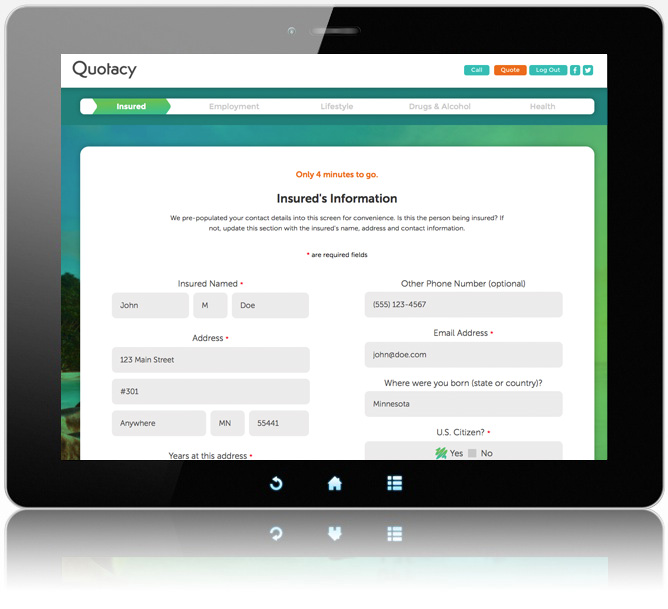 How much life insurance do I need?
Find out how much term life insurance you should buy with the easiest needs analysis calculator ever created.
Life Insurance Needs Calculator
About Us
The world we live in is changing and the way people buy things has evolved. Quotacy was born from the passion of a team of insurance professionals who recognized an opportunity to enhance the way life insurance is being purchased online. We are committed to creating the best customer experience possible, putting the user in control, and breaking down the barriers so more individuals and families could learn about and purchase the gift of life insurance. We believe in the idea of putting the user first; making quoting faster, terminology easier, and the application process smoother for those who like to shop online.
Our mission is to build a trust based relationship with you. Between Quotacy and our parent company, Hallett Financial Group, we have helped people protect their loved ones from financial tragedy to the tune of $16 billion dollars.
Our role is to guide you on your journey into the interesting life insurance buying process with technology, expertise and care. You get peace of mind with the insurance contract and mental sanity because our experienced team can troubleshoot challenging situations for you before they become problems.
Please run a term insurance quote. We believe you have the right to window-shop before you make a decision.
Quotacy is owned and powered by Hallett Financial Group, a life insurance Brokerage General Agency that has been helping licensed insurance advisors protect individuals and families since 1990 by providing customized life insurance quotes, case designs, and case management services. Together, Hallett and Quotacy will continue to embrace innovative ideas so more consumers can protect the ones they love. If you are looking for life insurance and you would feel more comfortable meeting face to face with an agent in your area we are happy to help! Please call us direct at 844.786.8229 and we will put you in touch with a trusted insurance professional in your area.
About our CEO
tastytrade.com
Recently, our CEO Jeremy Hallett was featured in a video on TastyTrade.com where they dubbed us "an online life insurance agency for the do-it-yourself consumer" and we couldn't agree more. Anyone who has loved ones who rely on their source of income needs life insurance, but sometimes they don't know where to start.
stackingbenjamins.com
Jeremy Hallett has a unique story. After selling used cars and traveling the world, he decided that life insurance was his passion…but not in the traditional sense. He wanted to create a place where people could play with insurance numbers and figure out what was right for them… without having to give out a ton of information (like who they were or their phone number). Quotacy.com was born. Listen to the Stacking Benjamins podcast
Common Questions and Answers
Purchasing the gift of life insurance can trigger many questions and concerns. The best way to feel confident in your decision is to be as informed as possible. At Quotacy, we want to make sure all of your questions are answered, and you understand the terminology used in life insurance before you take the next step. We compiled a list of key terms to know, as well as answers to common questions that consumers just like you often ask. If we missed something that's on your mind, please don't hesitate to call us, we are here to help.
How do I get a quote?
Easy! Click "Get Started" at the top of any page on Quotacy.com and you'll be taken to our extremely fast and always anonymous quote engine.
How accurate are the quotes?
Very accurate. Quotacy gets real-time information from every insurance company every day to ensure you are always seeing only the best and most current prices before you apply.
Do I have to provide my email and phone number to get a quote?
Absolutely not! Our entire business model was built on not requiring users to disclose any information like our competitors just to get a quote. If you decide to apply for one of the plans that you find, then of course at that point we will need to know a bit more about you, but to simply learn about life insurance and get a quote, we let you do it all in private!
Is my information saved and sold if I run a quote?
NO! Let us say it again; NO we will never sell your information. We pride ourselves on protecting your privacy from start to finish. You have the option to save your quotes for future reference by setting up a username and password, but we are very strict on keeping your information private.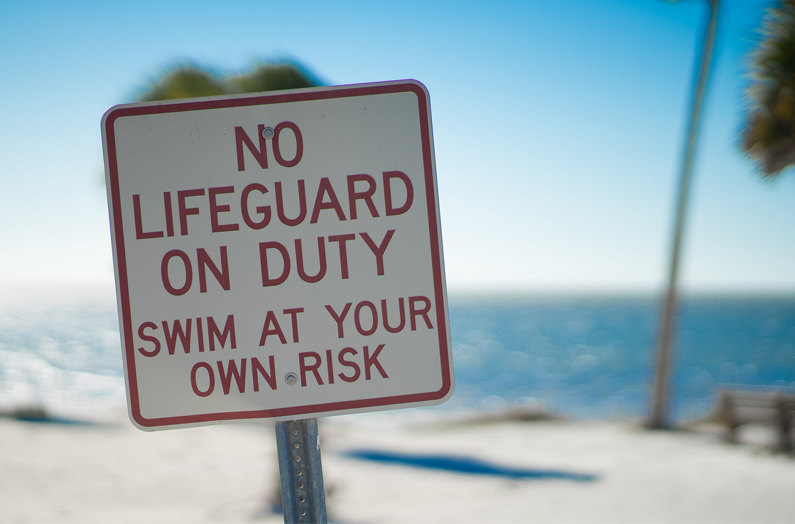 The underwriting process is what determines if you can be approved for life insurance coverage, how much coverage you can own, and how much you will have to pay. Here we dig deeper into this important process.
Are you "Saving Age" on your policy, but don't know what that means? This blog will walk you through the basics.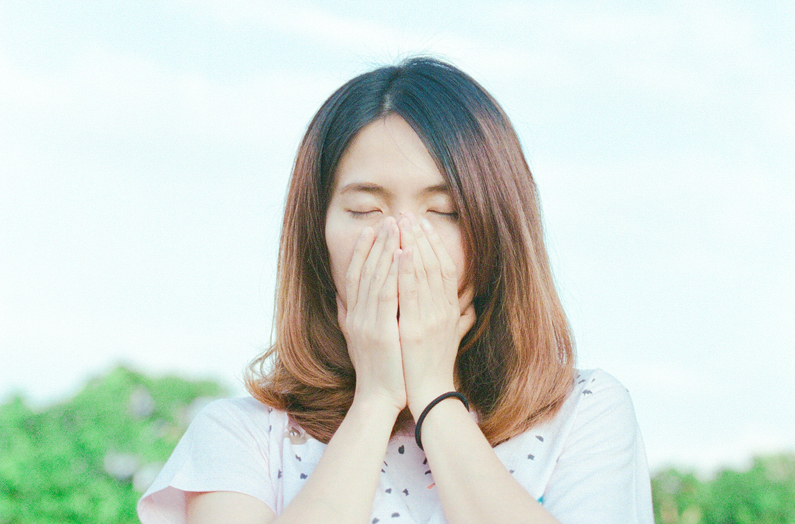 The typical adult can expect to get two or three colds per season. Here are a few tips to staying healthy and surviving this year's cold and flu season.