Whole and universal are two distinct life insurance options that cater to different needs but still have many similarities. When comparing whole life vs. universal life, the main differences are flexibility and the guarantees provided. In this guide, you'll learn more about these life insurance products and how to determine which is best for you.
Table of Contents:
Curious to learn more about all of your life insurance options? Explore the different policies and important considerations for choosing the best one for you in our wise buyers' guide. 
Universal vs Whole Life: An Overview
When it comes to life insurance, there are two broad policy categories; term and permanent. Term policies last for a predetermined period. Permanent policies last a lifetime. Both universal and whole life insurance are permanent options.  
Universal life and whole life have some key similarities.
They provide lifelong coverage
Both have cash value/savings component
The premiums are higher than term insurance
What Is Whole Life Insurance?
Whole life insurance is the most well-known type of permanent life insurance. It's also one of the least complex.
Trademarks of whole life insurance:
Premiums are fixed, so rates never change 
Cash value grows at a guaranteed rate
Guaranteed death benefit
Potential for dividend earnings
Whole life insurance is ideal if you have long-term insurance needs. For example, if you have a child who will rely on you financially for their entire life. 
Whole life insurance will pay your beneficiaries a death benefit no matter when you die as long as you keep the policy active. While you're alive, you also have the option to access the accumulated cash value through policy loans or withdrawals.
If you buy a participating whole life insurance policy, you also can earn dividends based on the insurance company's annual investment earnings and claims experience. You can receive the dividends as cash or use them to pay premiums, pay off policy loans, buy more insurance, or leave them invested with the company.
Note: A participating whole life insurance policy will be more expensive than a non-participating policy.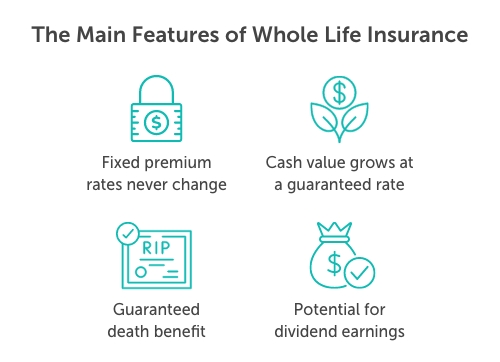 Whole Life: Pros and Cons
Whole life insurance can be a beneficial tool in your financial portfolio. Before you buy a policy, be sure to weigh the pros and cons.
Pros:
Lifelong coverage
Rates won't increase
Guaranteed death benefit for your loved ones
Accessible cash value that grows at a guaranteed rate
Cons:
Expensive premiums
Cash value loans will reduce death benefit unless paid back
Withdrawals permanently reduce the death benefit
Dividends aren't guaranteed
Learn more about whole life insurance, why it matters, and how to get it. 
See what you'd pay for life insurance
Comparison shop prices on custom coverage amounts from the nation's top carriers with Quotacy.
What Is Universal Life Insurance?
Universal life (UL) insurance is a permanent option that has more flexibility and lower premiums than whole life, but its guarantee features are less impressive.
Trademarks of universal life insurance:
Cash value growth based on market interest rates, not guaranteed rates
Death benefit can be increased or decreased over the years
Regular premium payments aren't required (but premiums may increase in later years)
Cash value can be used to pay the premiums
The flexibility of universal life insurance is attractive, but these policies require monitoring, unlike whole life insurance.
Nearly every universal life insurance policy comes with a target premium amount. If you make regular payments, this amount would be enough to keep the policy active until it's fully mature (typically age 121). This target premium is a suggestion, not a requirement.
In the policy's first year, you can choose to pay premiums monthly, quarterly or annually. After that, you can decide if you want to keep paying regularly, change the amount you pay, or even stop paying the premiums altogether (in which case the payment is deducted from your cash value).
Universal Life: Pros and Cons
Universal life insurance can be a beneficial tool in your financial portfolio. Before you buy a policy, be sure to weigh the pros and cons.
Pros:
Cheaper than whole life insurance
Flexible premium payment options
Adjustable death benefit
Accessible cash value
Cons:
Premiums are not fixed and you may be required to pay more in certain years
Cash value growth is dependent on market conditions
Oversight is required to ensure policy doesn't lapse
Universal life insurance policies carry a greater risk and potential for a greater reward, but only if you're willing to be hands-on.
What Is Indexed Universal Life Insurance?
Indexed universal life (IUL) insurance is a variation of universal life insurance. It has the flexible premiums and adjustable death benefit features of a UL policy, but the cash value growth is based on a specific stock index, such as the S&P 500.
IUL policies have a set minimum and maximum interest rate. So, even if the market index tanks, you have a floor to prevent extreme losses. Conversely, if the market index grows substantially, the policy has an earnings cap.
Example: Your IUL policy has a 1% floor and 12% cap. In Year 1, the S&P 500 drops -5% but your account will still earn 1%. In Year 2, the S&P 500 jumps 20%, but your account will only earn 12%.
What Is Guaranteed Universal Life Insurance?
Guaranteed universal life (GUL) insurance has fewer bells and whistles than other permanent products. It is the most basic and least expensive option.
If you're looking for a life insurance policy that has the potential to accumulate significant cash value, a GUL policy isn't it. Think of GUL as a term life insurance policy that lasts your entire life.
If you have life-long insurance needs but can't afford the steep whole life premiums, consider guaranteed universal life insurance.
Learn more about all of your permanent life insurance options. 
What Is the Difference Between Whole Life and Universal Life?
The most significant difference between whole and universal is the guarantees. Whole life insurance guarantees the death benefit amount, the cash value interest rate, and the premium amount. Universal life insurance provides none of these guarantees, but it's less expensive.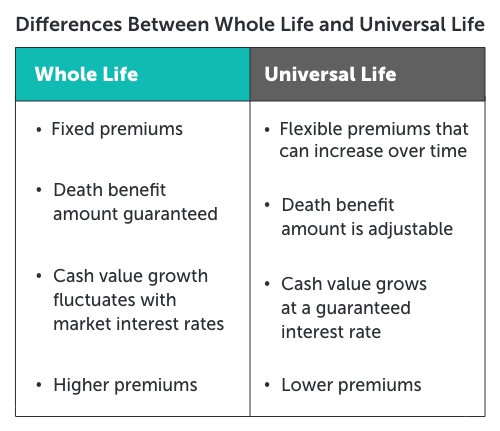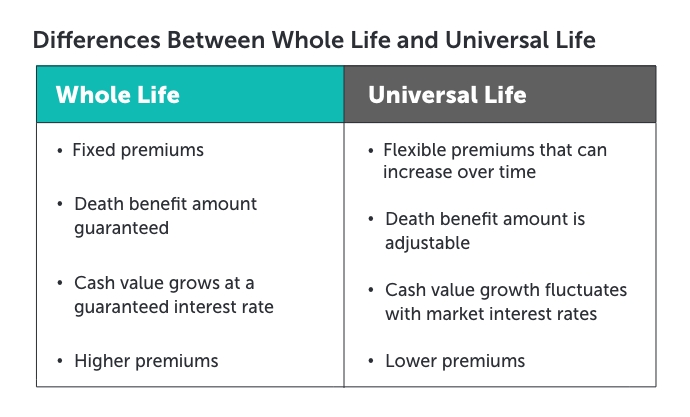 Universal Life Insurance vs Whole Life: Which Is Better for Me?
If you need permanent life insurance, choosing between whole and universal life will depend on the following factors:
Financial needs
Budget
Financial goals
Risk tolerance
Desire for flexibility
If your life insurance needs will likely change over time, a universal policy is best because it's adjustable. You can change your premium payments as your income fluctuates. You can also increase and decrease your death benefit. But remember, you need to monitor the cash value very carefully if you want to partake in its flexibility features.
If you prefer a set-it-and-forget-it option, whole life insurance may be for you. While more expensive than universal life, it's less risky due to its guarantees.
Term Life vs Whole Life vs Universal Life
Term life insurance is the cheapest and most basic form of life insurance. Whole life and universal life insurance are designed to last your entire life, have cash value features, and come with a high price tag.
Term Life
Low, fixed premiums
Coverage length lasts 10-40 years
Fixed death benefit paid to beneficiaries if you die during the term
Most can be converted into a permanent policy
Whole Life
High, fixed premiums
Coverage lasts your lifetime
Guaranteed death benefit
Guaranteed cash value growth
Universal Life
High, but flexible premiums
Coverage lasts your lifetime
Death benefit can be decreased, increased, or remain level
Cash value growth based on market rates (but guaranteed minimum)
Overall, term life insurance is best for most families because of its affordability, simplicity, and the option to convert to a permanent policy later. But a permanent life insurance plan is beneficial if you have life-long life insurance needs.
Learn more about the differences between term and whole life insurance. 
Get a Quote Today and Find Your Perfect Policy
We know buying life insurance can feel overwhelming, but it doesn't have to be. At Quotacy, we make the process easy by pairing you with a personal agent who will ensure you get the right coverage at the best price. Plus, we'll own the application process and keep you informed every step of the way.
Get a term life insurance quote and discover your options almost instantly.
Permanent life insurance quotes take more time than term. Complete a short form to start the process, and an agent will follow up with you.