Life insurance is not one-size-fits-all. You have quite a few options when it comes to life insurance. Which type is best for you?
For most families, term life insurance is the best option because it's the most affordable and it's straight-forward. Permanent life insurance products, like universal life insurance and whole life insurance, are more complex, have many features, and are more expensive.
We'll discuss the differences and benefits of these different life insurance products today so you can make an educated decision for yourself.
Term Life Insurance
Term life insurance is protection for your family against financial hardship should you die unexpectedly. Term life insurance is designed to last a specific period of time, called the term length, ideally when your family is most financially vulnerable.
These are the years you're building a life together with a partner, raising children, paying a mortgage, starting a business, etc. These are the years that if your income suddenly disappeared, your family's standard of living would be seriously affected.
Term life insurance policies can last up to 40 years (term options vary based on your age when you apply.) Term life insurance coverage amounts range from $50,000 to up to millions of dollars. If you were to die during the term, your beneficiaries receive a check in the amount of coverage you chose.
The cost of any life insurance policy is ultimately based on your age and health status, but, overall, term life insurance has the lowest premiums.
Universal Life Insurance
Most permanent life insurance policies, in addition to lasting your entire life, also accumulate a cash value that you can access while you're alive, if you wish to. Universal life insurance is a type of permanent life insurance that focuses more on flexible premiums rather than cash value growth.
While some types of permanent life insurance policies have savings components that can grow above and beyond a normal interest rate, a universal life policy will only pay a set amount of interest each year. Less growth opportunity means the rates for a universal life insurance policy are less expensive than whole life insurance.
For families who want permanent life insurance for financial protection long term and don't particularly need cash value accumulation, universal life insurance should be considered.
For families on a budget that need lifelong protection, guaranteed universal life insurance is ideal. Guaranteed universal life insurance is the most affordable way to have permanent coverage. There aren't too many extra bells and whistles as with most other permanent products.
As long as you pay the premiums to keep your policy active, your beneficiaries will receive the guaranteed death benefit when you die. If your needs change as time goes on, you also have the option of decreasing your death benefit without having to buy a new, separate policy. This can be helpful if your budget changes and you need to lower your premiums, or if your financial responsibilities decrease and you no longer need as much coverage.
Whole Life Insurance
Whole life insurance is the most well-known type of permanent life insurance. It's the least complex type of permanent life insurance, but it's often the most expensive.
In addition to whole life insurance providing coverage your entire life, it has a cash value accumulation feature and usually the option to earn dividends.
When compared to other permanent life insurance products, whole life insurance is a bit more manageable and has less risk. Whole life insurance premiums are fixed so you know what you'll be paying the entire life of the policy. Other permanent products, such as universal life insurance, need more monitoring because of the flexibility and possible fluctuation of premium payments. Whole life insurance also comes with a guaranteed interest rate versus being tied to the stock market, so the cash value growth is steady.
Term Life Insurance
Universal Life Insurance
Whole Life Insurance
Coverage Length
Ranges from 10-40 years
Lifelong
Lifelong
Cash Value
No
Yes, fluctuates with market interest rates
Yes, grows steadily with guaranteed interest rate
Premiums
Low, fixed
Flexible
Fixed
Death Benefit
Level
Level or Increasing
Level (can increase with paid-up additions via dividends)
Features
· Fixed premiums (won't increase or decrease)
· Fixed death benefit (proceeds paid to beneficiaries won't change)
· May be able to convert into a whole life policy
· Optional riders available for additional benefits
· Flexible premiums
· Adjustable death benefit
· Cash value can accumulate to substantial amounts that allow for withdrawal and loan options
· Partial withdrawals don't accrue interest
· Fixed premiums (won't increase or decrease)
· Some policies can have increasing death benefits
· Some policies have dividend payouts
· Cash value can accumulate to substantial amounts that allow for withdrawal and loan options
See what you'd pay for life insurance
Comparison shop prices on custom coverage amounts from the nation's top carriers with Quotacy.
Which Is Better: Term, Universal, or Whole Life Insurance?
Neither is categorically better than the other. The real question is: which one is better for you?
Deciding if term, universal, or whole life insurance is better for you depends on your family structure, financial situation and goals, and your risk tolerance. Overall, term life insurance is best for most families because of its affordability and simplicity, and the option to convert to a permanent policy later.
Being informed and knowing the differences and benefits of term vs universal life insurance vs whole life insurance is the best place to start. Your next step is to get quotes.
For term life insurance, getting quotes is easy. Pop on over to our quoting tool and you'll be able to see both term life insurance quotes and guaranteed universal life insurance quotes instantly without even providing any contact information. This will give you an idea of the costs and you can play around with how much coverage and how long of a term length you need.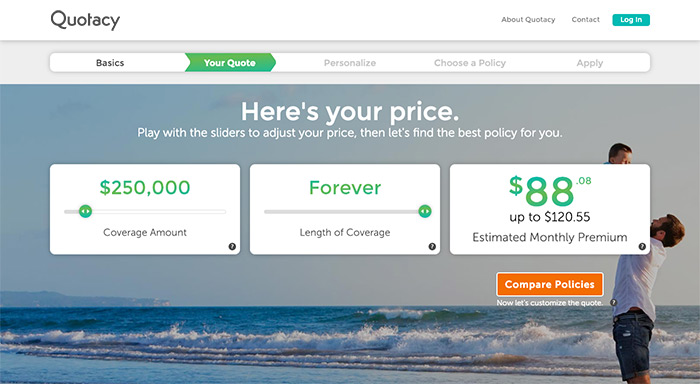 Tip: Sliding the Length of Coverage tool to "Forever" gives you guaranteed universal life insurance quotes.
Universal life insurance and whole life insurance are a bit more complicated to quote. Pop on over to our Whole vs Universal Life Insurance page to fill out a short form so an agent can contact you to provide a personalized quote. You can also learn more in-depth about the various types of permanent life insurance on this page.
No matter which type of life insurance you end up choosing, Quotacy will guide you through the process. Your dedicated agent will keep you posted from start to finish and be available for any questions you may have now or in the future.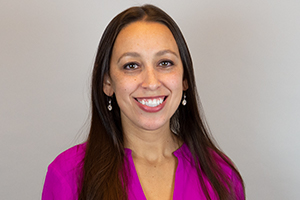 Natasha Cornelius, CLU
Senior Editor and Licensed Life Insurance Expert
Natasha Cornelius, CLU, is a writer, editor, and life insurance researcher for Quotacy.com where her goal is to make life insurance more transparent and easier to understand. She has been in the life insurance industry since 2010 and has been writing about life insurance since 2014. Natasha earned her Chartered Life Underwriter designation in 2022. She is also co-host of Quotacy's YouTube series. Connect with her on LinkedIn.