If you aren't applying to the right company, finding life insurance coverage if you have a mental health condition can be frustrating. Work with an independent life insurance broker if you have been diagnosed with depression. Life insurance companies underwrite differently, and a broker will help match you to the insurer that will be most lenient with your diagnosis.
In this guide, you'll learn how insurance companies view depression and how to get approved for life insurance.
How Depression Is Defined by Life Insurance Companies
Depression is a common mood disorder that affects how you feel, think, and act. Symptoms range from mild to severe.
There are many different life insurance companies, and they all underwrite medical conditions differently. Applicants with a history of depression are evaluated on a case-by-case basis. 
When you apply for life insurance with depression, the carrier will want to know the following information:
The type of depression you've been diagnosed with
The date of the diagnosis and its severity
If you have a history of suicidal thoughts or attempts
If you have a history of substance abuse (alcohol or drugs)
The type of medications you use (if any)
If you've been hospitalized for the condition
How you manage your symptoms
Be honest when you apply. The insurance companies will pull medical records to confirm the information you provide on your application.
Finding affordable life insurance can be difficult if you have depression. The best way to find the right coverage option is to work with a broker that has contracts with multiple carriers and can shop around advocating on your behalf. Quotacy can help you.
Can I Get Life Insurance if I Have Depression?
Yes, you can get life insurance if you have depression. While the diagnosis isn't an automatic decline, depression can affect life insurance costs.
The best way to get the best life insurance rates is to apply through a broker like Quotacy. When you apply and provide information about your depression diagnosis, your Quotacy agent will reach out to the carriers we're contracted with to determine which company will be the best fit for you.
Here's a real-life case study to consider:
The Client: Linda, a Quotacy customer, 41 years old, has been diagnosed with depression and anxiety and takes medication to treat it.
The Application: Linda compared quotes online and applied for a term life insurance policy. The life insurance company she chose to apply with would have offered her Preferred—the second-best risk class possible.
The Quotacy Process: Linda's Quotacy agent felt confident he could get her the best risk class possible if she were willing to apply to Corebridge (formerly AIG) instead. Corebridge has a history of treating depression diagnoses more favorably than the company she originally picked.
The Outcome: Linda went with her agent's suggestion, and they moved her application to Corebridge. She was approved for Preferred Best—the best risk class possible—and saved $200 annually in premium payments.
See what you'd pay for life insurance
Comparison shop prices on custom coverage amounts from the nation's top carriers with Quotacy.
​Can I Be Denied Life Insurance Due to Depression?
Yes, there are some cases where you may be denied life insurance if you have depression.
Some reasons you may be declined life insurance for depression include:
You apply through a captive life insurance agent whose company is strict with a depression diagnosis.
You have documented history of suicidal thoughts or attempts.
You don't take prescribed medication correctly or have refused treatment.
A history of suicide attempts or suicidal thoughts will be looked into thoroughly by the insurance company. The more time that has passed since the incident, the easier it is to find coverage.
If you're denied traditional life insurance, you may still have options. Additional life insurance solutions may include:
Group life insurance – Get as much group life insurance through your employer as you can afford if you can't get life insurance elsewhere. Group life insurance accepts all applicants regardless of any pre-existing medical conditions.
Guaranteed issue life insurance – These policies have age restrictions but don't require any medical information to qualify. The coverage amounts are limited, and premiums are high, but they can help your loved ones with final expenses.
Simplified issue life insurance – This type of insurance only requires an applicant to answer a few medical questions. Like guaranteed issue, the premiums are high, and coverage is limited.
Accidental death insurance – This policy pays benefits to your beneficiaries if your death is an accident. Coverage is easy to apply for and quick to get. There are just a few questions, but no medical exam is required.
Apply for traditional life insurance before trying any of these options. Traditional life insurance (term, whole, and universal) offers better coverage options and pricing.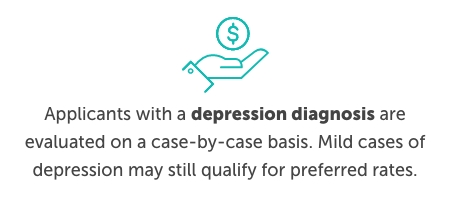 How Depression Impacts Life Insurance
Life insurance companies are all about risk. If an underwriter determines an applicant has a high risk for premature death, their rates will be higher.
Many factors can contribute to the risk of premature death, such as high cholesterol, a history of reckless driving, the love of mountain climbing, and severe depression.
Severe depression is a serious condition linked to suicide. So, it's important to note that all life insurance policies include a suicide clause. This clause states that the insurance company will not pay out the policy's death benefit if the insured dies by suicide within the first two years of owning the policy.
How Depression Affects Life Insurance Rates
If you've ever been diagnosed with depression and haven't needed medication to treat it, your life insurance rates likely won't even be affected. Mild cases of depression may also still qualify for preferred rates.
Applicants with a depression diagnosis are evaluated on a case-by-case basis. The life insurance company will approve or deny your application. If they approve you, they will also offer a specific rate class, which dictates what your policy will cost.
Life Insurance Rate Classes:
Preferred Plus and Preferred – Both of these ratings mean your condition is considered well-controlled or mild. The insurance company doesn't consider your depression to affect your overall health.
Standard Plus and Standard – These ratings mean your condition isn't severe, but it appears to impact your general health.
Table Rating – A table rating is an added percentage fee on top of the Standard rate. This means your condition appears to impact your overall health significantly. Table ratings can range from Table 1 to Table 16.
Example of pricing:
A 35-year-old non-smoking male applies for a 20-year term policy with a $500,000 death benefit. Below are examples of what his monthly premiums could be according to the insurance company's rate class:
Preferred Plus rate: $21
Preferred rate: $26
Standard Plus rate: $34
Standard rate: $40
Table 3 rate: $54
Table 10 rate: $100
As we mentioned earlier, life insurance companies underwrite differently from one another. Some carriers are more lenient with a depression diagnosis than others. Applying to the right carrier can save you hundreds of dollars every year.
This is why working with an independent broker is essential if you have a history of depression. Then, you can get the best rate possible.
How Antidepressants Affect Life Insurance
Many people who have a depression diagnosis take prescribed medication as one step of treatment. Medications may include serotonin reuptake inhibitors (SSRIs), tricyclic antidepressants (TCAs), monoamine oxidase inhibitors (MAOIs), and selective serotonin/norepinephrine reuptake inhibitors (SNRIs).
The fewer medications you take, the easier it is to get life insurance coverage. But if your condition is well-controlled, even an applicant who takes three medications can qualify for Preferred rates through some insurance carriers.
Because the depression underwriting process varies considerably between carriers, if you take antidepressants to treat your diagnosis, apply to an independent broker to get the best rate possible.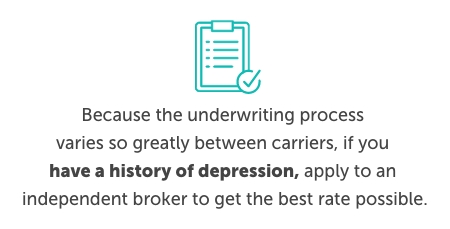 Get Life Insurance with Depression Through Quotacy
Life insurance is essential to secure your family's financial future, particularly if they rely on your income.
A depression diagnosis doesn't mean you can't have affordable life insurance coverage. We'll help you find the right coverage at the best price so you can protect those you love most. 
The best life insurance for people with depression varies based on their diagnosis, symptoms, and treatment plan. Quotacy will help match you to the right insurance company. 
Start by getting a free term life insurance quote. At Quotacy, you don't need to give your personal contact information to check prices. Everyone deserves access to accurate and trustworthy information about the cost of life insurance without the fear of being bombarded by calls and emails.
If you or someone you know is in crisis, call the National Suicide Prevention Lifeline at 1-800-273-8255 or text the Crisis Text Line (text HELLO to 741741). Both services are free and available 24/7. The deaf and hard of hearing can contact the Lifeline via TTY at 1-800-799-4889. All calls are confidential.
Note: Life insurance quotes used in this article are accurate as of January 18, 2023. These are only estimates and your life insurance costs may be higher or lower.
Watch the Life Insurance and Depression Video