Getting life insurance through your work is a nice perk. Employer-provided life insurance is often free or heavily discounted for employees, but it's very basic and likely insufficient to cover all your life insurance needs.
We recommend taking advantage of your employer-paid life insurance, also called group life insurance, because it's free (or close to it). However, you should also get a personal life insurance policy to cover your remaining needs.
Here's a guide to the pros and cons of getting coverage through work, how it works, and why owning a personal policy is essential.
What Is Employer-Provided Life Insurance?
Your employer may offer group life insurance coverage as part of your employee benefits package. It's typically free (or cheap). But the coverage is a minimal amount, often equal to your annual salary.
You don't need to answer any questions to sign up for the basic level of group life insurance. It's usually as simple as checking a box on your work's open enrollment form.
Employees can also purchase additional voluntary life insurance through work. You can buy up to 3-5 times your salary without proving you're insurable. This amount is called the "guaranteed issue" amount. Applying for coverage above this amount requires evidence of insurability.
How Does Life Insurance Through an Employer Work?
During open enrollment, you can look through your employer's life insurance options and sign up.
Life insurance for employees typically include the following options:
Basic group life insurance: free (or cheap) term life insurance coverage in an amount equal to your annual salary, up to a maximum.
Guaranteed issue voluntary life insurance: term life insurance coverage is 3-5 times your annual salary. Cost is based on group rates, and no medical questions are required.
Voluntary life insurance requiring evidence of insurability: term life insurance coverage is 8-10 times your annual salary. Cost is based on group rates, and a medical questionnaire is required.
Every year during open enrollment, you need to re-enroll in the life insurance plans. Depending on your age, your voluntary life insurance costs may increase. Group rates increase incrementally based on age. See the table below for an example of voluntary life insurance rates.
| | | |
| --- | --- | --- |
| Age | Per $1,000 of Coverage | Monthly Cost of a $500,000 Voluntary Life Insurance Policy |
| 15-24 | $0.034 | $17.00 |
| 25-29 | $0.041 | $20.50 |
| 30-34 | $0.054 | $27.00 |
| 35-39 | $0.061 | $30.50 |
| 40-44 | $0.068 | $34.00 |
| 45-49 | $0.102 | $51.00 |
| 50-54 | $0.156 | $78.00 |
| 55-59 | $0.292 | $146.00 |
| 60-64 | $0.449 | $224.50 |
| 65-69 | $0.864 | $432.00 |
Employer Life Insurance vs Private: Pros and Cons
Company-paid life insurance is a nice benefit, especially since employers are not required to offer it. But don't make the mistake of thinking your life insurance needs are completely covered by group life insurance.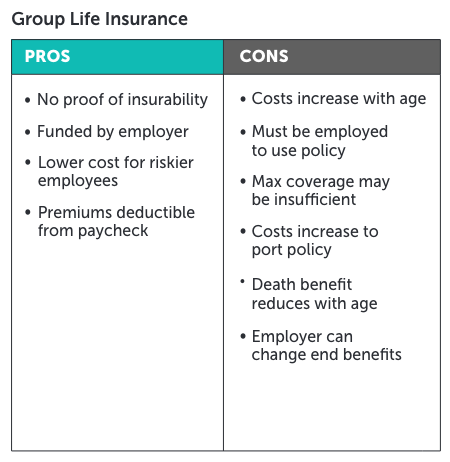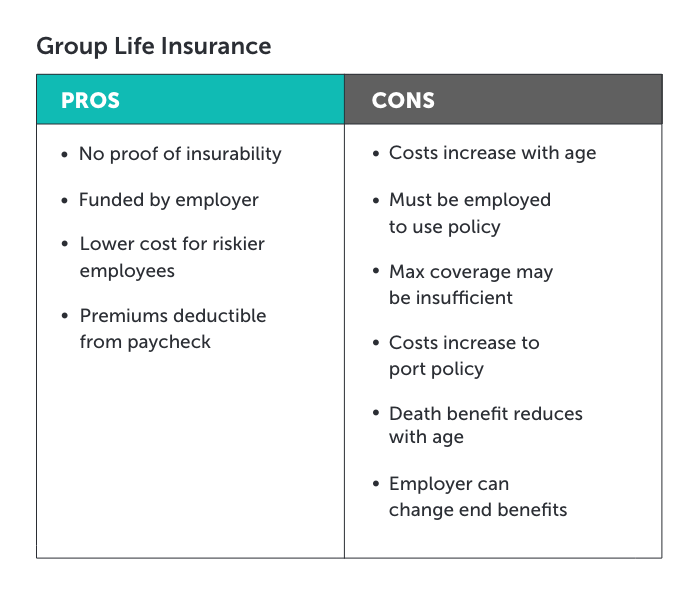 Like most things, group life insurance has advantages and disadvantages.
Pros of Group Life Insurance
No proof of insurability required up to a certain amount for employees, their spouses and children
Small amount of coverage funded by employer
For supplemental coverage, costs are generally lower initially for tobacco users or people with health issues
Premiums are easily deductible from your paycheck
Cons of Group Life Insurance
Policy will only pay out if you die while still employed with the company
Costs of voluntary coverage increase as you get older
Maximum amount of coverage available may not be enough to cover your needs
If plan is portable, your costs will increase to bring it with you
Death benefit often reduces as you age (with most benefits terminating at a certain age, typically retirement age)
An employer can change or eliminate their life insurance benefits package at any time
Should I Get Life Insurance Through Work?
We recommend that you accept any free group life insurance through your work. But there are essential factors to consider.
Your beneficiaries will only be able to claim benefits if you die while employed with the company. If you leave the company or lose your job, coverage ends. Suppose you get severely ill or injured and are unable to work. Your employer's benefits contract may state they can discontinue your coverage and terminate your employment if you cannot work for a period of time.
Some group life insurance policies are portable. This means you can apply to keep your coverage when your benefits end. You will pay increasing group rates based on your age.
You must apply for portable coverage within a specific time frame after your group life insurance coverage ends (typically 30-60 days). You're not guaranteed acceptance. Many insurers state that you will not be eligible for portable coverage if you have a medical condition that impacts your life expectancy.
If you have health issues, converting your group life insurance may be an option. Some insurers will allow you to convert your group coverage into an individual whole life insurance policy. The new whole life insurance policy rates are age-based and higher than group life insurance.
Should I get voluntary life insurance through work?
Whether or not you should take advantage of supplemental voluntary life insurance depends on individual factors, such as age and health. If you have significant health issues and were denied private life insurance, buy as much guaranteed issue voluntary life insurance as you can afford.
You'll pay group rates for the voluntary life insurance coverage. Because of this, if you're healthy, voluntary life insurance may be more expensive than buying a private plan. If you have chronic pre-existing medical conditions, life insurance may be cheaper through your employer.
It depends on your family and financial goals when deciding what type of life insurance to get and how much. Group life insurance may be sufficient if you're single and have enough savings to cover your final expenses.
See what you'd pay for life insurance
Comparison shop prices on custom coverage amounts from the nation's top carriers with Quotacy.
Should I Get Supplemental Life Insurance Outside of Work?
Getting life insurance through your employer may be better if you applied for a personal life insurance policy outside of work and have been declined. There are many life insurance options in the marketplace, and chances are you can find a better policy.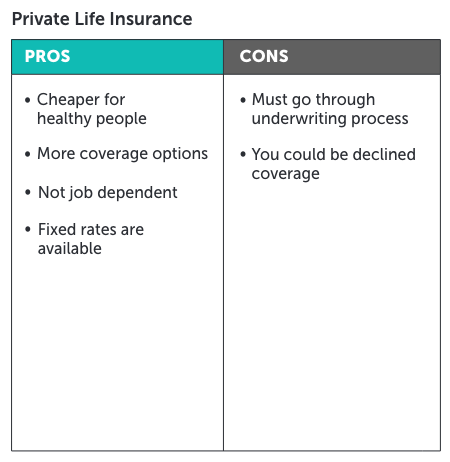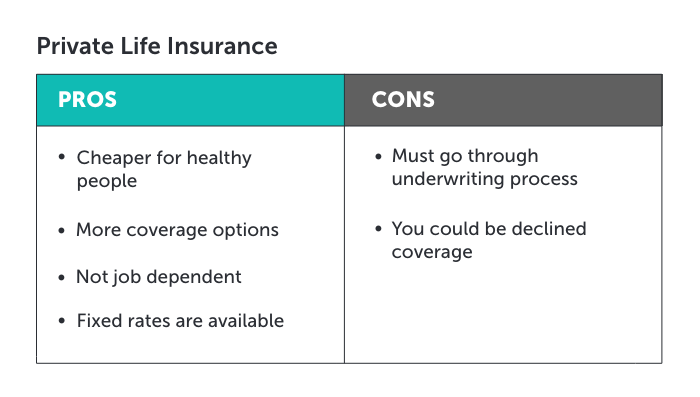 Owning your own private life insurance policy is peace of mind. It's in your control. You don't need to worry about staying with your employer to keep your coverage.
Pros of Private Life Insurance
Generally cheaper over the life of the policy, especially for healthy people
Leaving your employer doesn't affect your coverage
You can lock in rates for a period of 10 years up to your lifetime
You have more coverage amount options
Cons of Private Life Insurance
You need to go through underwriting
There's a chance you may be declined
Work with an independent life insurance broker to find a policy outside of work. Brokers have access to multiple life insurance companies, which gives you the best chances of finding affordable coverage, especially if you have health issues.
Owning private term life insurance is the best option if you have a family or other dependents. You can choose from various coverage options to ensure your life insurance needs are covered.
Term lengths range from 10-40 years, and coverage amounts range from $50,000 to tens of millions. Term life insurance rates are fixed— unlike group life insurance options, these rates won't change.
A term life insurance policy is an affordable way to provide backup financial protection for your family. Should you die unexpectedly, the death benefit can cover your debt, replace your income, and ensure your family's standard of living isn't negatively affected.
Use our term life insurance calculator to determine how much coverage you need. 
Get a Term Life Insurance Quote from Quotacy
If you have people who depend on you, your basic group life insurance through work isn't enough to ensure your family is adequately protected.
Apply for an individually-owned life insurance policy outside of work. If your health status prevents you from being approved, buy supplemental voluntary life insurance through your employer.
Learn more about buying life insurance wisely or get an instant term life insurance quote. Quotacy is an independent life insurance broker, and our non-commissioned agents will help you find the right coverage at the best rates.
Note: Life insurance quotes used in this article are accurate as of October 10, 2022. These are only estimates and your life insurance costs may be higher or lower.
Watch the Group Life Insurance Video