Can I get life insurance if I have lupus?
Do you prefer to learn by watching? We answer this question in a video below. Click here to jump ahead.
The Lupus Foundation of America estimates that at least 1.5 million Americans have lupus and more than 16,000 new cases are reported annually across the country.
There is currently no cure for lupus. Treatments focus on improving quality of life through controlling symptoms and minimizing flare-ups.
Can I get life insurance with lupus?
The short answer:
Yes, a lupus diagnosis is not an automatic decline for coverage. However, we also want to set expectations and be transparent about pricing: life insurance premiums for individuals with lupus are going to be higher than average.
» Compare: Term life insurance quotes for lupus
If you have lupus, your best chances of getting affordable life insurance is to apply through a broker, like Quotacy. Brokers are not tied to one life insurance company and are able to shop the market.
We want you to get approved and will work hard to help you get coverage. Start the process by getting a free term life insurance quote or keep reading for more in-depth information about life insurance and lupus.
See what you'd pay for life insurance
Comparison shop prices on custom coverage amounts from the nation's top carriers with Quotacy.
Can I get life insurance if I have lupus?
The long answer:
Individuals with lupus can obtain life insurance but because the disease is commonly chronic and relapsing, it is unlikely you will be a good candidate for the preferred risk classes.
Life insurance risk classes range from Preferred Plus (the best possible offer) to Standard. If you have risk factors that place you outside of these risk classifications, you will be table rated. Life insurance companies want to insure as many people as possible and table ratings are used to help offset the costs of insuring someone who is considered risky.
See the tables below for reference.
Risk Classes for Non-Tobacco Users
Preferred Plus
Preferred
Standard Plus
Standard
| | | |
| --- | --- | --- |
| Table Rating (alphabetical) | Table Rating (numerical) | Pricing |
| A | 1 | Standard + 25% |
| B | 2 | Standard + 50% |
| C | 3 | Standard + 75% |
| D | 4 | Standard + 100% |
| E | 5 | Standard + 125% |
| F | 6 | Standard + 150% |
| G | 7 | Standard + 175% |
| H | 8 | Standard + 200% |
| I | 9 | Standard + 225% |
| J | 10 | Standard + 250% |
When life insurance underwriters are evaluating the application of an individual with lupus, they take the following into consideration:
Disease duration
Duration in remission
Symptoms
Medication history
Response to therapy
If there is any renal or cerebral involvement
If there is any presence of cardiovascular or respiratory impairment
Let's take a look at some examples.

Example #1
Jane Smith is 30 years old and was diagnosed with lupus four years ago. No serious organs have been affected and she currently takes a small prednisone dose daily as treatment.
Jane applies for a 20-year $500,000 term life insurance policy. She is table rated at Table D.
The cost of this policy at a Standard rate is $35 per month, but because she is rated Table D, the life insurance company adds 100% to her monthly premium. Therefore, she pays $70 per month.
Example #2
Liz Jones is 40 years old and was diagnosed with lupus five years ago, but currently has no symptoms and it has been over three years since she has had to partake in any treatment plan.
Liz applies for a 25-year $250,000 term life insurance policy. She is given the Standard risk classification. The cost of her policy is approximately $40 per month.
Example #3
Teresa Johnson is 35 years old and was diagnosed with lupus over ten years ago. She currently is being treated with an immunosuppressant and her lab tests show signs of kidney disease.
Unfortunately, Teresa would likely be declined for life insurance.
With certain medical conditions, like lupus, it's advisable to apply for life insurance sooner rather than later.
With situations like Jane Smith, she was able to be approved at Table D. While her premiums may be higher than Standard, at least she has coverage in place in case her condition gets worse. However, if her condition improves, like it did with Liz Jones, Jane can opt to apply for a new policy later in life and see if she can lower her premiums.
One benefit to working with Quotacy is that we work with multiple A-rated life insurance companies. We have the ability to shop cases around to different companies to try our best to get an applicant approved.
Our in-house underwriter has worked in many carrier home offices, knows how to navigate each individual's health history, and knows which life insurance company would be the best option for your individual case. If you are ready to buy life insurance coverage, get a term life insurance quote now and let's start the process.
If you have any questions regarding underwriting lupus, feel free to contact us directly. If you are looking to get an idea on the cost of life insurance if you have lupus, it costs nothing to run a quote and apply online. You will have a dedicated Quotacy agent shop your case with our top-rated life insurance companies to ensure you receive the best possible price.
Watch the Lupus and Life Insurance Video
Video Transcript
Hey everyone, we're Jeanna and Natasha from Quotacy, an online life insurance agency where you can get life insurance on your terms.
At Quotacy, our goal is simple: to make it easy for everyone to buy the right amount of life insurance to protect their loved ones.
Today we're talking about lupus and the impact it has on the life insurance buying process.
The good news is just because you have been diagnosed with lupus doesn't mean you'll automatically be declined for life insurance. However, we want to set realistic expectations up front and be transparent about pricing. If you have lupus, your life insurance premiums will be higher than that of the average person. And depending on the severity, you may be declined for traditional life insurance.
Your best chance for approval is to apply through a life insurance broker like Quotacy. Life insurance brokers are not tied to one insurance company.
After you apply online, your Quotacy agent will anonymously shop the details of your case with all the top-rated insurance companies we work with to match you with the company that will give you the best offer.
» Compare: Term life insurance quotes
Life insurance companies use risk classes to determine how much an individual will pay for their life insurance coverage. Life insurance risk classes range from Preferred Plus, which is the best possible offer, to Standard, which is average.
If you have factors that will make you a higher risk on average you'll be table rated. Lupus often is a medical condition that is considered a higher risk than average in an applicant.
Here at Quotacy we typically see insurance companies offer lupus applicants Standard risk at best. But the majority have been table rated.
Being table rated means that the insurance company has decided that the risk to insure you is essentially outside of their comfort zone and you will need to pay extra in order to be insured. Table ratings range from Table A or Table 1 to Table P or Table 16. Every step down the table you go, the higher your premiums will be.
The sample pricing you see here is for a 30-year-old non-smoking female applying for a 20-year $500,000 term life insurance policy.
Sample Quotes for $500,000 20-Year Term Life Insurance Policy
30-Year-Old Healthy, Non-Smoking Woman
Risk Class
Monthly Premium
Preferred Plus
$17.37
Preferred
$20.77
Standard Plus
$26.84
Standard
$31.64
Table 1
$32.26
Table 2
$37.68
Table 3
$43.10
Table 4
$48.51
Table 5
$53.93
Table 6
$59.35
Table 7
$64.77
Table 8
$70.19
Life insurance companies want to be able to provide coverage to anyone who needs it, but they also need to balance the risks they take on to ensure they can honor all their promises to policy owners, such as paying out death claims and dividend payments. If insurance companies offered the best risk classes to those with ideal health and to those with medical issues they would not be in business very long.
To illustrate why working with a broker is beneficial if you have lupus, take a look at this Quotacy client's case.
Jane Smith applied for a term life insurance policy through Quotacy. Her agent noticed she listed lupus as a medical condition she's diagnosed with. Her agent then anonymously shopped her case around to the insurance companies we work with.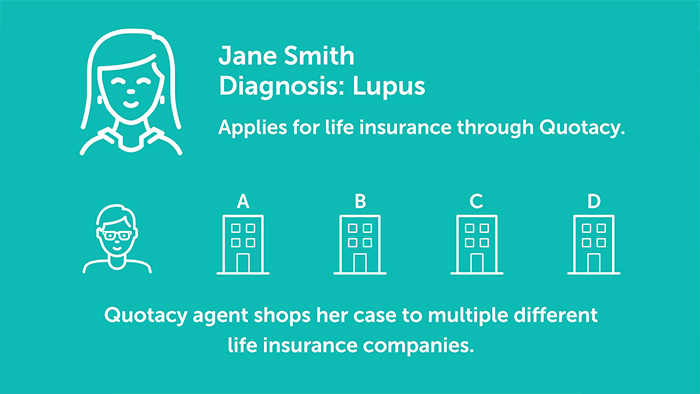 Risk Class Offers for Jane Smith with Lupus Diagnosis
Insurance Company A
Postpone 1 year for Table 8
Insurance Company B
Postpone 5 years and will reconsider later
Insurance Company C
Decline
Insurance Company D
Table 6
Insurance Company E
Table 4
Insurance Company F
Table 2
Insurance Company G
Standard
Insurance Company H
Table 4
As you can see, the insurance company's risk class offers were all over the map.
Had Jane applied directly to Insurance Company C, for example, instead of applying through Quotacy, she would have been declined and likely thought she wasn't a candidate for life insurance. Her Quotacy agent pushed Jane's application through to Insurance Company G and she was able to get life insurance coverage to protect her family.
If you're wondering how much life insurance would cost know that online life insurance quoting tools alone can't give you 100% accurate information. With a lupus diagnosis, there are just too many variables for a quoting tool to calculate. To find out if you can get approved for life insurance and what it would cost, you'll need to apply.
When you apply for life insurance through Quotacy.com and check Yes to Lupus please provide as many details regarding your diagnosis as you can.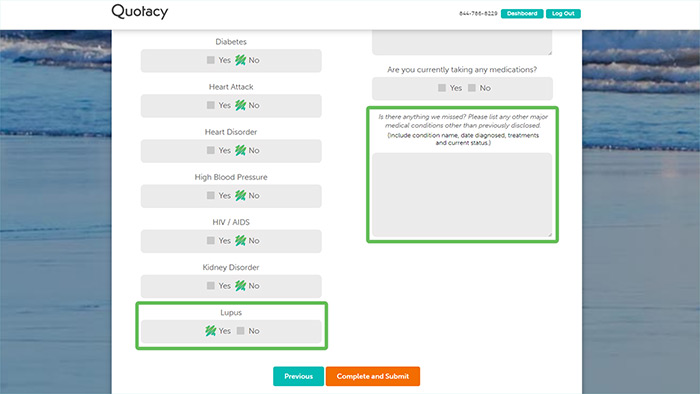 By answering these questions honestly and with as much detail as possible your dedicated Quotacy agent will be able to set realistic expectations up front regarding the cost of life insurance.
If there's a website out there showing you a cheaper price than what your Quotacy agent can find that other website is likely only showing you a best case scenario price and not factoring in your lupus condition properly. There are no coupons or promo codes when it comes to life insurance. It's all very tightly regulated.
To find out how much life insurance would cost you head on over to Quotacy.com, run a quote and apply right online. It takes less than five minutes and there's no obligation to buy.
If you aren't satisfied with the life insurance policy Quotacy finds you you can walk away. There's no cost to apply for life insurance. No fee to cancel the process and no hard feelings. If you want more in-depth information.
» Calculate: Life insurance needs calculator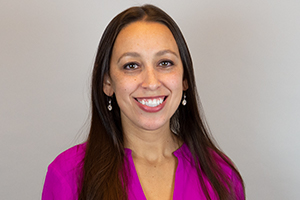 Natasha Cornelius, CLU
Senior Editor and Life Insurance Expert
Natasha Cornelius, CLU, is a writer, editor, and life insurance researcher for Quotacy.com where her goal is to make life insurance more transparent and easier to understand. She has been in the life insurance industry since 2010 and has been writing about life insurance since 2014. Natasha earned her Chartered Life Underwriter designation in 2022. She is also co-host of Quotacy's YouTube series. Connect with her on LinkedIn.