Life insurance underwriting is the process every insurance company uses to determine your price for coverage. In short, it's an evaluation of your unique risk factors. There are different underwriting processes, and some are far more in-depth than others.
In this guide, you'll learn about the different types of life insurance underwriting, how the process works, and how your life insurance rate is determined.
What Is Life Insurance Underwriting?
During the life insurance underwriting process, the carrier determines if you can be approved for coverage, how much coverage you can own, and how much you'll have to pay.
There are two parts to the underwriting process:
Financial underwriting
Medical underwriting.
What is financial underwriting?
Financial underwriting is the evaluation of your personal or business financial background and current economic circumstances.
The purpose is to ensure the amount of insurance purchased is reasonable and in line with your needs. This is important in preventing being over-insured.
What is medical underwriting?
Life insurance medical underwriting is the examination of your medical history, lifestyle, and other factors that relate to overall health. Then, through actuarial analysis, underwriters estimate the risk associated with providing coverage.
Factors in Life Insurance Underwriting
Life insurance costs are based on how likely you are to die at an earlier age. Your lifestyle factors help underwriters determine this.
Life insurance risk factors include:
Life insurance underwriting is all about risk. Your risk level is directly proportional to the rate you will pay. If you're less risky than the average to insure, you pay less. If your risk level is higher than average, you pay more.
Explore different life insurance policies and their average monthly costs. 
See what you'd pay for life insurance
Comparison shop prices on custom coverage amounts from the nation's top carriers with Quotacy.
How the Underwriting Process for Life Insurance Works
The life insurance buying process has multiple steps and can be completed in as little as 24 hours or take up to six weeks. Applicants with complicated financial or medical histories may take longer.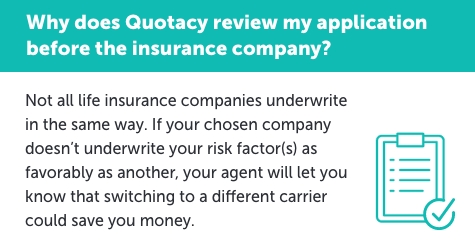 The Underwriting Process
While the underwriting process can vary somewhat between carriers, these are the main checkpoints.
Step 1: MIB Check
The MIB (which stands for Medical Information Bureau, not Men In Black) is a computer database that stores medical and some non-medical information for fraud-detection purposes.
It allows underwriters to see your coded medical details from any previous life insurance applications you may have submitted. It's a way for insurers to make sure an applicant isn't hiding anything which may have caused them to be declined previously.
Step 2: Verification
Insurance companies want to make sure everything on your application is accurate before proceeding. After submitting your application, the carrier will reach out over the phone or via email to verify you are who you say you are and confirm the information you provided. There are consequences for providing false information. 
Step 3: Medical Exam
After the verification step, a third-party examiner will reach out to schedule a quick medical exam if you're required to get one.
This exam only takes 20-30 minutes and will include a blood draw, urine sample, height and weight measurements, and blood pressure readings.
These exams can be done at your home or office, wherever it's most convenient for you.
The medical exam gives the carrier a good overview of your current health status.
Step 4: Medical Records
Carriers don't order records on all applicants, but they do if you have a significant medical history or unfavorable results from your exam.
This step can prolong the underwriting process depending on how long a doctor's office takes to comply with the request.
Step 5: Prescription Check
Carriers will review all the medications prescribed to you over the last few years.
Step 6: Motor Vehicle Report 
Your driving history can affect how carriers evaluate your risk. If you have recent accounts of reckless driving or DUIs, it will impact your coverage.
Step 7: Background Check
Life insurance carriers will review criminal records. Having a record doesn't mean you're automatically denied coverage, although it can negatively impact life insurance rates.
Step 8: Assign Risk Class
Life insurance underwriters consider all their findings and use actuarial tools to estimate the statistical probability of you dying prematurely. This enables them to calculate the risk they take on by insuring you.
The carrier will either approve or decline your coverage. If approved, they assign you a risk class. This life insurance classification will determine your final rate.
Life Insurance Classifications Explained
Life insurance risk classes are assigned based on the carrier's underwriting evaluation. Applicants will fall into one of these categories.
Preferred Plus/Preferred Best – excellent health, low mortality risk, best price possible
Preferred – good health, low mortality risk
Standard Plus – above average health
Standard – average risk
Preferred Tobacco – tobacco users in excellent health
Standard Tobacco – tobacco users in average health
Substandard/Table Rated – higher risk than average to insure, price will include additional percentage on top of standard rate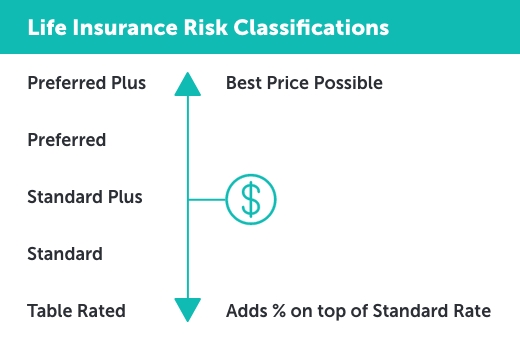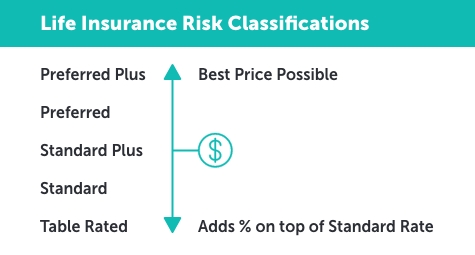 Below is a pricing example to show how your life insurance risk classification impacts your rate.
This applicant is a 40-year-old male applying for a 20-year, $500,000 term life insurance policy.
Preferred Plus monthly rate: $28.42
Preferred monthly rate: $35.46
Standard Plus monthly rate: $48.15
Standard monthly rate: $55.18
Preferred Tobacco monthly rate: $122.08
Standard Tobacco monthly rate: $161.84
Substandard Table 3 monthly rate: $78.52
Insurance companies don't all underwrite the same way. This is why working with an independent broker like Quotacy is the best way to find coverage at the best price.
Whether you have diabetes, anxiety, a DUI on your record, or smoke cigars occasionally, there is likely a carrier for you. For example, some insurers will offer non-tobacco rates for marijuana use, while others won't.
Let's say the applicant in the above example smokes marijuana on the weekends. Many carriers would offer tobacco rates, but some are much more lenient and would offer him Preferred non-tobacco rates. They aren't knowledgeable about which insurer would or wouldn't, and if they don't apply through a broker, they may wind up paying too much for coverage.
Types of Underwriting in Life Insurance
Depending on the policy and applicant, a few different underwriting paths are available.
Full Underwriting (Traditional): Traditional or full underwriting is the most comprehensive type of underwriting and typically takes the longest to complete.
Accelerated Underwriting: A more streamlined route that allows you to skip a medical exam.
Automated Underwriting: If eligible, applicants are approved for coverage instantly without the need for a medical exam.
Simplified Underwriting: Higher price than traditional, accelerated, or automated underwritten policies, but fast coverage for those who may have some medical issues.
Guaranteed Underwriting: For applicants aged 50 or older, this process approves coverage instantly—no questions asked. Higher premiums than all other underwritten products and has a graded death benefit.
For most people, term life insurance is adequate coverage. Typically, for those policies, traditional, accelerated, or automated underwriting is available.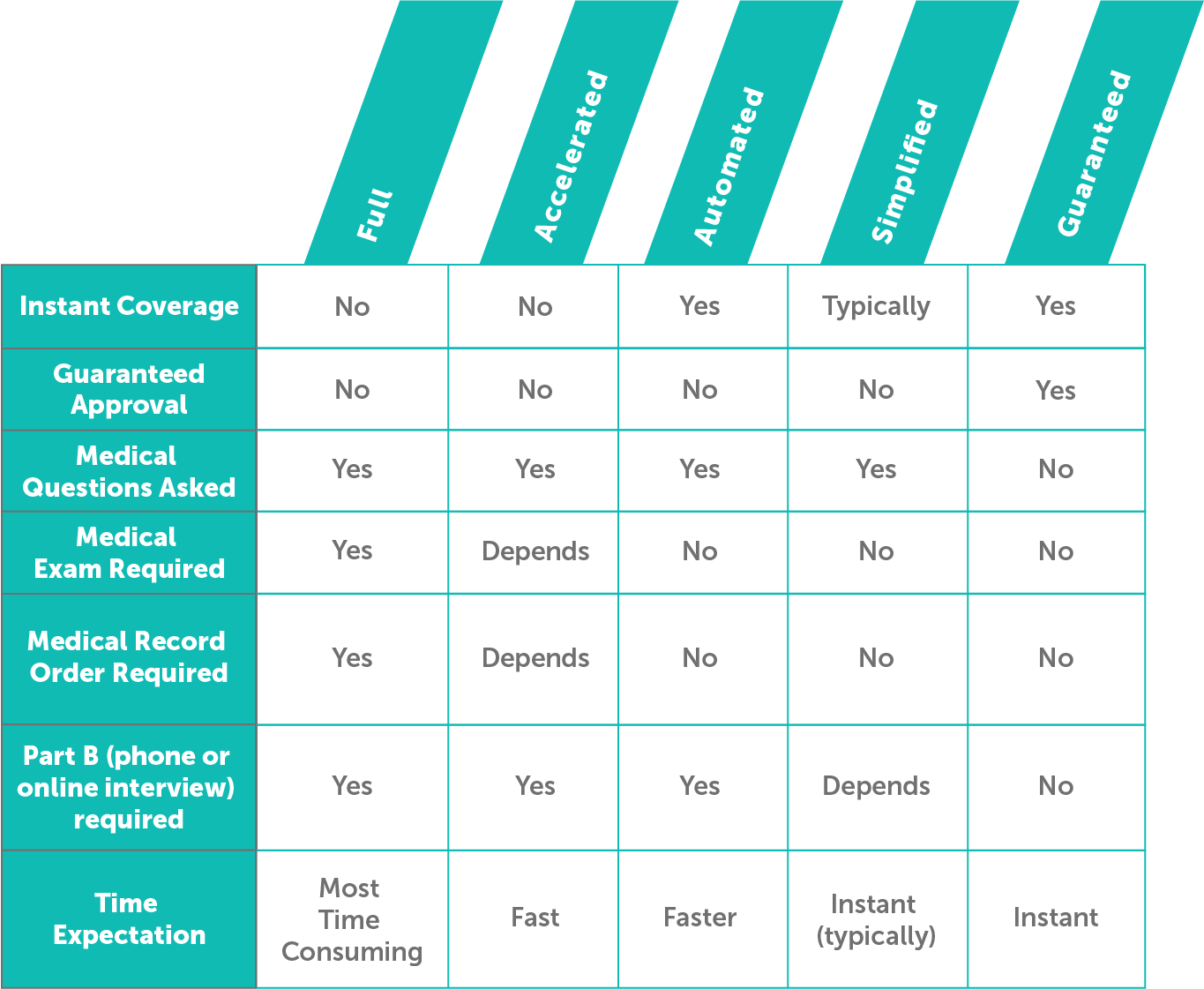 Life Insurance Underwriting FAQs
Life insurance underwriting is unfamiliar territory for most people. The following list covers additional questions people often have.
How long does it take to get life insurance?
It takes about 4-6 weeks to get approved for life insurance. You can be approved much quicker if you qualify for accelerated or automated underwriting. If you have an extensive medical history, the process may take longer than six weeks due to the time doctors take to send medical records to the insurance company.
How far back do life insurance companies look?
There are various records life insurance underwriters can choose to pull.
MIB record goes back 7 years
Prescription history check goes back 5-7 years
Medical records typically go back 5-10 years
Motor vehicle records typically go back 5 years
Credit history typically goes back 5 years
The records underwriters decide to pull are determined on a case-by-case basis. Not all applicants will have this complete list of documents reviewed.
What is a table rating in life insurance?
If a life insurance underwriter determines that you carry more risk than average, you may be table rated. A table rating is an increase in price based on the severity of your risk.
Table ratings start at Table 1 or Table A and go to Table 16 or Table J. Each increase in rating adds 25% to the Standard rate. So, Table 1/A is a 25% increase, and Table 16/J is a 250% increase.
When does a life insurance policy typically become effective?
Once you're approved and pay the first premium, your policy is officially inforce.
What's the difference between a life insurance carrier and underwriter?
A life insurance carrier is responsible for:
Writing your policy
Receiving your payments
Paying your death benefit
The carrier also employs the underwriter.
An underwriter evaluates applicants on the carrier's behalf to determine if they can be approved and at what risk class.
Find a Carrier Who Will Underwrite You Most Favorably with Quotacy
At Quotacy, we work with over 25 of the nation's top life insurance companies. Our agents don't work on commission. Instead, they're on a mission to find you the best policy for your individual needs.
If you have any risk factors listed on your application, your dedicated agent will double-check that the carrier you chose to apply to on our website is the best match for you. If there is a carrier who will underwrite you more favorably, your agent will reach out and give you some options.
Quotacy will guide you throughout the buying process, and your agent can answer any questions you may have. Get a term quote now and take the first step in protecting your loved ones' financial futures.
Note: Life insurance quotes used in this article are accurate as of January 25, 2023. These are only estimates and your life insurance costs may be higher or lower.
Life Insurance Underwriting Process (infographic)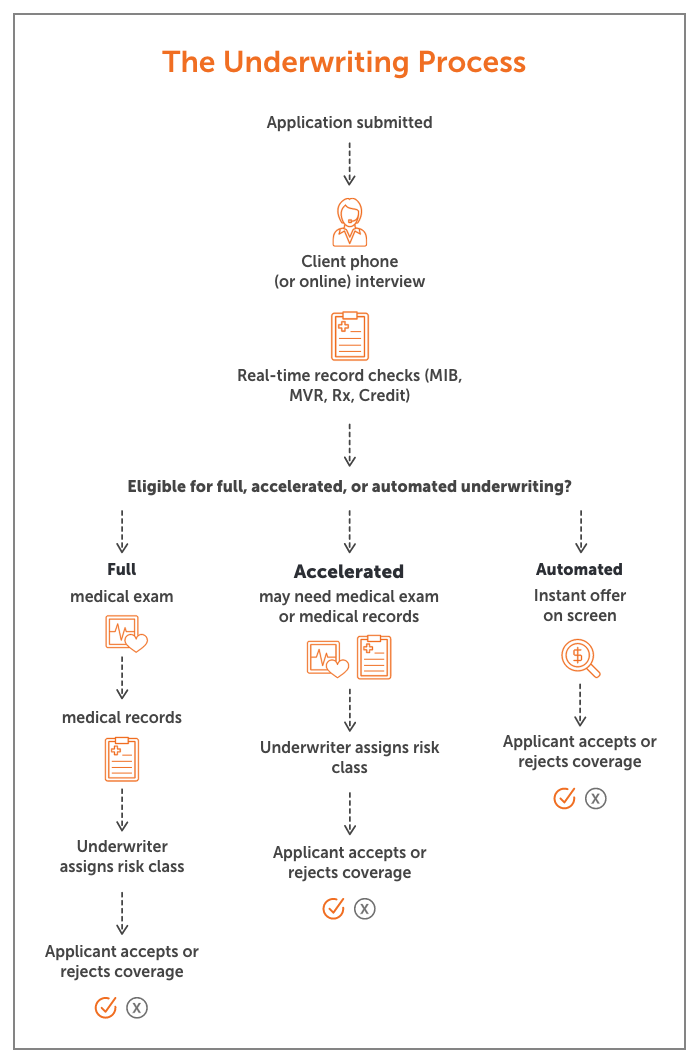 Watch the Life Insurance Underwriting Video