Term life insurance is the most commonly purchased type of life insurance. So, what is a term life insurance policy? Term life insurance is affordable, temporary coverage meant to protect you and your loved ones during your prime earning years.
In this guide, learn how term life insurance works, the benefits of term life insurance, and if you need it.
Table of Contents
Interested in buying life insurance but unsure where to start? Use our wise buyers' guide to ensure you make the best choice. 
Term Life Insurance: What Is It?
Term life insurance is the simplest form of life insurance. You pay a fixed premium for a specific period of time, typically 10-40 years, and if you die unexpectedly during this term, your beneficiaries receive a death benefit check income tax-free.
Term life insurance doesn't have a lot of bells and whistles, so it's often very budget-friendly. And the younger and healthier you are, the cheaper it is.


In most situations, term life insurance is the best option for families. You choose the coverage amount and how long it lasts.
Features of Term Life Insurance
High coverage at a low premium
Customizable
Tax-free death benefit that's exempt from probate
Types of Term life Insurance
When people refer to term life insurance, they often mean level term life insurance. But there are other less common term life insurance products to be aware of.
Different types of term life insurance:
Level term life insurance: Level term is the most common and typically the best option. It has fixed premiums for the duration of the term.
Decreasing term life insurance: The death benefit in a decreasing term policy decreases over time. The premium is fixed throughout the term.
Annual renewable term life insurance (ART): ART offers life insurance one year at a time. When you first purchase, you lock in a set number of years in which you can renew annually without providing proof of insurability. Premiums will increase as you age.
Return of premium term life insurance (ROP): ROP offers a refund of your premiums if you outlive the policy term. The premiums are fixed but also much higher due to the potential refund.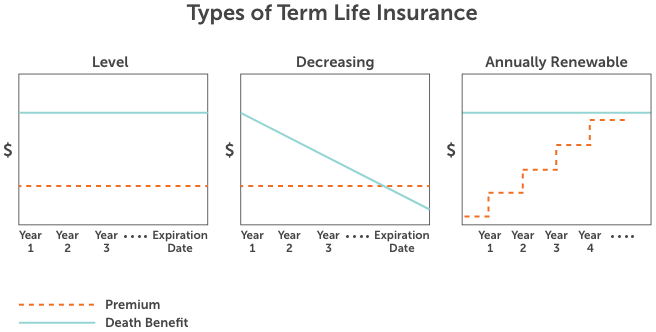 Term vs Whole Life Insurance
Understanding the difference between term and whole life insurance can be confusing. Perhaps the most important difference between the two is how long the coverage lasts.
Term life insurance policies are active for a finite period of time. Whole life policies provide lifelong coverage.
Large financial obligations tend to be temporary, like a mortgage or the cost of raising children until they are financially independent. A term life insurance policy ensures your loved ones won't be saddled with overwhelming debt or lose their home if you pass away unexpectedly.
Some people need life insurance coverage forever. You may care for someone with special needs. Or you may own a small business. This is when whole life insurance can be beneficial.
Main differences between term and whole life:
Coverage length: Term life provides temporary coverage. Your beneficiaries receive a death benefit if you die during the term. Whole life insurance is permanent coverage. Your beneficiaries receive a death benefit no matter when you die.
Rates: Term life insurance rates are much cheaper than whole life.
Cash value growth: Whole life insurance has guaranteed cash value growth. Term life has no cash value.
Policy type: Whole life policies belongs to a larger category called permanent life insurance.
How Does Term Life Insurance Work?
With all life insurance policies, three parties are involved:
The policy owner
The person who is insured
One or more beneficiaries
It's common for the owner and insured to be the same person.
When you buy a term policy, here's what happens:
Choose how much coverage you want (face amount).
Decide how long you want it to last (term length).
Once you're approved for coverage and start payments, your policy is active.
If you pass away while your policy is active, your beneficiary(ies) receive the full face amount tax-free.
You can have more than one beneficiary, but the percentage distributions must equal 100%. For example, you can name your spouse at 75%, your brother at 20%, and your favorite charity at 5%.
How Long Can a Term Life Policy Last?
When deciding on a term length, ideally, choose a term that correlates with your longest financial obligation. For most, this is a mortgage or the number of years left until the kids are on their own.
The most common term lengths are:
10 years
20 years
30 years 
Term lengths range from 5-40 years. Not all companies offer this wide of a range, though. And remember, term rates are fixed for the entire term. So, if you choose a 30-year term policy, you lock in your premium for 30 years.
See what you'd pay for life insurance
Comparison shop prices on custom coverage amounts from the nation's top carriers with Quotacy.
What Happens If You Outlive Your Term?
A term life insurance policy only pays out if you die while it's active. When your term ends, so does your coverage unless you take additional steps.
If your term insurance is ending, but you still need coverage, you have a few options, including:
Convert your policy
Renew it another year
Buy a new policy
If your health hasn't changed, buying a new policy is probably the most cost-effective route.
If your health has changed for the worse, buying a new policy may be too expensive. This is when converting or renewing should be considered.
What Is a Term Conversion?
A term conversion allows you to convert your term coverage to permanent. The best part? You don't need to prove you're insurable to the insurance company. They use your original risk class assignment to set your new permanent policy rate.
| | |
| --- | --- |
| | Note: Your new permanent policy's rates will be much higher than your term policy because 1) permanent policies are, in general, more expensive than term policies, and 2) your age is still a factor when converting. But you're not required to convert your entire policy amount. Partial conversions are an option. |
What Is a Term Renewal?
Many insurance companies have renewability options on their term products. This means you can extend the coverage term year after year without proving insurability to the insurance company.
| | |
| --- | --- |
| | Note: Renewal rates are much higher than your original fixed rate. And each year you renew, the rate increases again. |
Factors That Impact Term Life Insurance Premiums
The cost of a term life insurance policy varies from person to person because it's determined by your individual traits. Life insurance companies look for risk factors that may cause your life expectancy to be shorter than the average person of your same age.
For example, if you and your identical twin both applied for life insurance, it's very possible you don't pay the same price. Your unique health and lifestyle influences what your policy will cost.
These are the main factors that can impact your life insurance premiums:
Age
Gender
Smoking status
Medical history
Height and weight
Family medical history
Driving record
Criminal history
Your job and hobbies
Life insurance companies are all about risk. They employ individuals who analyze how risks play a role in a person's life.
When you apply for term life insurance, you go through an underwriting process. This is when the life insurance company reviews your application and specific records they pull (e.g. a prescription history check, motor vehicle records) to see how much of a risk it is for them to insure your life.
After examining your risk factors, if they determine you have an average or above average life expectancy, you'll receive Standard or Preferred pricing. A riskier person to insure may receive substandard pricing and be required to pay more than the average person.
Term Life Insurance Benefits
If you're looking to protect your loved ones from the what-ifs, term life insurance is an ideal choice.
An Affordable Option
The majority of Americans overestimate the cost of term life insurance. A healthy 30-year-old male can buy $500,000 of term life insurance that lasts 20 years for under $20 per month.
But even if you're not as young as 30 or your health isn't great, term life insurance can fit into most budgets. Before you buy, you can adjust the coverage amount and term length until you find a price that works for you.
Death Benefit Payout Is Tax-Free
IRA benefits will be taxed. Social Security benefits are often taxed. Your 401(k) benefits are taxed. Most pensions are taxed. But life insurance benefits? No tax – 99% of the time.
In most cases, as long as it's paid out to a named beneficiary (not your estate), the life insurance payout is income tax-free.
Life Insurance Is Exempt from Probate
If you die, many assets go through probate (a court-supervised process) before being passed down to heirs. Probate can be costly and time-consuming.
Life insurance death benefits do not go through probate (unless you name your estate or a minor child as your beneficiary–don't do this), so your beneficiaries will receive the funds much faster.
Receive Benefits Early If You're Diagnosed with a Terminal Illness
Most term policies include an accelerated death benefit rider for free. With this rider, if you're diagnosed with a terminal illness, you can access a portion of your policy's death benefit to use however you wish.
Your Loved Ones Are Financially Protected
If you have people who rely on you, term life insurance can help pick up the financial pieces if you die unexpectedly.
Get life insurance. Don't chance that your loved ones will need to turn to family, friends, or even strangers, like with a GoFundMe account, to pay for your funeral or their groceries.
Not sure how much term life insurance you need?
Reasons to Buy a Term Life Insurance Policy
If you still aren't sure you need life insurance, here's a list of common reasons people buy it.
You need a policy to secure a business loan.
You are getting divorced, and your settlement requires a policy to secure spousal maintenance or child support until age 18.
You are buying a home and want a policy until your mortgage is paid-in-full.
You have a family (spouse, domestic partner, or children) who rely on your financial support. You need a policy to replace your earned income.
You wish to leave some money to your family or pay for your final expenses.
You're a business owner, and your death would negatively impact your company's success. You need a policy as part of your business plan.
You wish to use life insurance to equalize the inheritance of a family farm or business.
You wish to donate to a favorite cause or charity via life insurance.
You don't want to leave your debt behind after you die. Your policy can pay it off.
You want to fund your kid's education, wedding, or another important milestone, even if you cannot witness the big day.
How to Know if Term Life Insurance Is Right for You
You may be unsure about buying term over permanent insurance. You may wonder, "Why wouldn't I get permanent insurance to protect my family forever?"
It's true; term is temporary. But most people only need life insurance protection during their working years when they're saving for retirement and have young and financially dependent children. Once you retire, your family likely won't rely on your income. Hopefully, your children will be financially independent, your savings will have accumulated, and your debts will be minimal.
Permanent life insurance is expensive. If you don't need it, the money you save on premiums can be put to better use in an investment account, where it can grow over time.
A permanent policy makes sense for those with lifelong insurance needs or a high-net-worth individual who wants to broaden their financial portfolio while getting tax benefits. But, for most families, term life insurance is the best option due to its affordability.
Tip: When buying term life insurance, ask your agent if it has a term conversion option. If your needs change and you decide that permanent life insurance is needed, you can convert your term policy.
Can You Have More Than One Life Insurance Policy?
Yes, buying more than one life insurance policy isn't uncommon. It's a great strategy to cover different financial obligations that may end at various times. This strategy is called laddering life insurance.
It's also not uncommon to have both term and whole life insurance. Buy a term policy with a large face amount to cover your big-ticket obligations, like a mortgage and raising children, and then supplement it with a small whole life insurance policy for end-of-life expenses.
Buy a Term Life Insurance Policy Through Quotacy
Since Quotacy is an independent broker, we work with many life insurance companies, so you can buy confidently, knowing you're getting the best price. When you apply online, your agent will double-check that your chosen company is the best match.
Not all life insurance companies underwrite the same. Therefore, your price could be different depending on which company you apply to. Quotacy agents aren't paid on commission. Their goal is to advocate for you and help you find an affordable policy so you can financially protect your loved ones
Get instant term life insurance quotes without giving up your email address or phone number. Find the perfect policy without fear of your information being sold and getting inundated with annoying phone calls.
Watch the Term Life Insurance Video