Perhaps you don't yet have life insurance and the last couple interesting years have put many things in perspective. Perhaps you already have life insurance and are looking for more coverage or a better rate.
Here's how life insurance rates are determined and what a policy may cost you.
How Your Life Insurance Rates Are Determined
Your Age
Your Gender
Your Height and Weight
Your Health
Your Family's Health History
Your Smoking Status
Your Job/Occupation
Your Hobbies/Avocations
The Policy You Choose
Your Age and Life Insurance Rates
Disregarding any other risk factors, the younger you are, the cheaper your life insurance premiums are.
As with most types of insurance, the riskier the insured, the more expensive the coverage costs. The older you are, the riskier you are for a life insurance company to insure.
Below is an example of how age affects life insurance rates.
Insured: Male, Healthy, Non-Smoker
Coverage: $500,000 20-Year Term Life Insurance Policy

Age
Monthly Rate
25
$18.74
30
$19.05
35
$20.73
40
$28.42
45
$42.50
50
$70.54
55
$114.48
60
$200.76
65
$384.80
70
$790.33
Keep in mind, the rates above illustrate what the monthly premium may be if you buy a policy at that age. Your term life insurance premiums do not increase as you age.
The moment your policy goes inforce (activates) you lock in your rate. This is one reason why buying life insurance early on is beneficial.
Your Gender and Life Insurance Rates
In U.S., women will pay slightly cheaper life insurance rates than men, disregarding all other risk factors.
Women statistically live longer than men. On average, women take fewer risks than men. Women also go to the doctor more routinely. Their mortality risk is lower.
These factors are some of the reasons why life insurance companies give women more favorable rates.
Insured: Healthy, Non-Smoker

Coverage: $500,000 20-Year Term Life Insurance Policy

Age
Male Monthly Rate
Female Monthly Rate
25
$18.74
$14.75
30
$19.05
$15.16
35
$20.73
$17.51
40
$28.42
$24.11
45
$42.50
$36.46
50
$70.54
$55.44
55
$114.48
$84.12
60
$200.76
$142.23
65
$384.80
$257.41
70
$790.33
$697.42
See what you'd pay for life insurance
Comparison shop prices on custom coverage amounts from the nation's top carriers with Quotacy.
Your Height and Weight and Life Insurance Rates
It should come as no surprise that your height and weight can impact your overall health. Someone very over or underweight will pay higher premiums than someone of average height and weight. However, life insurance companies' build charts are more lenient than BMI tables.
Below is one insurance company's build chart.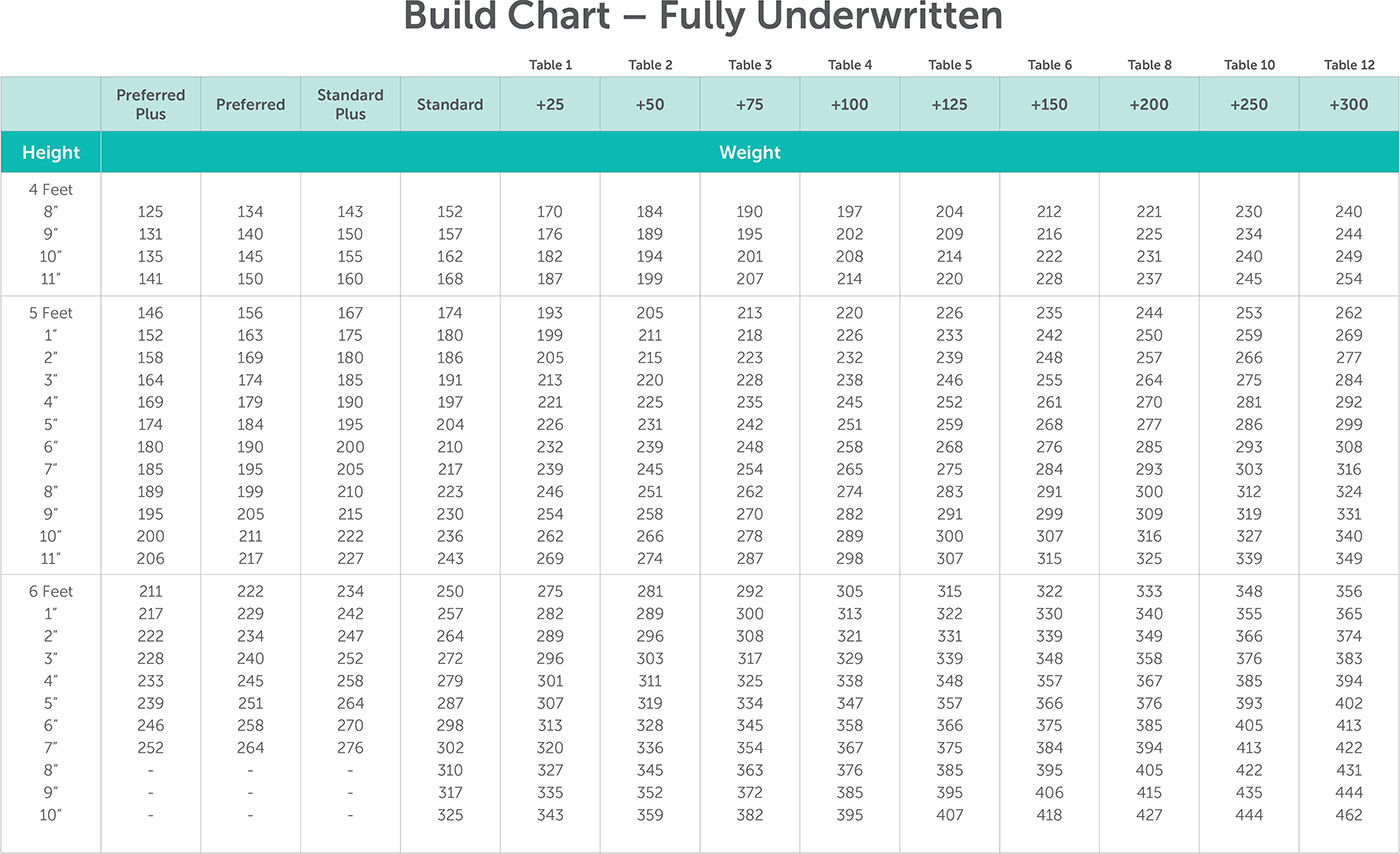 As an example, all other factors not considered, an applicant who is 5' 10" can weigh up to 200 pounds and still qualify for Preferred Plus—the best risk class possible. Weigh 150 pounds? Preferred Plus. 180? Preferred Plus. 201? Slight drop down to Preferred rates.
Below is an example of how height and weight affects life insurance rates.
Insured: Male, 40 Years Old, 5 Foot 10 Inches, Non-Smoker
Coverage: $500,000 20-Year Term Life Insurance Policy

Weight (lbs)
Monthly Rate
150
$28.42
201
$35.90
215
$48.36
235
$55.99
255
$69.99
265
$83.99
275
$97.99
285
$111.98
300
$125.98
Your Health and Life Insurance Rates
After age, health conditions arguably affect life insurance rates the most.
There are countless medical conditions out there ranging from mild allergies to stage 4 cancer. If the condition affects your mortality risk, then the life insurance companies are going to evaluate it thoroughly when reviewing your application.
If you have a medical condition, you will benefit by applying for life insurance through Quotacy. As a life insurance broker, Quotacy has access to policies from over 25 of the nation's top-rated insurance companies.
Not all life insurance companies evaluate medical conditions in the same way. While one insurer may offer Standard rates to an individual diagnosed with depression, another may be more lenient and approve Preferred.
Shopping your application across multiple life insurance companies ensures you get the best rate possible. Quotacy does this comparison shopping for you.
With expertise and professional relationships with these insurers, we match you to the best carrier option and advocate on your behalf.
Your Family's Health History and Life Insurance Rates
Health can be genetic. I bet you know someone who eats like a horse while not gaining a pound and says "I have good genes." This may very well be accurate.
Genes can play a huge role in certain aspects of your life. While your personal decisions play a stronger role, insurance companies still want to know a few things about your immediate family members.
Insurance companies want to know if any parents or siblings have been diagnosed with or died as a result of heart disease, diabetes, or cancer. If you can answer "Yes," you'll likely need to provide a bit of background information. If the condition is something you could inherit, your rates may be affected.
Your Smoking Status and Life Insurance Rates
This is another big one. The life insurance rates for a smoker when compared to a non-smoker are quite substantial.
Life insurance rates are split into two broad categories: smoker and non-smoker rates.
Cigarette use is the main form of tobacco that receives a smoker rate. Other forms that may also receive smoker rates include chewing tobacco, pipe smoking, cigar use, vaping, marijuana, and smoking cessation products, like Nicorette patches.
How often you use the tobacco product, in addition to any other risk factors you may possess, will determine if you qualify for Preferred Smoker or Standard Smoker rates.
Insured: Male, 40
Coverage: $500,000 20-Year Term Life Insurance Policy

Risk Class
Monthly Rate
Preferred Plus (Non-Smoker)
$28.42
Preferred (Non-Smoker)
$35.90
Standard Plus (Non-Smoker)
$48.36
Standard Plus (Non-Smoker)
$55.99
Preferred Smoker
$127.07
Standard Smoker
$161.84
Your Job and Life Insurance Rates
If your job puts you at a higher risk—in other words there is a greater chance the insurance carrier may have to pay a death benefit claim—then your insurance rates may be higher or you may be declined altogether.
Don't be discouraged as there are many companies that can cater to your life insurance needs. A few insurers may ignore a profession that other companies consider hazardous or may offer you a lower quote than you would expect given your profession. Quotacy will comparison shop on your behalf and find your best possible rate.
Your Hobbies and Life Insurance Rates
If you're a thrill-seeker, your life insurance premiums will be affected. Depending on your avocation of choice, it may actually prove difficult getting any coverage at all.
Rock climbing, SCUBA diving, racecar driving, backcountry winter sports, these are some common risky hobbies that insurance companies frown upon. Many insurers won't even accept applicants with these passions.
However, Quotacy works with over 25 insurance companies. We're experts at finding coverage, even for the trickier cases.
Life Insurance Policies and Rates
With term life insurance, you can customize your policy by choosing how much coverage to buy, the term length (how long you want the coverage to last), and if you want to purchase any add-on benefits, called riders.
The policy you choose will affect its cost. A $5,000,000 policy will cost more than a $500,000 policy. One that provides coverage for 40 years will cost more than one that lasts 10 years.
Coverage options range from $50,000 to millions. Term lengths vary from 10 to 40 years.
Riders that provide extra benefits vary by type and cost. The most common riders people opt to add on are child riders, premium waiver for disability riders, and accidental death benefit riders. Most riders are usually only a few extra dollars per month.
The tables below show examples of different coverages and term lengths to illustrate how the policy you choose affects your premiums.
Insured: Male, 40 Years Old, Healthy, Non-Smoker

Coverage (Face) Amount
Term Length
Monthly Rate
$100,000
10-Year
$8.48
$250,000
10-Year
$11.64
$500,000
10-Year
$16.86
$750,000
10-Year
$22.17
$1,000,000
10-Year
$26.86
$5,000,000
10-Year
$106.59
Insured: Male, 40 Years Old, Healthy, Non-Smoker

Coverage (Face) Amount
Term Length
Monthly Rate
$500,000
10-Year
$16.86
$500,000
15-Year
$20.08
$500,000
20-Year
$28.42
$500,000
25-Year
$41.65
$500,000
30-Year
$49.57
$500,000
35-Year
$61.78
$500,000
40-Year
$112.63
Quotacy works closely with you to help you purchase affordable life insurance to protect your loved ones. There's a lot that goes into pricing a policy, but let your agent worry about the details.
You can start the process by running term quotes now to see for yourself how much a policy may cost you. Apply online when you're ready and then your Quotacy agent will take it from there.
Not sure how much coverage you need? We can help with that too. Contact us for one-on-one advice, or pop on over to our life insurance needs calculator if you're just looking for guidance.
Note: Life insurance quotes used in this article accurate as of February 16, 2022. These are only estimates and your life insurance costs may be higher or lower.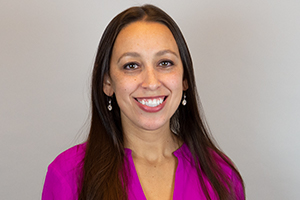 Natasha Cornelius, CLU
Senior Editor and Life Insurance Expert
Natasha Cornelius, CLU, is a writer, editor, and life insurance researcher for Quotacy.com where her goal is to make life insurance more transparent and easier to understand. She has been in the life insurance industry since 2010 and has been writing about life insurance since 2014. Natasha earned her Chartered Life Underwriter designation in 2022. She is also co-host of Quotacy's YouTube series. Connect with her on LinkedIn.