Guaranteed universal life insurance: quotes and policies
Guaranteed universal life insurance: an affordable permanent option
Guaranteed Universal life insurance, also called GUL, is a simple and affordable permanent life insurance option. Other permanent life insurance options (like whole life insurance) are more expensive because they come with a cash value component that's separate from the death benefit. For some policy options, like universal life (UL) and indexed universal life (IUL), the cash value components are tied to the performance of different markets.
While GUL insurance does technically have a cash value component, it's rarely mentioned because the value it accumulates over time is negligible or even non-existent. The hallmarks of a GUL policy are as follows:
Your policy isn't tied to any investment markets.
It's the most affordable permanent life insurance option.
Costs don't change as you age.
Essentially, guaranteed UL is like a term life insurance policy that lasts forever. You choose an amount of coverage and, once you pass away, your beneficiaries are paid that amount to use for funeral expenses, pay remaining debts, or however else they choose. It gives your loved ones financial stability and security, so they don't have to change their lifestyle.
Why should I buy a GUL policy?
If you want a guaranteed death benefit and lifelong coverage, but don't need the bells and whistles associated with other permanent products, a GUL insurance policy may be your perfect solution.
Guaranteed universal life insurance policy benefits:

Less Costly
If your family or business circumstances require a need for permanent life insurance, GUL is less costly than other permanent options.

Guaranteed Death Benefit
Unlike other UL policies, GUL isn't tied to investment markets, which means the economy doesn't affect your death benefit, so it's guaranteed.

It Lasts Forever
Having life insurance coverage for the rest of your life is true peace of mind. Your loved ones will receive the death benefit when you pass away.
How does GUL work?
Term life insurance is financial security when it's needed most. Once you start paying premiums on your policy, here's how it works:
Coverage stays in place for your entire life – as long as you continue to pay your premiums.
When you eventually pass away, your beneficiaries file a claim and receive the death benefit payout income tax-free.
How to buy a guaranteed universal life (GUL) policy
Buying GUL through Quotacy is straightforward. It takes less than a minute to get instant quotes personalized to you. Once you find a policy and price you like, apply online and your very own Quotacy agent will help answer any questions you have and advocate for you during the application process with the insurance carrier.
Here's what the process of buying a guaranteed universal life insurance policy looks like with us:
Get a free guaranteed universal life insurance quote without sharing any sensitive information.
First, you'll answer some very general questions and click "Choose My Price".
Then, select your coverage amount and slide coverage length to forever and continue to customize your quote.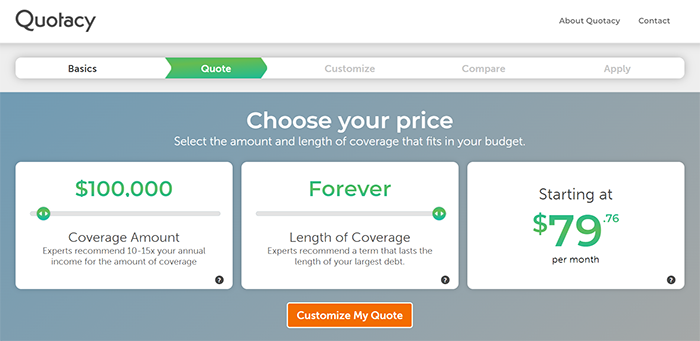 Choose a policy you like and apply for GUL coverage online.
Go through the buying process with your Quotacy agent guiding you.
Accept your offer (or deny it, you have no obligation to accept).
Start monthly, quarterly, semi-annual, or annual payments and you're insured.
Get the most affordable GUL policy through Quotacy
A life insurance policy that lasts a lifetime is worth so much more than the coverage amount. Instead of worrying about funeral costs and inheriting your debt, your loved ones can count on the death benefit to cover those expenses. That's true peace of mind. Get a guaranteed universal life insurance quote today.
Our life insurance calculator helps
you determine how much you need
Explore your options in under 5 minutes.