Can you take a life insurance policy out on anyone? Only if you have their consent and you have confirmed insurable interest in that person. If those two requirements are not met, you may not buy life insurance on another person.
In this guide, you'll learn how to buy life insurance on someone else and when it makes sense for someone else to own your policy.
​Can You Take a Life Insurance Policy Out on Anyone?
No, you can't take a life insurance policy out on anyone. You need to have an insurable interest.
Having an insurable interest means you would be affected financially if the insured person died. For example, if your spouse died, your finances would immediately be impacted. But if your neighbor died, this would have no bearing on your finances. You have an insurable interest in your spouse, not your neighbor.
Examples of insurable interests include:
Both individuals being named on a lease
Jointly owning a home or business
Debts naming both individuals (like a car loan)
Shared custody of children
Being engaged
This concept protects individuals. If insurance companies allowed anyone to get life insurance on anyone, it could lead to intentional harm. Life insurance is meant to replace lost income, not increase wealth.


Can You Get Life Insurance on Someone Without Them Knowing?
No, that would be illegal. A person must know about the policy because you need their consent to buy it. The only exception is for parents purchasing life insurance on their children under 18.
Consent can be shown via:
The insured's signature on paperwork
Verification through PII (personally identifiable information)
A phone interview with the insured person
A life insurance medical exam with the insured person
A person who manages to purchase a policy on someone without consent is committing insurance fraud, a serious crime. Luckily, this type of fraud is relatively rare, thanks to the rigorous application process.
How to Purchase Life Insurance on Someone Else
If you depend on someone financially and their death would negatively impact your standard of living, then you have an insurable interest in that person. With their consent, you can apply for life insurance on them.
How Life Insurance Works
There are three parties involved on a life insurance policy:
Policyowner – This person owns the policy and pays the premiums. They control every aspect of the policy.
Insured – This is the person whose life is insured. If they die while the policy is inforce, their named beneficiaries can collect the death benefit.
Beneficiary – This refers to the individual(s), estate, company, trust, or organization that receives the death benefit if the insured person dies. There can be more than one beneficiary.
The policyowner and insured are usually the same person. The beneficiary and policyowner can also be the same person. The insured and beneficiary cannot be the same person.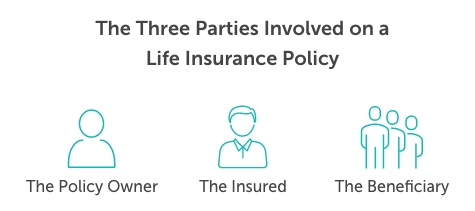 There are often negative tax consequences when each party is a different person, so you'll want to avoid this. This ill-advised setup is known as the Goodman Rule or Unholy Trinity.
For example, let's say Grandma is the insured, Mom is the policyowner, and an Adult Child is the beneficiary. According to tax law, when Grandma dies, Mom is "gifting" the death benefit to the Adult Child, so mom must pay gift taxes on it. To avoid the tax, Grandma should be the insured and policyowner.
Learn all you need to know designating life insurance beneficiaries and how it works.  
Not sure how much term life insurance you need?
Who Can You Get a Life Insurance Policy On?
It depends. You must have either a financial insurable interest or a sentimental insurable interest. Having financial insurable interest means an individual's death will cause a negative financial impact. Sentimental insurable interest only applies to family relationships, including:
Parent to child
Grandparent to grandchild
Spouse to spouse
Siblings
In any other circumstance, there needs to be a financial insurable interest present. You need the person's consent in both financial and sentimental insurable interest.
Can I buy life insurance on my parents?
Yes. Life insurance may be possible if your parents are 90 or younger, but not if they are older.
You need an insurable interest and your parents' consent to buy life insurance on them.
Examples of insurable interest:
You would become responsible for their financial obligations if they passed away.
You currently rely on them financially.
You and your parents co-signed on a loan together.
Be sure to consider the costs of buying a life insurance policy on a senior:
Premiums for this older age bracket tend to be extremely high across the board
Any additional medical issues or pre-existing conditions will further jack up the price
Term life insurance is usually the most affordable choice, but 80 is the cut-off age. In addition, a 10-year term is likely the lengthiest coverage available for those between 75 and 80.
Learn more about buying life insurance for seniors.
Can I buy life insurance on my spouse?
Yes, buying life insurance on your spouse is very common. Spouses rely on one another for financial support. Remember, your spouse still needs to give consent to the policy.
Not married? Learn about buying life insurance on your significant other.
Can I buy life insurance on my children?
Yes, parents can buy life insurance on their children. You do not need their consent if the child is a minor.
Life insurance options for young children:
Whole life insurance coverage
Child rider life insurance coverage
It's common for parents and grandparents to buy a whole life insurance policy for their child and transfer ownership when they turn 18, which is a valuable asset for a young adult. To keep the policy active, all they need to do is continue paying premiums or cash it out.
Learn more about buying life insurance on your children.
Can I buy life insurance on my siblings?
Yes, you can buy life insurance on your brother or sister with their consent. Because most siblings don't rely on each other financially, this isn't common. Still, there are cases where it makes sense.
If you and your sibling share responsibility for taking care of your parents, this is an insurable interest.
If your sibling has a will that designates you as their children's legal guardian if they pass away unexpectedly, you have an insurable interest.
If you cosign a loan for a sibling making you responsible for their debt should they die, this is considered an insurable interest.
Can I buy life insurance on a friend?
In most cases, you can't buy life insurance on friends. You need to have an insurable interest, and most friends aren't financially dependent upon each other.
Of course, there are exceptions. If you rent or own property with a friend, you have an insurable interest because your finances would take a hit if they die. Remember, you still need consent to buy life insurance on this friend.
Can I buy life insurance on business partners?
Yes. In fact, business partners often insure each other's lives to help mitigate risk. They purchase life insurance on each other as a part of a buy-sell agreement. They may even buy key person insurance on their most important employees.
Discover how much life insurance you need with our life insurance needs calculator.
Who Should Be the Owner of a Life Insurance Policy?
Most prefer to own their personal life insurance policy. This way, they're in complete control. Yet there are certain situations where it makes sense for someone else to be the owner. Let's go over a few of these examples.
High-Net Worth
You shouldn't own your life insurance policy if you have assets worth millions. Your estate could easily exceed the federal exemption amount when that much money is at stake. On January 1st, 2023, the federal estate tax exemption was raised to $12.92 million. If the head of a high-value estate owns their policy and passes away, each dollar beyond that new limit will be heavily taxed.
Life insurance can quickly push your estate over the threshold. Prevent your loved ones from paying exorbitant estate taxes by naming your beneficiary as the policyowner. You might also work with an estate planning attorney to create a trust to own your policy.
Trust-Owned Life Insurance
Setting up a trust to own and pay for your life insurance policy can be a wise strategy. When a trust has ownership, your policy can't be included in your taxable estate. You can also set more rules regarding your trust's proceed distribution.
Choosing a trust to own life insurance can help:
Business or Partner Owned Life Insurance
Typically, business partners use life insurance to fund a buy-sell agreement. With this type of agreement, the parties involved purchase life insurance on each other to protect the business, the owners, and their families.
Sometimes employers buy life insurance on their most integral employees. If your role is vital to the company's overall success, an owner may discuss key person life insurance with you. Although your employer does have an insurable interest in this scenario, they need your consent to buy that policy legally.
Buy Life Insurance Through Quotacy with Confidence
Talking about death isn't fun, but life insurance is vital. If you rely on someone financially or if someone relies on you, start the discussion.
Finding your ideal life insurance doesn't have to be a long, drawn-out process. With Quotacy, getting term life insurance can actually be simple. You can even apply online in minutes without having to disclose sensitive information.
If you're considering term life insurance for yourself or someone else (in whom you have an insurable interest and who has given their consent), Quotacy can help. Get free term life insurance quotes today. No contact information required.
Watch the Buying Life Insurance on Someone Else Video