The owner of a life insurance policy has a critical role. You have control over it and are responsible for paying the premiums.
In this guide, we'll explore the different life insurance policy parties and their roles, the responsibilities of policy ownership, and who should own a policy.
Table of Contents
The Basics of Life Insurance Policy Ownership
Understanding who can own life insurance and how ownership works is essential, regardless of your role in a policy.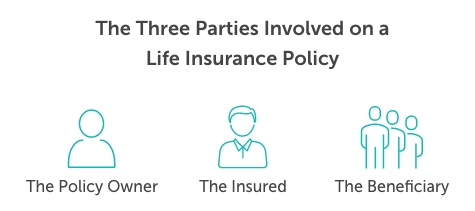 A life insurance policy generally involves three key parties:
Owner: The individual who purchases and controls the policy. They are responsible for its continued payment and upkeep.
Insured: The individual whose life is covered by the policy. Should they pass away while the policy is active, their beneficiary receives a payout.
Beneficiary: The person or people designated to receive the payout (or death benefit) when the insured dies.
Who Can Own a Life Insurance Policy?
You don't need to be the insured on the policy to be the owner. Depending on the needs and specific situation, various entities and individuals can own a life insurance policy.
Individuals: Adults who are of legal age (usually 18 or older) and have the mental capacity to understand the terms of a contract can own policies on themselves or others, like family members, to whom they have an insurable interest.
Trusts: Trusts can be set up to own life insurance policies, often as part of estate planning. This can provide control over the proceeds and may offer tax advantages.
Businesses: Companies may own policies on key employees, partners, or shareholders. This can be part of succession planning, employee benefits, or agreements between business partners.
Charitable Organizations: Some people choose to make a charity the owner of a life insurance policy, which can be part of charitable giving strategies.
Spouses and Family Members: Cross-ownership between family members, such as spouses owning policies on each other, is also common.
Policy Owner vs Insured
In a life insurance policy, it's common for the owner and insured to be the same person, but this isn't always the case.
Policy Owner's Rights and Responsibilities:
Right to name or change beneficiaries
Right to transfer ownership
Right to cash value and dividends, if applicable
Responsible for paying premiums
Insured's Rights and Responsibilities:
If the insured is also the policy owner, they will have all the rights and responsibilities associated with policy ownership.
Even if they aren't the policyholder, they may have rights outlined in the policy.
The insured must provide honest and complete information during the application process.
They may also have obligations related to maintaining specific health or lifestyle standards if stipulated by the policy.
Designating Beneficiaries
It's also a common scenario for the policy owner and beneficiary to be the same person. But many times, people buy a policy on themselves for the benefit of someone else.
Things to know about designating beneficiaries:
If you don't specify a beneficiary, the death benefit goes through probate to settle your estate.
Always name contingent beneficiaries as a backup if you and your primary beneficiary die simultaneously.
Listing minor children as beneficiaries can create legal complications.
Don't list individuals with special needs as direct beneficiaries, as it may affect their government benefits.
Include detailed beneficiary information to prevent any confusion or disputes.
Clearly define how much money you want each beneficiary to receive.
Beneficiaries are responsible for submitting a death claim after you pass.
Learn about the various clauses and exclusions your policy may have to ensure your beneficiaries get the full death benefit.
When Should Owners Review Their Policies?
Life insurance isn't a set-it-and-forget-it purchase. Life can bring many changes, which may require changes to your coverage.
Here's when and why you might need to review and modify your policy:
Marriage or Divorce
Situation: Changing marital status may necessitate a review of beneficiary details.
Risk: If overlooked, an ex-spouse might remain the primary beneficiary, excluding the current spouse.
Solution: Regularly review and update your policy to reflect marital changes.
New Child
Situation: Adding a child to the family through birth or adoption could require more coverage.
Risk: Without sufficient coverage, your children might not be financially protected.
Solution: Consider increasing coverage and setting up appropriate beneficiaries, such as a trust or an adult custodian under the Uniform Transfers to Minor Act (UTMA). You can also buy a policy on your child.
New Home
Situation: Moving or acquiring additional property might mean you need more life insurance.
Considerations: Assess your new mortgage obligations and ensure your loved ones can maintain the home(s) without financial burden.
Job Change
Situation: Switching jobs or receiving a promotion might change your life insurance requirements.
Considerations: Employer-sponsored life insurance plans often don't transfer. You may need a new individual policy.
Lifestyle Changes: A higher income may lead to changes in living standards, requiring a coverage adjustment.
Learn more about reviewing your life insurance policy to ensure your beneficiaries are updated and your coverage is appropriate. 
Should You Own Your Life Insurance Policy?
It's typical for a person to own their life insurance policy and be insured by it. This arrangement keeps everything straightforward, keeping control in your hands. However, there may be cases when this setup might not be the best fit.
Scenarios when you may not want to own your policy:
If your estate is likely to exceed the federal exclusion limit (currently $12.92 million), not owning the policy could help avoid or minimize estate taxes.
Couples might opt for cross-ownership, where you own policies on each other to ensure financial security and ease of access to policy information.
Business partners may own policies on each other to protect the business and beneficiaries should a death occur.
Creating an ILIT and transferring your policy to the trust may give you more control over the proceeds and remove them from your taxable estate.
Learn the ins and outs of buying a policy on someone else and when it makes sense for someone else to own yours.
How to Transfer Ownership
Only the owner of a life insurance policy has the authority to transfer ownership.
One of the most common reasons to transfer ownership is to keep the policy out of your taxable estate.
The transfer must occur at least three years before your death to keep the policy out of your estate.
Since nobody can predict the exact date of their death, don't procrastinate on this task if it's an integral part of your estate planning checklist.
Process of Transferring Ownership:
Obtain the Change-of-Ownership Form: Your insurance company or agent can provide this form.
Fill Out the Form: You'll need the new owner's information, such as:

First name, middle initial, last name
Relationship to the insured
Address
Phone number
Social Security number

Additional Information for Trusts or Organizations: If transferring to a business or trust, more details may be required, such as the type of business (LLC, Inc., etc.) or the trustees' names.
Although the process might seem simple, consulting a financial professional to understand potential tax implications is advisable.
If you're considering canceling or selling your life insurance policy, there are some important caveats to be aware of.
Compare Life Insurance Quotes and Apply Today
Ensuring your policy is structured correctly protects your beneficiaries and minimizes your taxable estate. If you have any questions about the ownership of a life insurance policy, contact your Quotacy agent.
If you don't yet have life insurance, buying has never been easier. Here's how you can get started:
Get Free Quotes: Instantly view free term life insurance quotes without giving away any contact information.
Compare Options: Review policies from top-rated insurers, all in one place.
Apply Online: The application is user-friendly and takes only a few minutes to complete.
Personalized Assistance: Once submitted, a dedicated Quotacy agent will be assigned to you, working diligently to ensure you receive the best price possible and guiding you through every phase of the process.
Unsure how much life insurance you need? Try our life insurance calculator.