Life insurance is vital for a small business owner. Life insurance can help protect you, your family, and your business financially.
In this guide, we share what life insurance can do, your different options, and how much life insurance small business owners need.
Why Is Life Insurance for Small Business Owners Necessary?
Reasons why business owners need life insurance:
To cover the lives of key persons
To fund buy-sell agreements
To keep your business running
To qualify for business loans
To equalize inheritances
To protect your loved ones
Life insurance provides a death benefit to protect the finances of survivors. These survivors include your business partners, family members, or even employees.
As a small business owner, you provide a living not only for yourself and your family but those who rely on the success of your business. Life insurance should be a part of every business owner's business, financial, and estate plan.
Business Life Insurance vs Personal Life Insurance
Life insurance can be used for many purposes. Business owners have both personal and business needs that require life insurance.
Personal life insurance is primarily used to protect your loved ones after your death. It can replace the income you provide, cover funeral and end-of-life expenses or debt, and leave an inheritance to your children.
Business life insurance is a broad category that can include key person life insurance or using the policy as collateral assignment for a loan.
There are two types of life insurance, term and permanent. Either can work for business-related needs, the right one for you depends on your unique circumstance.
Not sure how much term life insurance you need?
How Business Owners Use Life Insurance
As a business owner, you work hard to keep your business running successfully. Life insurance can help with many planning strategies to make sure your success continues whether you're active in the business or not.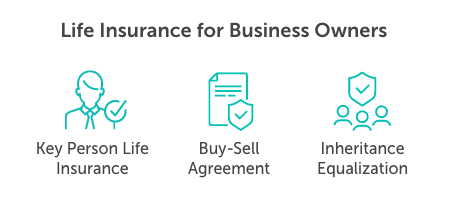 Key Person Life Insurance
Key person insurance is insurance a company buys on an employee. The company is both the policy owner and beneficiary.
A "key person" is essential to the success of your business. If this person died, your business would feel the impact.
With key person life insurance, if this person dies, the business receives a payout from the insurance company. The death benefit is often used to cover losses and to find and train a replacement.
Business owners may need key person life insurance for the following reasons:
If your business's reputation is linked to the key employee's name, standing, or unique skills.
If your business is a partnership and each partner wants to be able to buy out the other's shares in case of an untimely death.
If your business is seeking investors or SBA loans, and lenders are only willing to sign contracts if life insurance is on the key people.
If the death of a key employee creates financial problems for the business.
If you need key person insurance for a specific period, for example, if you only need it to last until that employee's expected retirement year, term life insurance is ideal.
Permanent life insurance may be the better choice if the key person is an owner or partner and you want to access cash value for future expenses.
Funding for Buy-Sell Agreements
A buy-sell agreement is a contract between a business owner and a person or entity who agrees to buy the owner's interest if the business owner dies. The purchase price is agreed upon and stated in the buy-sell.
Life insurance is one of the primary methods used to fund this transaction. Both term and permanent policies can work.
The buyer gets life insurance on the seller (with their consent) to cover the pre-arranged purchase price. When the business owner (a.k.a. the seller) dies, the buyer purchases the deceased owner's interest from their estate.
Business owners may need to fund a buy-sell with life insurance for the following reasons:
It protects the business owner's heirs and ensures the business ends up in the hands of someone willing and capable of running it.
It establishes a fair and reasonable price for the business.
It helps fix the value of the deceased's interest for federal estate tax purposes.
If applicable, the policy's cash value can be accessed for business uses.
Cash is available for estate liquidity or other family needs.
It helps prevent legal battles and contestation.
Inheritance Equalization
If you have children and run a small business, perhaps some children are interested in the business while others aren't. If you're concerned about family business succession planning, life insurance can help.
For example, let's say you have two children. One works in the family business, and one branched out. Using life insurance in your estate plan can ensure the child who wants to take over the family business can, and your other child receives an insurance payout.
Individual Life Insurance for Small Business Owners
Business owners often have at least two different life insurance policies:
One tied to company needs (I.E., funding a buy-sell)
One tied to their individual needs (I.E., family protection)
An individual life insurance policy is one that you own and will protect your loved ones' financial futures.
Benefits of an individual life insurance policy:
You own it outright, and it's not tied to anyone else.
You choose the beneficiaries and how big of a payout they receive.
The policy's death benefit is paid out income tax-free.
Life insurance will avoid probate, so your beneficiaries are paid faster.
Life insurance protects your family's standard of living.
See what you'd pay for life insurance
Comparison shop prices on custom coverage amounts from the nation's top carriers with Quotacy.
How to Determine Which Policy Is Best for You
Life insurance policies offer either term or permanent coverage. The right choice for you depends on individual circumstances and goals.
Term Life Insurance
Term life insurance is the most popular policy because it's straightforward and temporary.– which makes it the budget-friendly option.
To get a sense of your life insurance needs, consider two questions:
How many years should your coverage last? Term policy lengths range from 10-40 years.
How much coverage should you have? Amounts range from $50,000 to tens of millions.
Longer terms and higher coverage amounts cost more because you pose greater risk to insurance companies.
Personal Term Life Insurance
Your ideal term length should cover your prime earning years. These years often overlap with critical expenses that your coverage should account for, like mortgage payments, raising children, and saving to fund higher education.
Term Life Insurance for a Business
Term life insurance can also be used for organizational needs, such as:
Key person insurance
Funding a buy-sell
Collateral for small business loans.
Permanent Life Insurance
Permanent life insurance has many benefits, but it's not the best fit for everyone. It's far more expensive that term because it has additional policy features, such as:
Coverage never expires, it lasts until you pass away
Whole and universal policies accumulate cash value
Participating whole life policies can earn dividends
Personal Permanent Life Insurance
Although term life insurance is adequate for the average family, there are some situations in which permanent coverage makes sense, such as:
You have dependents who will rely on you their entire life
You want to leave inheritance
You want to ensure end-of-life expenses are covered
Permanent Life Insurance for a Business
Businesses have more complex life insurance needs, which means term coverage may not always be sufficient. Companies can use permanent coverage for:
Key person insurance
Funding a buy-sell,
SBA loan collateral.
Taking policy loans against the cash value
| | | |
| --- | --- | --- |
| | Term Life Insurance | Permanent Life Insurance |
| How long does coverage last? | 10-40 years | Your entire life |
| Cost? | Low | High |
| Cash value accumulation? | No | Yes |
| Earns dividends? | No | Yes, if a participating policy |
| Used for buy-sell agreements? | Yes | Yes |
| Used for key person insurance? | Yes | Yes |
| Used as loan collateral? | Yes | Yes |
| Used for inheritance equalization?  | No  | Yes |
| | | |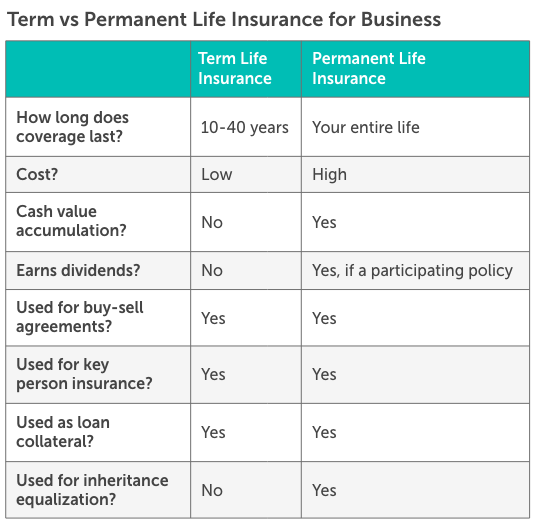 Guaranteed universal life insurance is a simpler product that doesn't have all the typical bells and whistles of other permanent products. Guaranteed universal is a good option if you need permanent life insurance but don't want the high price tag of whole life. You can see quotes instantly through our term quoting tool by choosing "Forever" on the Length of Coverage slider.
How Much Life Insurance for a Business Do You Need?
As a small business owner, you may need life insurance for the following reasons:
Financial support for your family after your death
Succession planning for your business through a buy-sell agreement
Continuation planning for your business through key person life insurance
Life insurance for inheritance equalization
Collateral assignment for loans
When deciding how much life insurance to buy, ask yourself the following questions:
How much will my family need to maintain their standard of living and pay for my final expenses?
What is my share of the business worth?
How much money do I want to leave my children if they don't inherit the business?
Do I need a business loan? How much?
The answers can help determine how much life insurance you need. For complex business strategies, work with a financial advisor.
Protect Your Small Business With Life Insurance Through Quotacy
Starting a small business and setting it up to be successful for generations to come is no small task. Getting life insurance to protect your business, your family, and yourself is a great place to start.
Do you have questions? Contact an agent at Quotacy.
Are you ready to get started? Start comparing quotes to apply for coverage today.