The main reason for life insurance is to replace the income you provide to your family upon your death, which is why life insurance so essential for parents.
Your young children depend on you for their standard of living. Considering this, it only makes sense for you to name your children as your beneficiaries of your life insurance policy, right? Not necessarily.
Should you name a minor a beneficiary?
Life insurance companies will not write a check for thousands, or perhaps millions depending on your policy's death benefit, of dollars to a minor child.
If you name your child beneficiary to your policy and they're not yet legal adults when you die, the court will appoint a property guardian to manage these funds until your child reaches legal age.
This court process requires attorney fees, court proceedings, and court supervision of life insurance benefits – all of which take time and money.
To avoid all the court hassles there are three other options we recommend.
1. Name a trusted adult instead.
You can name a trusted adult to be the beneficiary of your policy who will use the money for your children's benefit. If you are confident that this adult will not waver from his/her duty this might be the easiest option.
2. Use a living trust.
If you have a living trust, you can name your minor child beneficiary to its assets. Then you can name the trust the beneficiary of your life insurance policy and the designated trustee will manage the funds on behalf of your child.
3. Use a UTMA/UGMA.
You can name your minor children as your life insurance policy beneficiaries under your state's Minors Act.
See what you'd pay for life insurance
Comparison shop prices on custom coverage amounts from the nation's top carriers with Quotacy.
What are UGMA and UTMA?
The Uniform Gifts to Minors Act (UGMA)
This was created to overcome problems that were associated with making gifts to minors. UGMA provided statutory language that allowed more gifting flexibility.
The Uniform Transfers to Minor Act (UTMA)
Allows even further flexibility in regard to the kinds of property that could be transferred to minors. UTMA has been adopted in 48 states while UGMA still remains in effect in South Carolina and Vermont.
How do UGMA and UTMA work?
UGMA provides a simple and inexpensive method of transferring certain property to minors by means of a custodian arrangement.
Generally, UGMA allows the gifts of money and securities, however, some states have amended their statues to permit gifts of life insurance and annuities.
Under UGMA, custodianship is similar to that of a trustee except, unlike trust arrangements, the custodian does not take legal title to the property.
The minor is the owner of the property and will be included in the minor's estate in the event of his or her death prior to termination of the arrangement.
The custodial arrangement ends when the minor reaches the age of 18 or 21, depending on the state.
Some states allow any adult to act as custodian while other states restrict custodians to the child's legal guardian, parents, grandparents, siblings, uncles and aunts.
When a custodian dies or resigns, the minor may designate another custodian if the minor is over the age of 14 and if the original custodian has not already named a successor.
Alternatively, when a custodian wants to resign, he/she may petition the court to designate a successor.
If the custodian dies while the minor is under the age of 14, the child's guardian becomes the successor guardian. In there is no guardian, the court will commonly appoint another custodian from among adult members of the minor's family.
Under UTMA, the only major difference from UGMA is that UTMA removes property limitations and allows gifts from trusts, estates and guardianships, depository institutions, and insurance companies.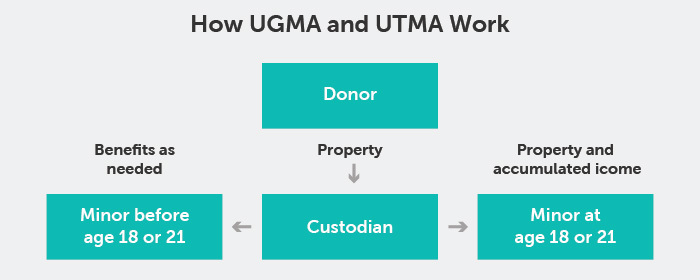 To summarize:
Step 1 – Donor transfers property to a custodian to be held for the benefit of the minor.
Step 2 – Custodian can use the property and any income that property produces on behalf of the minor.
Step 3 – At age 18 or 21, the custodian must transfer the property outright to the (former) minor.
How to Designate the Policy Beneficiary
When wanting to designate a minor as the beneficiary of a life insurance policy, the following language is typically used.
Example:
I, John Smith (donor), have delivered to Jane Doe, as custodian for Sam Smith (minor), a life insurance policy on my life in the face amount of $500,000 issued by the ABC Life Insurance Company and payable to Sam Smith. The transfer is made under the Minnesota Uniform Transfers to Minor Act.
_________________________
(Donor's signature and date)
I, Jane Doe (custodian), acknowledge receipt of the life insurance policy described above, and agree to hold this policy as custodian for Sam Smith under the Minnesota Uniform Transfers to Minor Act.
___________________________
(Custodian's signature and date)
Some choose to forgo UTMA/UGMA in lieu of a trust. With a trust, you can specifically state how much will be transferred to the beneficiary and when.
With UTMA/UGMA, the minor beneficiary will receive the entire sum as soon as they reach legal age. If the sum is quite large, many opt not to let an 18-year-old or 21-year-old have all that money in one fell swoop.
Ready to get life insurance in place to protect your children? Start the process by running a term quote or using our life insurance needs calculator to determine how much coverage you should buy.
Watch the Naming Children Life Insurance Beneficiaries Video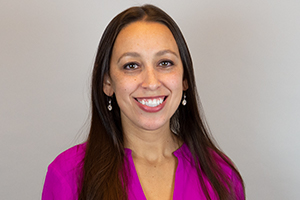 Natasha Cornelius, CLU
Senior Editor and Licensed Life Insurance Expert
Natasha Cornelius, CLU, is a writer, editor, and life insurance researcher for Quotacy.com where her goal is to make life insurance more transparent and easier to understand. She has been in the life insurance industry since 2010 and has been writing about life insurance since 2014. Natasha earned her Chartered Life Underwriter designation in 2022. She is also co-host of Quotacy's YouTube series. Connect with her on LinkedIn.