Making the decision to buy term life insurance after divorce is a smart way to ensure you and your loved ones remain financially secure, no matter what adventures your new life brings.
But, without the proper planning, it can also reopen old wounds. In this guide, you'll learn all you need to know in order to find a policy that fits your needs and where you can find the best life insurance quotes online without adding more stress to your life.
Questions to Ask Before You Buy Term Life Insurance
As a divorcée (ladies) or divorcé (gents), you've taken one of the most difficult emotional journeys an individual can experience—one that forced you to balance day-to-day responsibilities while preparing for the challenges of a new life.
A sense of uncertainty about your future can be normal at this time, but that feeling shouldn't extend to your finances.
For many couples, the division of assets and/or custody arrangements overshadow other family matters. Even still, your life insurance coverage is at the heart of your family's financial security and shouldn't be overlooked. After divorce, it's important to examine your individual life insurance policy as soon as possible to ensure that there isn't a gap in your coverage.
You'll need to start by reassessing your coverage requirements or, if you don't already have a policy, understanding your present needs and future goals in order to protect your loved ones.
» Calculate: Life insurance needs calculator
Here are some important questions to ask yourself if you've got a policy and need to review it after your divorce:
If you are currently insured and need to review your policy:
Who are my beneficiaries? Is it my former spouse?
Does my former spouse have a term life insurance policy on me?
Am I listed as a beneficiary on my former spouse's policy?
Will I be the primary caregiver of our children?
How much will my former spouse be contributing to child care, tuition, and other bills?
Did I buy enough term life insurance coverage? Is the coverage amount enough to cover my family's needs after my divorce?
If you don't have have a policy in place, you may wish to buy term life insurance to cover the years until your children are able to support themselves without help from you (or your former spouse).
Reviewing Your Beneficiaries After Your Divorce
When you apply for a life insurance policy, you designate your beneficiaries (the person or people who will receive the payout) up front before the policy goes into effect.
For many married couples, this person is often their spouse or soon-to-be spouse.
However, this means that if something happens down the line that causes the owner of a policy to not want their initial beneficiary to receive their death benefit (such as divorce), it'll still go to the beneficiary they chose during their application.
Unless they take action to update the beneficiary on their term life insurance policy.
For example, if Harry married Sally and got a life insurance policy on himself during their marriage, odds are that he would choose Sally to be the policy's primary beneficiary. If Harry and Sally split up a few years later, and Harry dies shortly after that (without changing his beneficiary), in most cases, Sally would have a solid case that she should receive Harry's face amount. This would be true even if Harry married someone else who is dependent on his financial support in the interim.
Normally, changing the beneficiaries of a life insurance policy is fairly simple—it's just a matter of getting in touch with the insurance carrier and submitting a quick form with your new beneficiary details.
» Learn more: Your Life Insurance Beneficiary Review Guide
However, divorce throws a few legal wrinkles into the process—especially if hearings are required.
Even in situations where the divorced people won't be financially invested in one another, during divorce hearings, it is likely that the policy owner will need to either get direct consent from the spouse being removed from the policy or a ruling in their favor in order to make a beneficiary change during the proceedings.
Ready to get your life insurance quote?
You're a few minutes away from great life insurance
How much life insurance do you need?
Figure out your action plan with our needs calculator
During the Divorce
The primary factor that complicates the beneficiary change process is the temporary restraining orders that are put into place as soon as the petition for divorce is filed. These are placed on both spouses in order to protect the rights of both parties and mitigate the possibility of one spouse bamboozling the other and leaving them with nothing.
Regardless of how amicable your split may (or may not) be, these orders lock down and prevent a lot of shady actions that jilted spouses might try during a divorce, including:
Packing up the kids and moving to another state overnight
Cleaning out joint bank accounts
Cancelling home or auto insurance policies
Taking out loans using jointly-held assets or collateral
Removing funds from one partner's retirement account
Life insurance payouts are restricted by temporary restraining orders specifically to limit the ability of spouses to edit the future payout (or beneficiaries) of their insurance policies.
These orders are in place for situations where the couple will still be financially invested in each other even after divorce, such as a couple with children.
In that situation, one parent will most likely be the primary guardian. If the insured parent isn't the primary caretaker but will be paying child support throughout the child's life, the parent who was slated to receive the payout of the policy may very likely have a case to keep the benefits of a policy.
After all, if the insured parent dies, the child support payments would also stop and place an increased financial burden on the surviving parent.
Even in situations where the former spouses won't be financially invested in one another, during divorce hearings, it is likely that the policy owner will need to either get direct consent from the spouse being removed from the policy or a ruling in their favor in order to make a beneficiary change during the proceedings.
It's pretty likely that if the policyholder's ability to alter a policy is ruled against in divorce court, they'll be unable to change the beneficiaries of their policy in the future without a legal challenge.
After the Divorce
After the divorce is finalized, and if no restrictions have been placed on where the face amount of the policy can go, the policy owner can change the beneficiaries of their policy by submitting a beneficiary change form to their insurance carrier.
The insurance advisors at Quotacy recommend submitting the paperwork for a beneficiary change immediately after your divorce is finalized, barring any limitations and restrictions placed on doing so during the hearings.
This is crucial.
If you intend, but never request a beneficiary change to take a former spouse off your policy, this creates legal wiggle room for your ex to make a claim on your life insurance policy. He (or she) may start an unwanted legal dispute after your death that may be painful for your surviving family members; in addition to preventing the policy payout at a time when the life insurance money might be needed.
» Learn more: Managing Finances After a Divorce
Divorce with Alimony or Child Support
Alimony payments are to help the financially-dependent spouse maintain the lifestyle they have grown accustomed to.
Child support helps cover child care costs and other expenses associated with being a full-time parent.
Setting up a life insurance policy on your ex-spouse with you as the policy owner is a great option to protect the income due to you as part of your divorce decree's provisions regarding alimony and/or child support.
Take the amount of alimony or child support into account as you determine how much life insurance is needed, if you are ready to buy a term life insurance policy. You can use an affordable term life policy to guarantee the payment of either (or both) of these types of support after your divorce, along with covering other expenses like the cost of your children's future college education, for example.
If the person ordered to provide these payments to you as part of a divorce decree were to pass away, it could create a financial burden for you and your children.
Just as you may have a policy to protect your loved ones financially if you were to die, you need to protect this income as well. Setting up a policy on your ex-spouse with you as the policy owner is a great option to protect that income. Make sure that the policy is adequate enough to replace the money that you would be receiving for alimony and/ or child support.
Our advisors have worked with many people who are either preparing a divorce decree or are buying a term life policy after their divorce. No matter where you are at in your divorce process, we are happy to assist you in making the best transition possible.
» Compare: Term life insurance quotes
Image credit to: Bogdan Migulski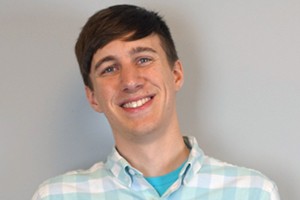 Eric Lindholm
Communications Coordinator
Eric moved from sales to communications at Quotacy. His writing is informed by his experience guiding hundreds of people through their own life insurance buying journey. Eric lives in Minneapolis, where his coworkers are trying to convince him to start his own podcast, do stand-up, or take his humor into the spotlight. Connect with him on LinkedIn.