As more Americans delay marriage while still moving in and sharing bills with their partners, questions about financial security arise. One common question is, "Can I get life insurance on my partner?" The answer is yes, but only if you have their consent and insurable interest.
In this article, we'll break down these concepts and guide you through the process of buying a life insurance policy on your domestic partner, boyfriend, girlfriend, or spouse.
What Is Consent and Insurable Interest?
When you buy life insurance on someone else, you need to have both:
Consent
Insurable interest
Insurable interest is a term used to describe a situation where one person would face financial hardship if another person were to pass away. In simpler terms, if you depend on your partner's income for essentials like paying rent or bills, then their death would significantly impact your finances.
Establishing insurable interest may involve extra steps if you're not legally married. However, the industry is becoming more flexible, adapting to modern relationships and making it easier than before to prove your financial dependency.
If you have your partner's consent, get instant term quotes now. Applying for coverage online is easy and your Quotacy agent will keep you posted every step of the way.
Buying Life Insurance on Your Boyfriend or Girlfriend
As stated above, unmarried couples in long-term relationships who want to buy life insurance on one another will need consent from their partner. You also may need to show proof of insurable interest to the life insurance carrier.
Examples of insurable interest can include:
Both individuals being named on a lease
Joint ownership of a home or business
Shared debts like a car loan
Having children together
In some cases, getting life insurance for your partner may be challenging, particularly if:
You have only been dating for a short period of time.
You don't live together.
You're not financially dependent on each other.
Buying Life Insurance on Your Fiancé/Fiancée
For engaged couples, it's generally simpler to get life insurance because insurance providers consider you to have a higher level of commitment and financial dependence.
Some providers may inquire about a wedding date, although it's not usually a requirement.
Buying Life Insurance on Your Spouse
Married couples automatically qualify for insurable interest. They usually share a home, expenses, and may be raising children together.
You and your partner should both have life insurance. Learn why your rates will likely be different in our article: Why Are My Life Insurance Rates Different Than My Spouse's?
Not sure how much term life insurance you need?
Policy Ownership vs. Naming Your Partner as Beneficiary
You can certainly apply to own policies on one another. However, the most straightforward way to secure each other's financial future is to each purchase a policy on yourselves and name the other as the beneficiary.
Beneficiary definition: The person or entity that receives the policy payout if the insured dies.
Advantages of Owning Your Policy and Naming Your Partner as Beneficiary
Control: In this case, you have control over your policy. You can change beneficiaries, adjust coverage, and otherwise manage the policy as you see fit.
Premium Payment: You're responsible for paying premiums, so you aren't relying on anyone else to ensure the policy remains inforce.
Information Access: You'll receive all communications about the policy.
Payout: Your partner would be the beneficiary and would receive the death benefit directly. Usually, this payout is tax-free and bypasses probate, allowing quicker access to funds.
Key Points to Consider
Flexibility: Owning your own policy allows you to adapt it to changing circumstances. If your relationship with your partner changes, you can easily modify the beneficiary.
Trust: Trust plays a crucial role regardless of who owns the policy. If your partner owns a policy on you, you'll need to trust them to manage it responsibly.
Estate Planning: Assess how each option aligns with your overall financial and estate planning objectives. Owning your policy may have tax implications if the value of your estate surpasses the exemption limit.
Communication: Regardless of the arrangement, clear communication is essential to make sure both parties understand the policy's terms and obligations.
Alternative Options
If you're having difficulty getting coverage approved on your partner, you could list your estate as your policy's beneficiary and specify in your will that your partner should receive the insurance proceeds. Keep in mind, this means the payout would be subject to probate, delaying access to the funds.
If you name your estate as your beneficiary, you can go back and change it to your significant other once it's active. A policy owner can change their beneficiaries at any time.
However, wait a few months to change it. Making a quick change may raise red flags for the insurance company.
See what you'd pay for life insurance
Comparison shop prices on custom coverage amounts from the nation's top carriers with Quotacy.
How to Buy Life Insurance on Your Significant Other
If you're ready to buy life insurance for your partner or make them your policy's beneficiary, Quotacy can guide you through the process. We've helped many couples, married and unmarried, in obtaining life insurance.
Start the process by running a free and anonymous term life insurance quote. If you want to buy life insurance on your significant other, be sure to use their information when filling out the quoting tool.
After running quotes, when you're ready to apply you will be brought to a page that looks like the screenshot below.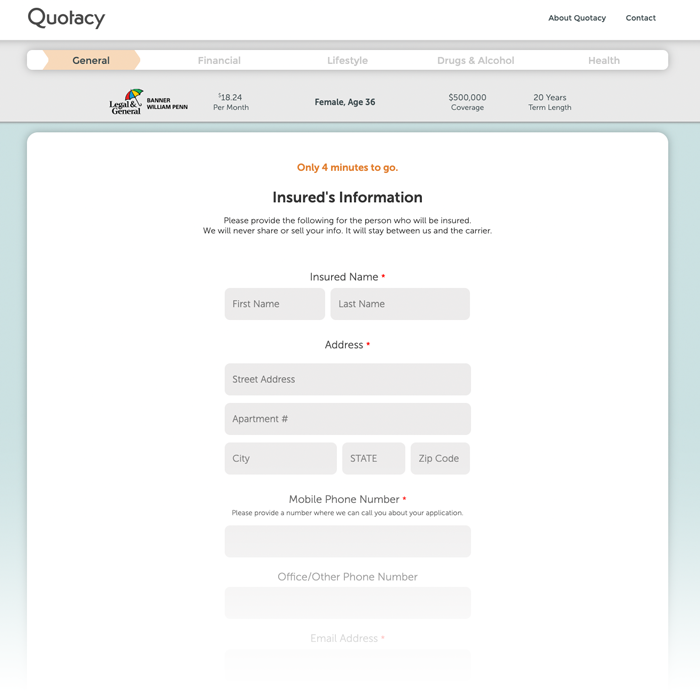 As you can see it asks that you fill out the form with the insured's information, which would be your significant other.
Once the application has been submitted, the life insurance company will need to personally contact them (the proposed insured) to verify application information and, if necessary, to schedule the medical exam.
| | |
| --- | --- |
| | Tip: When filling out your application, use the titles "partner" or "significant other" instead of "boyfriend" or "girlfriend". |
Whether you're engaged, married, or in a long-term partnership, it's crucial to discuss your options openly and decide together how to protect your shared financial future. So go ahead, take that step, and give yourselves the peace of mind that comes from knowing you've planned responsibly for whatever life has in store.
Ready to see what you'd pay for life insurance? Start with a free quote today.
Watch the Life Insurance on a Boyfriend or Girlfriend Video