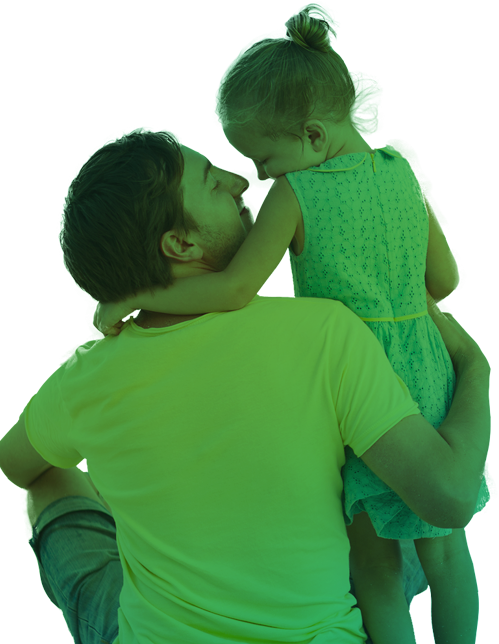 Compare Term Life Insurance Rates
Term insurance is simple, affordable, temporary protection. We search across the nation's top insurance carriers to find the term life insurance quotes that fits your needs, time frame, and budget.
Why choose Quotacy for term life insurance?
Industry leader
We know life insurance. It's our thing. With over 25 years of experience in the industry, we've seen it all. We know that insurance isn't exciting for most people, but at Quotacy we love it. Our team is proud to be a leader in the industry and set the standard for buying life insurance online.
It's all about YOU
We are passionate about finding the right policy for your unique situation. We make it easy for you by shopping on your behalf; we compare rates, find the best prices and let you choose your policy. The trust and relationships we build with our clients is priceless.
We are real people
Let's be honest, we may even become friends. We are real people doing what we do best: helping you buy life insurance. We strive for customer satisfaction, and that can only happen if we are honest, trustworthy, genuine and completely transparent with you. And we are.
Have questions? We have answers.
Purchasing life insurance can trigger many questions and concerns. We want you to be as informed as possible with all the information you need to know to make a confident decision.
Buying term life insurance has never been easier.
Compare rates instantly
Compare life insurance quotes for different coverage amounts instantly and find out how much life insurance coverage you really need.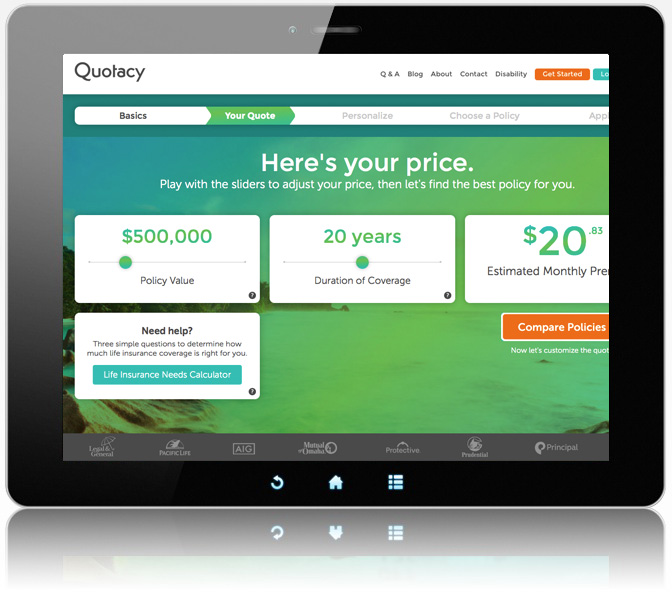 Choose a policy
Quotacy only works with A rated carriers
so you'll have plenty of choices from the most
trusted life insurance providers.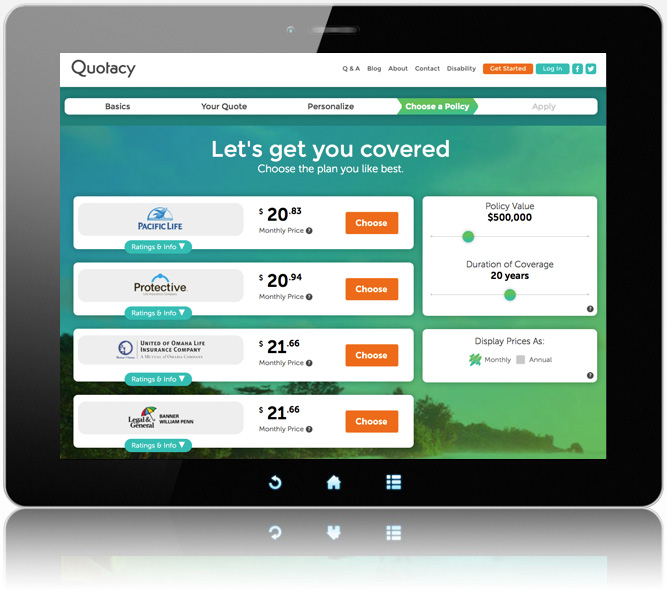 Apply Online
Apply from the comfort of your home. We work
hard behind the scenes to ensure you get the
best policy for your unique situation.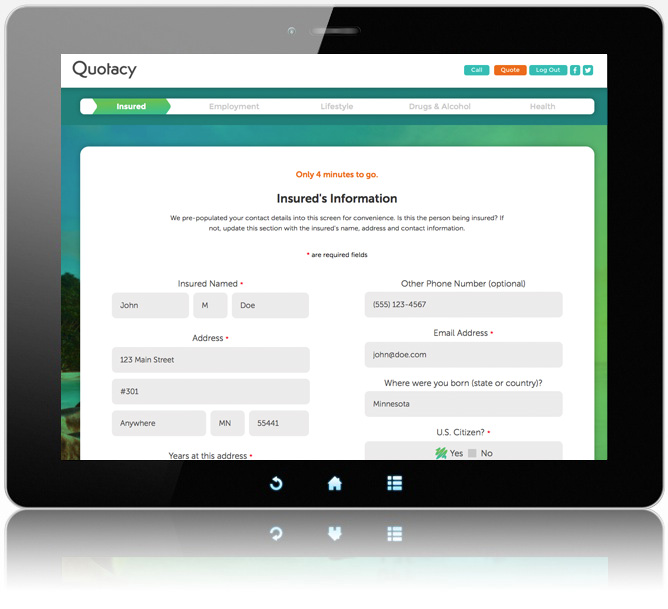 Buying life insurance is one of the most important purchases you can make. We want to make it a great experience and believe customer service is key. But, don't just take our word for it.
Quotacy is rated "Excellent" by customer reviews on TRUSTPILOT
Best Life Insurance Companies for Term Life Insurance
When looking for the best life insurance, look no further than Quotacy. We are an independent agency working on your behalf. Quotacy only works with the top "A" rated insurance carriers and we only sell policies we would buy ourselves.
Types of Life Insurance Coverage
When it comes to protecting your family's financial future, there is no better product than life insurance.  Life insurance is an affordable way to replace your income for your loved ones if you die prematurely.  The death of a family provider is never easy.  It takes an emotional, physical, and spiritual toll on the surviving loved ones – life insurance can ensure there isn't a financial toll as well.
There are two main types of life insurance, permanent insurance and term insurance.  Permanent insurance is life-long and can also have a cash value aspect.  Because of these two aspects, permanent products cost much more on average than term products.
Term insurance is temporary and simple income replacement.  Term insurance costs are very affordable and can fit in most budgets.
For most individuals, term insurance is the best choice and offers the financial protection your family needs.  The main purpose of life insurance is to replace lost income after the death of a provider and term insurance can protect your family during their most vulnerable years.  Term insurance is designed to last until it is no longer needed.  In most cases, this is when children are independent and grown and you're in or near retirement.
Term Life Insurance Quotes
It all starts with a quote. Getting term life insurance quotes online at Quotacy is easy.  With Quotacy, you can instantly get an estimate for how much term insurance would cost you.  Unlike most online agencies, we don't require you to enter any personal information just to see pricing.  We welcome you to run as many quotes as you would like so you can get a good idea on how much coverage costs.
We don't believe buying life insurance should be difficult.  We are here to make the process as easy as possible and keep you updated along the way. There is no risk to you in applying. Applying for life insurance is free and if you change your mind you can walk away. We promise not to hold it against you, and will welcome you back with open arms when you do decide to purchase. Keep in mind that the older you are, the more expensive life insurance can become.
How much term life insurance coverage you need
Many financial advisors recommend buying a coverage amount that is ten times your annual salary, but this isn't the right amount for everyone. Every person's family life and situation is unique. If you aren't sure how much life insurance you need, our Life Insurance Needs Calculator can help.  You only need to answer three questions. How much debt do I have to pay off? How much monthly income does my family need? How many years do I want my family to receive this sum?
The calculator uses these numbers to help determine how much coverage is best for your individual situation.  Use this suggestion as a starting point.  You can always choose to apply for a different amount. Consider this, even a small $100,000 term insurance policy is better than owning none at all. If you were to pass away, the death benefit will help your loved ones pay for a funeral, time off work, and any bills that need to be taken care of. Life insurance can also pay for larger or long term expenses such as a mortgage or your children's college tuition.
Whatever your life insurance needs, Quotacy can help you find the best policy.
How much term life insurance costs
Many are surprised to learn that term insurance costs much less than they thought. The cost of a 20-year $250,000 term policy for a healthy 35-year-old female can cost as little as $13 per month. And with term life insurance your premiums will remain the same throughout the entire term length.
A term policy can fit into most budgets. Using our term life insurance quoting tool, you can adjust the term length and amount of coverage to find a price amount that works for you.
Quotacy helps you buy life insurance
When looking for the best life insurance rates, look no further than Quotacy.  We are an independent agency, which means we work with multiple top-rated insurance companies.  We have the ability to shop the market which allows us to offer you many options. The more options you have, the better your chances of getting approved at the best rate possible.
If you have tried buying life insurance in the past and have been denied because of a medical condition or lifestyle habit, we urge you to try again.  No two insurance companies underwrite the same and guidelines are always changing.  We have in-house underwriters who know the ins and outs of these companies and will be able to assist in finding you the best coverage.
We cannot promise we can get every individual life insurance, but we can guarantee we will try our hardest.  The process of buying insurance can be confusing sometimes, but we walk you through each step and continually keep you updated on your application's status.  We aim to make life insurance easy and work hard to ensure you have a great experience.
Meet the team offering the best life insurance.
We're more than a website.
We're real people.
29,600
Over 29,600 families and businesses have been protected with life insurance under the Quotacy and Hallett Financial Group umbrella.
$20 Billion
Over $20 billion of life insurance has been placed in force between Quotacy and parent company Hallett Financial Group.
Quotacy works with the most trusted, best life insurance companies in the country.