Life insurance has many uses. But the main purpose of life insurance is to replace lost income as a result of a provider dying prematurely.
In most households, the high cost of living requires two incomes to maintain a comfortable standard of living. A mortgage, student loans, car payments, and everyday expenses require steady, reliable cash flow. And raising children? A very costly blessing. Parents need life insurance more than anyone.
You may have seen it. You may have experienced it. When a young parent dies, the surviving family members are thrown into an emotional tailspin. When a young parent dies without life insurance, add financial turmoil on top of the emotional struggle.
Both Working Parents Need Life Insurance
LIMRA (Life Insurance Marketing and Research Association) research shows that 42% of households would face financial hardship within six months should a wage earner die unexpectedly—25% would suffer financially within a month.
Both parents contribute to the family's way of life. Even if one parent makes more money than the other, it doesn't mean that only one needs life insurance.
LIMRA surveyed over 3,000 adult Americans and discovered that 58% of males owned life insurance. Only 47% of women owned a policy.
Unfortunately, moms are vastly underinsured in America. Historically, men have been the head of the household and in charge of finances. Even in today's modern world, fathers have more life insurance than mothers.
Statistically, men do live shorter lives than women. But you never know what tomorrow may bring. Both parents need to own life insurance.
If one parent unexpectedly dies next week, will your family suffer financially? I bet so.
If a parent died, life insurance can help the surviving parent:
Maintain the family's standard of living
Pay for a funeral and other final expenses
Pay off the mortgage so children don't need to be uprooted
Pay off debts
Establish college savings accounts
Continue saving for retirement without disruption
When a working parent dies, the paycheck stops but the ongoing bills don't.
See what you'd pay for life insurance
Comparison shop prices on custom coverage amounts from the nation's top carriers with Quotacy.
Buying Term Life Insurance
If you're just starting to think about buying life insurance, it may seem overwhelming. You have lots of options.
For most families, a level term life insurance policy is going to be your best choice. It's the most affordable type of life insurance and very customizable.
Term life insurance is coverage that is in effect for a specific period of time (called the term). As the expiration is approaching, you have the opportunity to continue coverage—at a higher cost—if you need it.
You choose how long you want the coverage to last. Terms range from 10-40 years, depending on your age.
You choose how much coverage to buy. This coverage amount is called the "death benefit" or "face amount". It's the amount of money that would be paid to your beneficiaries if you died during the term.
You can also choose to add riders to your policy that provide extra benefits. One popular rider for parents is the child rider.
A child rider is inexpensive and covers the lives of all your minor children with a small amount of life insurance. The average cost of this rider is an additional $50 annually on top of your life insurance policy's cost. This $50 provides $10,000 of coverage on all minor children.
Should the worst happen, these funds can take care of a funeral and memorial service. A child rider also locks in your child's future insurability should you or they decide to later on convert the rider into a permanent life insurance policy.
The Cost of Term Life Insurance for Working Parents
The cost of a life insurance policy varies based on factors such as your age, gender, and health. The younger you are, the cheaper it is. The less health concerns you have, the cheaper it is.
However, even if you're no longer in your 20s feeling invincible, Quotacy can help you find an affordable policy. Most Americans overestimate the cost of term life insurance by hundreds of dollars. Get a life insurance quote. You may be surprised at how little financial protection costs.
Quotacy's term life insurance quoting tool allows you to easily and quickly get estimated pricing. The tool also shows how the term length and death benefit affect the overall cost. Simply move the sliders on the tool to adjust the policy numbers.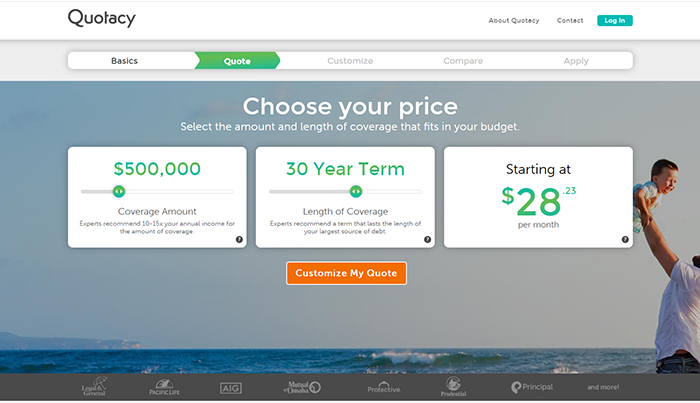 Buying Permanent Life Insurance
Buying life insurance isn't an either-or situation. While term life insurance is valuable and often the only type of a life insurance a family needs, permanent life insurance can be extremely beneficial. It's not uncommon for families to purchase a little of both.
Term life insurance is ideal for income replacement. Get enough term life insurance to cover the costs of the big ticket parts of life such as your house and children's college tuition.
If you want your family to receive a guaranteed payout no matter when you die, this is when permanent life insurance comes into play. While the cost of permanent life insurance is far greater than that of a term life insurance policy, you likely don't need as much permanent coverage.
A small permanent life insurance policy can cover the cost of your funeral, end-of-life expenses, and any lasting debt left behind. Later in life, the policy may even build enough cash value you can access through policy loans. You can use the money from the cash value account in any way you wish. If the death benefit is no longer a financial priority, you can even forgo repaying the policy loan. When you die, the insurance company will subtract the loan from the death benefit prior to paying your beneficiaries.
Permanent life insurance can be complicated. Hop on over to our permanent life insurance page to learn more. If you're interested in buying permanent coverage, a Quotacy advisor can provide you customized quotes.
Life Insurance for Work-from-Home Parents
Stay-at-home parents may not receive a paycheck from working outside the home, but they do many tasks for the family regardless. The work a stay-at-home parent provides saves the family money by not outsourcing these tasks.
Daycare, nannying, transporting, cooking, cleaning—these are all full-time jobs for many people. A stay-at-home parent does all these jobs.
If the death of a stay-at-home parent were to occur, the surviving parent would need to find the extra funds to hire help. Or, the surviving parent would likely need to adjust their work schedule to accommodate everything the stay-at-home parent once did.
Life insurance on a stay-at-home parent would give the surviving parent more flexibility to take time off work to grieve with and comfort the children. It would also allow the parent to hire help once he or she is back at work after the needed time off.
» Learn more: Life Insurance for a Stay-at-Home Parent
Don't Wait to Buy
At Quotacy, we've worked with thousands of families of every type to find the best possible coverage for their family's goals. We can help you too.
Unsure of what type of life insurance makes sense for you? Talk to us! We're here to get you the facts that you need to make an informed decision. Once you've made a decision, we'll be your advocates and help you get the best possible coverage and keep you updated throughout the entire buying process.
Protect your family's financial tomorrow so you can embrace today.
» Get quotes: Term life insurance quotes
Note: Life insurance quotes used in this article accurate as of September 3, 2021. These are only estimates and your life insurance costs may be higher or lower.