Life insurance helps you financially protect your loved ones. But which type of life insurance is best for your situation?
Understanding the difference between term vs permanent life insurance before you buy is important. In this guide, we'll explore the key differences between term life and permanent life insurance to help you make an informed decision.
What's the Difference Between Term and Permanent Life Insurance?
The duration of coverage is the primary difference between term and permanent insurance. However, we'll explore other key differences, too. This chart provides a helpful overview.
| | | |
| --- | --- | --- |
| | Term Life Insurance | Permanent Life Insurance |
| Coverage Duration | Specific term (10-40 years) | Lifetime (as long as premiums are paid) |
| Death Benefit | Paid out if you die during the term | Paid out upon your death |
| Premiums | Fixed and lower than permanent life insurance | Much higher than term life insurance (can be fixed or flexible) |
| Cash Value | No cash value component | Has a cash value component that grows over time |
| | | |
Permanent Life Insurance
Permanent life insurance is coverage that lasts your entire life and can include features that term doesn't, such as cash value accumulation and dividend earnings. Some permanent products even have flexible premiums and adjustable death benefits.
Types of Permanent Life Insurance
There are many variations of permanent life insurance. These are the most common types:
Permanent life insurance can be quite complex due to its many features. Speak with an experienced agent or broker if you want to buy a permanent product to ensure you fully understand the terms.
Term Life Insurance
Term life insurance is the most straightforward and affordable coverage option, making it the best choice for many people.
What to know about term life insurance:
It's temporary coverage. You choose your policy's term length, typically 10-40 years.
Your rate is fixed. Once your policy is activated, your premium stays the same for the entire term, even if you develop a serious health condition.
The death benefit is tax-free. The death benefit is the total amount the insurer pays your beneficiaries if you pass during the term. You choose the death benefit amount when you purchase the policy.
You can renew or convert your policy. Term renewal means extending existing coverage before it expires. You can also convert some of your policy into permanent life insurance. Any new coverage policy will have higher premiums, but your health won't impact eligibility in either of these cases.
Does Term Life Insurance Build Cash Value?
No. Term life insurance does not build cash value.
Instead of buying cash value life insurance, many choose to financially protect their families with more affordable term life insurance and invest separately.
If permanent life insurance is too expensive but you want a policy that offers you emergency aid if something happens before you pass away, explore living benefit riders.
Learn more about life insurance policy riders and how you can use them to customize coverage to fit your needs. 
See what you'd pay for life insurance
Comparison shop prices on custom coverage amounts from the nation's top carriers with Quotacy.
Permanent vs Term Life Insurance Pros and Cons
A pros and cons list can be helpful when weighing a tough decision. As you review permanent and term life insurance, consider the pros and cons below.
Permanent Policies
Pros:
Guaranteed lifelong protection for beneficiaries
Choice of level or flexible premiums
Savings component with access to cash value while you're alive
Potential for dividend earnings in participating whole life policies
Cons:
Higher rates compared to term policies
Consequences to accessing cash value
Complex and may require monitoring to prevent policy lapse
Term Policies
Pros:
Lower rates than permanent life insurance
Simple to understand and manage
Variety of term lengths and coverage amounts
Convertible to permanent life insurance without medical records or exams
Cons:
Coverage expires at term end, requiring renewal, conversion, or new policy purchase at higher rates due to aging
No cash value accumulation or dividend earnings
It's important to note that you don't have to choose either/or. Many people will buy term life insurance for their big-ticket financial responsibilities and an additional permanent policy for more specialized needs.
If you have life insurance coverage through work, it's unlikely your employer-provided coverage (or group coverage) is enough. Learn how to balance your group and individual policies.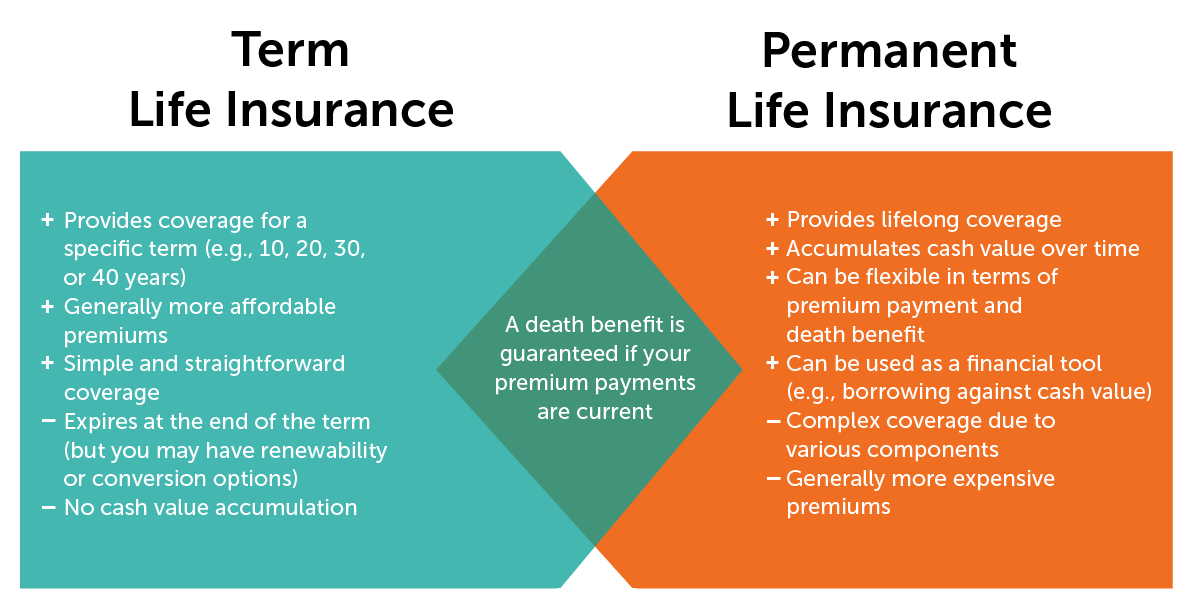 Term or Permanent Life Insurance: Which Is Right for You?
When considering term vs. permanent life insurance, evaluating personal financial goals, the desired length of coverage, and affordability is essential.
Coverage Length
Do you need life insurance indefinitely or mainly for the years when your beneficiaries are most vulnerable to financial turmoil if you suddenly pass away?
Consider your life stage, financial obligations, and long-term goals when deciding which coverage suits your needs.
If your coverage needs are limited, i.e., while your kids are in school or until your mortgage is paid, term insurance may be more appropriate.
Permanent life insurance may be more appropriate for long-term business or estate needs.
Budget
Your budget is crucial in determining what type and how much life insurance to buy. You need to make sure the premiums are comfortably affordable long-term.
Some will buy a permanent life insurance policy, believing it's the best choice for their family, only to realize later the premiums are unaffordable. And keep in mind, some term policies can last 30-40 years. There are no refunds if you can't pay the premiums and your policy lapses.
Don't sign the dotted line if you're questioning the cost. You can always ask your agent to lower the face amount or decrease the length of coverage to make it more affordable.
That being said, term life insurance is one of the most affordable ways to provide income protection to your loved ones.
Debt
If you have significant outstanding debts, such as a mortgage or student loans, life insurance can provide financial protection for your dependents if you die. Term life insurance is an ideal, cost-effective way to cover these debts since you can align the length of the policy to match the repayment periods.
Children & Dependents
If you have children, you need life insurance. You're responsible for their happiness and well-being. Should you die unexpectedly, life insurance can help stabilize their lives and ensure their standard of living can stay the same. You can also purchase inexpensive coverage on your children through a child policy rider. 
How many children you have, and their ages will determine how much life insurance to buy and how long the coverage should last.
The closer your children are to being financially independent, the fewer years you need coverage. However, if your children have special needs or disabilities, you may want to consider permanent life insurance since they will likely rely on you for their entire life.
Estate Size
An estate is simply the total sum of your assets, property, and financial holdings at the time of your death. Everyone has an estate, not just wealthy people.
A modest estate falls below the estate tax exemption threshold and, therefore, won't incur estate tax liabilities. However, if you have a large estate, a permanent life insurance policy can help your beneficiaries and heirs reduce estate taxes and provide liquidity needed to pay expenses like funeral costs, debts, and estate administration.
If you don't qualify for traditional life insurance, consider accidental death and dismemberment insurance, which pays out if you die in an accident.
Get a Quote and Apply for Life Insurance Through Quotacy
Whether you're looking for term, permanent, or a little bit of both, we can help you on your life insurance journey.
We understand how significant this purchase is for you. You want to protect your loved ones the best way possible, but also make sure the policy fits your needs.
Unsure where to start? Our life insurance buyer's guide can help. Or, if you're ready to get quotes, start by getting a free term life insurance quote—no contact information required.
If you're more interested in permanent life insurance, complete this form, and one of our non-commissioned agents will reach out soon to provide personalized quotes.
Watch The Differences Between Term and Permanent Life Insurance Video