Key person life insurance is coverage on the life of an individual who is vital to a business's success. It's also referred to as key man insurance and key employee insurance.
This type of coverage is essential for a business to stay afloat should that insured employee die unexpectedly. In this guide, you'll learn how this type of insurance works.
Table of Contents:
Shopping for life insurance but overwhelmed by your options? Use our wise buyers' guide to get informed. 
What Is Key Person Insurance?
Key person insurance is insurance a company buys on an employee. The company is both the policy owner and beneficiary.
This type of policy can come in two forms: key person life insurance and key person disability insurance. Both options protect the future of a business.
Key person life insurance pays a death benefit to the company if the insured employee dies. Key person disability insurance pays a benefit to the company if the insured employee becomes ill or injured and is unable to work.
Learn more about key person disability insurance in our Disability Insurance to Protect Business Owners guide.
Who Is a Key Person?
A key person is someone who has a direct impact on the success of the business. They are very difficult or expensive to replace.
This essential person can be a business owner or employee.
This person might work in:
Operations – keeping the work efficiently flowing from onboarding to satisfied customers for the entire company.
Partnerships – knowing critical players in your industry and building your business partnerships.
Profitability – watching and managing finances to ensure you stay afloat.
The main differentiator of a key person is whether or not this person's death would create financial trouble for the company.
Examples:
Their death would be a loss of considerable skill and experience.
Their death would disrupt the revenue stream.
Their death would mean a loss of reputation and recruitment power.
Their death would disrupt management and staff.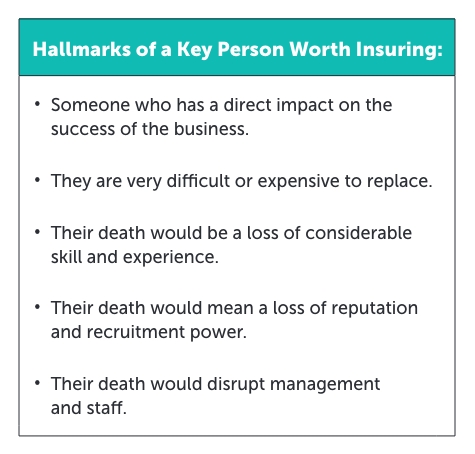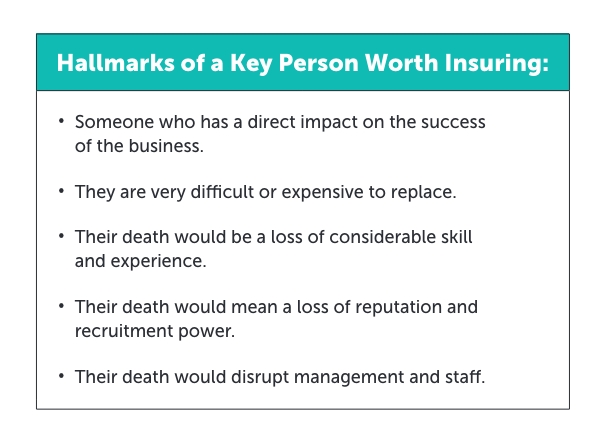 What Is the Purpose of Key Person Life Insurance?
Key person life insurance can be the difference between the success or failure of a business.
The costs associated with the death of a key person can be significant. 
Finding a replacement to step in is usually a slow and expensive process.
Many companies have no other employees with the same knowledge, experience, judgment, or reputation as the deceased key person. Less qualified employees must fill in, and their lack of experience could impact your bottom line.
Finding a permanent replacement for this key person takes time. Whether you fill the position from inside or outside the company, it will take a lot of resources. Hiring from inside means you'll need to hire someone to replace the person you choose to promote. Hiring from outside means you'll need to spend time and money to get that person up to speed.
Sometimes an employer is contractually obligated to pay salary and/or provide benefits to the family, even if the employee dies. This situation may also impact your bottom line.
The death benefit from the policy can help the business replace lost revenue and cover expenses as they search for a replacement and pay their obligations.
How Does a Key Person Policy Work?
A business (the policy owner) takes a life insurance policy out on the key person (the insured), and names themselves (the business) as the beneficiary. If that person passes away, the business will file a claim with the insurance company to receive the death benefit, which is generally not subject to income tax.
How key person life insurance works:
The business obtains the employee's written consent to the policy.
The business follows the formalities necessary to approve the purchase of the key employee policy. (For example, if the business is a corporation, the board of directors must authorize the purchase.)
Business applies for, owns, and is the beneficiary of insurance on the key employee's life.
Business pays all premiums and meets all reporting and record-keeping requirements.
If an employee dies, the business receives the policy proceeds upon the employee's death to use as needed to cover losses and find and train a replacement.
Company-Owned Life Insurance
The insured's loved ones, or the insured themselves, usually own life insurance, but not in the case of key person life insurance. Instead, it is a type of company-owned life insurance (COLI)—also referred to as employer-owned life insurance (EOLI). 
The company pays the premiums and is both the owner and beneficiary of the policy. With COLI/EOLI policies, the insured employee must be informed about the coverage and consent.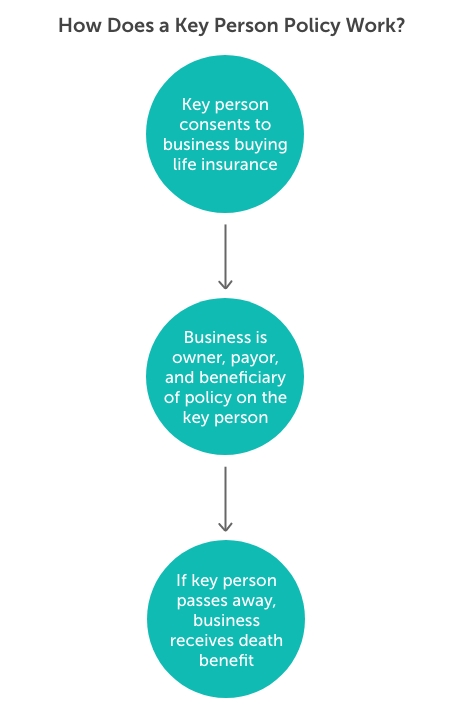 See what you'd pay for life insurance
Comparison shop prices on custom coverage amounts from the nation's top carriers with Quotacy.
Is Key Person Life Insurance Tax Deductible?
The premiums are not tax deductible, but the death benefits are tax-free as long as the company follows IRS rules.
An employer must comply with Notice and Consent requirements. To meet these requirements, an employer must notify the insured in writing. This notice must include the amount of life insurance issued and explain that the employer will be both the policyowner and the beneficiary. The insured must also consent to the following:
Being insured
Allowing the policy to continue after employment ends
Letting the employer be the beneficiary
For many years, the IRS has promoted life insurance as a tax-friendly way to provide financial security. But some corporations were abusing the tax advantages of COLI. They would buy key person insurance on many employees and receive tax-free benefits whenever the person died.
In 2006, the IRS added additional requirements for who can be insured to prevent these abuses. IRC Section 101(j) requires that one of these conditions be met:
When the contract was issued, the insured employee was a director or highly compensated employee.
The insured employee is among the highest-paid 35% of all employees.
The insured was a company employee within the 12 months immediately preceding their death.
The death benefits are payable to the insured employee's heirs or used to buy an equity interest in the employer from the family member, beneficiary, trust, or estate.
Each year key person policies are in effect companies must also file Form 8925 with the IRS.
Does Your Business Need a Key Person Policy?
If your business relies heavily on specific individuals, then key person life insurance is important to protect against financial uncertainty.
This type of insurance makes sense in many circumstances, including:
If your business's reputation is linked to the key employee's name, reputation, or unique skills.
If the death of a key employee could quickly threaten your company financially.
If your business is seeking investors or SBA loans — lenders will only sign a contract if life insurance is in place on key individuals.
If your business is a partnership and each partner wants to be able to buy out the other's shares in case of an untimely death
Learn more about how life insurance protects business owners.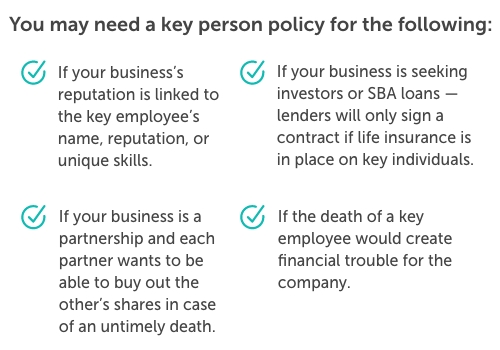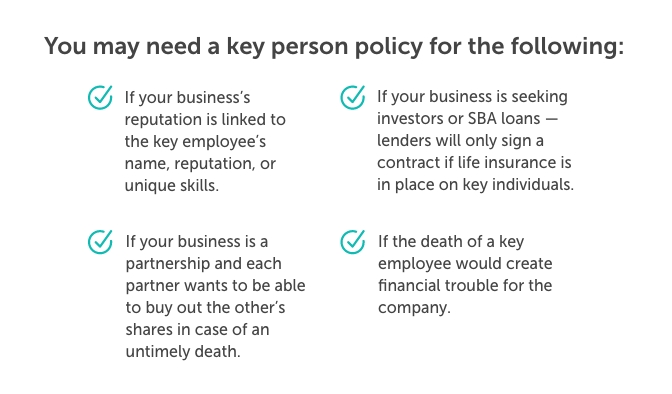 Determining the Right Amount of Coverage
Valuing key employees isn't an easy task. There are many variables to consider. The right amount of coverage should equal the realistic loss associated with the employee's death.
The policy's coverage may be:
A multiple of the insured's salary.
The costs associated with replacing the employee, including their salary and expenses to recruit, hire, and train.
The cost to replace what this essential person adds to the company's bottom line.
Key person valuation can be tricky, and working with a professional risk manager may be helpful.
Not sure how much life insurance you need?
Determining the Right Type of Policy
Both term and permanent life insurance can be used for key person life insurance. The type you choose depends on who you want to insure, how much the company intends to spend in premium payments, and the insurance policy goals.
Term Life Insurance: A term policy is ideal for key person insurance because you can customize it to last until that employee's expected retirement year. Term lengths range from 10-40 years. They are also much more affordable than any permanent life insurance policy. The premiums are easy to work into a budget since they are fixed and won't change for the entire term.
Whole Life Insurance: A whole life policy is a type of permanent life insurance policy that lasts the employee's lifetime, has fixed premiums, and accumulates a cash value at a guaranteed rate. A whole life policy may be a good option for owners or partners if the goal is to access cash value for future expenses. Whole life insurance is much more expensive than term.
Universal Life Insurance: A universal policy is a more flexible permanent life insurance policy. You can opt to increase or decrease your premiums. Universal policies accumulate cash value, but growth is tied to the market, not a guaranteed interest rate. Universal life insurance is more expensive than term.
Learn more about the differences between term and whole life insurance.
Protect Your Business with Key Person Insurance Today
Key person protection helps a business through difficult times and reassures other valued employees, clients, vendors, and prospects that the company's future is secure.
If you're a business owner looking to get key person life insurance, Quotacy can help. Get a term life insurance quote instantly, or contact us for personal assistance.