One of the most important steps in setting up your life insurance policy is naming your beneficiary. This beneficiary is the individual who will receive the policy's benefits (money payout) upon your death.
While you must name at least one beneficiary for your policy, it's possible to go above and beyond, naming multiple people on your life insurance policy. This ensures that your death benefit goes to a meaningful individual (or organization) even if your primary beneficiary precedes you in death.
Our Quotacy agents can help you understand how to designate your life insurance policy's beneficiaries.
Contact us if you have any questions after reading our article today.
» Compare: Term life insurance quotes
What are the different beneficiary levels?
There are many ways to distribute life insurance payouts under a life insurance policy. The most straight forward option is to have 100% of the death benefit go to one primary beneficiary. However, along with primary beneficiaries, you also have additional levels: secondary and tertiary.
Naming a secondary beneficiary (contingent beneficiary) means that he or she would be next in line for the payout if your primary beneficiary would be unable to receive it.
John Smith has a $500,000 life insurance policy and names his wife primary beneficiary.
He also names his brother as secondary beneficiary in case he and his wife die at the same time.
Naming a tertiary beneficiary would be the back-up if both the primary and secondary beneficiaries were unable to receive the death benefit.
John Smith has a $500,000 life insurance policy and names his wife primary beneficiary.
He also names his brother as secondary beneficiary in case he and his wife die at the same time. John lists his local animal shelter as a tertiary beneficiary should both his wife and brother be unable to receive the death benefit.
While you're only required to name a primary beneficiary, it's always a good idea to name at least a secondary beneficiary just in case your primary dies before you do.
If you only name a primary and this person dies before you do, then your death benefit proceeds revert back into your estate and may go through probate.
This article explains some beneficiary scenarios to consider when you wish to provide for your loved ones using life insurance.
Ready to get your life insurance quote?
You're a few minutes away from great life insurance
How much life insurance do you need?
Figure out your action plan with our needs calculator
What are the different ways of distributing the proceeds?
You can leave 100% of the life insurance death benefit to one person. If you have a large family, you can even choose to divide it into 10 equal shares of 10%.
It's up to you to decide what is most beneficial for your loved ones, a business, or charity.
When it comes to naming beneficiaries you may assign proceeds to be distributed per stirpes or per capita. These distribution options help the claims process if any beneficiary were to die before the policyowner.
Per stirpes means that proceeds are divided by rank in the family and per capita means that proceeds are divided by the number of people.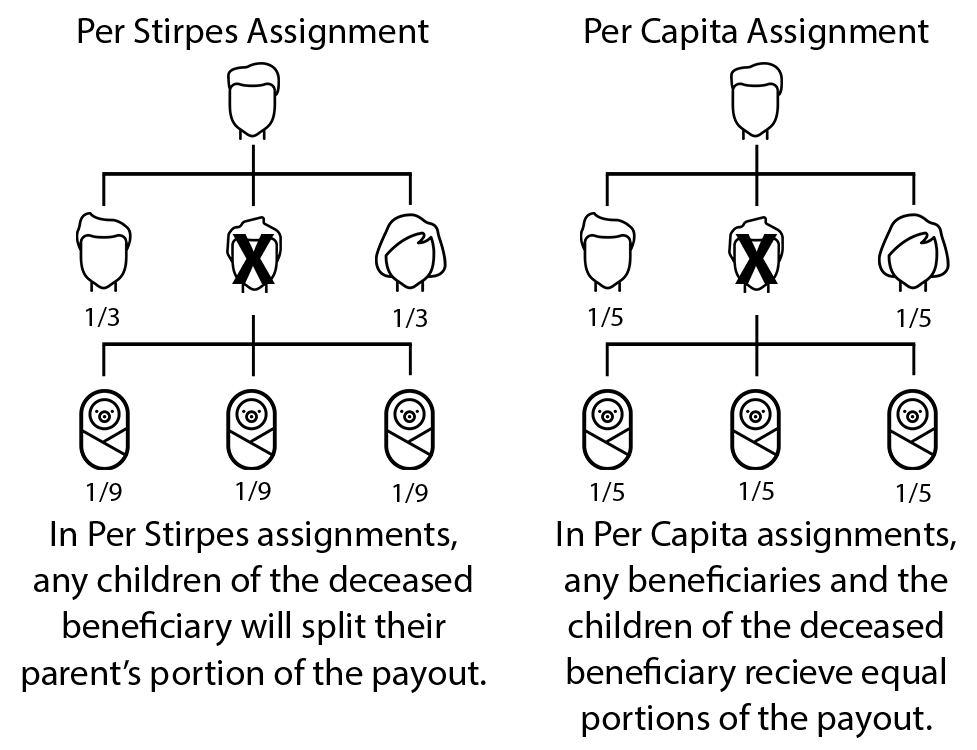 Of the two options, per stirpes is more common.
If you have a fairly large estate, be sure to work with an estate planner to ensure that you avoid any unnecessary estate taxes.
» Calculate: Life insurance needs calculator
Review your term life insurance policy annually as life events occur such as a marriage (or divorce), the birth of a child, buying a home or a second home, or establishing a business. Taking the time for a policy review is the best way to ensure what happens upon your death is exactly what you wish.
We're here to help you protect your family with the best term life insurance policy for your unique financial situation. Please reach out if we can be of service to you or your family.
Photo credit to: William McMasters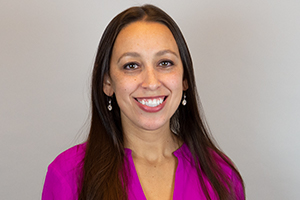 Natasha Cornelius
Writer, Editor, and Co-host of Quotacy's Q&A Fridays
Natasha is the content manager and editor for Quotacy. She has been in the life insurance industry since 2010 and has been making life insurance easier to understand with her writing since 2014. When not at work, she's probably studying and working toward her Chartered Life Underwriter (CLU) designation while throwing a tennis ball for her pitbull mix, Emmett, or curled up on her couch watching Netflix. If it's football season, the Packers game will be on. Connect with her on LinkedIn.