A life insurance policy is essential a financial safety net for families. After the death of a provider, the death benefit payout can be a tremendous help for anything from funeral expenses to unpaid debts.
The life insurance claims process is likely unfamiliar to many who go through it, but it's pretty simple. All you need to do it gather some documents, notify the insurer, wait, and receive the payout.
We'll guide you through the finer details of how to file a life insurance claim and how policy payouts work.
When to File a Life Insurance Claim
Life insurance companies don't automatically know when an insured individual dies. To collect the life insurance death benefit payout, beneficiaries must file a claim.
There's no time frame in which you're required to make a claim, but it's often best to file as soon as possible after the death to alleviate financial stress.
If life insurance policy death benefits are not claimed after a few years, the insurer turns the funds over to the state government. Even then, beneficiaries can still file a claim for the money through the state's unclaimed property program.
How to File a Life Insurance Claim
There are a few steps to follow when filing a life insurance claim after the death of a loved one.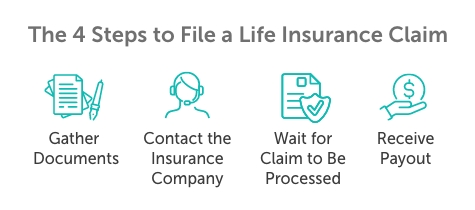 Step 1: Gather Documents
The insurance company will require a few documents to start the death claims process. Sending them all at once helps speed things along.
Documents required for a life insurance claim:
Certified Death Certificate: Get certified copies of the death certificate from the funeral director. Life insurance companies won't take photocopies.
Claim Form: Many insurance companies have a claim form on their website that you can submit electronically or print off and return via mail. If not, call the company and ask what is required to file a claim.
Policy Document: Some insurance companies prefer a copy of the original insurance policy, and some may just need the policy number. Either way, it's helpful if you have the policy on hand when filing.
Step 2: Contact the Insurance Company
Once you have gathered the documents, call the insurance company or your agent and notify them of the death. They'll explain the rest of the claims process to you and can update their files.
Step 3: Wait for Claim to Be Processed
Once you submit the claim, insurance companies will begin their investigation.
They'll review your claim and ensure they don't need more information.
They'll confirm the policy was inforce at the time of death.
They'll confirm you're an actual beneficiary. You may need to provide proof of identification.
If the insured died within two years of buying the policy, the insurance company has the right to investigate the original application to ensure fraud was not committed.
Life insurance companies typically have up to 30 days to review a claim, but most complete the process within a week or two. They are motivated to pay claims quickly due to interest charges that accumulate as they hang onto the proceeds.
The process may take quite a bit longer if the policy is still within the two-year contestability period.
Step 4: Receive Payout
Life insurance death benefits are paid out as a lump sum or in installments. Beneficiaries can choose how to receive the claim payment on the insurance company's claim form.
Lump Sum: As it sounds, this is when the insurance company pays the beneficiary their entire payout amount at once tax-free. This is the default option if nothing is specified.
Installments: With this option, you can decide to keep the death benefit with the insurance company and allow them to invest it and get paid in installments. While the death benefit isn't subject to income taxes, earnings are. Depending on the insurance company, beneficiaries may have different installment payout options, including:
Specific income: The insurance company pays out both principal and interest on a predetermined schedule.
Interest income: The insurance company invests the death benefit amount and pays out the interest. The death benefit remains untouched and can be paid to a secondary beneficiary upon the death of the first beneficiary.
Life income: With this option, the insurance company will calculate a fixed guaranteed amount of monthly payment based on the death benefit amount, gender, and age for the life of the beneficiary.
Most beneficiaries choose to accept the lump sum. They can use the funds immediately and decide how to invest them.
See what you'd pay for life insurance
Comparison shop prices on custom coverage amounts from the nation's top carriers with Quotacy.
Why Would a Claim Be Rejected?
Life insurance companies rarely reject death claims, but in certain situations, they have to.
The death benefit isn't paid out when a claim is denied, but the premium payments are returned.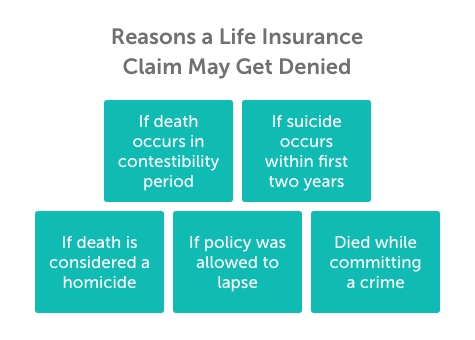 Reasons a claim may get denied:
Contestability: If the insured dies within the policy's contestability period, the insurer can deny claims due to fraud or false application information.
Suicide: If the insured dies by suicide in the first two years, the death benefit will not be paid.
Homicide: If the insured's death is under investigation, the insurance company will not pay any claims until the beneficiary is cleared of any wrongdoing.
Policy Lapse: If the policy's premiums have not been paid and the grace period has passed, the policy lapses. A lapsed policy is invalid.
Died While Committing a Crime: If the insured person dies while participating in illegal activities, the insurance company may deny the claim depending on the circumstances.
How to Claim Life Insurance FAQs
Claiming life insurance death benefits is unfamiliar territory for most. The following list covers additional questions you may have.
Can you collect life insurance without a death certificate?
No. Life insurance companies require proof of death when filing a claim. Even if there is a situation in which the insured person is missing and presumed dead, a court will issue an official death certificate.
Who is the claimant on a life insurance policy?
The claimant is the beneficiary listed on the life insurance policy.
What if there are multiple beneficiaries?
Each person needs to submit their own claim to receive benefits. Some insurance companies require all paperwork to be submitted before payments begin, while others will process claims separately.
How long do you have to claim life insurance after the insured person dies?
There is no time limit for when a beneficiary must file a claim.
How soon after a death can you file a claim?
You can file as soon as you like.
How long does it take to get a life insurance policy payout?
Life insurance proceeds avoid probate, so payouts are faster than any assets that must go through the court system. If the insurance company needs to investigate the claim, a payout is received between 14 and 60 days after filing.
Are there partial life insurance payouts?

If the policy owner borrows against their cash value and doesn't pay it back, the insurance company will take what is owed (balance plus interest) from the death benefit before paying out proceeds to the beneficiaries.
If the policy owner withdraws from the cash value, this amount is deducted from the death benefit payout.
If the policy owner used living benefits due to terminal or chronic illness, the death benefit is reduced by the amount used.
Unsure if your deceased loved one had life insurance? Learn how to find out if someone has a policy. 
Explore Quotacy's Blog for Expert Life Insurance Advice
You buy a life insurance policy because you want to protect your beneficiaries. When you purchase life insurance, it's important to review your policy at least once a year and inform your beneficiaries of their status. They need to file a claim to receive the death benefit proceeds when you die.
Life insurance isn't a cheerful topic, and we get that. But make sure your beneficiaries know you have life insurance to protect them financially.
Get more of your questions answered on our life insurance FAQs page, or visit our blog to learn more.
Watch the Life Insurance Payouts Video