When you apply for life insurance, your application is evaluated and your risk level is determined. Your risk level impacts the final price of your life insurance policy. This process of evaluation is called underwriting.
If your risk level is above average, this is known as "impaired risk" in the life insurance world.
For life insurance companies, mortality risk is their main focus. Essentially, if a person has certain factors that increase their chance of dying sooner rather than later, then this person is risky to insure and is covered in the underwriting process.
Age, gender, and smoking habits are used to first determine a basic premium for the standard (i.e. average) risk. From there, your rate may increase or decrease based on your specific level of risk. Both medical and non-medical factors are included when classifying the risk during underwriting.
Examples of Medical and Non-Medical Risk Factors
Medical
Tobacco use
Blood pressure
Build (height/weight)
Cholesterol level
Lab and urinary findings (derived from medical records and life insurance medical exam)
Family history
Substance abuse history
Non-medical
Aviation activities
Avocational and occupational risk factors
Driving record
Risk from foreign travel or residence
Example:
A 30-year-old male that doesn't smoke starts at the basic premium of $35.47 per month for a 20-year $500,000 term life insurance policy through a top-rated life insurance company.
This 30-year-old's application shows he has steady employment, no adverse driving incidents in the past five years, and medical records show that his blood pressure and cholesterol has always been in a healthy range and activity/exercise level is high.
The underwriter approves this applicant for the Preferred Plus risk class. His final premium is $19.38 per month.
What is impaired risk?
Impaired risk is a medical or non-medical factor that will reduce your ability to qualify for preferred risk classes. Preferred risk classes receive the best life insurance rates.
If you have a risk factor that pushes you out of the preferred risk classes, working with Quotacy is your best option. Finding the best insurance company for impaired risk is a specialty of ours.
While the list below is not exhaustive, it includes some common risk factors of Quotacy applicants:
Some impaired risks will push applicants out of the standard risk classes and into table ratings. A table rating is when an insurance company will approve you, but only if you pay an extra percentage on top of the standard rate. The percentage they require depends on the table rating they give you.
Table ratings are often listed as letters (for example, Table A to Table J), or as numbers (Table 1 to Table 10) depending on the insurer. Lower ratings like Table 1 and Table A are the least costly. The higher the number/alphabet, the more expensive premiums become. While some insurers price table ratings a little differently, for the most part, each table rating adds an extra 25% to the final cost of the policy.
See what you'd pay for life insurance
Comparison shop prices on custom coverage amounts from the nation's top carriers with Quotacy.
Getting the Best Life Insurance Rates for Impaired Risk
Not all life insurance companies evaluate risk factors in the same way. Depending on the risk, some companies are more lenient than others during underwriting.
For example, marijuana use, depression, and Visa holders are some of the most common factors we see here at Quotacy. There are particular life insurance companies that are best for each of those cases. And by "best" we mean that they will offer the best price.
Applying to the Right Insurance Company
When you apply through us, you choose an insurance company after seeing life insurance quotes. Don't worry though; it's not your job to know which insurer is best for you. We recommend going with the least expensive option since we'll double-check if it's a good match after you submit your application.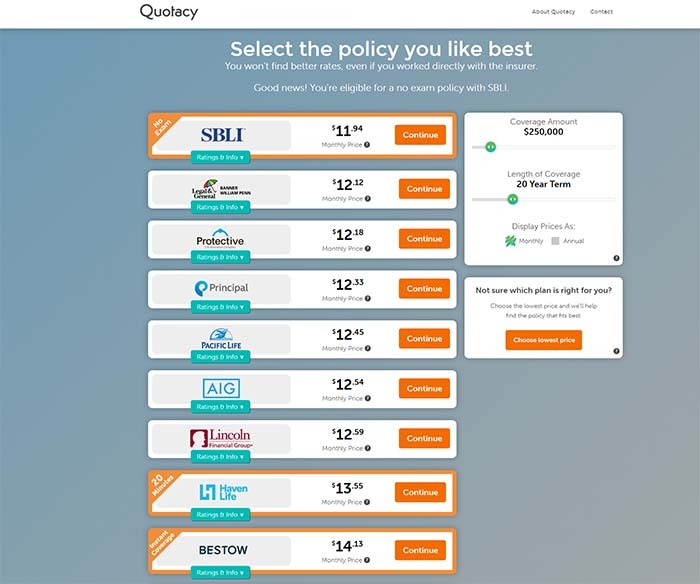 Shopping the Market
Your Quotacy agent reviews your application before it goes to the insurance company. If the agent sees you have a particular risk factor that matches best with a different insurer, we'll reach out, explain your options, and set realistic expectations.
Quotacy works with over 25 of the best life insurance companies in the nation. The benefit of this is that we can shop around to find the one that will offer you the best possible price. We shop the market at no extra cost to you.
The key to ensuring we find the best price is you providing us honest information upfront. For example, if you have anxiety, but fail to mention to us that you've been hospitalized for a panic attack, we won't have all the necessary information to match you with the ideal insurer in a timely manner. Weeks later, after we've submitted your application to the insurance carrier, they will find out about the hospitalization through your medical records. At this point, it's not too late for us to switch you to a more lenient insurer if there is one, but it just delays how soon you get coverage.
By giving us all the necessary information upfront, we can make sure you're matched with the best insurer before we even officially submit the application.
As a life insurance broker, Quotacy is an advocate for you, not the insurance companies. We're here to help you buy affordable life insurance protect for your family.
Start the process by getting free term life insurance quotes today. No contact information required to see real-time pricing.
Note: Life insurance quotes used in this article accurate as of July 21, 2021. These are only estimates and your life insurance costs may be higher or lower.