Life insurance isn't a set-it-and-forget-it product. You should review your life insurance policy regularly.
Just as your life changes, so do your life insurance needs. A review is essential to make sure your coverage still provides adequate protection.
How often should I review my life insurance policy? An annual life insurance review is a good starting point, but let's go over some other life changes and events that may cause the need for a life insurance policy review.
Get a free life insurance quote to estimate what a new policy may cost.
Life Insurance Policy Review: When to Do It and Why
The primary purpose of a life insurance policy review is to ensure your coverage is still adequate and to update anything that needs it.
Examples of policy items that may need updating:
Your address
Your bank account
Beneficiaries
Children listed on a child rider
Reasons to increase coverage amounts:
You've had an increase in income
You've purchased a new home
You've started or grown a small business
You've had more children
Your marital status has changed
You're caring for aging parents
Learn more about the rules and responsibilities regarding life insurance policyownership. 
8 Reasons to Review Your Life Insurance Policy
We recommend you review your policy every year and after any major life events.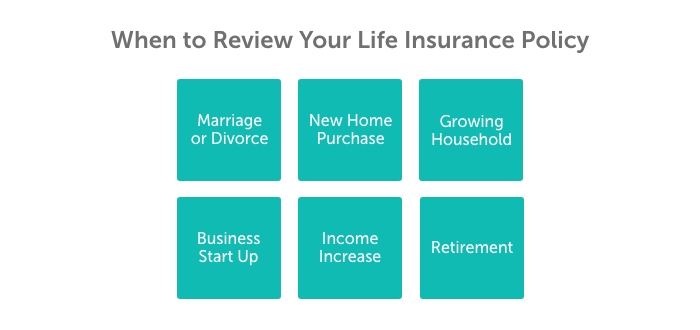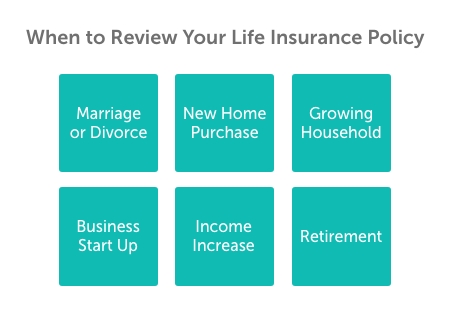 Marriage or Divorce
If you have gotten married or divorced since buying your life insurance policy, you likely need to update your beneficiary list and coverage amount.
If you got married, is your spouse listed as a beneficiary yet? If not, be sure to make this change if it is your wish to provide them with financial protection.
If you die unexpectedly, is your policy's current coverage enough to keep your dependents from struggling after your death? You may need more life insurance coverage. However, this isn't as simple as calling your agent and making a request.
Unless you have a guaranteed insurability rider, you can't increase your life insurance policy. You'll need to look into buying a new term life insurance policy.
If you get divorced, it's important to change your beneficiaries if that's your wish (and is allowed according to your divorce decree). There have been many situations in which someone got divorced and forgot to change the beneficiary. They eventually remarry and die. Guess who gets the death benefit money? The ex-spouse. You can imagine the frustration and pain that ensues.
Learn more about life insurance after a divorce.
Home Purchase
Have you bought a home with someone? Review your policy to see if your coverage amount is enough to pay off a mortgage.
If you're currently sharing household expenses and a mortgage with someone, what happens if you die unexpectedly? Does your partner make enough money to pay for everything on their income alone?
Having enough coverage to pay for the mortgage is especially important if you have children. Making sure your children can stay in the home and school district they are familiar with can mean a lot when dealing with the death of a parent.
Change in Children or Dependents
A growing household calls for a policy review. Consider the following:
Did you have another baby or adopt?
Has an adult child moved back home?
Are you caring for an aging parent?
If more people rely on you, ensure the insurance coverage you have is enough.
You may need to buy a new policy. Be sure to look into adding a child rider onto your policy if you don't yet have any life insurance coverage on your children.
Change in Employment
If you get a raise and decide to upgrade your car, home, or any other big-ticket items, you may need more life insurance coverage.
If you get a new job at a different company, there are a few questions to consider:
Did you have a group life insurance plan with your old job?
What benefits does your new job offer?
If life insurance isn't one of them, you need to find another way to get it
If you have some life insurance through work, is it enough?
Employer-provided life insurance policies are a great perk, but it's unlikely enough coverage to support families. Getting a personal policy is a good idea.
See what you'd pay for life insurance
Comparison shop prices on custom coverage amounts from the nation's top carriers with Quotacy.
Retirement
If your spouse relies on your Social Security or retirement benefits, they may no longer be eligible to receive these funds if you pass away. Your policy's death benefit can replace these lost benefits.
A life insurance review with an agent is vital in this stage to determine if you even need life insurance anymore. You might consider withdrawing funds from your policy if it has cash value. However, if you surrender or cancel a policy, you can't get it back, so think it through carefully.
New Loan
To prevent loved ones from inheriting debt, a policy's death benefit is often used to settle debts. Review your life insurance coverage if you have taken out loans or accumulated significant debt for which your family may become responsible. Is it enough to pay off the balances?
Beneficiary Changes
Updating life insurance policy beneficiaries is a standard change made during a policy review. Your beneficiary is the most important aspect of your policy, and making changes is easy.
Not only can beneficiaries change, but the death benefit distribution percentages may change. Maybe your spouse and adult children are currently listed as your beneficiaries. If some of your children now have children, do you want to leave them a larger percentage?
Many situations call for beneficiary-related changes. Learn everything you need to know about life insurance beneficiaries and how to make changes.
Health or Lifestyle Changes
If your health has improved, you could qualify for a better risk class to save money on premiums. Talk to your agent. Quitting smoking and losing weight are two changes many people have made to try to save money on life insurance.
If your health worsens significantly, review how many years of life insurance coverage you have left. Talk to your agent about your conversion or renewal options. If you think you'll need to extend your life insurance coverage but now have a pre-existing condition, you may still have some options.
Another question to consider is, "Have I changed jobs or hobbies?" Life insurance rates reflect your lifestyle. If you lead a riskier-than-average life because of your job or hobbies, your rates will be higher.
You can re-apply for life insurance to see what you'd qualify for. You can always decline the offer if you're unsatisfied with the new rate.
If you qualify for a better risk class, wait to cancel your current policy until your new one is 100% inforce.
Questions to Consider During a Policy Review
You can review your policy on your own or reach out to your agent. Because there are many aspects to consider during a policy review, it may be easier to work with your agent.
For a thorough review of your coverage, there are questions to keep in mind. Here's a handy life insurance policy review checklist to help:
Who is dependent on me financially? Has this changed since my last review?
Has my monthly income changed since my previous review?
Have I taken on any new loans or paid off loans this year?
Have I experienced any momentous life events this year?
Does my current policy allow me to increase my coverage, or would I need to buy a new policy?
Has my health changed significantly since my last review?
Have I changed jobs since my last review?
If I died tomorrow, would my family be OK financially?
Most importantly, when reviewing your coverage, ensure your beneficiaries are aware of their duties and know how to file a death claim. 
Conduct a Policy Review with Quotacy
If you're a Quotacy client, your agent will reach out to you annually for a life insurance policy review. But you can always contact them first if you need to update your policy or want to discuss changing coverage needs.
If you're not yet a Quotacy customer, you can still reach out to us about your current coverage. We won't have the details of your existing policy, but we can still help you determine how much life insurance you need and if your coverage is adequate.
Watch the Life Insurance Policy Review Video