Are you wondering how to cancel life insurance? As a policyowner, you can cancel yours at any time.
Common reasons as to why someone would want to cancel their current policy:
they simply no longer need it;
they are replacing it with a new life insurance policy.
The type of life insurance policy you're canceling, whether term life insurance or permanent life insurance, will make a difference as to how you cancel it and what happens.
» Calculate: Life insurance needs calculator
Canceling a Term Life Insurance Policy
Canceling a term life insurance policy is relatively straightforward. There are no fees to cancel a term life insurance policy. You simply stop paying the premiums and your coverage will lapse, ultimately terminating the policy.
If you go the route of just ending payments, you'll likely receive notices in the mail from the insurance company informing you that your policy will soon lapse due to nonpayment. If you change your mind, you have the grace period (typically within 30 days after the due date) to pay the premium and keep your policy active.
Another route to go is to call the insurance company and inform them you want to cancel your policy. If you pay a different mode other than monthly (annually, quarterly, or bi-annually) you will want to do this instead so you can request a refund of the unused premium. Some insurance companies require this request to be in writing. The insurance company may ask you to write a letter or fill out a surrender form in this case.
Note: If you set-up automated payments be sure to take the appropriate steps to stop these. Most insurance companies allow you to set up ACH payments, also called electronic fund transfers (EFT), so you don't need to worry about forgetting to make a premium payment. With this method, the insurance company withdraws premium payments directly from your checking account. In this case, you will need to contact the insurance company directly to end the payments. Sometimes the bank needs to contacted as well.
Canceling a Permanent Life Insurance Policy
Most types of permanent life insurance, like whole life insurance or universal life insurance, build up cash value within the policy. There are laws in place that allow a policyowner to claim a fair share of this value if they decide to cancel their policy. These are nonforfeiture values. Term life insurance policies do not build cash value so this law is irrelevant for term insurance policyowners.
There are more moving parts involved with a permanent policy (versus term) so if you want to cancel it, don't just stop paying the premiums.
Surrender Fees/Charges
Life insurance companies invest premiums from permanent policies in long-term investments. Because of this they implement surrender charges to policies cancelled after a short period of time. This surrender charge is determined by how long the policy has been active. It typically begins at 100% of the value for the first year and steadily declines until it disappears altogether after 10 or 20 years. After this period of time, you can surrender the policy with no fee. These surrender charges are explained in detail in your policy.
» Learn more: Can I Sell My Life Insurance Policy?
Income Tax
If you cancel (surrender) your permanent life insurance policy for the policy's cash value, any money you receive from the insurance company plus any cash benefits you may have already received such as dividends, loans, or withdrawn cash minus total premiums paid on the base policy will be taxed as ordinary income. Money out minus money in, if positive, equals taxable income.
See what you'd pay for life insurance
Comparison shop prices on custom coverage amounts from the nation's top carriers with Quotacy.
Canceling a Life Insurance Policy Because You No Longer Need It
As a policyowner, it's your right to terminate your life insurance policy at any time. However, keep in mind that life insurance premiums increase as you get older and any health issues would also impact the premiums of new policies. So, if you need life insurance later your premiums will be more expensive than your current policy. Not to mention a new medical exam would be required.
If you need to cancel your policy because you're struggling to pay the premiums, call the insurance company. Some allow you to change the coverage amount during certain time periods. Ask them if it's possible to decrease the face amount and they will be able to tell you what your new premium would be. Having a little life insurance coverage in place is better than none if your family ends up needing it.
Canceling a Life Insurance Policy Because You're Buying a New One
There are many reasons you may want to replace your life insurance policy with a new one. You may want to take advantage of the historically low rates; your health is better now than it was then; your insurance needs have changed. Whatever the reason, don't cancel your current policy until your new one is inforce (active).
» Compare: Term life insurance quotes
When you're applying for the new life insurance policy, on the application you will be asked if you currently have any active life insurance in your name and if you are planning on replacing this policy with your new policy. (You do have the option of owning more than one policy as long as you're not over your insurability limit.) The image below shows what Quotacy's online application asks.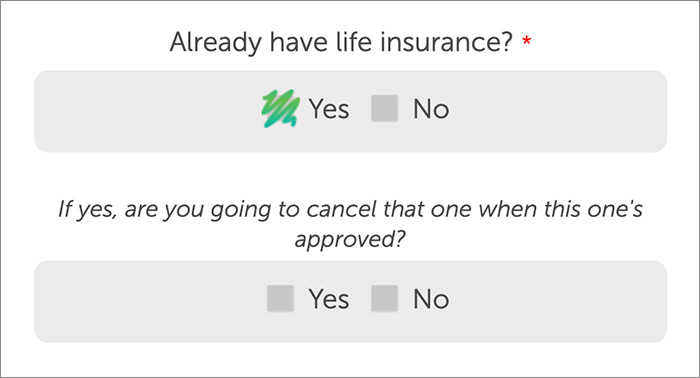 Knowing that you can own more than one policy at a time, if you still want to cancel your current one, call the insurance company and tell them you want to terminate the policy. But, again, we recommend that you don't cancel the policy until your new one is 100% inforce and you've reviewed it.
Also be aware that with a new policy you do have a new "contestability" and suicide period. When you bought your first life insurance policy, it likely came with a two-year "contestability" period in which the insurance company could investigate the accuracy of your life insurance application and decline paying the death benefit if they find anything amiss. After the "contestability" period is over, the insurance company loses this opportunity.
A new life insurance policy would have a new "contestability" period. The same with the suicide clause period. If suicide is the cause of death within a two year period after issue of the policy (one year in some states), the claim would not be paid. New policies start this suicide "contestability" period over again. (Most term conversions to permanent polices retain the original "contestability" periods.)
Canceling life insurance policies and replacing life insurance policies are commonplace. Contact Quotacy if you want a new life insurance policy and are not sure what to do about your current one. And finally, the last thing you should do if you cancel a life insurance policy is inform your beneficiaries you are doing so. It would be awful if you were to die and then your family discovered you no longer had life insurance.
Another suggestion is to destroy or return to the insurance company the actual policy that is cancelled. If death would occur and your heirs found the insurance policy that you cancelled, they may think it was still "inforce". This will cause loss of time and anguish over investigating the status of the policy.
Watch the How to Cancel a Life Insurance Policy Video