There is always something you need to do. Something to check off the to-do list. Americans are busy and when you finally get free time, life insurance is typically the last thing you want to think about. Let's discuss why you shouldn't avoid buying affordable term life insurance.
Most of the popular online life insurance sites say they offer free information and quick quotes, but they make you enter so many personal details before seeing any prices that you're ready to throw in the towel before you ever see any estimates. This turns most busy people away from looking any further for life insurance and many forget about it all together.
Quotacy wanted to make a change. We understand the importance of life insurance for families and wanted to make it easier. Protecting your family's financial future shouldn't be a hassle. Here are four reasons why you shouldn't avoid buying affordable life insurance now.
1. Life insurance rates are at an all-time low.
When asked how much they think life insurance costs, on average Americans overestimate the price by three times the actual amount. Term life insurance is customizable and can be adjusted to fit in most budgets.
Another important factor with term life insurance is that the premiums are fixed. This means when you buy your term life insurance policy and lock in that low rate, the cost won't change the entire term of the policy.
Average Term Life Insurance Monthly Premiums for a Healthy Individual
Age at Purchase
Face Amount
20-Year Term (Males)
20-Year Term (Females)
30-Year Term (Males)
30-Year Term (Females)
30
$250,000
$14
$12
$20
$17
$500,000
$21
$18
$34
$28
$1,000,000
$35
$21
$60
$49
40
$250,000
$18
$16
$32
$26
$500,000
$29
$26
$54
$44
$1,000,000
$53
$45
$102
$80
50
$250,000
$42
$32
$71
$54
$500,000
$75
$56
$135
$100
$1,000,000
$145
$105
$255
$186
Example: A healthy non-smoking 40-year-old man can buy a $500,000 20-year term life insurance policy for $29 per month. As long as he pays his premiums on time, he will have coverage until he is 60 years old and will pay only $29 per month the entire time. If he dies unexpectedly before age 60, his beneficiaries receive $500,000.
See what you'd pay for life insurance
Comparison shop prices on custom coverage amounts from the nation's top carriers with Quotacy.
2. You don't need to give away contact information to get life insurance quotes.
There are many online affordable life insurance sites, but many force you to enter your name and other private details before giving you an accurate quote. Your contact information is captured and distributed to whichever agents receive the leads from that online funnel. You may receive a call in a few days or weeks after your initial request—if you're contacted at all—yet you still won't have a real quote.
Here at Quotacy, you don't need to hand over your email address, name, or phone number to get a term life insurance quote. Run as many life insurance quotes as you like. Looking for life insurance for your spouse or partner? Run life insurance quotes on them too. You'll be able to see an estimate of how much life insurance protection may cost.
» Compare: Term life insurance quotes
3. You get the best possible price on life insurance.
It's not common knowledge, but life insurance companies don't evaluate risk factors in the same way. Risk factors are those things that may cause your premiums to be higher in order for a life insurance company to be willing to approve you.
There are hundreds of potential risk factors ranging from medical issues to lifestyle factors. For example, diabetes is a medical condition risk factor and rock climbing is a lifestyle risk factor. If you have any of these factors, it means the life insurance company would be taking on more risk than normal to provide coverage to you. To make up for this extra risk, you need to pay higher premiums.
It's a similar concept to how your car insurance premiums are higher if you have speeding tickets. However, unlike car insurance premiums, when you buy a term life insurance policy your premiums won't increase if you develop a risk factor later in life. For example, the healthy non-smoking 40-year-old man we mentioned earlier can buy a $500,000 20-year term life insurance policy for $29 per month. Even if he is diagnosed with cancer a year after buying the policy, his premiums will stay $29 per month.
If you have a risk factor and you haven't bought life insurance yet, Quotacy will find the life insurance company that will give you the best price possible. Again, affordable life insurance companies don't evaluate risk factors in the same way. Some are more lenient with certain risks than others.
Quotacy is a life insurance broker, so we are contracted with multiple top-rated life insurance companies. We don't work for one specific life insurance company, we work for you. This allows us to pair you with the company that is the best match for you. Our agents work on salary, not commission, so you can rest assured that we won't try and upsell you.
After you submit your online application on Quotacy, your dedicated Quotacy agent will first review your information. He or she will double check that the insurance company you chose through our online tool is the best fit for you. If there is a company that will treat your specific risk factors more favorably, your agent will reach out and explain your options.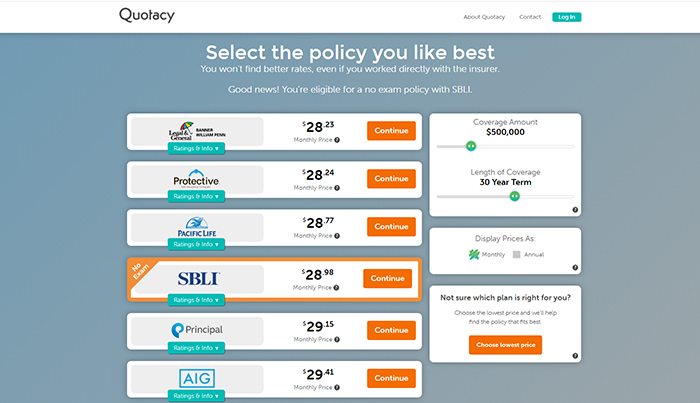 You can choose to switch companies or stick with your original pick. If you choose to switch, don't worry about the paperwork. Your Quotacy agent will take care of sending your official application to the life insurance company you choose.
4. The life insurance buying process is efficient and on your time.
When people are asked why they don't have life insurance, a common reason they give is that they don't have time. They say it's hard to find an easy way to learn about and buy the product on their own time which is typically at 10:00 at night after the kids go to bed and errands are done. It's a struggle to make time to find an agent and go to their office for a meeting. Buying life insurance online through Quotacy solves these problems
Read through as many life insurance articles as you need from the comfort of your bed to get a better grasp on what you need and how life insurance works.
Not sure if you need term or permanent life insurance? Start here: Term vs Whole Life Insurance
Not sure how much coverage you need? Start here: Life Insurance Calculator
Not sure how the whole process works? Start here: The Life Insurance Application Process
When you're ready to apply, you can complete the online application in just a few minutes. Your dedicated Quotacy agent will keep you updated as your application moves through the process and is available to answer any questions you may have. You can call, email, or text your agent. Whichever method you prefer.
For verification purposes, the life insurance company needs to complete a brief phone interview with you. This can be scheduled around your time. Some life insurance companies can even complete this verification step electronically without the phone call. Your Quotacy agent will let you know if this option is available to you.
If you end up needing a medical exam (most applicants will) this is scheduled around you as well. You pick the date and time. You pick where it occurs: your home, office, or an exam center. The medical exam is done at no cost to you.
Want more information about the life insurance medical exam? Start here: Do I Need a Medical Exam to Get Life Insurance?
Start to finish, our life insurance process is designed to make it easy to protect your loved ones with life insurance. Many families in America would be in financial distress if a primary earner died without life insurance.
Stop pushing life insurance off the to-do list because of time restraints or thinking it's not affordable. Run a life insurance quote now and see how life insurance can fit into your budget.
Note: Life insurance quotes used in this article accurate as of May 25, 2022. These are only estimates and your life insurance costs may be higher or lower.