Need life insurance coverage to protect your family, but your life seems nonstop? Online life insurance is here. It's secure and easy to buy.
Through Quotacy, you don't need to give away any contact information to see online life insurance quotes instantly. All we need is your gender, zip code, birthdate, and smoking status. That's it. You can then see term life insurance quotes in real-time.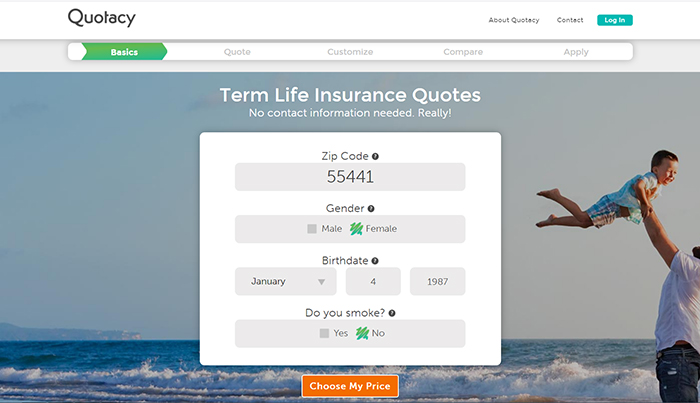 You can apply for life insurance online, too. It only takes a few minutes. No need to wait for an insurance agent to knock on your door or make time to meet at their office.
The Old Way of Buying Life Insurance
Life insurance isn't like it was in the movie Groundhog Day. Remember that iconic film?
There's a scene in Groundhog Day where Phil Connor (Bill Murray) runs unexpectedly into his high school friend, Ned Ryerson (Steven Tobolowsky), who is an insurance agent in Punxsutawney.
Ned is always ready to sell life insurance:
Whenever I see an opportunity, I charge it like a bull. Ned the Bull. That's me now.
Ned Ryerson is also an insurance psychic. He just knows if someone owns a life insurance policy or not.
Do you have life insurance, Phil? Because if you do, you could always use a little more, right? I mean, who couldn't? But you wanna know something? I got the feeling…[whistles]…you ain't got any. Am I right or am I right? Or am I right? Am I right?
While it's charming to watch Ned in action on Netflix, we all get a bit wary of running into someone with a sales pitch. We're squirmy because it's uncomfortable to turn someone down, especially if they are part of our social circle, and we know they need to make ends meet for their family.
And in the case of life insurance, it's understandable to not want to disclose private medical or financial information to a life insurance agent whom you know in a small town or who's part of your country club, for example. While your local Ned Ryerson might be completely trustworthy and professional, some things we just want to keep to ourselves.
Quotacy solves this dilemma by providing you with a transparent, simple process to buy online life insurance without disclosing personal information to someone you'll run into at the grocery store.
» Compare: Term life insurance quotes
The New (and Better) Way of Buying Life Insurance
Life insurance is important for families. We want to make it as easy as possible for you to protect your loved ones.
Life insurance is highly regulated by state government. Quotacy's life insurance agents are licensed to do business nationwide and abide by the same laws to protect you as your local agent.
The online life insurance quotes you receive from Quotacy are the same you'd receive anywhere else. The benefit through Quotacy is that it's faster than having to go to each and every life insurance company's website to ask for a quote. You can comparison shop multiple life insurance companies online from the comfort of your home.
And, what's better is the added [free] behind-the-scenes service that Quotacy provides.
We Check to Make Sure You're Getting the Best Life Insurance Policy
After your online life insurance application has been submitted, a Quotacy agent will review your information to make sure you're matched with the ideal insurance company. Some companies evaluate factors like health and lifestyle differently, so it's possible another company will be a better fit.
A better fit means you pay less for the coverage.
After the review, one of our agents will reach out if they think there are better options available from a different company. You then review your options and pick the company and policy you wish to move forward with.
During this step, agents will set realistic expectations upfront and work hard to get you the best rate possible by shopping around and advocating directly with the insurer on your behalf.
As a broker, we're your advocate, not the insurance company's.
Life insurance rates are lower now than they were ten years ago. 
See what you'd pay for life insurance
Comparison shop prices on custom coverage amounts from the nation's top carriers with Quotacy.
Life Insurance Options Are Better Today
Because consumers can now buy life insurance online and have the ability to easily comparison shop, the insurance industry has never been more competitive.
Life insurance rates are lower now than they were ten years ago. Insurance companies are clamoring for your business.
» Calculate: Life insurance needs calculator
Many insurance companies are also offering policies that don't require you to get a medical exam.
Because technology and access to consumer data is much more refined these days, many insurance companies are pulling information on applicants electronically. If you meet the criteria, you may not need to get a medical exam.
While the no-exam qualifications vary slightly from carrier to carrier, in general, if you're under age 50, applying for less than $1,000,000 in coverage, and relatively healthy, chances are you're eligible for accelerated underwriting.
Accelerated underwriting is the fancy way of saying that you can skip a medical exam and get approved for coverage much faster. The insurance company pulls your data electronically and then they review and make a decision days, weeks, or even months faster versus using the traditional underwriting process.
Going this route, you can get life insurance in just a few days with little to no work on your part. Get a free online life insurance quote, take a few minutes to complete the online application, sign on the dotted line when you're offered coverage, and go on your merry way knowing your family is financially protected.
After you submit your online life insurance application through Quotacy, your dedicated agent will reach out and update you if you're a good candidate for the accelerated underwriting program.
There's no reason like right now to get life insurance. The sooner your loved ones are financially protected from the unexpected, the better. Get your life insurance quote today.
» Compare: Term life insurance quotes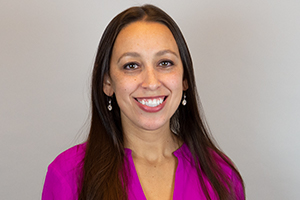 Natasha Cornelius, CLU
Senior Editor and Life Insurance Expert
Natasha Cornelius, CLU, is a writer, editor, and life insurance researcher for Quotacy.com where her goal is to make life insurance more transparent and easier to understand. She has been in the life insurance industry since 2010 and has been writing about life insurance since 2014. Natasha earned her Chartered Life Underwriter designation in 2022. She is also co-host of Quotacy's YouTube series. Connect with her on LinkedIn.