Wondering how to talk to your loved ones about life insurance?
It doesn't have to be a disheartening conversation. The easiest way to begin is to remember that the decision to get term life insurance is an expression of love.
» Compare: Term life insurance quotes
There isn't an easy way to say this: the time may never feel right to discuss weighty topics like death and survivorship. Just thinking about discussing it can be uncomfortable for many of us.
Getting past that first hurdle of launching the conversation, however, will allow you to get started on the road towards financial security—a path that you'll want your family on as early as possible in your lives together.
In this post, we'll show you how to start the conversation about life insurance with your loved one, and how to find the best term insurance quotes online in seconds.
Here's how to start a conversation:
Talk About Family Values: Finding the Right Term Insurance Can Protect Your Family's Future for Decades
Your family's immediate and long-term well-being is your top priority.
Just like you, your loved ones want the best possible future for your family members, but they can only do so much—take care of today's needs, plan for the years ahead, and hope, like all of us, that our future stays bright.
Term life insurance allows your loved ones to do more for your family's future than they would ordinarily be able to do alone—making that "only so much" so much more. When discussing life insurance with your loved ones, present term life as a financial empowerment tool, one that will allow them to ensure that your family's quality of life will always be secure from the unforeseen.
Taking a few minutes to compare term insurance quotes and apply for term life insurance is a simple way to insulate the family from the impact of debt or financial uncertainty if your loved one were to pass away. Every family cares deeply about their loved ones' financial security and quality of life, and term life insurance is the best way to honor those values for decades to come.
The message:
Term life insurance is about making our dollars go further by allowing us to cover our loved ones' needs even when we aren't there to financially contribute ourselves.
Talk About Trust: Term Insurance Can Secure the Value of Your Savings and Investments for Your Family
As your family's needs changed over time, you or your loved ones may have made interest-bearing investments, started a business, or created a fund in addition to your regular savings to meet new financial demands.
As with any investment or venture, life can intervene, and your hard work may not pay off in the way that you hoped.
When you and your loved one decide to get term life insurance, the amount of money that you wished to leave for your family can still be reserved for them if you were to pass away. The value of your term life insurance policy is not tied to your current income or assets once you are insured. So, regardless of what happens to your or your loved one's finances, your term life insurance policy is ironclad protection for your family's financial health. It empowers family trust.
It will not decrease, for example, if you lose net worth because of an investment that went sour, or if you are forced to pull from your savings to cover household expenses in you lose your job or business.
With term life insurance, you or your loved one can trust that if the unexpected occurs, the amount that you intended to provide for them will remain in their hands.
The message:
Term life insurance gives your family peace of mind, allowing them to rest assured that even your or your loved one's passing cannot prevent you from providing for their needs as intended.
See what you'd pay for life insurance
Comparison shop prices on custom coverage amounts from the nation's top carriers with Quotacy.
Talk About Quality of Life: Term Life Insurance Is Affordable
Your loved one may be hesitant to discuss term life insurance because they may assume that term insurance quotes will be very expensive for a generous policy.
The truth is term insurance quotes are highly affordable for most families.
That means that your loved one may find ample coverage amount at a great rate, enabling them to ensure that debts, household expenses, and quality of life concerns are taken care of as well.
Term life insurance isn't just a way for you or your loved one to rest assured that the family is financially solvent in the event of an untimely passing. It also guarantees that the family does more than survive a difficult period—it can ensure that the quality of life that you imagined for your nearest and dearest is just as you had hoped.
For example, if you were to pass away well before your retirement age, your term life insurance policy death benefit will provide the funds that your spouse or partner would have received if you had lived and been able to contribute to their retirement fund. Or, if you pass away while your children are young, your term life insurance death benefit can replace years of lost income that your spouse or partner would need to pay for household expenses, contribute to your children's college fund or help them buy their first home.
The message:
Your loved one's vision of financial success is likely to be much larger than just your family being able to maintain their present standard of living. A term life insurance policy allows your loved ones to know that all of the benefits of financial success that they had hoped to give to the family—such as contributions towards college tuition or a healthy retirement fund—won't be impacted if you were to pass on.
Get Ready to Discuss the Basics: Term Insurance Quotes, Coverage, and How to Apply for Term Life Insurance
Once you've decided to start the conversation, it is wise to have the basics down.
Here's a brief refresher:
What is term life insurance?
Term life insurance is a type of life insurance policy that provides coverage for a specified period or term. This term is most often 5, 10, 15, 20, 25, 30, 35, or 40 years.
How much coverage can I purchase?
Coverage amounts typically range from $10,000 to $65,000,000. The amount of coverage that you may be approved for is based on your net worth, and other factors such as your current health and medical history, age, gender, occupation, driving record, smoking status, among other data that your insurer may believe are relevant.
Most term life insurance policies will require a simple medical exam as a part of the application process, but there are also no medical exam life insurance policies available.
» Learn more: How Much Life Insurance Can I Get?
How much will I pay for my coverage?
Your term insurance quotes, or the amount that you will pay for your term life insurance coverage, will be based on the level of risk that the insurance company's underwriters assign to your application. This risk assessment may be calculated differently by each life insurance company, but every life insurance company uses the information that they have available to evaluate your risk of mortality, or how long you may live.
As disturbing as this may sound, it merely means that the insurance company needs to get a rough estimate of your longevity to provide term insurance quotes that are fair for everyone.
How do I find the right amount of coverage?
An excellent way to start is to determine how much money you may need to cover your debts and other expenses that you may want taken care of once you pass away. You can do this in under a minute with our life insurance needs calculator.
Once you're done, you can click through to see term insurance rates for the amount of coverage that you'd like.
How do I compare term insurance quotes?
Getting term life insurance quotes is simple.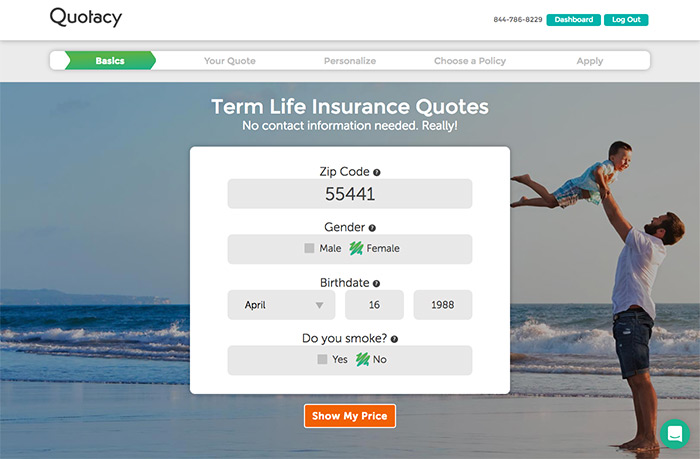 Using Quotacy's anonymous quotes tool, you can see a range of how much you may pay for specific coverage amounts. Just input your age, gender, zip code, and status as a smoker and click Show My Price. You will see a slider that allows you to adjust coverage amounts to show a range of corresponding term insurance quotes.
To compare personalized quotes, answer (still anonymously!) a few questions about your build and your health, and you see a range of customized term insurance quotes from leading life insurance companies based on your profile.
How can I apply when I find a policy that I like?
That's simple, too.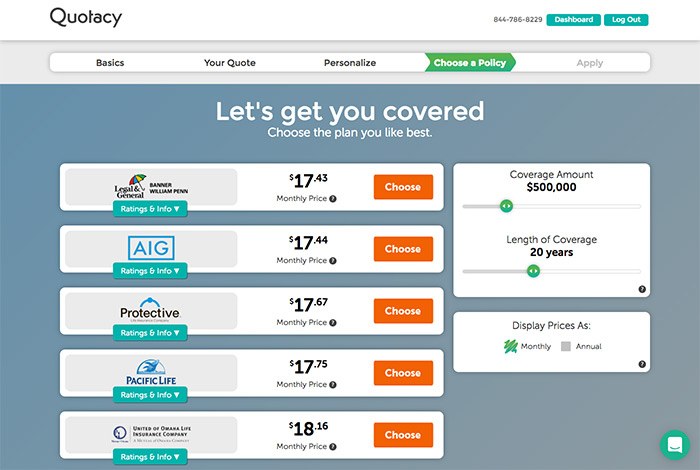 If you are using Quotacy, click Choose under the quote that interests you, and you can get started on your application (it can take as little as five minutes to apply). Now that you've got the basics of a term life policy down – and have some good talking points to keep the conversation positive – you're ready to grab a cup of tea and start your conversation.
Here are a few last things to bear in mind:
It is wise to bring every adult who will be impacted by the decision into the discussion if possible, even if you can't get everyone altogether at once. Transparency is essential when creating any financial plan with your family.
It is critical that your policy beneficiaries are aware of the details of your plans to purchase a policy. It is also good to get the beneficiaries' perspective on their present and projected financial needs as well.
If your loved one is resistant to a conversation about you or them becoming insured, it might be easy to start by showing them how affordable term insurance quotes can be, and how easy it is to apply. While the subject matter is weighty, your discussion doesn't have to be a long, taxing one.
Don't give up if you can't get your point across at the first try. Life insurance isn't the most fun topic to discuss, but it is a conversation that can lead to your family's having a financially secure future, so it's worth every bit of effort to make it happen.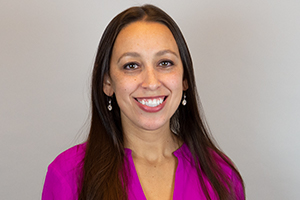 Natasha Cornelius, CLU
Senior Editor and Licensed Life Insurance Expert
Natasha Cornelius, CLU, is a writer, editor, and life insurance researcher for Quotacy.com where her goal is to make life insurance more transparent and easier to understand. She has been in the life insurance industry since 2010 and has been writing about life insurance since 2014. Natasha earned her Chartered Life Underwriter designation in 2022. She is also co-host of Quotacy's YouTube series. Connect with her on LinkedIn.