Will my life insurance be cheaper if I buy it online?
Do you prefer to learn by watching? We answer this question in a video below. Click here to jump ahead.
The Internet has opened up a new world of opportunities for consumers. It's easier than ever to save a couple bucks on shopping purchases because you can easily compare prices with the click of a button.
Many consumers also choose to shop online instead of the traditional brick-and-mortar stores because shopping through an online warehouse allows them to easily see multiple choices from different manufacturers. In some cases buying online allows you to buy cheaper because you eliminate the middleman, but this isn't exactly the case when it comes to buying life insurance online.
Each state's Department of Insurance regulates the rates of life insurance to protect consumers from unethical pricing tactics. If you buy life insurance from your cousin who is a life insurance agent, that same policy with the same insurance company will be the same price through an online life insurance marketplace. The price the insurance company sets for its products will not be different across various platforms.
| | |
| --- | --- |
| Platform the Policy Is Purchased From: | Price of the Policy: |
| Direct from Insurance Company A | $30 per month |
| From an agent who works for Insurance Company A | $30 per month |
| From an online insurance marketplace who represents many companies including Insurance Company A | $30 per month |
» Compare: Term life insurance quotes
Ready to get your life insurance quote?
You're a few minutes away from great life insurance
How much life insurance do you need?
Figure out your action plan with our needs calculator
Where you can save money on life insurance is in the underwriting process.
» Learn more: What Is Life Insurance Underwriting?
Each life insurance company follows a different underwriting guide. Once you apply for insurance and all necessary underwriting information is received, the insurance carrier evaluates your health and lifestyle history based on their guidelines to determine what kind of risk you are to insure. You're then assigned a risk class such as Preferred Plus, Preferred, Standard Plus, Standard, or Substandard. The closer you're ranked to "Preferred Plus" the better your premiums will be.
If your cousin, the life insurance agent, works for XYZ Life Insurance Company then he or she is only going to offer your quotes from XYZ and this may not be to your advantage. For example, let's say that XYZ will not offer "Preferred Plus" risk class if you had a parent who died from cancer. If your mother died from cancer at age 70 and you applied through XYZ then you will not be given these best rates.
Meanwhile, had you decided to work through an independent agency like Quotacy, the illustration system and underwriting process would have recognized that some carriers do not adversely rate the applicant as long as the parent did not die from cancer before the age of 60. In this case XYZ Life Insurance Company would not be the best choice.
To further understand the complexity of Quotacy's illustration system you should know that life insurance companies use your same underwriting information but may arrive at different conclusions.
A couple examples of this are:
1) Some companies use actual age compared to closest age. "Closest age" means that the age for insurance purposes is based on six months before your actual birth date to six months after. In other words, if you apply for insurance six months prior to your birthday your age for insurance pricing will be that upcoming age. "Actual age" is actual age. Your insurance age will be that age for 12 months following your birthday. (Remember that the younger you are, the lower the premium.)
2) Your family history can knock you out of a Preferred rating with one carrier and not with the next as was illustrated above.
These example situations are when it is "cheaper" to shop through an online life insurance marketplace like Quotacy, because we have access to rates and underwriting criteria from multiple life insurance companies versus just one. However, the products themselves are not cheaper… it's all in the underwriting.
It's important to be aware of online companies that advertise that they have the lowest term life insurance premiums or claim that they can save you certain percentages, because they legally can't. Premiums for specific products with a specific carrier are going to be the same across the board, no matter what is claimed in advertisements.
A good insurance agency will, however, work hard to try and find the life insurance company that matches best with your specific case. Correctly illustrating products and shopping around your application is the only way to find the best price and Quotacy does that for you all behind the scenes.
Get started today by running a term life insurance quote. The product offered to you will be the same price as if you went to that company directly, but we do all the work finding the one that fits you.
» Calculate: Life insurance needs calculator
Watch the Buying Life Insurance Online Video
Video Transcript
Welcome to Quotacy's Q&A Friday where we answer your life insurance questions. Quotacy is an online life insurance broker where you can get life insurance on your terms.
I'm Jeanna and I'm Natasha.
Today's question is:

Will my life insurance be cheaper if I buy it online?
With the internet at our fingertips 24/7 365 days a year comparison shopping to save money has never been easier.
One reason why buying online typically saves you money on a product is because you're eliminating the middleman. But this isn't the case when it comes to buying life insurance.
Whether you a buy life insurance policy through your cousin who is an insurance agent or you buy that same policy online you're going to pay the same price. This is because each state's Department of Insurance regulates their rates of life insurance to protect consumers from unethical pricing tactics.
Buying a life insurance policy online instead of through an agent won't save you money, if it's the exact same policy we're talking about. But where you can save money on life insurance is during the underwriting process.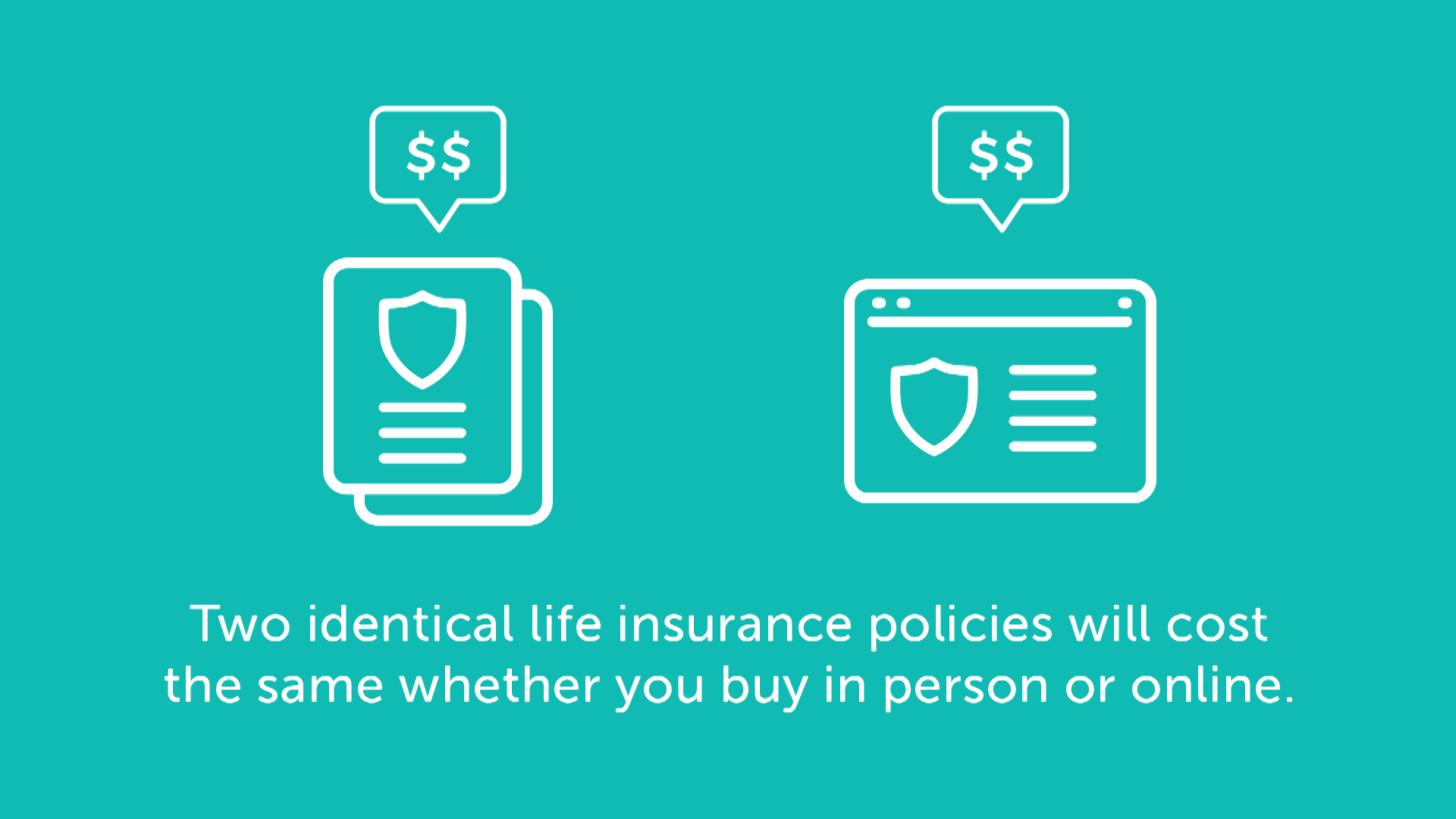 The underwriting process is when the insurance company takes a very thorough look at your full application to determine your level of risk. The higher level of risk you are for them to insure, the higher your premiums will cost.
But not all life insurance companies evaluate risk factors in the same way. This is where the potential money saving comes into play.
If you buy a life insurance policy from your cousin who is an agent for XYZ Insurance Company your cousin can only offer you policies from that one insurance company. And, as an example, let's just say on the weekends you enjoy a cigar while on the golf course. Technically making you a weekly cigar user. The nicotine will show up in your life insurance medical exam results and you've likely mentioned the cigar use during past doctor visits, so this fact is in your medical records.
So, like the honest person you are, you state on your life insurance application that you sometimes smoke cigars. Unfortunately, your cousin's insurance company's underwriting guidelines place all cigar users in the tobacco risk categories. Meaning you would be paying the smoker rates. Meanwhile, there are many other top-rated life insurance companies who would be willing to offer even their best non-smoker risk classes to cigar users.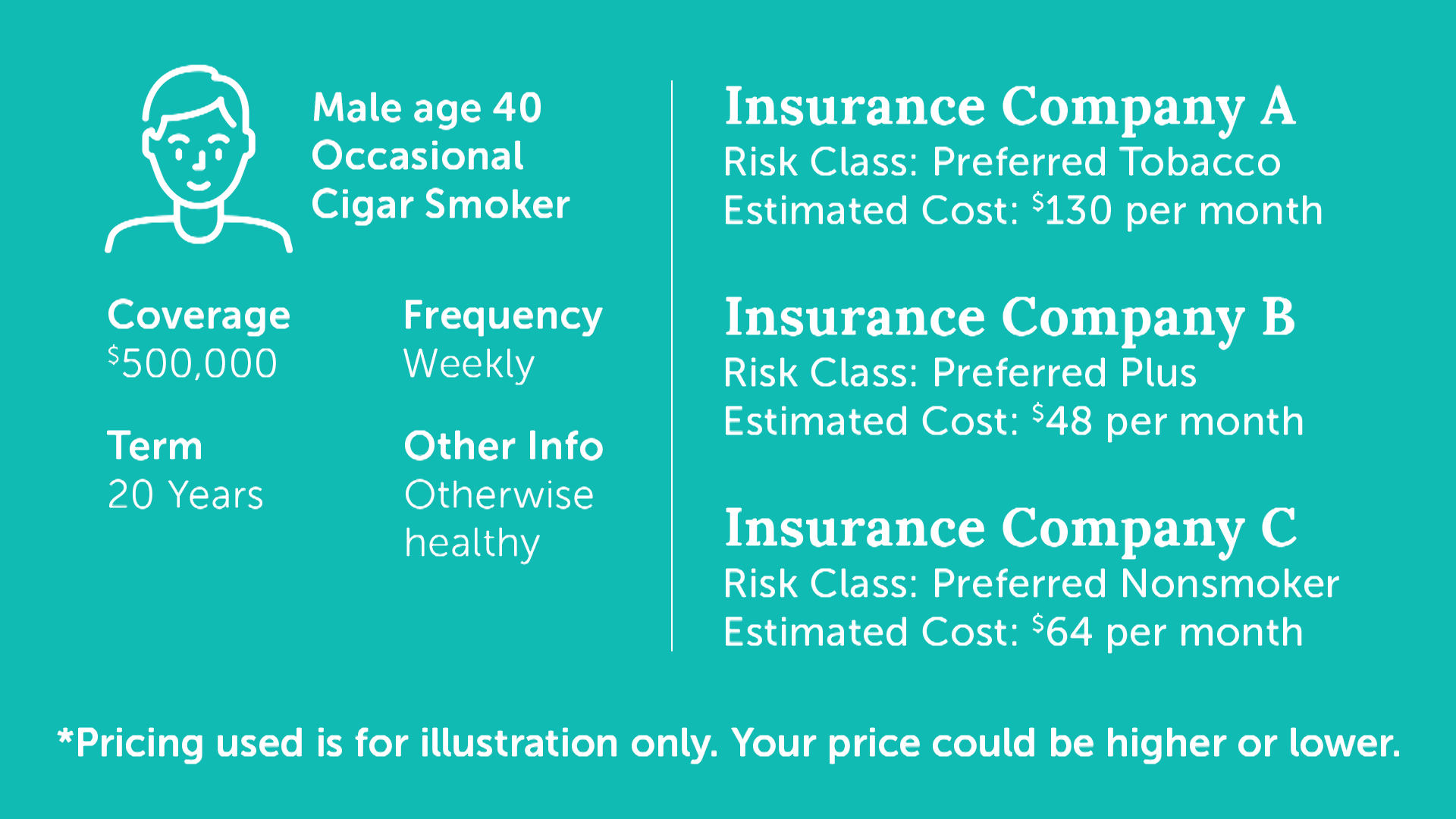 But you won't know that if you don't comparison shop. A life insurance broker can do this for you. Working with an independent life insurance broker instead of a captive life insurance agent is when you may be able to save money on life insurance.
There are hundreds of risk factors ranging from the obvious, like heart disease, to things you maybe wouldn't have thought of, like scuba diving as a hobby. Your particular risk factors will determine what your life insurance premiums will be.
Quotacy is an independent online life insurance broker. Not only can you comparison shop between many different insurance companies right away, but your dedicated Quotacy agent will double-check behind the scenes that the insurance company you chose is the best one for you based on the information you provide on your application.
» Compare: Term life insurance quotes
For example, perhaps your Quotacy agent sees on your application that you had a DWI in the past and you chose a life insurance company that we know is quite strict when it comes to driving records. Your agent will reach out and let you know about a different insurance company that will likely give you a better offer. It's up to you whether you want to switch or not. We just want to make sure you know all your options.
If you have any questions about life insurance, make sure to leave us a comment. And if you're ready to get quotes, check out Quotacy.com. We're here to help you find the best deal on the life insurance you want.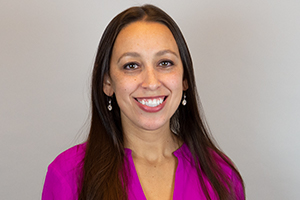 Natasha Cornelius, CLU
Senior Editor and Life Insurance Expert
Natasha Cornelius, CLU, is a writer, editor, and life insurance researcher for Quotacy.com where her goal is to make life insurance more transparent and easier to understand. She has been in the life insurance industry since 2010 and has been writing about life insurance since 2014. Natasha earned her Chartered Life Underwriter designation in 2022. She is also co-host of Quotacy's YouTube series. Connect with her on LinkedIn.