Ready to buy online life insurance? You're not alone. I'm doing everything online these days from ordering wine straight to my doorstep to learning how to make homemade hand soap.
I prefer shopping online for anything and everything versus going to a crowded shopping mall. It's the convenience of online shopping that I am particularly fond of. I can often get my questions answered quickly via live chat without having to call or run to appointments across town. This saves me time without sacrificing professional advice.
It seems I can never get everything done on my to-do list, so my time is valuable to me. The more time I save on mundane tasks, the more time I can spend enjoying life.
Maybe you're wondering if you should buy your life insurance policy online? The short answer is that it is very convenient to comparison shop for term life insurance quotes online and safe to do so. So, why not?
» Compare: Term life insurance quotes
Is it safe to buy online life insurance?
If you're wondering whether it's safe to buy online life insurance, know that our industry is regulated in a similar way that online banks and mortgage companies are. We are required to protect your financial data and medical history per government regulations (and we want to).
We also have to offer you the same life insurance products and pricing online as your local life insurance agent would offer you in person. There are no coupons or discounts when buying life insurance online.
Through Quotacy, you can see term quotes instantly without giving away any contact information. We also can offer policies from many different insurance companies, not just one, like captive life insurance agents. You can get online life insurance quotes from dozens of trusted life insurance companies like John Hancock, Pacific Life, Haven Life, and many others in minutes.
Compare quotes from trusted brands online
Buying online life insurance doesn't have to be complicated. In fact, it's quite easy. You can see life insurance quotes across multiple top-rated life insurance companies instantly all on one screen without needing to hop from website to website.
There's also no second guessing if you got the best price. Your Quotacy agent is your advocate and makes sure that the life insurance company you choose through our online process is the best choice. Here's what we mean.
Not all life insurance companies evaluate certain factors in the same way. Some life insurance companies are more lenient with diabetes or a DUI history, for example, than other companies. Going with the right company can save you hundreds on life insurance premiums. But how do you know which is the right one?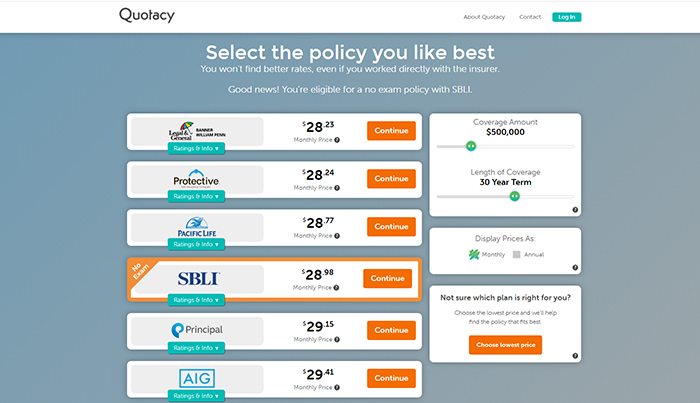 When you apply for life insurance online through Quotacy, you're given many options. Choose the option you like best and after you submit your online application, your Quotacy agent will double-check behind the scenes that the company you choose fits best with your risk factors.
There are hundreds of risk factors that can affect life insurance premiums. As a broker, we are able to shop across many different life insurance companies to ensure you get the best price.
Your Life insurance Questions Answered
Why should I buy life insurance?
Maybe you're wondering why people buy life insurance in the first place? Here are six common reasons people get life insurance:
Replace lost income and provide for family
Take care of childcare or school tuition
Repay debt (credit cards, student loans, medical bills)
Prevent selling assets (home, car, stocks, jewelry)
Prevent early withdrawal from retirement funds (Roth IRA, 401K)
Pay for funeral, burial, medical bills or end-of-life costs
You can see that most reasons have to do with replacing lost income, paying off debt, or protecting your family from financial loss. Term life insurance is an affordable way to put a security blanket in place, especially if you have loved ones who financially depend on you.
What type of coverage is best for my needs?
You may only need life insurance to protect your family for a specific period of time. This is the case for most families. Term life insurance is the best option and it's simple to buy online.
Honestly, permanent life insurance is often unnecessary and too expensive for many families to maintain. Most families only need term life insurance to protect their loved ones as they're building emergency funds, savings plans, and retirement accounts.
How long does term life insurance last?
Term life insurance lasts for 10, 15, 20, 25, 30, 35 or 40 years, depending on your age. There are also life insurance companies that will allow you to customize your policy length—17 years, for example.
If you die during those years (your policy's term), the life insurance company pays the death benefit to your family or beneficiaries. This payout amount could range from $25,000 to $500,000 to $25 million or more, depending on how much life insurance you buy.
How much life insurance do I need?
Financial advisors recommend that you buy 10 times your income. If you make $100,000 per year, then you would buy a $1,000,000 term life insurance policy.
You can use our handy life insurance needs calculator to figure out how much online life insurance to buy.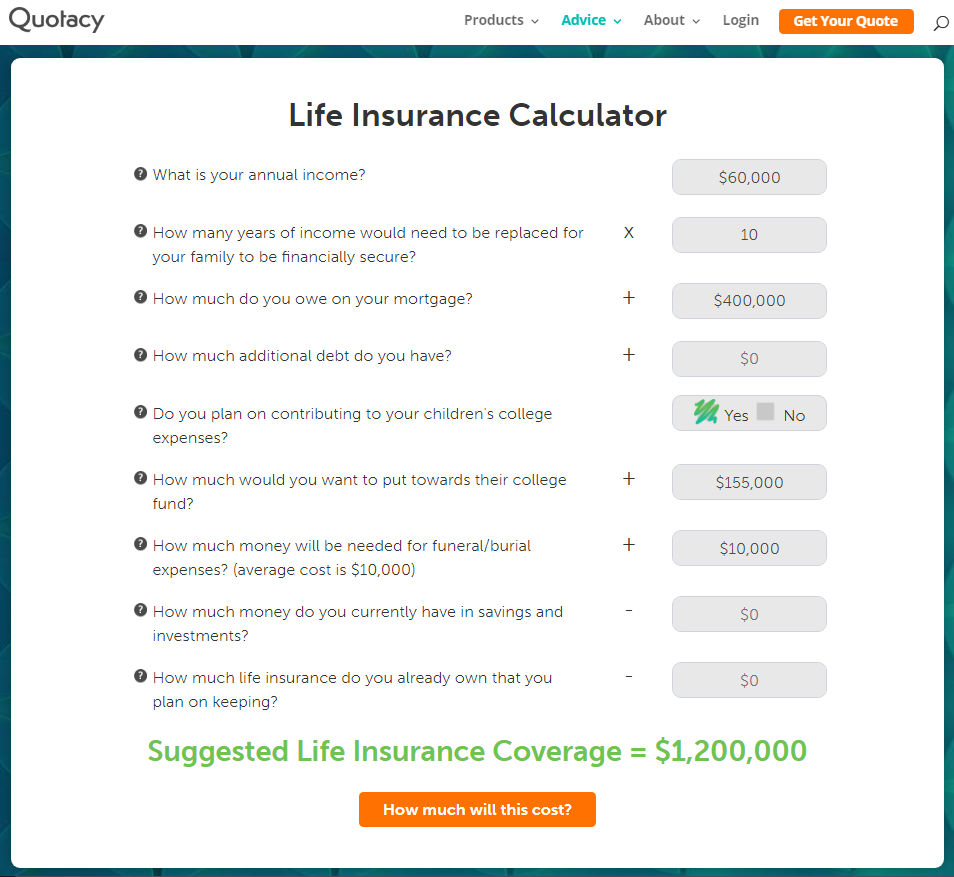 How much will my policy cost per month?
Term life insurance is priced according to how much coverage you buy, how long your policy lasts, and your risk class.
Your price goes up:
the more coverage you buy,
the longer your policy lasts, and
the higher your risk of dying is.
Your price goes down:
the less coverage you buy,
the shorter your policy lasts, and
the lower your risk of dying is.
The easiest way to test drive your pricing is to anonymously play with our quoting tool sliders yourself. It won't cost you anything and you don't have to give us any personal contact info to see your online life insurance pricing in action.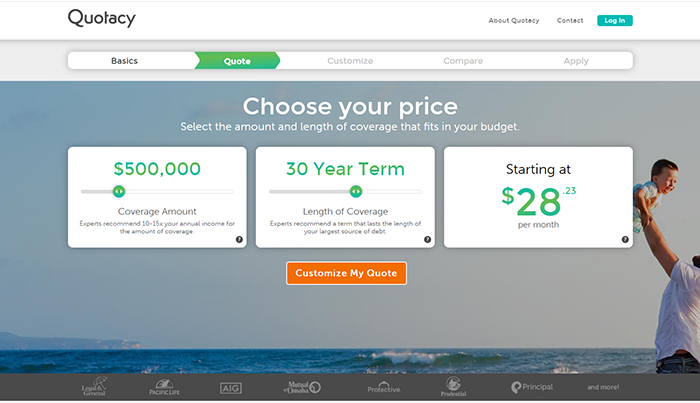 How can I comparison shop for online life insurance?
The simple way to comparison shop for online life insurance is get your quotes from Quotacy today. You can start by calculating your life insurance needs or just jump in and play with our quoting tool to see a range of term life insurance pricing customized for your needs.
After answering a few simple questions, none of which require your contact information, you're shown all your term life insurance options.
We only work with top-rated insurance companies, so no matter which one you choose, rest assured they are financially strong and provide excellent customer service.
If you're a person who likes knowing the details before choosing an option, hit the "Ratings & Info" tab on the policy options. It'll provide more information, so you can choose the one that works best for you.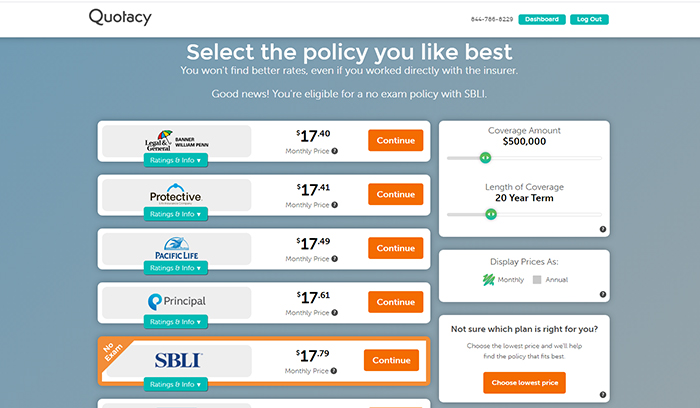 Can I apply for life insurance online?
Yes, after you have chosen an online life insurance plan that you like from your list of quotes, just hit the orange "Continue" button. Then you can start your application online and complete it in minutes all on Quotacy's website.
See what you'd pay for life insurance
Comparison shop prices on custom coverage amounts from the nation's top carriers with Quotacy.
Do I have to take a medical exam?
Some policies, like ones from SBLI (The Savings Bank Mutual Life Insurance Company of Massachusetts), require "no lab work" to get covered. So, if you're afraid of needles for blood work, that might be a good option for you.
Otherwise, most life insurance companies do require a phone interview to answer medical history questions with a follow up medical exam that can take place at your convenience at home or your office during your lunch break, for example.
We have a very popular article on how to get the best results on your life insurance medical exam with great tips that are easy to follow.
How long does it take to get insured?
It really depends on your medical history and whether you need a medical exam or not. If you have seen multiple doctors in the past, the insurance companies will order medical records from each individual office. This process can take time depending on how efficient your doctors' offices are at sending the records.
Expect, at least, a few weeks to two months to be fully insured. Your Quotacy agent will keep you updated as your application moves through the process.
There are instant coverage options, if you qualify. With these policies, the company uses data from third-parties to quickly determine how much of a risk you are to insure. Low risk applicants will be able apply for and activate their coverage in about 20 minutes.
These instant coverage options will be shown to you on the policy options page in the quoting tool if the information you provide meets the company's minimum requirements.
Quotacy is here to advocate to the life insurance companies on your behalf. To get a sense of our excellent customer service, read our TrustPilot reviews from online life insurance buyers just like you. They'll tell you in their own words what it was like to work with Quotacy for life insurance.
» Learn more about Quotacy's online life insurance buying process: Term Life Insurance Application Process with Quotacy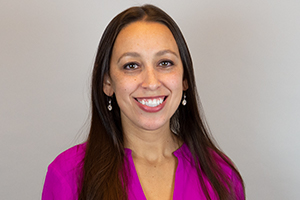 Natasha Cornelius, CLU
Senior Editor and Licensed Life Insurance Expert
Natasha Cornelius, CLU, is a writer, editor, and life insurance researcher for Quotacy.com where her goal is to make life insurance more transparent and easier to understand. She has been in the life insurance industry since 2010 and has been writing about life insurance since 2014. Natasha earned her Chartered Life Underwriter designation in 2022. She is also co-host of Quotacy's YouTube series. Connect with her on LinkedIn.