How long should my life insurance last? We answer this question in today's Quotacy Q&A Friday by explaining what term lengths are and how to determine how long your life insurance policy should last.
Video Transcript
Welcome to Quotacy's Q&A Friday where we answer your life insurance questions. Quotacy is an online life insurance agency where you can get life insurance on your terms.
I'm Jeanna and I'm Natasha.
Today's question is how long should my term life insurance last?

How long of a term you buy is dependent on why you're buying life insurance in the first place. Do you have a family and are looking to buy life insurance to protect them as you pay off the mortgage? Do you have children and also plan on paying for their college tuition? Or maybe you're looking to buy life insurance to cover a business debt.
When it comes to buying term life insurance the most common lengths are 10, 15, 20, and 30 years. So if you buy a term life insurance policy for 20 years, the day it becomes active it will insure you for 20 years from that date.

If you are planning on starting a family soon or have young children, like an infant or toddler, a 30-year term policy is a great option. It will protect your family as your children grow up and become financially independent themselves.

Term life insurance is there to protect your loved ones from the what-ifs in life. If you were to die suddenly, the death benefit from a life insurance policy can ensure your family can stay in their home and not be uprooted. So making sure your term length matches your mortgage loan length is a great idea.

Are there any debts you have that could become the responsibility of someone else if you were to die before the balance is paid?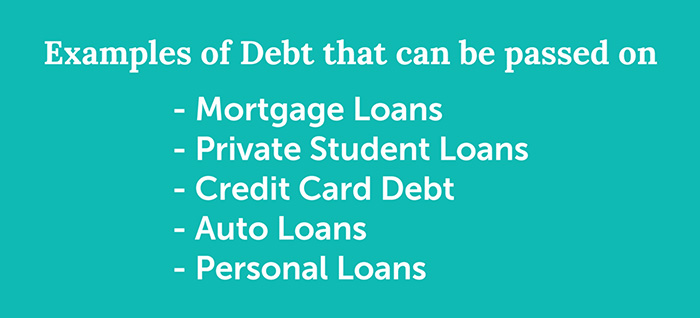 Any debt you have that is co-signed or part of a joint account will become the responsibility of that other person. Purchase a term length that takes into account how long it will take you to pay off these debts. If you and your spouse live in a community-property state even debts your spouse did not cosign may become his or her responsibility if the debt was acquired during marriage.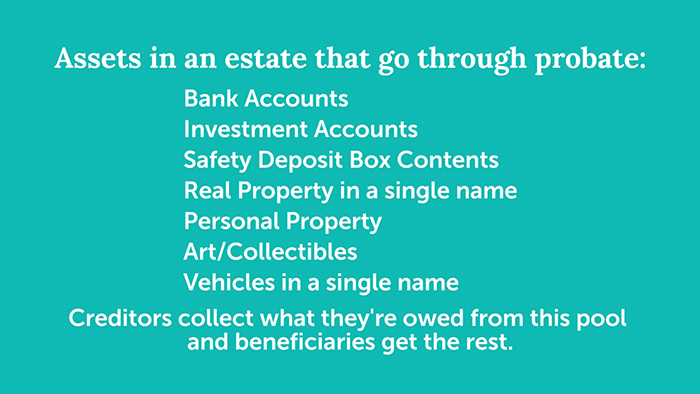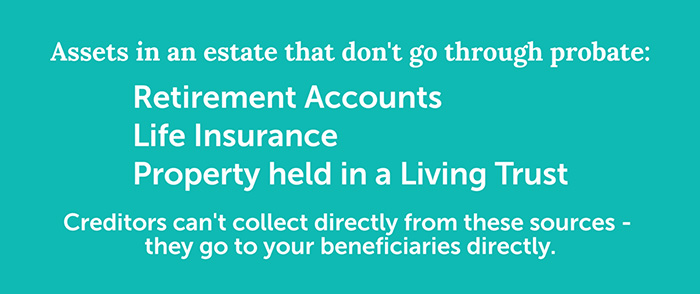 And even if your family members do not become directly responsible for your debt when you die creditors still want to be paid somehow. They will file a claim against your estate upon your death which takes away inheritance from your loved ones. Life insurance, however, is exempt from probate which means your loved ones will get the full death benefit amount even if there are creditors at large.
Another common reason people buy life insurance is for collateral for a small business loan.
In order for a bank to approve your small business loan they want to make sure they'll get paid if you die. Purchasing a term life insurance policy for the length of the business loan and naming the bank the beneficiary is common practice. It can be set up so that the bank gets paid first and then your families get the remaining death benefit.
And if you need more coverage than 10 to 35 years, you could consider getting a permanent policy or laddering life insurance policies. Permanent life insurance lasts your entire life whereas term life insurance is temporary and is designed to only last during your family's most financially vulnerable years and then drop off when you become more financially stable or in or near retirement. When you ladder term life insurance policies, this is when you own more than one policy with various amounts of coverage or at different stages of your life.
Term life insurance is an affordable way to protect your family from the what-ifs in life.
Ready to get your life insurance quote?
You're a few minutes away from great life insurance
How much life insurance do you need?
Figure out your action plan with our needs calculator
Let's take a look at an example buying three term policies all at once.
Jim and his wife Pam just purchased their first home. They want to start a family soon. Jim decides to buy three term life insurance policies on himself naming Pam the beneficiary.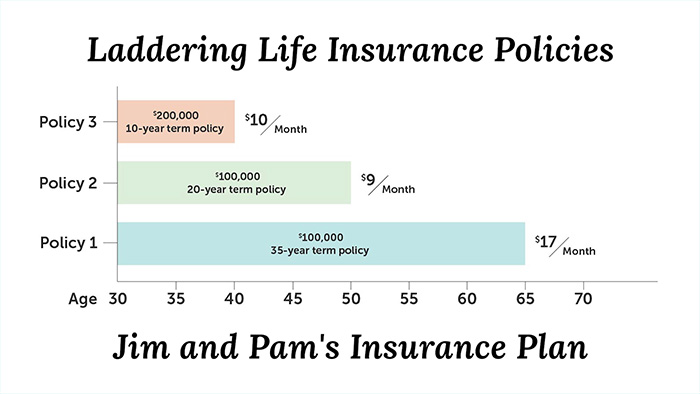 Policy one has a 35-year term and will insure Pam is financially protected through their prime working years.
Policy two has a 20-year term and will make sure Pam can continue to pay the mortgage and start college tuition funds for their children if Jim were to pass away suddenly.
Policy three has a 10-year term and simply adds extra coverage to ensure Pam will have the necessary funds to continue their family's standard of living during their children's most formative years. As the mortgage is slowly paid off and their children grow to become independent, their coverage needs also lessen, which makes this laddering method a strategic one.
Now, let's look at an example of buying three different term policies at different stages of your life.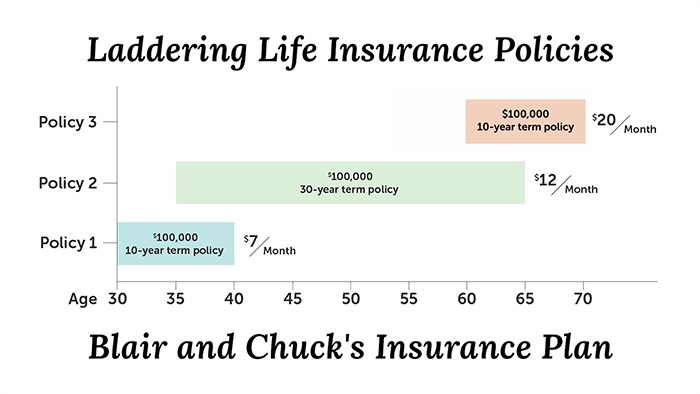 Blair and her husband Chuck are newlyweds on a budget. Blair decides to purchase a small life insurance policy on herself to make sure Chuck could pay for a funeral and take care of the debt they share if she were to die suddenly within the next ten years.
Five years into their marriage, Blair and Chuck save up enough for a down payment and buy their first home. Blair then decides to buy a second term life insurance policy with a term length of 30 years, the entire length of their mortgage loan, so Chuck could continue to live in their home if she died.
At 55 years old, Blair and Chuck are just a decade away from retiring. She wants to make sure if anything happened to her Chuck wouldn't need to dip into his retirement savings to continue paying bills. She buys another small term policy with a 10-year term.
Term life insurance is an affordable way to protect your family from the what-ifs in life.
» Compare: Term life insurance quotes
If you aren't sure how long of a term you should buy, check out this blog: How Long Should My Life Insurance Last? Or contact Quotacy and our agents would be more than happy to help you figure it out.
And if you aren't sure about what amount of coverage you need, check out our free life insurance needs calculator. Simply answer three questions and the calculator will show you an estimate how much term life insurance coverage you need.
Tune in next week when we talk about what life insurance company niches are and how they can save you money on premiums. Bye!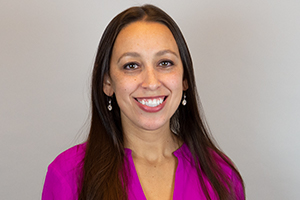 Natasha Cornelius
Writer, Editor, and Co-host of Quotacy's Q&A Fridays
Natasha is the content manager and editor for Quotacy. She has been in the life insurance industry since 2010 and has been making life insurance easier to understand with her writing since 2014. When not at work, she's probably studying and working toward her Chartered Life Underwriter (CLU) designation while throwing a tennis ball for her pitbull mix, Emmett, or curled up on her couch watching Netflix. If it's football season, the Packers game will be on. Connect with her on LinkedIn.