From the 1944 film-noir classic Double Indemnity to 2016's blink-and-it's-gone Term Life, life insurance has been a theme in some of Hollywood's biggest hits (and admittedly some of its flops).
Here is our spoiler-free recommendations for classic Hollywood movies where life insurance takes a starring role.
Double Indemnity
Directed by Billy Wilder. With Fred MacMurray, Barbara Stanwyck, Edward G. Robinson, and Byron Barr.
The Oscar-fêted director Billy Wilder must have loved film plots related to life insurance. We start (and end) our classic Hollywood life insurance flick list with movies directed by Mr. Wilder.
In Double Indemnity, Walter Neff (Fred MacMurray) is a regular joe term life insurance agent with a dark side. Phyllis Dietrichson (Barbara Stanwyck) plays a classy dame who knows her way around term insurance quotes and death benefit clauses.
Romance sparks, sinister thoughts percolate. What could go wrong? Here's what…from Double Indemnity:
Insurance guys are smart cookies—don't try to pull a fast one
Barton Keyes (Walter's boss played by Edward G. Robinson):
Now look, Walter. A guy takes out an accident policy that's worth $100,000 if he's killed on the train. Then, two weeks later, he is killed on the train. And, not from the train accident, mind you, but falling off some silly observation car. You know what the mathematical probability of that is? One out of, oh, I don't know how many billions. And after that, the broken leg. No, it just, it just can't be the way it looks. Something has been worked on us!
Insurance claims investigators are superheroes, only smarter
Barton Keyes:
Look Walter, the job I'm talking about takes brains and integrity. It takes more guts than there is in 50 salesmen. It's the hardest job in the business.
Walter Neff:
Yeah, but it's still a desk job. I don't want to be nailed to a desk.
Barton Keyes:
Desk job? Is that all you can see in it? Just a hard chair to park your pants on from 9 to 5? Just a pile of papers to shuffle around and 5 sharp pencils and a scratchpad to make figures on? Maybe a little doodling on the side? Well that's not the way I look at it, Walter. To me, a claims man is a surgeon. That desk is an operating table and those pencils are scalpels and bone-chisels. And those papers are not just forms and statistics and claims for compensation. They're alive. They're packed with drama, with twisted hopes and crooked dreams. A claims man, Walter, is a, is a doctor and a bloodhound and a…
[phone rings. Keyes answers]Barton Keyes:
Who? Okay, hold on a minute. A claims man is a doctor and a bloodhound and a cop and a judge and a jury and a father confessor all in one. And you want to tell me you're not interested. You don't want to work with your brains. All you want to do is work with your finger on the doorbell for a few bucks more a week?
Dames and life Insurance crime doesn't pay
Walter Neff:
Yes, I killed him. I killed him for money—and a woman—and I didn't get the money and I didn't get the woman.
Yikes! Yes, film fans, life insurance crime doesn't pay. But, we get the dame part. Barbara Stanwyck is captivating in her role as the blonde who inspires murder.
The Postman Always Rings Twice
Directed by Tay Garnett. With Lana Turner, John Garfield, Cecil Kellaway.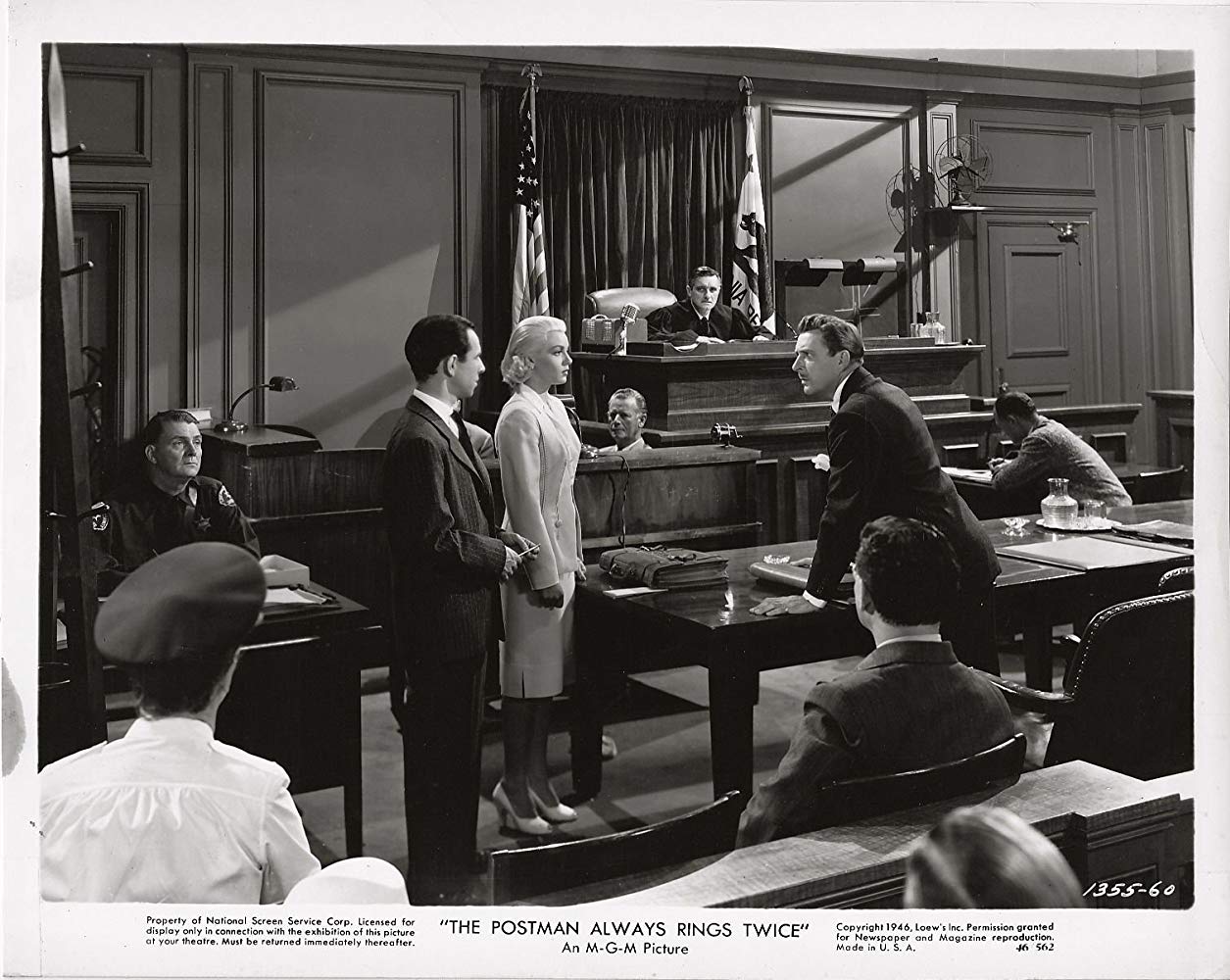 A drifter and the gorgeous wife of a lackluster diner owner fall in love. What do they have in common?
An affinity for club sandwiches, good tippers, and cold-blooded murder.
Here are some life insurance lessons gleaned in The Postman Always Rings Twice:
All that smoking and drinking in classic Hollywood reels seems quaint and charming—a bygone era when the silver screen's stars didn't fear smokers' wrinkles, weren't addicted to botox, and clearly had no idea how smoking impacts term life insurance quotes.
Buy term life insurance, even if you assume your loot (or savings) will be enough
Cora (Lana Turner) and Frank (John Garfield) did not anticipate their twisted plot scheme to be foiled by Orangey the cat tripping over a wire, and so they neglected to buy life insurance for each other, speeding them toward an unhappy ending of a fantastic film-noir movie.
Incorporate household costs and unexpected expenses when calculating term life insurance needs
Cora and Frank didn't have a long-term financial plan and relied heavily on the prospect of their ill-gotten gains covering their needs.
Since none of this panned out, it would have been much smarter to include big ticket, one-time expenses (like legal fees for a murder case) in addition to household costs when calculating their term life insurance needs.
Pay attention to the legalese
When buying term life insurance its important to be aware of the terms of your life insurance policy payout (the main point is to tell your family you own a policy so that they can inform the life insurance company if/when you die), as well as the procedure for updating your beneficiary (if you buy your life insurance policy through Quotacy, we can help you with any future policy services you need as our service to you).
If there's a term, phrase, or something in your term insurance quotes (or policy) that you don't understand, don't worry. We've broken down all the most commonly used terminology and term insurance FAQs for you.
But, we don't encourage you, like Frank in The Postman Always Rings Twice, to fall prey to a murderous blonde's charms, even if she is as gorgeous as Lana Turner, and her husband is insured by a term life insurance policy. Life insurance crime does not pay for film buffs or anyone else.
See what you'd pay for life insurance
Comparison shop prices on custom coverage amounts from the nation's top carriers with Quotacy.
Groundhog Day
Directed by Harold Ramis. With Bill Murray, Andie Macdowell, and Chris Elliot.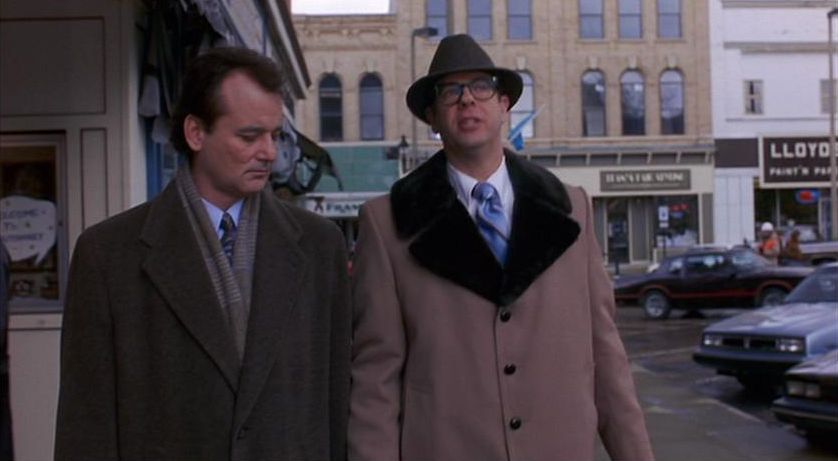 There are so many wonderful quotes and scenes from Groundhog Day, but first let's take a quick look at these pearls of life insurance wisdom from one of my favorite films:
Ned. Ned. Ned. Ned. Ned.
Life insurance is important—but the last thing you want to do is listen to the same insurance sales pitch over and over.
We know you'd prefer to get your term insurance quotes, apply, and get on with your day (who wouldn't?) and our remedy at Quotacy is our Ned-free instant term life quotes tool.
Disclaimer: We're big fans of actor Stephen Tobolowsky who plays Groundhog Day's intrepid insurance agent. He nails our industry's stereotype so perfectly!
Time loops and term life insurance
We call term life insurance love insurance here at Quotacy because it protects your loved ones from the things you can't predict.
If you were stuck in an endless time loop like Bill Murray, you wouldn't have to worry about your family's future. But, as death is one glitch in everyone's time-space continuum, it's a good idea to plan ahead for the eventual.
Think about what's most important and follow your heart
When looking through your list of priorities, those you love are always at the top. And their futures—not just their immediate needs—are probably at the top of your financial planning list. Look at the upcoming plans (and the financial contributions that will be needed to support them) of your loved ones—like college tuition or the purchase of a first home—when fitting term life insurance into your long-term financial plans.
Well, if we're talking term life insurance and movies, we better include Term Life…because it's called, well, Term Life.
Term Life
Directed by Peter Billingsley. With Vince Vaughn and Hailee Steinfeld.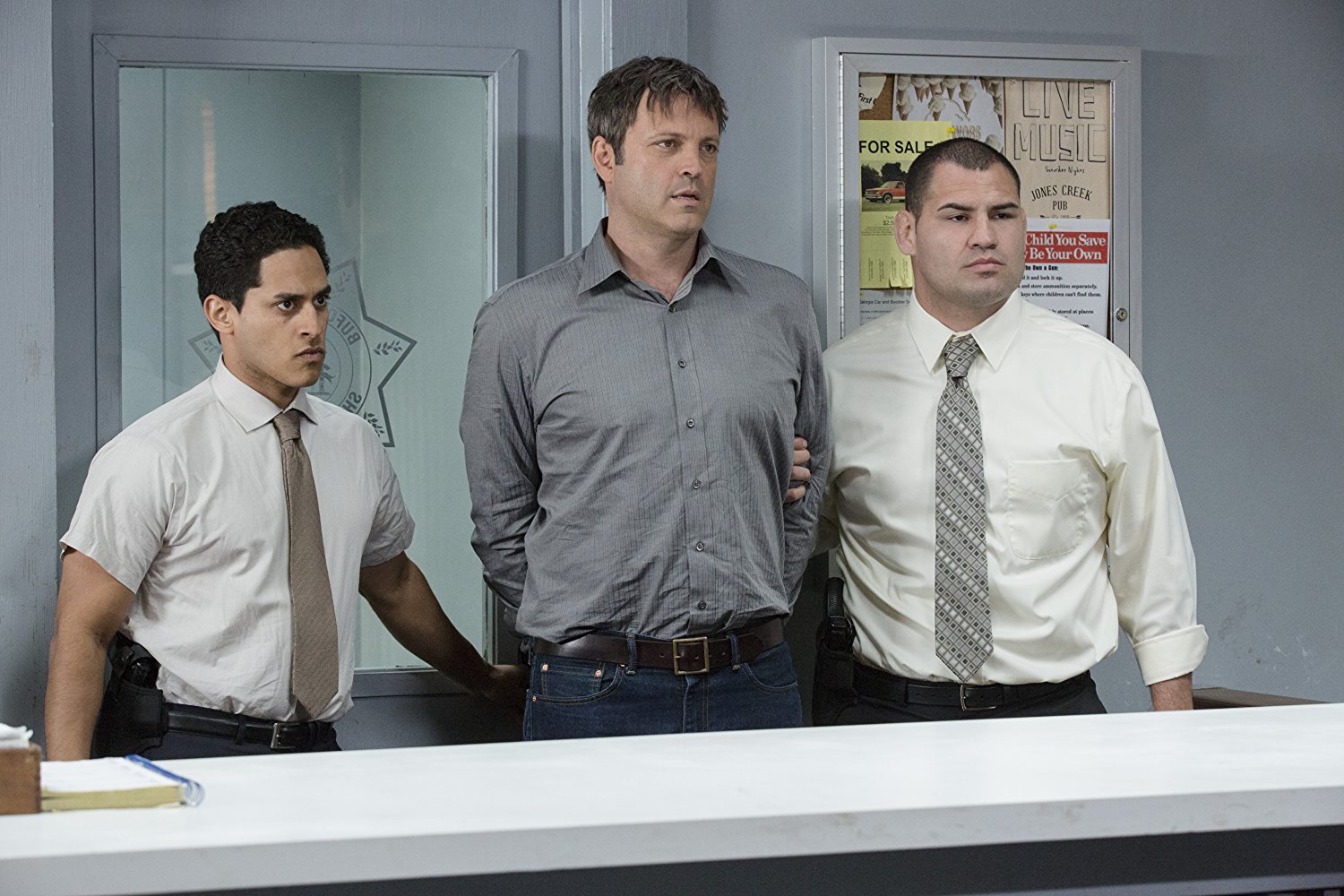 One movie critic on Rotten Tomatoes simply describes Term Life as:
…an awful insurance thriller
Ouch.
Vince Vaughn plays Nick, a hired gun (who desperately needs to quickly find great term insurance quotes) and wants to stay alive just long enough for his life insurance policy to kick into effect.
This delinquent dad knows he's a marked man, so his motive for buying life insurance is to provide money for his daughter after his inevitable demise. The film received roundly negative reviews, and we can't figure out how a hitman with a dangerous job got his policy through life insurance underwriting. But, that's Hollywood!
Term Life earned only 1% of its $16 million budget back and closed after a week. Clearly, the director could have used some better life insurance industry insiders (wink, wink, nudge, nudge) to help craft a captivating neo-noir script. We're all game to assist when Hollywood decides to film the sequel, Whole Life.
The Apartment
Directed by Billy Wilder. With Jack Lemmon, Shirley MaClaine, and Fred MacMurray.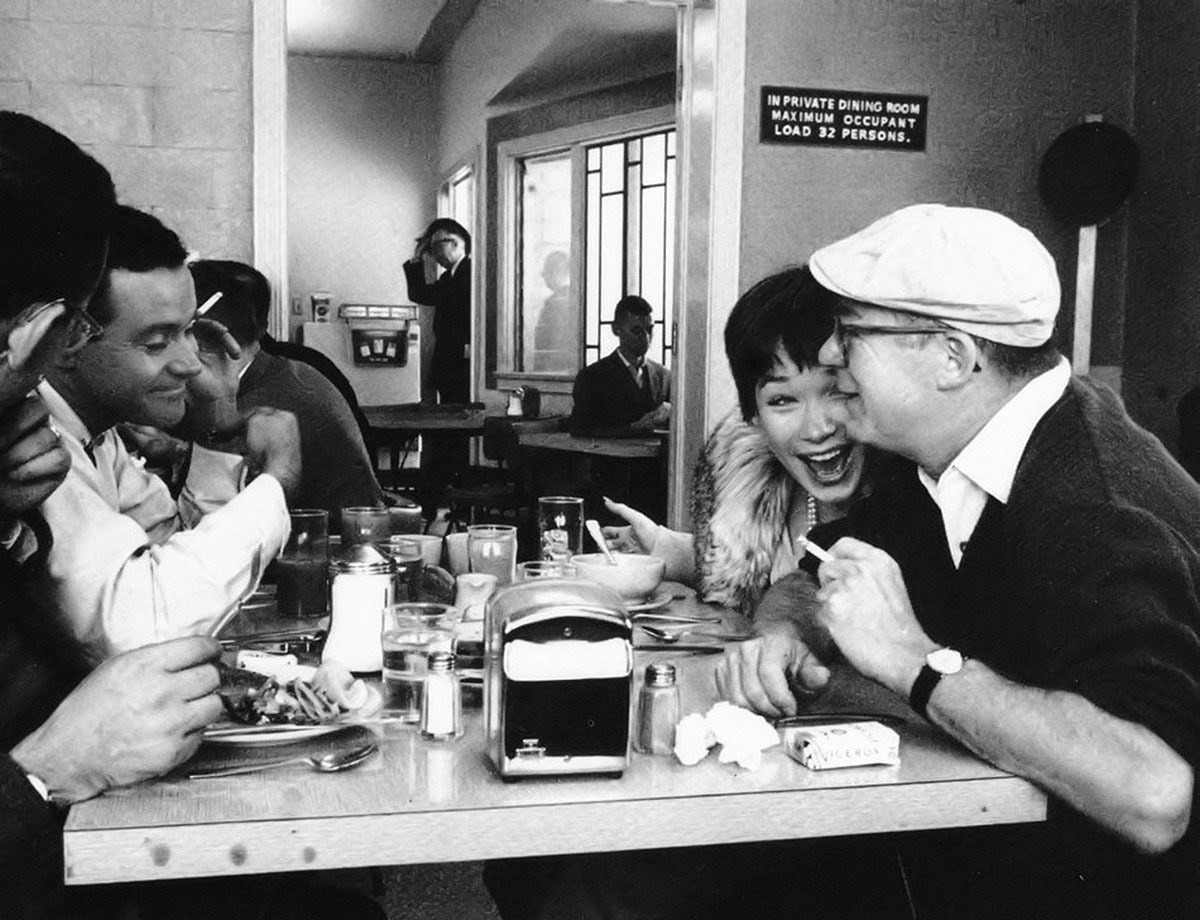 The Apartment won Best Picture at the Academy Awards, as well as, Best Director for Billy Wilder and Best Original Screenplay.
Back to The Apartment: C.C. Baxter (Jack Lemmon) spends his days sorting through term insurance quotes (on paper—this was 1960) but he dreams of moving up at Consolidated Life, a blue chip insurance company.
Hoping to gain the favor of his superiors, he turns his apartment into a party house for top execs' after office hours love affairs, hoping they will thank him with a promotion. As expected…nothing goes as expected…but Baxter ends up with a happy ending and probably some excellent term life insurance rates.
Which we'd say is a win-win.
Fran Kubelik:
I never catch colds.
C.C. Baxter:
Really? I was reading some figures from the Sickness and Accident Claims Division. You know that the average New Yorker between the ages of twenty and fifty has two-and-a-half colds a year?
Fran Kubelik:
That makes me feel just terrible.
C.C. Baxter:
Why?
Fran Kubelik:
Well, to make the figures come out even, if I have no colds a year, some poor slob must have five colds a year.
C.C. Baxter:
[sheepishly] Yeah… it's me. 
And perhaps the most famous line from The Apartment:
Bud:
[playing cards] I love you, Miss Kubelik…Did you hear what I said, Miss Kubelik? I absolutely adore you. 
Fran:
[smiling] Shut up and deal! 
At Quotacy, we're with Fran. If you're looking for a term life insurance policy, we know you want to skip the sales pitch and just get what you came for as quickly as possible. Get your term insurance quotes right now—without any Ned-esque sales pressure at Quotacy—and enjoy your Hollywood flicks.
If you know of any other films where life insurance plays a starring role, leave me a note in the comments. I'd be happy to hear from all you, Hollywood cinéphiles, out there.