Just because you're not a US citizen doesn't mean you can't get life insurance.
Immigration law is complicated, and the road to citizenship has many hurdles, but you don't have to wait until you are a legal resident to enjoy the protection life insurance offers.
Can I get life insurance if I'm not a U.S. citizen?
Yes, you can get approved for life insurance in the United States even if you are not a citizen, as long as you have the proper documentation. Your best chances of getting affordable life insurance is to apply through a broker, like Quotacy. Brokers are not tied to one life insurance company and are able to shop the market. Some life insurance companies are more lenient with certain documentation than others and your Quotacy agent can help you find the best coverage.
» Compare: Term life insurance quotes for non U.S. citizens
Quotacy helps people get the life insurance they need to protect their loved ones—including helping countless families navigate the application process and find the coverage they need regardless of citizenship or residency status. There are some instances where coverage options aren't available, but we do everything we can to get life insurance for all our customers.
As with everything, there are situations where we run into roadblocks, but those are truly rare. Your citizenship status may affect which insurance companies will insure you and what additional information you may need to get a policy.
Life Insurance and Non-Citizen IDs
We'll explain the ins-and-outs here: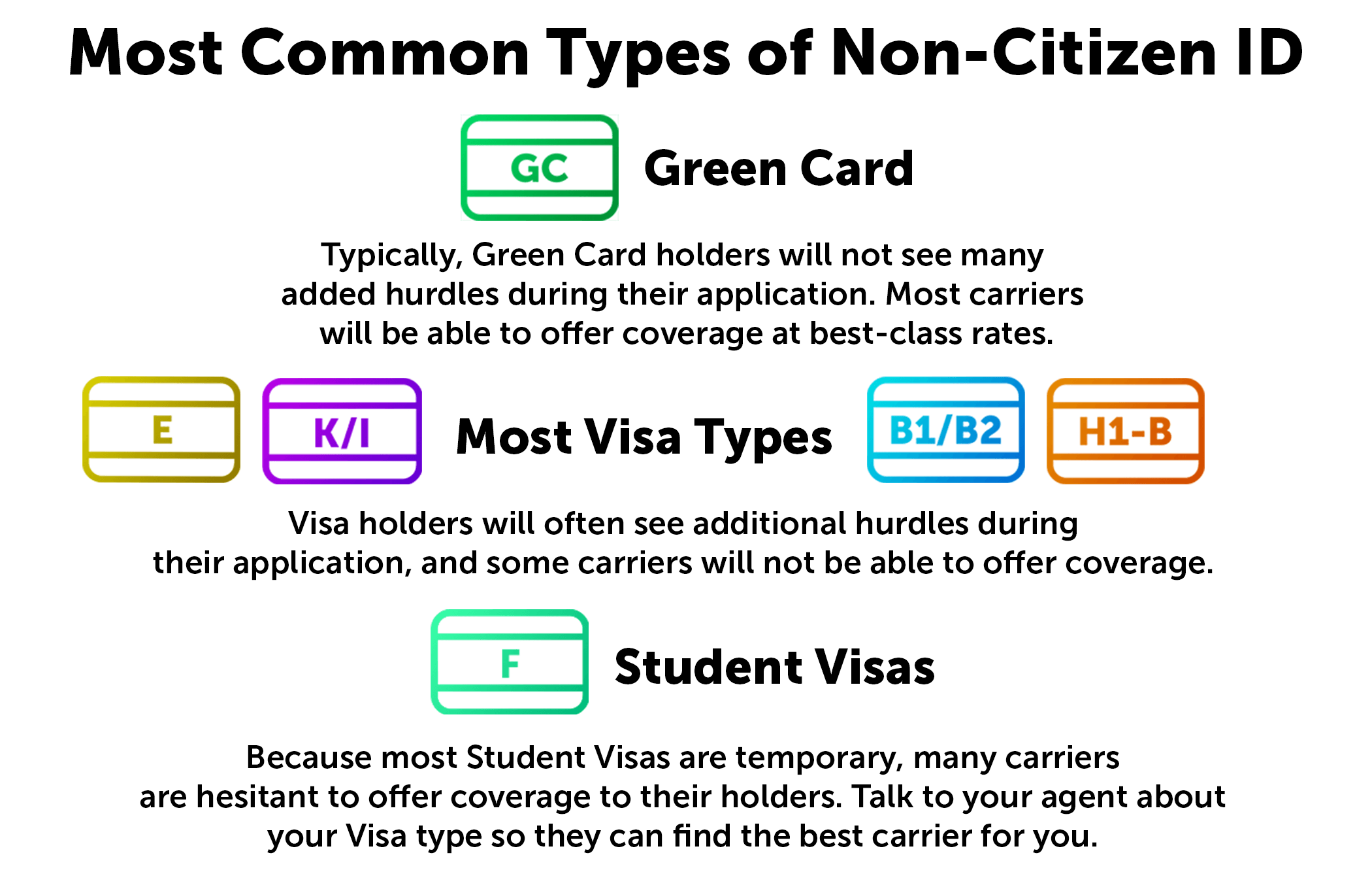 Applying with a Green Card
A green card holder is considered to be a permanent resident of the USA. This means that most insurance carriers will have no problems offering them coverage. Green card holders are eligible for best-class rates, and are subject to very few additional hurdles during the application process to get life insurance.
The only extra step a green card holder will need to take typically during an application is sending a photocopy of their green card to the life insurance company to confirm their immigration status.
Applying with a Visa
If you don't have a green card, many insurance carriers will be able to offer coverage, but you'll face additional hurdles during your application so that your risk can be more accurately measured.
The first step in order to get life insurance with a visa, is to help a carrier find out whether or not you meet their qualifications for being a resident of the USA. Different carriers have different ways that they judge whether someone is a resident, but most of the time, they rely on either Substantial Presence or Significant Interest, or both.
» Calculate: Life insurance needs calculator
To have Substantial Presence in the USA, you typically need to have lived in the USA for at least one year. Some carriers require up to five years of Significant Presence in order to offer best-class rates, but one or two years is the industry standard.
Significant Interest, on the other hand, requires the applicant to prove that they have resources invested in staying in the USA. Most of the time, this means owning property or having assets in the USA, like being a home or business owner, for example.
Regardless of whether you're classified as a resident or non-resident, if you aren't a naturalized US citizen, there are a few pieces of additional paperwork that carriers require in order to issue a policy.
Most often, a carrier will ask for a copy of your green card or visa documents during your application, and will require you to submit a W-8 or W-9 tax form in order to gather information about your home country and your financial information in the USA.
Regardless of your citizenship, residency status, or visa type, Quotacy will be able to find options for an affordable term life insurance policy to protect your loved ones.
Ready to get your life insurance quote?
You're a few minutes away from great life insurance
How much life insurance do you need?
Figure out your action plan with our needs calculator
How Carriers Approve Non-Citizens
Most life insurance carriers judge whether or not they can offer life insurance coverage based combinations of these criteria.
1: ID Type
Most carriers separate the people they are able to serve based on the type of visa an applicant has. For example, some carriers are able to offer life insurance to students from abroad who are studying in America with an F-class Visa, but most cannot.
Additionally, some carriers will only insure US Citizens or permanent residents – if you don't have your green card or your citizenship, they can't offer coverage.
If this happens, it pays to have an independent agent with experience underwriting non-citizens. During your application, if we learn that a carrier can't insure you based on your visa status, we'll search for another carrier who can.
2: Substantial Presence
As we talked about earlier, most life insurance carriers, one year of residence is enough to show substantial presence, but some carriers require up to 5 years of residence.
If you've been in the US for less than a year, however, carriers consider you to be a Non-Resident, even if you plan to apply for your visa soon. A non-resident can still be approved by a few carriers, and may even get best-class offers.
However, the carrier will often set certain limits on how much coverage a non-resident can get, and may require more paperwork to issue their approval. If you've been in the US for less than a year, talk to an agent and ask about your options.
3: Approved Countries List
Some carriers are much more specific in their underwriting. Many carriers have limits on who they can insure based not only on your visa status, but on your home country as well.
Carriers that approve people based on their home country may be able to offer you best-class rates, but given how specific their requirements are, it's wise to have your advisor research your case beforehand to make you can be covered.
Again, if we learn that the carrier you apply with initially can't insure you, we will let you know and offer other options to get your application back on track quickly with a different carrier.
If you'd like to see what life insurance options are available for you, we'd love to help. Feel free to get in touch with us or run an anonymous quote online, and we'll get started.
» Learn more: Term Life Insurance for New American Citizens
Photo credit to: Ana Paula Hirama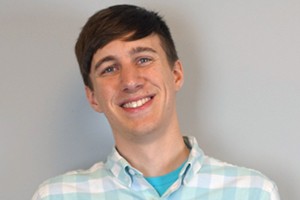 Eric Lindholm
Communications Coordinator
Eric moved from sales to communications at Quotacy. His writing is informed by his experience guiding hundreds of people through their own life insurance buying journey. Eric lives in Minneapolis, where his coworkers are trying to convince him to start his own podcast, do stand-up, or take his humor into the spotlight. Connect with him on LinkedIn.