Non-U.S. citizens can get life insurance in the United States with the right qualifications. But not all insurance companies are flexible when it comes to life insurance for non-citizens.
Getting approved for coverage depends on choosing the right company and ensuring you have the correct documentation. In this guide, you'll learn about options for life insurance for non-U.S. citizens.
Can a Non-U.S. Citizen Get Life Insurance?
Yes, non-U.S. citizens can get life insurance depending on their status. Valid green card holders and some visa holders can qualify.
When applying for life insurance as a non-U.S. citizen, working with a broker with access to many different life insurance carriers' offerings is essential. Because carriers underwrite international risk differently, getting approved for life insurance coverage is easier if you have a broker to rely on.
Learn more about the life insurance underwriting process, how it works, and what matters most. 
Requirements to Get Life Insurance as a Non-U.S. Citizen
Regardless of your citizenship, to be able to buy life insurance in the U.S., the following are required:
A U.S. bank account 
The ability to pay policy premiums with U.S. funds
A U.S. address
A Social Security number or Tax ID
The application, medical exam, and policy delivery must be completed in the U.S.
If you're a non-U.S. citizen, additional requirements might be needed, depending on whether you have a green card or a visa.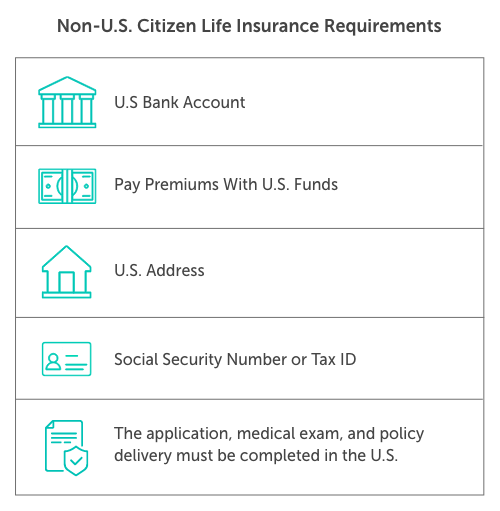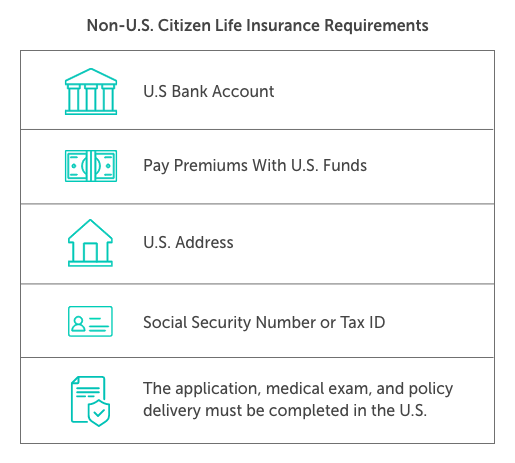 Life Insurance and Non-Citizen IDs
When applying for life insurance as a non-U.S. citizen, the application process will depend on the type of ID/documentation that verifies your legal status in America.
Applying with a Green Card
If you have a valid green card, you're considered a permanent resident of the USA. This means most carriers will be able to offer you coverage. Plus, green card holders are eligible for best-class rates and are subject to very few additional hurdles during the application process to get life insurance.
Typically, the only extra step a green card holder will need to take is sending a photocopy of their green card to the insurance company to confirm their immigration status.
Life insurance for green card holders:
Few hurdles to get coverage
Eligible for the best rates
Photocopy of valid green card required
Applying with a Visa
Not all visas are acceptable for life insurance coverage in the United States.
The most commonly accepted visas include:
E – employer sponsored immigrant visa
H1B – temporary work visa for someone in a specialty occupation
K – nonimmigrant visa for a fiancé/e of a U.S. citizen
L – temporary work visa for an intracompany transferee
O – temporary work visa for someone with extraordinary ability or achievement
TN and TD – visas for Canadian and Mexican NAFTA workers
Additional visas may be considered on a case-by-case basis. Student visas are typically not accepted but may be considered by a few companies on a case-by-case basis if stringent requirements are met.
Valid visa holders have many options for life insurance. However, more documentation will be required compared to U.S. citizens and green card holders. There may also be a few more hurdles during the application process so that your risk can be accurately measured.
Some life insurance companies will only accept green card holders, not visa holders. This is another reason why working with a broker like Quotacy is beneficial. A broker will shop different life insurance carriers to match you with the one most likely to offer you the best coverage.
Life insurance for visa holders:
Work with a broker
Some hurdles to overcome
Many documents required
Eligible for best rates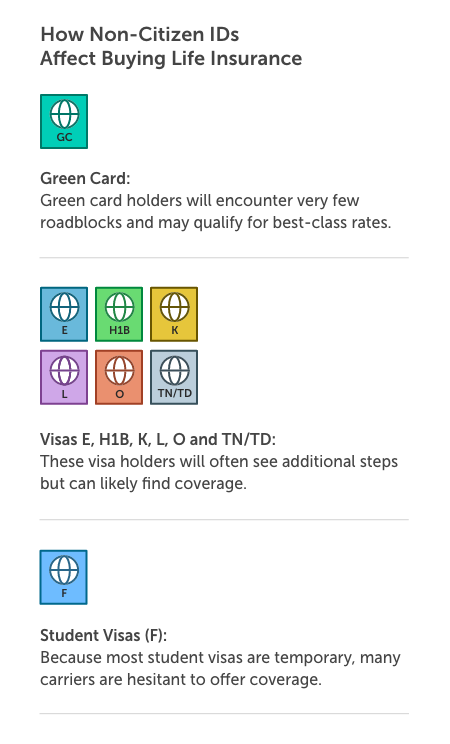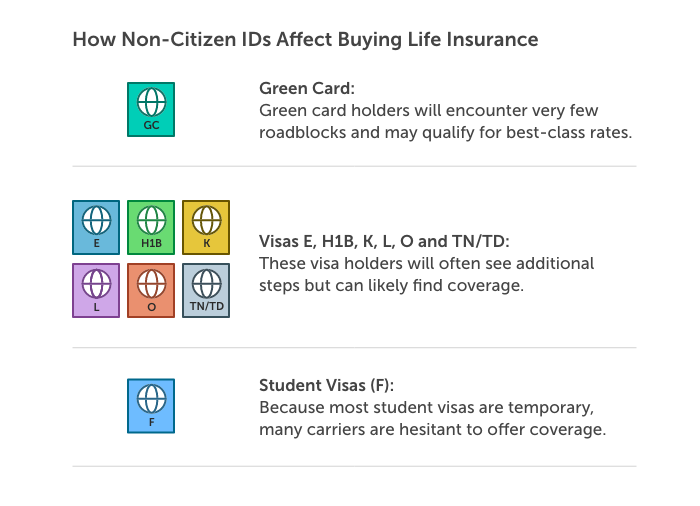 How Carriers Approve Non-Citizens
Most life insurance carriers decide whether or not they can offer life insurance coverage based on combinations of these criteria.
1. ID Type
As mentioned earlier, your citizenship status will determine your access to life insurance in the U.S. and how difficult it will be to find.
Valid green card holders should be able to find coverage reasonably easily.
Visa cardholders may have more trouble depending on what kind of visa they have. If you're a visa holder, it pays to have a life insurance broker (like Quotacy) with experience in underwriting non-citizens. During the buying process, if we learn that a carrier can't insure you based on your visa status, we'll search for another carrier that can.
2. Substantial Presence and Significant Interest
Many life insurance companies need to see substantial presence and significant interest.
Substantial Presence: To have substantial presence in the U.S., you typically need to have lived in the USA for at least one year. Some carriers require up to five years of substantial presence to offer best-class rates, but one or two years is the industry standard.
Significant Interest: For significant interest, you need to show that you have ties to the U.S., which would correlate with your effort to stay here. Examples include owning a home or business in the U.S., being married to a U.S. citizen who resides here, or owning U.S. investments.
These requirements vary by insurance company, which is another reason to work with a broker.
3. Approved Countries List
If you're a foreign national, your country of residence may impact life insurance eligibility in the U.S.
Restricted countries vary by life insurance companies depending on their claims history and current risk acceptance. You may not be eligible for coverage if you're a frequent traveler to a restricted country.
Some insurance companies do not offer coverage to residents of certain countries due to U.S. legal restrictions.
Some countries do not allow their residents to purchase insurance outside the country.
Yet more reasons to work with a broker. If the insurance carrier you're initially applying to can't offer you coverage due to your country of residence, we'll work with you to move you to a different insurance carrier.
Benefits of Life Insurance for Non-U.S. Citizens
Anyone with loved ones relying on them financially would benefit from buying life insurance. This includes non-U.S. citizens.
Life insurance is used to protect those you leave behind when you die. These are a few of the main benefits of life insurance.
Life insurance death benefits are paid to beneficiaries income tax-free.
You choose the beneficiaries and how much money they are to receive.
Life insurance is exempt from probate, meaning your beneficiaries get paid faster.
Life insurance can provide the liquidity needed to pay estate taxes.
Term life insurance policies are customizable and can fit into most budgets.
Permanent life insurance policies offer tax-deferred cash value accumulation.
The Best Type of Life Insurance for a Non-U.S. Citizen
Life insurance policies can be categorized into one of two types: term or permanent. The type of life insurance that's best for you depends on your budget, family circumstances, and needs.
Term Life Insurance
Term life insurance is ideal for those who have children, have a mortgage, and need budget-friendly coverage.
This option is more affordable than permanent products because it's temporary coverage. Most term policies include a conversion option, so if you need permanent coverage later on, you can convert it easily.
Term life insurance is ideal for families because it's so customizable.
Customizable Term Length 
When you buy term life insurance, you choose how long you want the coverage to last. Term lengths range from 10-40 years. If your children are young and you have 20-30 years left on your mortgage, getting a 30-year policy ensures your family is financially protected should you die unexpectedly during the term.
Customizable Coverage Amount
Term life insurance is the most affordable way to ensure your loved ones can pay bills and continue their standard of living if your income suddenly disappears due to your death. Whether you need $100,000 or over $1,000,000 of term life insurance, chances are you can find a policy that fits your budget.
Customize with Riders
For about $50 annually, you can add a child rider onto your term life insurance policy which is a no-brainer if you have children. A child rider provides about $10,000 of life insurance coverage on all of your children under age 18.
An accelerated death benefit rider is free on most term life insurance policies. This rider allows you to request a portion of your policy's death benefit while you're alive if you are diagnosed with a terminal illness.
Explore the other riders available to customize your coverage. 
Permanent Life Insurance
Permanent insurance options are more expensive because the coverage lasts a lifetime, and you have features like cash value accumulation. If budgeting isn't a big concern, permanent life insurance has many benefits.
Permanent life insurance helps you protect your loved ones no matter when you die. It leaves your family money for funeral and end-of-life expenses, such as medical bills and estate taxes.
If you buy a participating whole life insurance policy, your policy may earn dividends in addition to the guaranteed cash value accumulation. Permanent life insurance can be complex.
Life Insurance for Non-U.S. Citizens FAQs
Life insurance can be a bit confusing since it's not a routine purchase. Here are some answers to additional questions about buying life insurance that you may have.
Can Foreign Nationals Get Life Insurance?
Yes, foreign nationals can get life insurance in the U.S. with the proper documentation. They are required to have a U.S. bank account and significant interest.
The following individuals are considered foreign nationals:
Green card holders
Temporary green card holders
Non-resident aliens living in the U.S. full-time
Non-resident aliens living outside of the U.S.
Dual citizens
Asylum or refugee status holders
Not all life insurance companies offer coverage for foreign nationals, so be sure to work with an independent broker.
Can Immigrants Get Life Insurance?
Yes, immigrants can get life insurance in the U.S. with the correct documentation. Immigrants live permanently in the U.S. as green card holders or resident aliens. They need a U.S. bank account and significant interest to be approved for life insurance.
Can Undocumented Immigrants Get Life Insurance?
Unfortunately, you cannot get life insurance in the United States if you do not have valid documents such as a visa, Social Security number, or tax ID.
Can Non-Resident Aliens Get Life Insurance?
Yes, in many cases, non-resident aliens can get life insurance in the U.S. All aspects of the insurance buying process must be completed in the U.S., including the application, the medical exam, and the policy delivery. This process could take months, so that's something to be aware of. In addition, the non-resident must have at least one meaningful tie to the U.S. (a.k.a. "nexus").
Examples of nexus include:
U.S. citizenship
A spouse who is a U.S. citizen or resident
Ownership of real estate in the U.S.
Ownership of a business in the U.S. or employment by a U.S. company
A verifiable U.S. tax liability that needs insurance support
Own liquid or non-liquid U.S. assets (e.g., insurance policies, property, accounts, U.S.-issued credit card)
The country the non-resident lives in may impact life insurance eligibility. If you live in a country deemed hazardous for travel, the life insurance company may be strict about offering coverage. Finding coverage may be difficult, so work with an independent broker.
Can an Expatriate (Expat) Get Life Insurance?
If you have moved permanently to another country and no longer are a resident in the U.S. or have ties here, you cannot get a new life insurance policy in the U.S.
Can I Get Life Insurance on My Non-U.S. Citizen Spouse?
If you're a U.S. citizen and want to purchase life insurance on your non-U.S. citizen spouse, the requirements are the same as if your spouse purchased it on him or herself.
At minimum, your spouse will need a Social Security number. Most insurance companies also require a green card or valid visa.
What Happens to My Policy if I Move Abroad?
If you buy your life insurance policy in the U.S. and move to a new country, your policy will still be valid as long as you continue paying the premiums.
If you die abroad, your beneficiaries must send in a death certificate in English. The process may take a bit longer.
Can My Beneficiary Be a Non-U.S. Citizen?
Yes, the beneficiary of your life insurance policy can be a non-U.S. citizen. To avoid payment delays, be sure to provide the following information regarding your non-citizen beneficiary to the carrier:
Full legal first and last name
Date of birth
Social Security number, if they have one
Address
Phone number
Unsure how much life insurance you need? Try our free life insurance needs calculator.
Get Life Insurance as a Non-U.S. Citizen Through Quotacy
As an independent broker, Quotacy has access to product offerings from over 25 of the nation's top life insurance companies. Our agents know the ins and outs of how each carrier evaluates applicants and will help match you to a company more favorable with non-U.S. citizenship.
Regardless of your citizenship, all applicants must undergo medical and financial underwriting. The life insurance company will review factors like your age, gender, health, family history, and lifestyle to determine if they can approve you and at what cost.
Start the process by getting a term life insurance quote, or contact us if you have questions. Our non-commissioned agents provide transparent and unbiased advice to help you get the best coverage for your needs.
Watch the Life Insurance for Non-US Citizens Video