If you've ever tried to shop around for the best term life insurance quotes and thought, "I shouldn't have to give out this much information to get a quote," you're absolutely right. In fact, many companies collect far more information than they actually need to provide you with a simple quote.
On Quotacy.com, you can get life insurance quotes without giving a lot of personal information and no contact information is required. You can compare the best term life insurance quotes for your particular needs without fear of getting inundated with unwanted sales calls.
After anonymously running term quotes on yourself, how do you know which insurance company policy to choose? We make the process easy and you have complete control over it without alerting a pushy salesperson that you're shopping for life insurance.
How to compare your term life insurance quotes:
Get life insurance quotes from multiple life insurance companies with our quoting tool by entering:
Your birthdate. Sharing your birthdate gets you accurate term life insurance quotes without sharing your contact info.
Your zip code. Life insurance products vary by state. We'll only show you policies sold where you live.
Your gender. Pricing is less expensive for women than men. Women live longer than men on average.
Your smoking status. Using tobacco and nicotine products can affect your pricing. Some carriers are more lenient depending on the situation.
If you're shopping for term life insurance quotes for another person like your spouse, enter their birthdate, zip code, gender, and smoking status.
To try a test run, see instant quotes using the tool below. This tool shows quotes for non-tobacco users.
1. Test drive our quoting tool now—that's not an image below.
2. Use the sliders to adjust your price to suit your budget.
Whether you're a tobacco user or not, you can instantly see quotes using our tool. Hop over there if you're ready to see estimated prices.
» Compare: Term life insurance quotes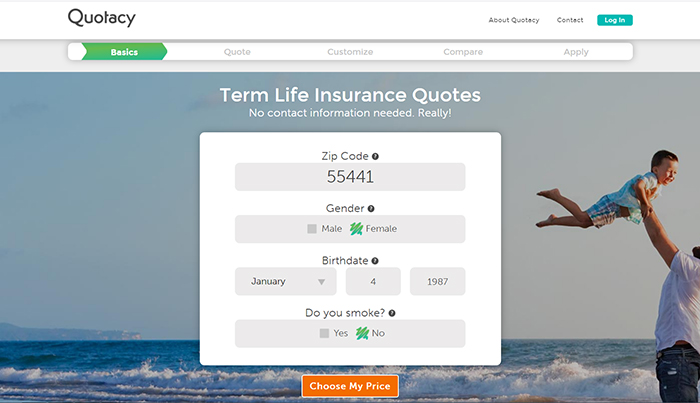 Click Choose My Price to view ballpark estimates for your term life insurance.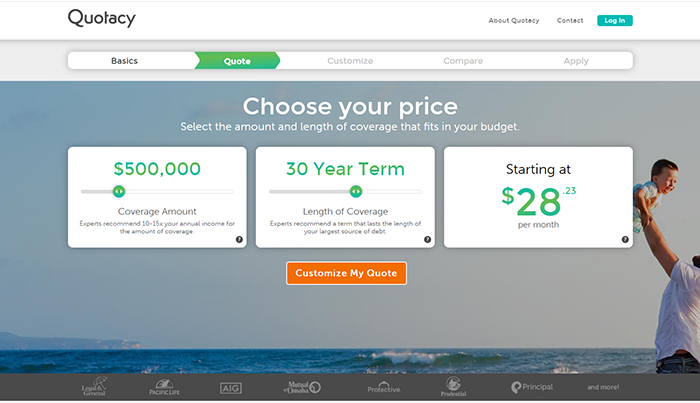 Here you can see that for this individual (a 32-year-old female) a term life insurance policy that lasts 30 years and covers her family with $500,000 worth of life insurance is estimated to cost $28.23 per month if she qualifies for Preferred Plus—the best risk class.
When using the quoting tool, simply adjust the pricing sliders to increase (or decrease) your coverage amount or length of coverage to target a price that fits your budget.
Not sure how much term life insurance you need?
3. Answer a few simple health questions to get accurate term life insurance quotes today.
Answer four simple health questions to estimate the cost of protecting your family with more accuracy.
This next step is important as it gets your quoted price spot-on two-thirds of the time without you having to talk with a life insurance agent on the phone. Easy, right?
Thousands of variables affect the cost of term life insurance, but the following are the four most common factors:
Height/weight. This variable is one of the biggest factors in life insurance pricing.
Tobacco usage. Cigarette usage results often in smoking rates. But, if you enjoy the occasional cigar, daily Nicorette, pipe, or chewing tobacco, you may be considered for non-smoker term life insurance rates with some companies.
Heart health. Blood pressure and cholesterol medications are common prescriptions, and your readings matter. Luckily, if your condition is under control, some carriers still give you the best rates because you take your medication.
Family history. Are you in perfect health and run marathons for fun? Well, even if you are a specimen of health, your pricing can be adjusted upward if your parents or siblings have died or have been diagnosed with heart disease, diabetes, or cancer younger than age 60.
After entering this health information, you can have confidence that the term life insurance quotes shown to you on Quotacy will be close to what your life insurance company will offer you after you complete your application online.
Questions? Talk with our experienced advisors.
Can I still adjust my pricing further? Yes!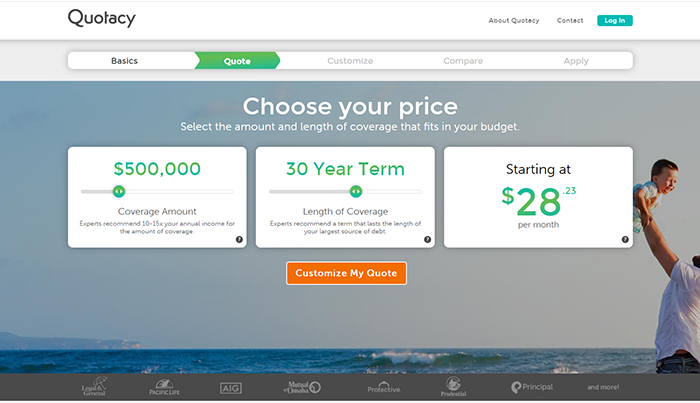 If you wish to move your quoted term life insurance price up or down, play with our quoting tool's sliders to adjust your policy options to your budget:
Increasing your coverage amount (slide right) ups your price.
Increasing your coverage length (slide right) ups your price.
The opposite is also true:
Decreasing your coverage amount (slide left) lowers your price.
Decreasing your coverage length (slide left) lowers your price.
It's pretty easy to explore the right mix of coverage amount and length to suit your budget needs. After adjusting your sliders in our quoting tool to your satisfaction, you'll be shown your policy options from multiple life insurance companies with their ratings, along with your estimated pricing. You have the ability to continue to adjust the sliders on this next page before applying.
4. Compare term life insurance quotes without having to shop around.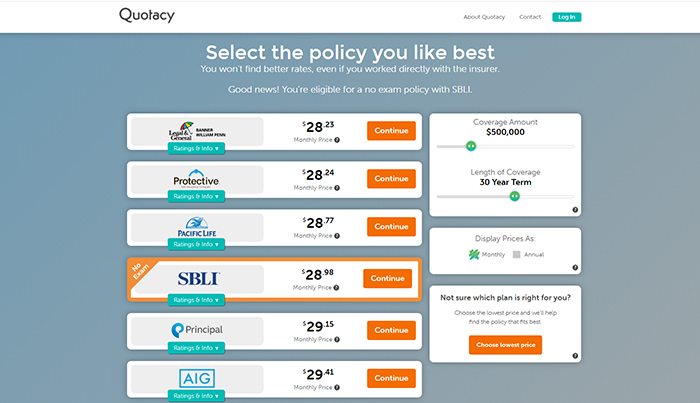 After you apply for your term life insurance policy on Quotacy, our agents go to work for you. We first review your application to see if you are matched with the best life insurance company for your individual situation. If another life insurance company is more likely to give you a better price, we'll let you know and share your options with you.
It's easy to compare affordable term life insurance quotes today at Quotacy.
Want to see what you'd pay for life insurance?
Compare the best prices from the names you know and trust, all in one place with no commitments.

5. We shop for you to get you the best policy for the best price.
We shop your case behind the scenes to ensure you get the best policy possible. Quotacy has many tools, underwriting manuals, and highly-qualified underwriters who look over your application.
» Calculate: Life insurance needs calculator
Quotacy is sensitive to your price points, and if the insurance company ends up underwriting you to a price higher than originally predicted, don't worry. You can adjust the amount of insurance you are buying or the length of the coverage to fit within your budget. Our belief is that some life insurance is better than no life insurance.
Getting a life insurance policy to protect your family is an act of love. Our proven process has been created to find you the best priced term life insurance quotes from the right companies for you.
» Learn more: A Step-By-Step Guide to Our Free Term Life Insurance Quotes Tool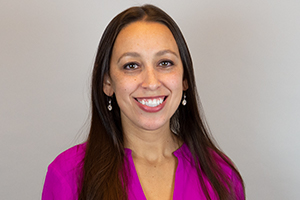 Natasha Cornelius
Marketing Content Manager
Natasha is a writer and content editor at Quotacy. She is also co-host of Quotacy's YouTube series. She can't get enough of life insurance and outside of work is also working toward her Chartered Life Underwriter designation. Connect with her on LinkedIn.