If you want to get term life insurance quotes without giving personal information, you're at the right place. Typically, carriers require some sort of personal contact information to generate a quote. Here at Quotacy, we allow you to shop for life insurance without the fear of getting bombarded with unwanted sales calls and emails.
Life insurance can be complex; we aim to make it easier. Get an instant online life insurance quote now.
Why Is It So Hard to Get a Quote Without Giving Personal Information?
Before getting a life insurance quote, many websites require your contact information, such as:
First and last name
Phone number
Email address
It makes financial sense for a company to require your personal contact information. These are some reasons online companies want your contact information before providing quotes:
They can sell your contact information.
They can call you to try and upsell you to increase their commission.
They can add your addresses (physical and email) to their mailing lists.
Most quoting engines that require your contact information are harmless but annoying. Your inbox and phone might fill up with unwanted marketing messages. Getting anonymous life insurance quotes can save you a lot of headaches.
Why Can Quotacy Provide Anonymous Quotes?
We understand the annoyance of having our information sold or being pestered by salespeople. We don't want that for our customers either.
We aim to educate you on your life insurance options and help you protect your loved ones.
Our approach is straightforward: you get instant quotes online, compare policies at your leisure, and we handle the rest. We submit your application and advocate on your behalf to secure the best price. You'll be kept in the loop at every step and can ask any questions you may have.
To see quotes instantly, Quotacy only asks for four pieces of information:
Your zip code (to tailor the quote to your location)
Your gender (coverage is generally cheaper for women)
Your birthday (age affects price and product availability)
Your tobacco use, if any (smoking impacts cost)
What Quotes Can I Get Anonymously?
From Quotacy, you can get instant, anonymous quotes for term life insurance and guaranteed universal life insurance.
Term Life Insurance Quote Without Personal Information
Term life insurance is the simplest and most affordable type of life insurance. You choose the amount of coverage and how long you want it to last. If you die unexpectedly during the term, your beneficiaries receive a tax-free death benefit.
Term coverage ranges from $50,000 to $65,000,000+
Term lengths range from 10-40 years
Most affordable type of life insurance
Fixed rate for entire term
Riders allow for additional benefits
No exam options for eligible applicants
» Calculate: See how much coverage is right for you with our life insurance needs calculator.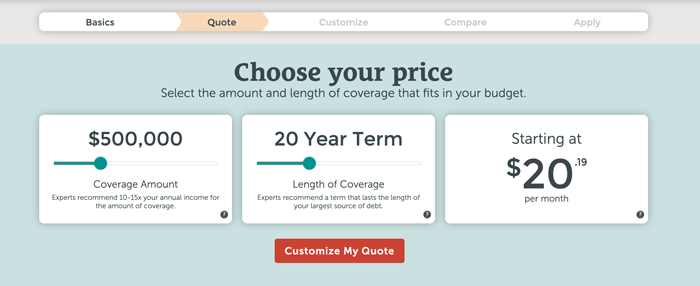 With our quoting tool, you can adjust the coverage amount and length to see how it impacts your rate instantly. Then you can compare different life insurance policies, view the riders they offer, and see if a medical exam is required.
Learn more about term life insurance and how it works. 
Guaranteed Universal Life Insurance Quote Without Personal Information
Guaranteed universal life (GUL) insurance is a simple form of permanent life insurance. It lasts your entire life but doesn't have extra bells and whistles, making it more affordable than other permanent life insurance products. It will pay your beneficiaries a tax-free death benefit no matter when you die.
Coverage lasts your entire life
Rate is fixed as long as you pay the expected premiums on time
Riders allow for additional benefits
Cheaper than whole life insurance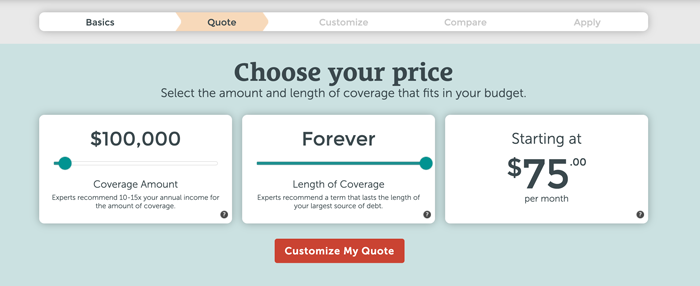 On our quoting tool, simply adjust the length of coverage to "Forever" to see instant GUL quotes.
Learn more about guaranteed universal life insurance and how it works. 
See what you'd pay for life insurance
Comparison shop prices on custom coverage amounts from the nation's top carriers with Quotacy.
Life Insurance Carriers We Work With
As an independent life insurance broker, we work with multiple life insurance companies. Insurance companies don't all evaluate applicants the same, so having options helps ensure you get the best price possible.
| | | |
| --- | --- | --- |
| Life Insurance Company | Excellent With | Compare Quotes |
| | Depression and anxiety; foreign nationals and travel; sleep apnea | |
| | Cigar smokers; pipe smokers; chewing tobacco users | |
| | Aviation and pilots; combined health issues; foreign travel | |
| | Busy parents; non-U.S. citizens | |
| | Barrett's Esophagus; chewing tobacco, cigar or pipe smokers; Crohn's disease; ulcerative colitis | |
| | Asthma; heart health; marijuana use; sleep apnea; gestational diabetes | |
| | Active military; foreign travel | |
| | Business needs | |
| | ADHD; heart health | |
| | Asthma; depression and anxiety; driving record (DUI/DWI); marijuana use | |
| | ADHD; no medical exam | |
| Securian Financial | Aviation and pilots; rock climbing; criminal record; occasional cigarette use; vaping | |
| | Busy parents; quick coverage | |
| | Driving record (speeding tickets); family health history | |
| | Depression and anxiety; foreign nationals and travel; sleep apnea | |
| | | |
In the table above, we share some of the niches the carriers are more lenient with. For example, if you have sleep apnea, Corebridge (formerly AIG) is likely going to have the best rates for you.
Don't worry if you have a condition or lifestyle factor that isn't listed. When you apply through Quotacy, your dedicated agent will review your application and ensure you're matched with the life insurance company best for you.
How to Get Life Insurance Quotes Without Personal Information
It takes just four easy steps to compare life insurance quotes on Quotacy.com:
Enter basic information
Choose your coverage and price
Answer a few simple health questions
Compare term life insurance quotes
After completing these steps, you can see what you'd pay for term life or GUL insurance and compare policies from the nation's best carriers.
When you're ready to proceed, applying online only takes a few minutes. That's when we'll finally need your contact information (but we still won't sell it!)
Unsure how much life insurance you need? Feel free to contact us directly for a free needs analysis. If you rather calculate it yourself, try our free life insurance needs calculator.
Get an Anonymous Life Insurance Quote Through Quotacy
Want to get the best price on life insurance? Let Quotacy help.
Start by getting free, instant, and anonymous term life insurance quotes.
After you apply for your term life insurance policy with Quotacy, you'll be paired with a personal Quotacy agent. They'll review your application and shop the market to ensure you're matched with the best life insurance company for your individual situation.
If another life insurance company is more likely to give you a better price, we'll let you know and share your options with you.
Quotacy is sensitive to your price points, and if the insurance company ends up underwriting you to a price higher than originally predicted, don't worry. You can adjust the amount of insurance or the coverage length to fit your budget. We believe that some life insurance is better than no life insurance.
Note: Life insurance quotes used in this article are accurate as of October 2, 2023. Screenshots display quotes for 35-year-old males at Preferred Plus rates. These are only estimates and your life insurance costs may be higher or lower.
Watch the Can I Get Life Insurance Quotes Anonymously? Video