A life insurance policy won't do you or your loved ones any good if you can't afford it.
But most people overestimate the cost of life insurance. In a survey by LIMRA, millennials, on average, guessed that a $250,000 term policy for a 30-year-old cost $1,000 per year. It really only costs $160 per year on average.
Term life insurance is the best option for families because it's very customizable and affordable. Whatever your budget, Quotacy can help you get life insurance coverage so you can protect your family.
» Compare: Term life insurance quotes
How to Fit Life Insurance into Your Budget
There are two different types of life insurance: term life insurance and permanent life insurance.
» Learn more: Term vs Whole Life Insurance
Term life insurance is the most affordable. If you have a tight budget, a term policy is the way to go.
Term life insurance provides coverage for a specific period of time. It's designed to end when you're nearing retirement and no longer have as many financial responsibilities, such as dependent children.
Example:
Jim and Julie are 35 years old. They have two children aged 4 and 5.
Jim and Julie each buy a 30-year $500,000 term life insurance policy.
This policy provides financial protection during the next 30 years as Jim and Julie raise their children, save for retirement, and pay down their mortgage.
If either Jim or Julie die prior to age 65, the death benefit of $500,000 is paid out so the family won't struggle financially when they lose that source of income.
Once the 30 year term is over, the coverage simply terminates.
As a safeguard, most term life insurance policies include a conversion and renewal option. Should you find yourself still needing coverage yet you've become uninsurable (maybe you've been diagnosed with a serious illness) these options keep you insured for a price.
Choosing Your Life Insurance Coverage
Because you can choose the coverage amount and term length—and there are many options—term life insurance premiums are relatively easy to fit into a budget.
Term coverage choices range from $50,000 up to $25,000,000+. Term length choices range from 10 years up to 40 years. These options can vary by your age and financial need.
Typically, the more coverage you want, the more the policy will cost. But sometimes the premium difference is minimal compared to the change in coverage amount. Consider the screenshots below.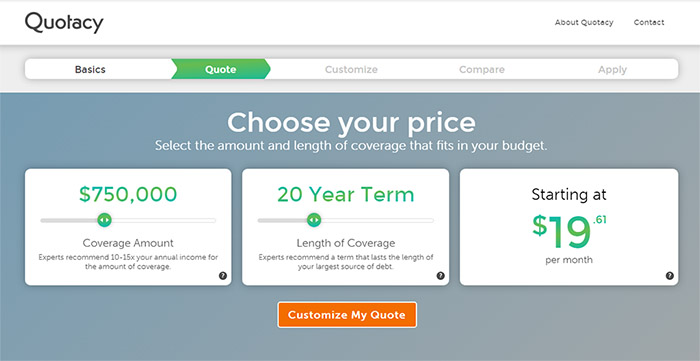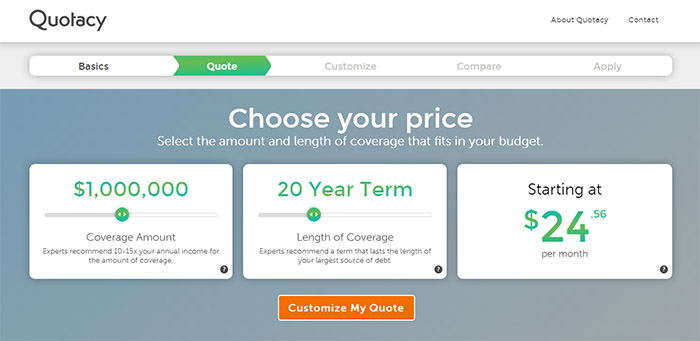 These screenshots show term insurance quotes for a 30-year-old healthy female. The monthly premium difference between a $750,000 term life insurance policy and a $1,000,000 term life insurance policy is only $5 per month.
For an extra $5 each month you can get $250,000 more coverage for your loved ones. If you have a mortgage and more than one child, that extra $250,000 could be extremely beneficial if you died unexpectedly.
Let's pretend you're that 30-year-old mother. What in your daily life could you cut back on to fit $25 into your monthly budget to be able to afford a $1,000,000 life insurance policy to protect your children?
Or maybe you have a strict budget and can only afford to spend $15 per month for coverage. Using the sliders on our term life insurance quoting tool, you can see dropping the coverage amount to $500,000 also drops your estimated life insurance premium to about $15.
$500,000 is still a very good coverage amount.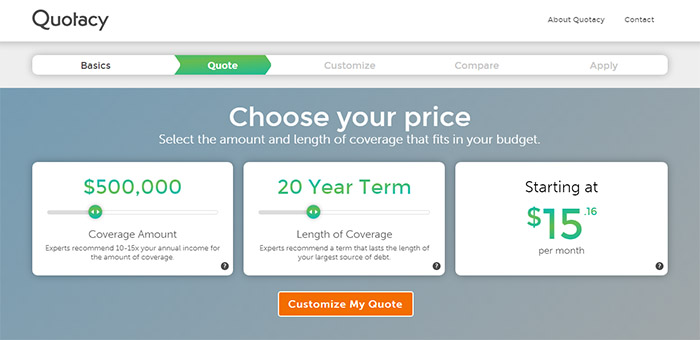 Even if you can only comfortably afford a $100,000 term life insurance policy, a little bit of life insurance is better than none at all.
See what you'd pay for life insurance
Comparison shop prices on custom coverage amounts from the nation's top carriers with Quotacy.
Auto-Pay Your Life Insurance Premium
Even though life insurance companies offer a grace period of usually 30 days, don't risk your policy terminating. Once you have your life insurance policy inforce, set up automatic payments from your checking account to ensure you don't forget to pay your life insurance premium.
All the term life insurance policies we sell have level premiums. This means your payment will never change.
For example, if you lock in $20 per month, it will never increase for your entire term even as you age or even if you develop a health issue.
Whether you decide to pay monthly or annually, it will always be the same. It makes auto-pay and budgeting very simple.
What Will My Life Insurance Premium Cost?
Your life insurance premium will be mainly determined by your gender, age, health, and the terms you choose. If you aren't sure how much life insurance you need, our life insurance needs calculator can help you decide.
» Calculate: Life insurance needs calculator
The best way to ensure your life insurance premiums fit into your budget is to work with a broker. A broker has the ability to shop the market and compare costs across many different companies and their products.
Quotacy works with over 25 of the nation's top insurance companies. When you run a quote on our website, you'll be given many company options to choose from.
If you don't have a preference about which life insurance company to go with, we usually just recommend that you go with whichever one is cheapest.
An online quoting tool can't calculate for every single type of scenario. There's a chance that an insurance company may find something in your application (a health or lifestyle factor, for example) that causes them to offer you a less-than-perfect risk class.
However, after you apply, your Quotacy agent will review your application before submitting it to the insurance company. They'll make sure you're matched with the life insurance company that will give you the best final rate possible.
If your final offer comes back at a price you're not comfortable with, your Quotacy agent will help find an option that works best for you and your family. Applying for life insurance does not mean you're obligated to buy.
What are you waiting for? Get your free life insurance quote today.
» Learn more: How Much Will I Pay for Life Insurance?