As a college grad, you're virtually assured a bright future: you'll earn more, enjoy better overall health, retire earlier, and even live longer than non-graduates your age, according to recent research. Deciding to buy term life insurance online while there are still boxes from your dorm room unpacked in your closet might seem a bit like going into your gym's shower in a hazmat suit.
Life is risky, certainly, but it isn't a sci-fi movie. When it comes to your financial future, however, any avoidable risk is probably too much.
While it's likely that you'll get a few snarky replies if your Instagram story begins with buy term life insurance online—handled! finding the right policy is just as significant as every other 'gram-worthy life moment.
» Calculate: Life insurance needs calculator
Understand Your Risks
Managing financial risk—and understanding what's at stake if life doesn't unfold as expected—isn't something that you should only think about after an especially sad episode of This Is Us. Instead, mitigating possible risks should be at the heart of your long-term financial security plan.
While the need for term life insurance might seem a stretch if you're under 40, it's likely that you understood the importance of achieving financial stability at an early age. And, as you embark on the next chapter of your life, it's the perfect time to start designing your financial future.
Statistically, a millennial college grad will work longer hours and save more money with greater regularity than any generation since the 1940s. As a product of the Great Recession, you know that there is always the possibility that you'll face economic uncertainty.
Financial markets, as you're probably well aware, hit highs and lows in cycles that repeat over a few years, and sometimes decades. That means that the amount you will earn and be able to save—and even the value of the dollar—can be predicted but not guaranteed.
Term life insurance takes the guesswork out of knowing what happens to your savings and major debts—like medical bills—if you pass on.
Term life insurance takes the guesswork out of knowing what happens to your savings and major debts—like medical bills—if you pass on.
Ready to get your life insurance quote?
You're a few minutes away from great life insurance
How much life insurance do you need?
Figure out your action plan with our needs calculator
Take Control Now
But preparation doesn't have to mean paranoia: thinking about the what ifs shouldn't cause anxiety.
You will, however, have to get serious about your assets, financial obligations, and employment prospects. Now is the perfect time to take an unfiltered look at the difference between the life that you imagined on your vision board in college—and what many top economic analysts indicate might be down the road for your generation.
That gap—between economic reality and the financial goals that you've been working so hard to achieve—should give you an indication of how prepared you ought to be as a new college grad.
Here are a few facts to consider when planning your financial future:
New Grads Are Often Underpaid
According to recent figures from the Federal Reserve, millennials are frequently underpaid by employers. That's despite the fact that, according to research cited by the Harvard Business Review, millennials are more likely than other generations to identify as work martyrs—giving up vacation time and putting in extra hours to appear irreplaceable to their employers. The average millennial employee will earn as little as 50% of the number and amount of raises that Gen Xers did back when they were wearing plaid and preparing to upend the economy in the early 2000s. In fact, millennials earn about 20% less in today's dollars as Baby Boomers did at their age, despite being more educated.
This may not be too surprising since new (and hence younger) workers are traditionally paid less than long-time employees.
But some large firms have been tightening their fiscal belts for some time. Even though new hiring is on the upswing in today's market, salaries aren't, and new college grads heading into the workforce—and even those who've been in it for a few years—are facing stiff competition and often less-than-glamorous wages.
According to recent studies, salaries will probably continue to rise at a very slow rate, so it's uncertain that you'll get a significant cost of living salary upgrade in five years.
That means your nest egg might be a lot smaller than you expected, tantamount to a few years of lost raises, savings, and interest earnings. The assets that you're counting on for emergencies, medical bills, and retirement won't necessarily cover your expenses for as long you had hoped, and you may have less to leave your family to pay off your debts after you're gone.
Are your current earnings keeping pace with the cost of living? In a few years, how prepared will you be for retirement if your future salary doesn't meet your expectations?
New Grads Often Have a Lot of Debt
New grads owe more student debt—an average of $49,000 per household—than previous generations, and the average graduate will dispense with 8-10% of their monthly income on loan payments for a minimum of 12 years after graduation.
If you're one of the nearly 9 million Americans with private student loans (totaling a staggering $150 billion in aggregate debt), you're probably aware that you may have to keep working for a while to pay off those loans.
Most of these loans are not dischargeable upon death, leaving parents, co-signers, or spouses to pay off student loan debt. If they can't pay, then lenders can sue for the principal loan amount, interest, and any debt collection fees. That can potentially ruin their credit, and if your parents or co-signers are seniors, their retirement.
If you are like most of us, you probably have credit cards and other debts like a car payment. Unless you've found a very compassionate lender, most of your consumer debt won't be dischargeable if you die.
» Learn more: Why Having Debt Makes Life Insurance More Important
That means if you pass away without term life insurance, your family may shoulder a large financial burden at a time in their life when they are leaving the workforce.
Do you have enough current savings to cover all of your debt, current bills, and end-of-life expenses? If you remain uninsured and were to pass away suddenly, would your loved ones be able to pay your debt on their own?
Millennial Mortality Rates Are Up
Although millennials are healthier and more financially savvy than previous generations, they're also dying younger, and at a faster rate than at any time in the past 30 years. In fact, the rate that millennials are dying accelerated by 19% from 2015 to 2016. They are many reasons for this—ranging from an increase in substance abuse to heart disease to a surprising uptick in accidental deaths.
While none of those risk factors may impact you right now, it does mean that premiums for young, healthy millennials may go up in the near future, so finding the right term life insurance policy now makes good financial sense.
There's also the prospect of becoming disabled and losing your job. Some insurers offer the option to add a disability income rider with to your term life insurance policy when you purchase it.
Although the federal government offers disability insurance, there's often a pretty long wait period—from 6 months up to 2 years for a decision or application hearing—and you're prohibited from taking any other substantial work during that time. That means someone will have to pay your bills and manage your personal care until your disability payments (which for younger workers can be as little as $600 per month) are approved.
If you're suddenly unable to work how will your bills be paid and who will care for you? If you pass away, who depends on you and how will they be provided for?
If you're not persuaded by the somewhat existential prospect of an early death or becoming unable to work, there's one absolute certainty that can't be ignored: not having a term life insurance policy puts your loved ones at financial risk.
That's a risk that can be avoided for as little as $20 a month for $500k of term life insurance coverage.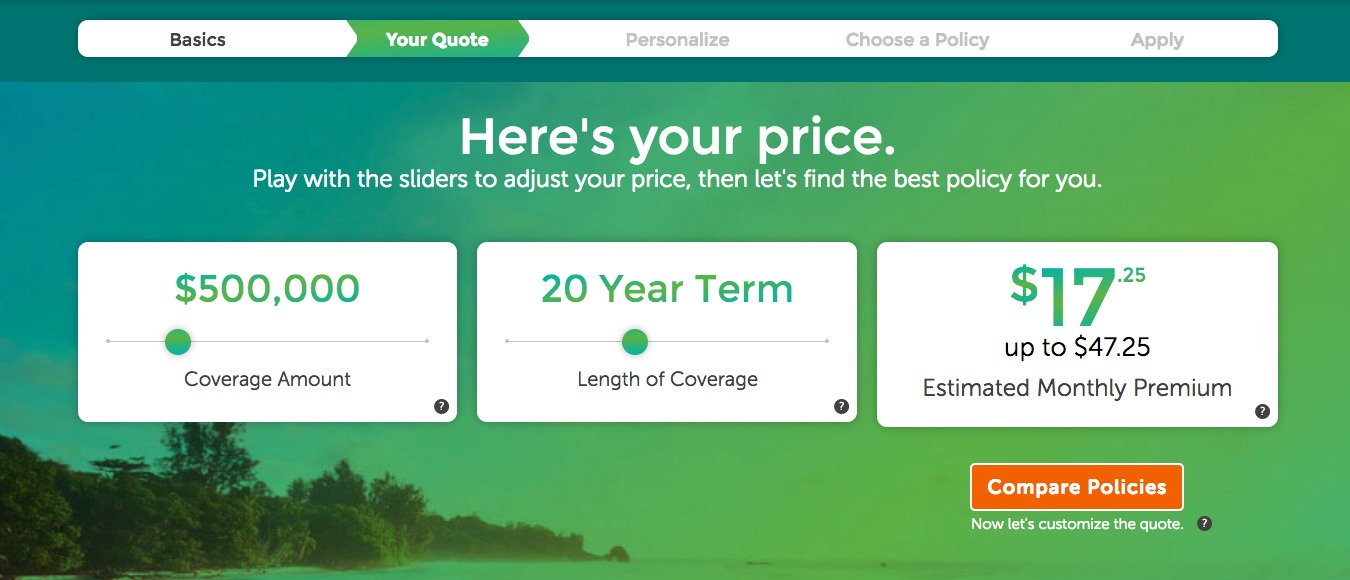 Choosing to buy term life insurance online doesn't have to be a confusing process. Quotacy provides a simple way to get free quotes in minutes and decide on the best-priced policy for you.
» Compare: Term life insurance quotes
Photo Credit to: Alan Light
Quotacy is the country's leading broker for buying life insurance online. We are obsessed with making it easy for everyone who has loved ones who depend upon them to have life insurance.