It will not always be summer;
build barns.
– Hesiod

Six ways to make dinner more mindful and memorable
If you've got a busy schedule, dinner might be the only time that your family is all in one place. Taking time to make sitting down to eat special helps kids develop healthy habits and better mental health.
Learn more
Ready to get your life insurance quote?
You're a few minutes away from great life insurance
How much life insurance do you need?
Figure out your action plan with our needs calculator
The CEO's private library
Eleven CEOs discuss the books they say elevated their personal and professional lives more than any other.
Learn more
Pay off debt or invest? The definitive guide
If you've got debt, you've got a choice to make – pay it now, or invest to pay it later.
Learn more
---

Real Life Podcast: The Day the Music Died
We've kicked off season 2 of our Real Life podcast in collaboration with The Life Foundation, on a mission to hear first-hand stories and see the real impact that life insurance has on families across America.
In our first episode, we meet Shane LaBarge, who lost his father right after starting his first semester of college in 2011 and was quickly thrust into the role of breadwinner for his mom and younger brother.
We discuss the immediate financial impact of his father's death, working over 40 hours a week (on top of his studies) to put himself through college and law school, and the feeling of financial uncertainty that his family still carries with them today.
Listen at Quotacy or Subscribe to Real Life on iTunes
---
Thanks for reading, and have a great day.
If you need a little help, here's a bulldog who's a great helicopter copilot.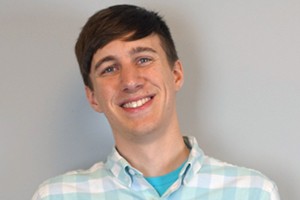 Eric Lindholm
Communications Coordinator
Eric started in Quotacy's sales department, but moved to marketing after helping hundreds of people through their life insurance buying journey. Aside from writing about buying life insurance, he also edits Quotacy's monthly newsletter, runs our YouTube channel and produces Real Life, our podcast. Eric lives in Minneapolis, where his coworkers are trying to convince him to take his humor into the spotlight. Connect with him on LinkedIn.