Editor's Note – This is an archive of Issue #5 of the Quotacy Newsletter, which was sent out on 1/15/2017. The Quotacy Newsletter consists of articles that we hand-picked from across the web, and it's all about keeping our readers physically and mentally healthy so their lives are as great as possible. We go over topics ranging from physical fitness and dietary advice to cyber security and financial planning – anything that can help make life easier.
---
You can be funny and kind or funny and cruel.
The second one is easier, but the first one is worth it.
– Justin McElroy
Top Story
Experts Say That Juice Cleanses Are Overkill
We've all heard about the hardcore "Detox" juice cleanses involving drinking nothing but honey, red pepper flakes and lemon juice, but does that method of staying fit actually hold water? Rebecca Katz, a renowned food author and the founder of the Healing Kitchens Institute, weighed in during a recent interview with the Washington Post. She suggests that rather than going from feast to famine with a post-holiday cleanse, you should tweak your eating habits throughout the year to help your body become more efficient when it is time to chow down.
Key Points: The "Detox" juice cleanses might help you cut calories, but they don't help your body clean itself out. Veggies, herbs, spices, and citrus fruits, when added to your diet regularly, will help your liver and kidneys filter out any waste products throughout the year.
The "Detox" juice cleanses might help you cut calories, but they don't help your body clean itself out.
Ready to get your life insurance quote?
You're a few minutes away from great life insurance
How much life insurance do you need?
Figure out your action plan with our needs calculator
Focus on: Health and Fitness
A.I. Are Learning How to Diagnose Mental Illnesses
A far cry from the robots we're starting to see in our homes, Dr. Jack Gallant's neuroscience A.I. first entered the mental health conversation in 2011, when his programs were able to use MRI data to reconstruct movie scenes, and his most recent research is beginning to show practical applications in diagnosing mental illnesses, suggesting individualized treatments for anxiety and depression, and even predicting epileptic seizures before they happen.
Key Points: Right now, this is all theoretical – the epileptic seizure warning, for example, is only predicting seizures correctly at about 80% accuracy. But if the lab gets access to more MRI data for the program to learn from, this might be coming to hospitals soon.
Read More >
Focus on: Rest and Relaxation
The Real Cost of Skipping Out on Sleep
A lack of sleep is one of the most common afflictions Americans deal with on a day-to-day basis – over a third of us aren't getting our full 8 hours each night, and it's actually taking a toll on our country as a whole. Due to the lack of productivity in the workplace, a hamstrung ability to learn well at school, and even a heightened risk of death due to hypertension and diabetes, losing sleep could make you lose a lot more over the course of your life.
Key Points: Seriously, get your full 7-9 hours every night. More physical activity, white noise machines, and even meditation can encourage a better sleep schedule.
Focus on: Personal Finance
5 Things to Do Before Buying a House
To put it mildly, buying a home is a pretty big deal. Making sure that all of your ducks are in a row both personally and financially can help you make one of the largest transitions in your life as smooth as possible. Before you pull the trigger on a new home, it's a good idea to meet up with your realtor, financial advisers, and family to make sure it's the right call for you.
Key Points: 1) Finance before you buy – this helps you stick to a budget. 2) Learn about the area – knowing your new neighborhood is important. 3) Get everything in writing – that'll make it easier for you to manage any disputes. 4) Know your closing costs – your realtor is an excellent resource here. 5) Be ready to put down roots – houses are a long-term commitment.
Focus on: Learning Something New
How an Inflatable Army Helped Us Win WWII
In what may have been the most preposterous strategy of the Second World War (and make no mistake, there was a lot of strange stuff going on), a platoon of 1000 artists, scientists and tacticians created what might be the first battalion of the information age – a "Ghost Army" that would use inflatable tanks, loudspeakers, and bulldozers to impersonate armored divisions with 15 times their soldiers and throw off German intelligence efforts.
Key Points: In one of their biggest missions, the ghost army filled a gap in the US's front line for 7 days until a real platoon could arrive. In other words, they held the front line with nothing but big balloons and lots of noise.
---
Thanks for Reading the Quotacy Newsletter
And have a great day! If you need help, here's a video of a young arctic fox hunting lemmings in the snow.
Header Photo Credit to Dave Crosby
Related Posts:
Happy Thoughts and CrossFit Fatigue – Newsletter #4
Rest, Relaxation, and a Really Great Shower – Newsletter #3
Family, Fitness, and Holiday Cheer – Newsletter #2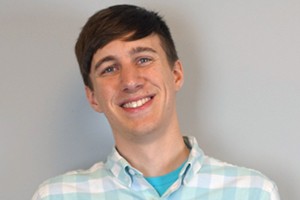 Eric Lindholm
Communications Coordinator
Eric started in Quotacy's sales department, but moved to marketing after helping hundreds of people through their life insurance buying journey. Aside from writing about buying life insurance, he also edits Quotacy's monthly newsletter, runs our YouTube channel and produces Real Life, our podcast. Eric lives in Minneapolis, where his coworkers are trying to convince him to take his humor into the spotlight. Connect with him on LinkedIn.