Lasagna is by far one of the most enjoyable comfort foods on planet earth. Not only is it delicious, it's also versatile and can cater to any cause or emotion – from celebrating a birthday to consoling a grieving family.
The secret to a good lasagna recipe is authenticity. This recipe has been handed down for many generations, with each recipe holder putting their own spin on it, either for taste or efficiency.
After a few tweaks and claiming "best dish" at the casserole cook-off, Quotacy has been awarded ownership of this recipe. This now gives us sharing rights, and we choose to share it with you! And yes, lasagna technically falls within the standard bylaws of a casserole.
So, without further ado, here is our secret lasagna recipe.
Ingredients:
1½ – 2 lbs. of Ground Beef
1 Red Onion, Chopped
1 Jar of Spaghetti Sauce
1 Can of Cream of Mushroom Soup
2/3 Cup of Milk
2 Packages of Shredded Cheese (1 Marble Jack & 1 Italian Blend)
1 Box of Regular Lasagna Noodles
Instructions:
Cook hamburger and onion in a large skillet. Drain grease and stir in spaghetti sauce.
Boil lasagna noodles according to package. Drain and put in cold water until ready to layer with other ingredients.
In a bowl, mix cream of mushroom soup and milk.
In 9 x 13 pan, layer your ingredients in the following order:

Ground Beef and Spaghetti Sauce
(Just put enough to cover pan. You'll need to do 2 more layers of sauce.)
Cream of Mushroom Soup Mixture
(Drizzle over red sauce)
Marble Jack and Italian Cheese Blend
Lasagna Noodles- lay 5 – 6 across (overlapping a little) and 1 at the end perpendicular to other noodles

Repeat these steps for another set of layers in the same order, saving some sauce and cheese to top with.
Bake at 375 for about 45 minutes, checking on it occasionally. Cover with foil if the top is getting too brown.
Enjoy!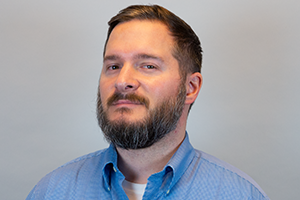 Greg Lewerer
Director of Creative Strategy
Greg is Quotacy's Director of Creative Strategy. He has an eclectic past from working on movie scripts to creating ad campaigns for major brands. His love of creative solutions drove him to strategy, and he now uses his powers to help families protect their loved ones. Outside of work, Greg spends his time off the grid hunting, fishing, camping, biking, hiking, and walking his dogs.