With most things we buy, we usually have a few questions that we want answered before we whip out the credit card and seal the deal. It's no different when you're looking to buy life insurance. You have questions you want answered. But when it comes to buying life insurance, getting questions answered in a way that makes sense can sometimes be difficult if you don't have a good source.
The good news is that understanding and buying life insurance is not as difficult as you think after learning the basic principles of the products. In fact, buying life insurance to protect the future of your loved ones can even be an enjoyable experience, especially once you know the answers to your questions.

The most common questions people have when thinking about life insurance are usually:
How much does it cost?
How much do I need?
How do I buy it?
Americans have hit a milestone with life insurance and it's not a positive one. Life insurance ownership is at a 50 year low and many of those who need it most are not getting the answers they need to feel confident before buying a plan because they don't feel like they know enough to make a good decision.
How much does it cost?
The majority of the population would be just fine with a simple temporary (term) life insurance policy. Term life insurance is a very inexpensive option compared to some of the more complicated permanent life insurance plans. On average, permanent policies cost 5-10 times more than a term policy because they last a lifetime and generate cash value, but this type of policy isn't necessary for most individuals.
Term life insurance is primarily used to replace your income and cover financial obligations that have a fixed length of time associated with them, such as a mortgage, student loans, or replacing your income while you're earning money. Take a look at the table below to get an idea on how affordable term life insurance can be.
Estimated Monthly Cost of a
$250,000 30-Year Term Policy
for Healthy Non-Smoker
Age 30
Male: $21
Female: $18
Age 35
Male: $24
Female: $21
Age 40
Male: $31
Female: $26
Age 45
Male: $47
Female: $38
You can get almost half a million dollars of coverage for twenty dollars a month if you're under forty years old and healthy.
Ready to get your life insurance quote?
You're a few minutes away from great life insurance
How much life insurance do you need?
Figure out your action plan with our needs calculator
How much do I need?
Now to determine how much you should buy. The best tip I give people is buy whatever amount you can afford. If you only have twenty extra dollars a month, then buy twenty dollars a month worth of term life insurance. Believe it or not, you can get almost half a million dollars of coverage for twenty dollars a month if you're under forty years old and healthy.
If you are more concerned about being sure that your family will be comfortable for many years to come if you're not around someday, then a simple needs analysis can be a great way to see how long a certain amount of coverage will provide for those you'd leave behind.
Quotacy has a great interactive needs analysis tool that allows you to input your earnings and debt, and then slide the dials on your PC or mobile device until your coverage amount matches your loved one's lifestyle needs. A needs analysis a great starting point to determine what you need. But keep in mind, any amount of life insurance is better than none, so if the needs analysis tool suggests more than you think you can afford, slide the dial down until it fits your budget and buy that amount for now.
How do I buy it?
It's free and easy to get a quote on Quotacy and there is no obligation to buy. You can apply right online and then Quotacy will keep you updated every step of the way as your application makes its way through the approval process. If you have any questions along the way, your Quotacy agent would love to help.
It's never too soon to buy life insurance, it's only too late. Be prepared and get a free and anonymous term life insurance quote today.
Photo credit to: Daria Nepriakhina
Related Posts:
How Much Life Insurance Coverage Do You Need?
How Much Does Life Insurance Cost?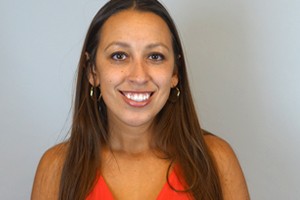 Natasha Cornelius
Marketing Content and Social Media Manager
Natasha is a content manager and editor for Quotacy. She has worked in the life insurance industry since 2010, and making life insurance easier to understand with her writing since 2014. When not at work, you can find her throwing a tennis ball for her pit bull mix, Emmett, or curled up on her couch watching Netflix. If it's football season, the Packers game will be on. Connect with her on LinkedIn.