If you've decided to start or expand your family by adopting or getting pregnant, comparing term life insurance quotes might not be at the top of your to-do list.
But it is just as essential to your family's future as having a budget or a long-term savings plan. Term life insurance can eliminate one of your family's biggest potential life challenges—financial uncertainty—if you or your partner were to die unexpectedly.
Taking a few minutes to compare life insurance quotes online and completing your application (it usually takes under five minutes at Quotacy) can yield decades of peace of mind for your loved ones. With the right term life insurance policy, your family's standard of living and future financial goals will be protected no matter what happens.
If you're the one in your family who tackles the financial paperwork, know that it's easy to run a quote and get life insurance at Quotacy for your partner (or spouse) at the same time as you're taking care of your own life insurance policy needs.
» Compare: Term life insurance quotes
5 ways term life insurance protects your family
Replace lost income
If the unthinkable were to happen, then your partner would not only lose their best friend, they would lose the security that comes from a second income. A recent study of widows and widowers revealed that the majority of families do not have a financial plan in place if the other spouse or partner were to pass away. Unsurprisingly, more than 60% of those who lose a spouse feel a significant financial impact—many lose 50% of their household income.
Highly affordable life insurance quotes allow you to rest assured that your loved ones will be provided for after you've passed on. Your life insurance beneficiary will receive a lump sum payment after your death, giving them the funds that they need right away. Term life insurance quotes for $500,000 for 25 years may be less than $40 per month for a non-smoker in good health, depending on your age and gender. Check your price.
Term life insurance quotes may be more affordable than you think
Estimated Monthly Cost of a 25-Year $500,000 Term Life Insurance Policy
Healthy 30-Year-Old Male = $29
Healthy 30-Year-Old Female = $25
Healthy 35-Year-Old Male = $34
Healthy 35-Year-Old Female = $29
Healthy 40-Year-Old Male = $48
Healthy 40-Year-Old Female = $40
Healthy 45-Year-Old Male = $76
Healthy 45-Year-Old Female = $58
Provide for future expenses
If one of your goals is to see your child graduate from college then you are probably well aware that tuition will be one of the biggest life expenses that your child will face. If you plan to help out with their tuition bill, then you should know that although the average public university tuition rates for in-state students are about $10,000 per year (without housing or other costs) today, they are likely to rise significantly in the next decade. According to The College Board, the average cost of a B.A. degree from a public university may be more than $200,000 in 18 years, with a private school education costing an average of $400,000.
A term life insurance policy will enable you to protect the funds that you've earmarked for your child's education in the event of your passing. Term life insurance quotes for a $500,000, 20-year policy can be as little as $17 per month for a healthy non-smoker, depending on your age and gender.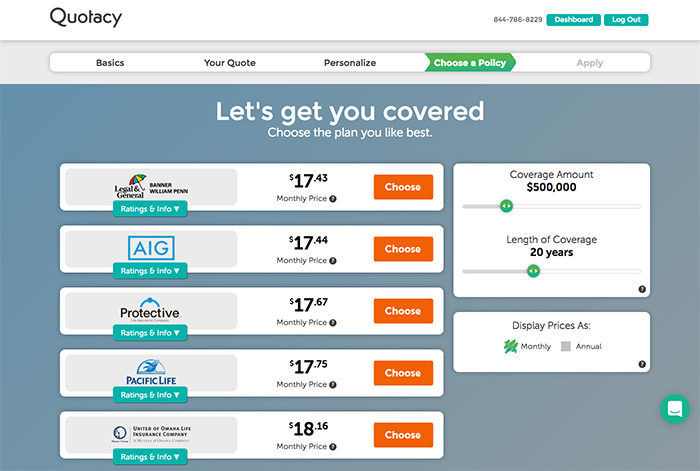 Protect your loved ones from debt
Consumer debts such as credit cards and private student loans are usually not discharged after the death of the debtor. That means that the estate of the deceased (or the debt co-signer) may be held responsible for outstanding loans or balances.
Although your spouse may inherit a sizeable estate from you tax-free under the new estate tax laws, your debts may still be deducted from the value of that estate.
If you have personally guaranteed a business loan, or you have significant consumer debt, then those remaining debts will have to be paid before your spouse may inherit. Your spouse will have to continue payments or pay the balance in full to avoid having the debt deducted from what you've left to them.
A term life insurance policy allows you to protect your family from the burden of lingering debt, allowing them to receive the full value of the estate that you wished to leave to them.
The cost for $1,000,000 term life insurance policy is less than most people predict. Check your price quickly without sharing your contact information online at Quotacy.
Cost of a One Million Dollar Term Life Insurance Policy
30-Year Term Length
Insured at 30 Years of Age
Who
Risk Class
Monthly Premium
John Smith
Preferred Plus
$51.85
Preferred
$67.94
Standard Plus
$90.01
Standard
$113.12
Jane Smith
Preferred Plus
$41.65
Preferred
$53.79
Standard Plus
$78.96
Standard
$86.37
It's often more affordable, if you buy your life insurance policy before you are pregnant based on your pre-pregnancy weight. We have agents (who are moms) who can walk you through the ins and outs of getting the most out of your policy as a parent or someone who's hoping to be.
Ready to get your life insurance quote?
You're a few minutes away from great life insurance
How much life insurance do you need?
Figure out your action plan with our needs calculator
Contribute to an emergency fund
Even if you are debt-free, it's wise to have money set aside for emergencies that may occur in the future—those that require far more funds than you may have in your rainy day savings account. These emergencies might include unexpected medical costs not covered by health insurance or legal fees. If you were to pass away, your family will still need a financial cushion in case life sends another challenge their way, such as a serious illness. If you do not have term life insurance or are underinsured, then your family may have to pay for these costs out of pocket.
Average term life insurance quotes for a policy with $100,000 of coverage for men and women are shown in the tables below. Check your price now.
Average Life Insurance Cost of a $100,000 Term Life Insurance Policy for a Healthy Male
Age at Purchase
Term Length
Monthly Premium
30
10-Year
$10
20-Year
$11
30-Year
$12
40
10-Year
$11
20-Year
$13
30-Year
$20
50
10-Year
$17
20-Year
$25
30-Year
$36
Average Life Insurance Cost of a $100,000 Term Life Insurance Policy for a Healthy Female
Age at Purchase
Term Length
Monthly Premium
30
10-Year
$9
20-Year
$10
30-Year
$12
40
10-Year
$10
20-Year
$12
30-Year
$17
50
10-Year
$15
20-Year
$20
30-Year
$31
Cover final expenses
Funeral and burial costs don't make for cheerful conversation, but they can have a significant impact on your family's finances. The average cost of a funeral is about $7,000, but many families spend more than $10,000 for the funeral, burial, and associated costs. Those fees, when combined with other expenses associated with a loved one's passing (such as legal costs and medical bills) can add to the family's financial burden at a trying time. Purchasing a term life insurance policy to cover end-of-life expenses allows you to protect your loved ones from costs that may cause financial stress.
Quotacy offers an affordable final expense insurance product that is a small permanent life insurance policy that will provide coverage for funeral and burial costs throughout your life. If you are age 50 to 80, you can be insured today without a medical exam.
Term life insurance quotes for growing families
Term life insurance is the best option for most families. Here are a few reasons why:
Term life insurance quotes are highly affordable. They are a fraction of the cost of whole life insurance and provide excellent coverage for terms of 5, 10, 15, 20, 25, 30, 35, or 40 years.
A term life insurance plan offers families great flexibility. Term life insurance quotes are affordable enough that they can be laddered (or purchased in multiples with different coverage term lengths) to provide just the right amount of coverage for different points in a family's life.
Term life policies offer important added benefits. Term life insurance plans often include life insurance riders (or options for additional services) that provide funds from the face value of your policy to your family should you become terminally ill or disabled.
A term life plan offers protection tailored to the needs of your family as they change over time. There is no one-size-fits-all financial plan or life insurance policy. Our life insurance agents can help you get a policy that is a custom fit.
Find the right term life insurance quotes in minutes for your family
One of your biggest priorities in family planning is making sure that you've made the most of your financial resources to get the best value for your family at every turn. Term life insurance goes hand-in-hand with a solid long-term financial plan. Answering the following questions will help you focus your financial strategy and pick the right amount of coverage for your growing family's needs.
What are our current financial needs?
How much do we spend monthly on mortgage or rent?
How much are our other monthly household expenses (food, transportation, utilities, other bills)? How might these change with our new addition(s) to our family?
How much debt do we owe?
What are our monthly savings goals?
What are our long-term financial plans?
Do we plan to buy a house?
Will we launch a business?
Do we plan to care for an elderly relative?
Will we contribute to our children's college costs?
Will we contribute to funds for retirement?
Do we have any major expenses or upgrades (new car, house renovation) planned?
Don't worry. You don't have to have all—or even most—of the answers now. The idea is to just start thinking in terms of ballpark figures of your current financial requirements. You'll want to have an idea of how much your family will need to maintain their current standard of living and achieve your financial goals. Learn more about financial planning for families.
An easy way to get an idea of how much coverage you should buy to protect your new family is to check out our life insurance needs calculator. You'll be able to see how much insurance you'll need to replace lost income and pay off debt for your family, along with a range of term life insurance quotes in just a few seconds (you don't have to fill out any forms).
Even if you don't have the foggiest idea about your 10-year financial plan, you can still get coverage for your needs today. Here's how to get your quotes in minutes:
First, click over to our free term life insurance quoting tool You'll enter a few details about yourself—your age, gender, zip code, and smoking status (you don't need to provide your name or contact info)—and then click "Choose My Price" to see a range of monthly term life insurance quotes for coverage amounts that adjust with a slider. That's it!
If you want a customized quote, click "Customize My Quote" to answer a few quick questions (still anonymously) about your height, build, and general health. Click through to get a range of customized quotes from leading insurers. See a quote you like? Click "Continue" and you can complete your application online in less than five minutes.
At Quotacy, we're dedicated to helping families get the protection that they need at rates they can afford. We've helped thousands protect their families with billions in coverage, going to bat for them to find the best term life insurance plans available from America's most trusted names. Get the right term life insurance quotes for your family's financial strategy today at Quotacy.
Quotacy is the country's leading broker for buying life insurance online. We are obsessed with making it easy for everyone who has loved ones who depend upon them to have life insurance.