What is a life insurance broker? It's someone who is not directly employed by an insurance company and instead solely works on behalf of the client. In fact, life insurance brokers have a legal responsibility to put you (the client) before the carrier.
If you hear an ad refer to a "life insurance agent" this is typically a "captive" agent. A captive agent represents one specific insurance company and has a legal responsibility to put their employer (the carrier) first.
A life insurance broker is particularly helpful if:
You've never bought life insurance before
You want unbiased advice
You want access to policies from various carriers all in one place
You want to buy life insurance online but still want your own agent to help you through the application process and answer any questions
Why You Should Use a Life Insurance Broker
Working with a life insurance broker simplifies buying process. You can browse options from various carriers all in one place, and, when you're ready to apply, you get a permanent agent who offers unbiased advice, guides you through the application process, and can help with all future policy needs.
Life insurance brokers are independent
As mentioned earlier, a captive agent can only sell life insurance from the company they represent. Being an independent broker means no strings attached. They aren't beholden to any other company, their only obligation is to advocate for clients.
Brokers won't try to push you toward one specific company or product. Instead, they offer unbiased advice to help you find the best coverage for your situation. What's more, they have relationships with many top-tier carriers, giving you access to a wide range of options and, ultimately, your best price.
A life insurance broker like Quotacy will never push you to choose a certain solution because it earns them more commission. We employ agents who work on a salary– not commission. When you shop for life insurance through Quotacy, you'll never be pressured, pitched, or upsold.
What it means to work with an independent life insurance broker:
Legally required to put you first
Unbiased advice
Many options (carrier, policy, price, etc.)
Not motivated by commission
Brokers can comparison shop for you
Because Quotacy works with over 25 top-rated life insurance companies, you can buy confidently knowing you're getting a great price from a financially stable insurer. Instantly see a range of term life insurance quotes without giving away any contact information.
» Compare: Term life insurance quotes
After you choose a policy and apply online, your Quotacy agent double-checks that the policy is the best match for you. Carriers often underwrite certain risk factors (IE smoker, diabetic, DUI, etc.) differently. How an insurer views your unique risk factors directly impacts your final premium.
Why comparison shopping matters:
Life insurance premiums are based on an applicant's risk level
Some carriers offer more lenient pricing for certain risk factors than others
Finding the right insurer can save hundreds of dollar each year
Let's look at a hypothetical example.
Your neighbor is a captive insurance agent for Company XYZ. You trust your neighbor and decide to apply for a life insurance policy with him. Company XYZ is a great company, but you take anxiety medication. Because of this, Company XYZ is going to charge you high premiums for coverage.
Because your neighbor is a captive agent, he can't shop around to other insurance companies for you to see if a different company is more lenient with an anxiety disorder. If you want to buy through your neighbor, you have to go with Company XYZ, even though you could save money elsewhere.
If you apply through Quotacy, your agent will see the anxiety condition listed on your application and double-check that the insurer you chose through our online process is going to give you the best possible price. If a different insurance company is a better match for you due to anxiety, your agent will contact you with these additional options to set realistic expectations upfront.
See what you'd pay for life insurance
Comparison shop prices on custom coverage amounts from the nation's top carriers with Quotacy.
How to Apply For Life Insurance Through a Broker
This is the easy part. Our online life insurance quoting tool allows you to instantly compare term life insurance quotes and guaranteed universal life insurance quotes without needing to give away any contact information. This means you're free to window-shop in peace without getting inundated with sales calls and emails.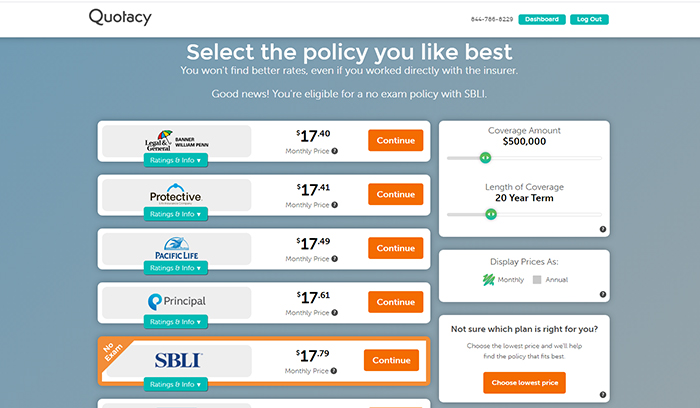 Compare your options and when you're ready to move forward, apply right online. As you're completing the online submission, include as much information as you can regarding your risk factors. This helps your Quotacy agent match you to the best life insurance company.
» Compare: Term life insurance quotes
In the screenshot below, you see an example of the Anxiety section of the online application. If you have been diagnosed with anxiety, the more information you can provide, the better your agent can shop and advocate on your behalf to find you the best price possible.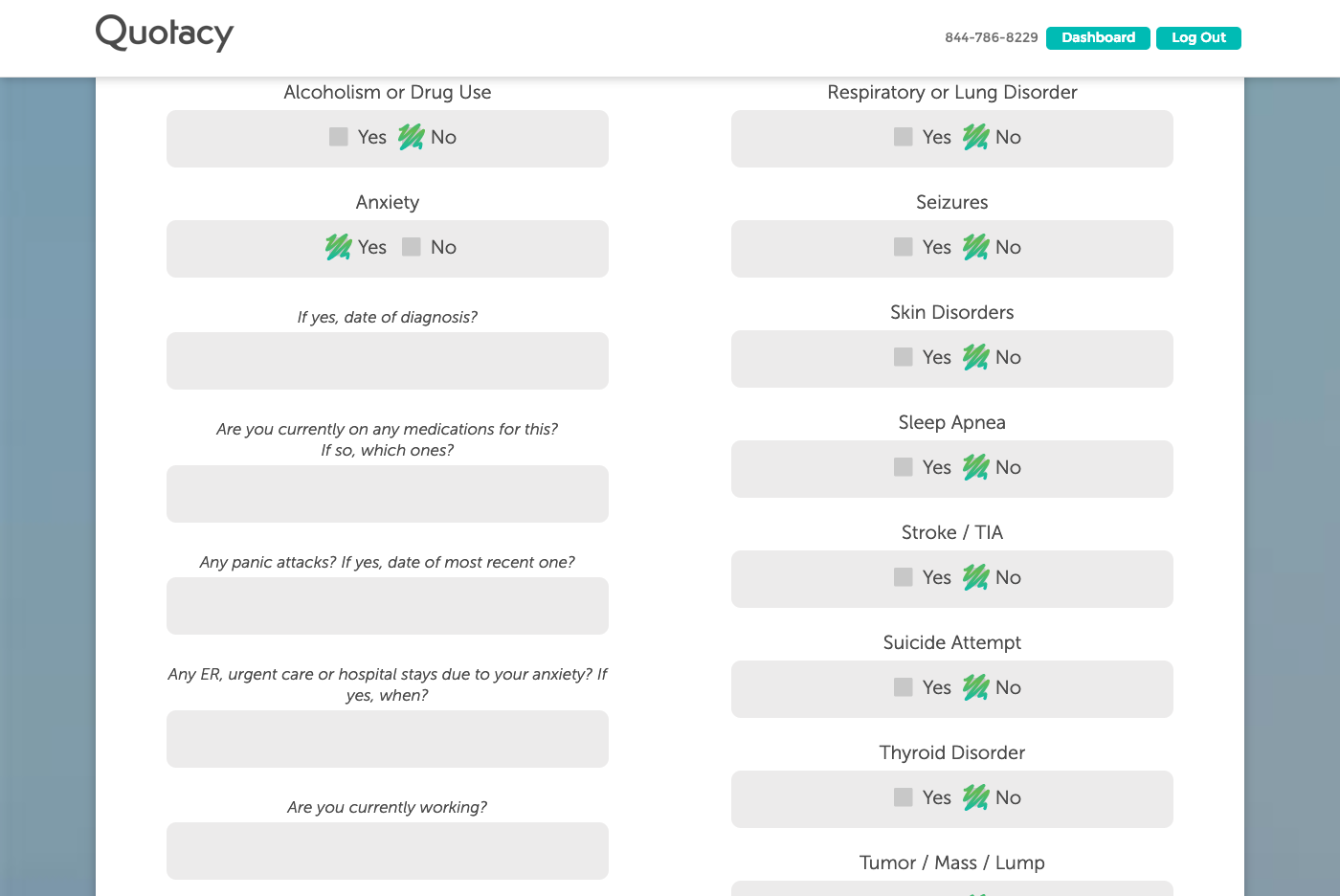 If you don't have any medical conditions or lifestyle issues (example: criminal history or driving violations), your application should go through relatively smoothly. But please be prepared for the process to take longer if you have a medical condition or lifestyle risk factor because the insurance company will need to order health records and their evaluation takes time.
The longer process time isn't a result of working with a life insurance broker. The process would take a bit longer no matter where you apply. The benefit of choosing Quotacy is that you can feel confident you're getting the best price on your coverage. If you have a medical condition or lifestyle risk factor, your agent shops around to all of our insurance companies to make sure you're matched with the one that will offer the best final rate.
If you're interested in getting a life insurance policy, start the process by running free term life insurance quotes now. To learn more about the process from start to finish, read about the life insurance buying process here. Quotacy is a life insurance broker and our agents are ready to help you protect your loved ones with life insurance coverage.