When you apply for life insurance, your height and weight do play a role in your ultimate costs. Typically, carriers don't deny coverage strictly because of weight, but your life insurance rates may still be higher than average if you're considered overweight.
Let's explore how weight affects life insurance rates and what happens if you're denied coverage.
Table of Contents
Do you have a health issue? Learn about pre-existing conditions that can impact your life insurance rates and what you can do about it. 
How Does Weight Affect Life Insurance Rates?
Being overweight doesn't automatically disqualify you from life insurance coverage.
In fact, if your bloodwork and medical records indicate that you're in good health, your weight may not even impact your rates.
The reason life insurance companies care about your height-to-weight ratio is because, statistically, people who are overweight have an increased risk of developing health conditions, such as:
Type 2 diabetes
Stroke
Gallbladder disease
Osteoarthritis
These conditions affect quality of life, morbidity, and mortality, which is why life insurance companies may place you in a higher risk class and ask you to pay higher rates.
While weight is an important factor, it's not the only one. Insurers weigh many risk factors, including but not limited to the following:
Life insurance companies choose who to approve and what they should pay based on the level of risk in an applicant's life. To them, weight is just another risk to consider. Instead of using the BMI table in health reviews, carriers use a more lenient method.
Life Insurance and BMI
Body mass index (BMI) is a medical screening tool that categorizes an individual as underweight, at a healthy weight, overweight, or obese. The BMI chart below from the CDC shows standard weight status categories.
| | |
| --- | --- |
| BMI | Weight Status |
| Below 18.5 | Underweight |
| 18.5 - 24.9 | Normal |
| 25.0 - 29.9 | Overweight |
| 30.0 and above | Obese |
| | |
But BMI isn't a perfect system. Higher BMI and weight usually indicate higher body fat, but this is not always true. Similarly, an average BMI and weight don't always mean good health.
When you apply for life insurance, insurers may consider your BMI, but they typically use their own life insurance weight chart to determine risk.
How Do Carriers Underwrite Weight?
The process of reviewing your risk profile and determining your life insurance rate is called underwriting. The insurers follow their own underwriting guidelines, and they can vary from company to company.
Each life insurance company has a height and weight table, referred to as a build chart, to help classify applicants. These charts are created by actuaries who analyze statistics for a living.
Life Insurance Build Chart
Below is an example of one insurer's build chart.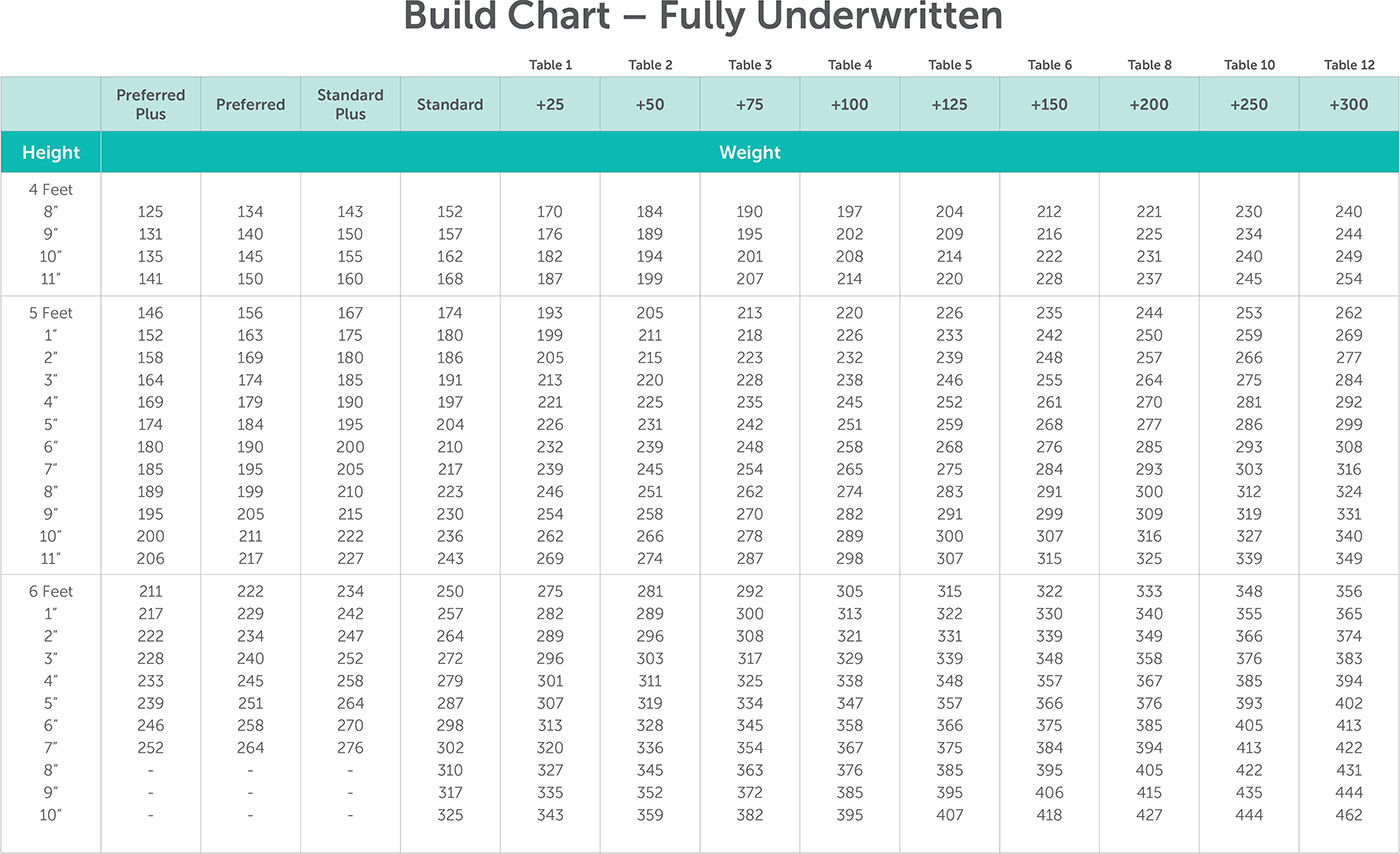 Let's take someone who is 5'9" and weighs 175 pounds. This individual has a BMI of 25.8, which means they would be considered overweight. However, according to the life insurance build chart above, this individual still qualifies for Preferred Plus rates—the best possible pricing.
Finding your classification in the build chart is just a starting point. Life insurance underwriters view individuals as a whole. Having other risk factors will ultimately impact what risk class you receive.
Will I Be Denied Due to Weight?
Your weight alone is not likely to disqualify you. But additional factors that may be related to your body composition could impact your approval, such as:
Health Conditions: If you have a significant health issue exacerbated by your weight, you could be denied coverage or required to pay higher premiums.
Family History: If your family history includes immediate relatives that have died from certain conditions, such as heart disease or diabetes, you could be denied coverage or be required to pay higher premiums.
Lifestyle Habits: If you drink heavily, use drugs, smoke, or rarely exercise, life insurance companies view these habits as hazardous to your health, and you could be denied coverage or be required to pay higher premiums.
Life insurance companies review your medical records, so there's no hiding unhealthy habits. In addition, you may be required to get a life insurance medical exam. The exam results will give life insurance underwriters your most up-to-date health status.
Some risk factors that have nothing to do with your weight but impact your insurability, such as a reckless driving ticket on your record. Again, your weight is just one aspect life insurance underwriters care about.
See what you'd pay for life insurance
Comparison shop prices on custom coverage amounts from the nation's top carriers with Quotacy.
What to Do If You've Been Denied Life Insurance Due to Weight?
If you've been denied life insurance, don't lose hope. You can always reapply after working to improve the risk factors that made you uninsurable. Often, coverage denial isn't due to weight alone.
For example, if you are denied because your blood pressure or cholesterol is too high, you can make lifestyle changes to improve your overall health without fixating on weight loss.
In the meantime, you may have other insurance coverage options.
Accidental Death Insurance
Accidental death insurance is a decent alternative to traditional life insurance. This policy provides a death benefit if you die due to an accident.
Unfortunately, it's not complete protection. It won't pay a death benefit if you die from an illness like a heart attack or cancer. But it still provides some peace of mind, and it's inexpensive.
Here are the essential things to remember about accidental death insurance:
Limited coverage
Inexpensive
Some coverage is better than none
If you apply through Quotacy and you're denied traditional coverage, your agent will let you know if accidental death insurance is an option.
Final Expense Insurance
If you're between 50 and 80, final expense insurance, a.k.a. guaranteed issue life insurance, may be an option.
This type of insurance doesn't require any medical questions or exams, which is why qualifying is so much easier. Because there is no medical underwriting, the insurance company takes on a lot of risk with this insurance product, so premiums are pretty expensive.
To recap, here are the highlights of final expense insurance:
Limited age range: 50-80
Easy to qualify
Expensive premiums
If you apply through Quotacy and you're denied traditional coverage, your agent will let you know if guaranteed issue life insurance is an option.
Voluntary Life Insurance
Many employers offer life insurance options. Some even offer group life policies for free and voluntary coverage you can buy to supplement the smaller group policy.
You can get a decent amount of voluntary life insurance, e.g., 3-5 times your annual salary, without going through any medical underwriting. If you have been denied a private policy, we recommend buying as much voluntary coverage as you can afford.
Every year during open enrollment, you must re-enroll in your employer-sponsored coverage. Voluntary premiums are based on group rates by age per $1,000 of coverage. Moving into a new age group increases your rates from the prior year.
Here's what you need to remember about voluntary life insurance:
Policies get more expensive as you age
No medical underwriting 
Limited coverage
Re-enrollment is required annually
Should I Lose Weight Before Getting Life Insurance?
No, we do not recommend waiting to apply for life insurance. There is no cost to apply, and you can always decline the insurance company's offer if the premiums don't fit your budget.
If you apply and are approved, accept the coverage if you can afford the premiums, even if they are higher than expected. If you wait, your health may decline, and you could be deemed uninsurable. Don't risk your family's financial future.
If you make lifestyle changes, you can reapply to try for better rates. If approved for a better risk class, you can cancel your current policy. But don't cancel your life insurance until your new policy is 100% inforce.
If you're considering losing weight, you may be able to save money if you reapply after, but there are some important details to be aware of. 
Get a Quick and Easy Life Insurance Quote Through Quotacy
No two life insurance companies underwrite the exact same way. If you have any health or lifestyle factors that may be seen as risky in the eyes of the insurance company, be sure to work with a life insurance broker.
Life insurance brokers can shop across companies to find the best policy for your unique circumstances. Quotacy is an independent online life insurance broker with a fiduciary duty to you, the customer.
Get instant term quotes online anonymously—we don't ask for any identifiable or contact information until you're ready to apply.
After you apply, you're assigned a dedicated agent who will advocate for you. Their goal is to help you find coverage so you can protect those you love most.
Not quite ready to apply? Explore our wise buyers' guide that details the entire process and all of your options.