The temperatures are getting warmer and the patios are opening up. Spring is here and summer is right around the corner! With the change of seasons comes the change of what you keep in your wardrobe. We've talked about spring cleaning your finances, and now we are sharing tips on how to effectively spring clean your closet. Let's talk spring cleaning. 
You are not alone if you get overwhelmed by just looking in your closet. Where do you start? What should you keep? Where can you donate unwanted items? Have no fear, we have put together a helpful guide to get your closet ready for the next season.
This project is no easy feat, so your first step is to make the time for it. I prefer to tackle the entire closet in one day. Put on some music or throw on a TV series and get to work. If you don't have the time to get it done in shot, then break it down into three or four sessions and work on sections each time.
How to start cleaning out your closet:
Remove everything from your closet. Yes, it's about to get real messy.
Separate all your pieces by season. If you already rotate your closet by season, then you are one step ahead.
Try on everything. This sounds like a pain, but it's important as you go through the list of questions below. Skip the clothes that are in your regular rotation.
Get four baskets ready. Donate. Repair. Sell. Toss.
Questions to ask yourself when cleaning out your closet:
Does it fit?
Do you feel confident?
If it needs repair (buttons, hem, zipper, pilling) will you pay to get it fixed?
Have you worn it in the last 12 months?
Is it still in style?
Would you buy it if you saw it in the store today?
If you answered "no" to any of the questions above, decide which basket that item goes in (donate, repair, sell, toss).
Are you holding on to it because you spent a lot of money on it?
Are you keeping it because you got a good deal?
Is your plan to lose a few pounds and then wear it?
If you answered "yes" to any of these questions, then really think about whether or not you want to keep the pieces. If you are feeling guilty about the item because of the money you spent or because you got a good deal, then it get rid of it or give it to a friend.
One of the most common reasons for people to hang on to something is because they are determined that if they lose weight, they will wear it. If you are confident that you will make that happen, then put those items into a box with a date on it. If they don't fit on that date, time to consider donating them.
Now that you have your piles separated, you know what you have to do with them. Donate, sell, repair or toss. Let's get to spring cleaning! 
Ready to get your life insurance quote?
You're a few minutes away from great life insurance
How much life insurance do you need?
Figure out your action plan with our needs calculator
Where can clothing be donated?
Most of us are familiar with organizations like Goodwill, American Red Cross, and the Salvation Army. These are great national organizations that will happily accept your donations. Let's explore a few groups that are just as great that you might not be familiar with.
Dress for Success
Dress for Success is an international nonprofit organization that believes in empowering women so they can achieve financial independence. While they provide professional attire, they also offer tools and support to help women get into the workforce.
Specifically, Dress for Success asks for nearly new, contemporary, seasonal career appropriate clothing, accessories, shoes, jewelry and handbags. There is always a high level of need for small sizes, 00-2, and plus sizes, 14 and above. On their website you can connect with your local chapter.
PickupPlease
PickupPlease is a nonprofit organization that supports American Veterans and their families. The organization accepts most anything you have to donate. Clothing, household goods, books, shoes, small appliances, and electronics are just a few of the items they list on their website. You can schedule a pickup online through their website.
Career Gear
Career Gear is an organization that provides counseling, interview coaching, business attire and follow-up job support to men seeking employment.
They are actively looking for new or gently used business and business casual clothing. For a complete list of items they need and the donation shipping address, visit their website.
These are just a handful of recommendations. You can always visit www.charitynavigator.org to find a local nonprofit or organization of your choice.
Where can you sell your unwanted clothing?
There is no shortage of places to sell your clothes online. There are many social communities that make it simple for you to get your items listed, sold, shipped and money into your bank account.
Poshmark and Threadflip both are popular app consignment stores where you can post your items, set a price range and share it with the community. Both companies take 20% of your sales, but it's a great way to put some extra money into your pocket.
Facebook is another avenue you can explore to sell clothing and more. Most neighborhoods or cities have a group where you can post things to sell (or look for items to buy). If you already use Facebook, then selling your goods is as easy as posting a photo.
The final step to spring cleaning out your closet is to actually clean it. Get in there and dust, throw away boxes, vacuum. Feel free to organize it however fits your lifestyle best. By season, by color, by type of garment—however you please.
Lastly, be proud of yourself for accomplishing this major task. It's a great feeling when you open your closet and it's clean and orderly. Happy spring cleaning!
» Calculate: Life insurance needs calculator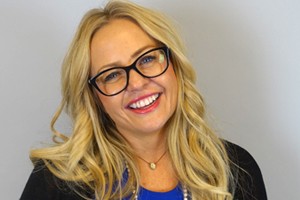 Jeanna Simonson
Marketing Content and Social Media
Jeanna has a passion for letting her creativity shine. At Quotacy she manages social media, is a co-host of Quotacy's Q&A Friday YouTube channel, and enjoys writing here and there. When she's not at the office, you can find her hanging with her husband and rescue animals, brunching with girlfriends, or loving up on her nieces and nephews. Connect with her on LinkedIn.