Annual mega sales are very exciting times for shopping fans. The highly-anticipated Labor Day weekend will be celebrated on September 7th, 2020, and shops all over the country have geared up to host their annual Labor Day sales.
You can expect to find incredible deals on a variety of products and services during this time of year. A lot of retail stores put big discounts on a collection of their goods to clear the shelves well ahead of the Fall and Christmas shopping sprees.
While there's no shortage of sales around the country, choosing the best products can be quite confusing. If you're wondering how to make the most of Labor Day savings, this article will help you identify what product sales to take advantage of.
What You Should Buy
1. Clothes
A lot of online and physical retail stores offer major discounts on clothing during Labor Day weekend. The stores are most likely looking to clear out shelves to make space for fall and winter clothes, so they are willing to offer discounts up to 70%!
Be sure to look for discount codes on online clothing websites. These sites usually offer limited-time Labor Day deals that can lead you to major savings.
Tip:
You can find the best savings on summer clothes that are being cleared out from shelves. This would include shorts, t-shirts, and a lot of kids wear too. Feel free to buy these because you can always wear them under warmer clothes, and you'll have a new wardrobe ready for next spring/summer.
2. Mattresses
Experts always advise people to buy mattresses around three-day holidays as prices are discounted heavily on these long weekends. Considering that Labor Day weekend is the last three-day holiday of the year, you will definitely come across fantastic deals on mattresses.
Department stores across the country offer discount up to $200 during the long weekend. You can also find valuable discounts when you purchase from specialty retailers like DreamCloud, Tulo, and Eight Sleep.
Tip:
Many mattress retailers often throw in sweet gift offers with the mattress purchase. Look for stores offering free pillow sets or bedspreads along with the mattress discount.
3. Appliances
The months of September and October see manufacturers bringing in a lot of new appliance models. If you're looking to upgrade your household appliances like washers and dryers, ovens, or dishwashers, Labor Day weekend is the perfect time to do so.
The best discounts are available at stores like Home Depot and Best Buy, as opposed to online retailers. Last year, a majority of home appliances at these stores were priced at a 40% discounted rate.
Tip:
A lot of online retailers have deals that fluctuate throughout the weekend. If you've bought something and see its price come down further, you might be able to get a price drop refund for the difference amount. Remember to be polite when asking for a refund, and you may get an even better offer!
4. Back-to-school essentials
Schools across the globe are mainly keeping students engaged with online classes, but in time, kids will eventually be getting back to school. When that time comes, stores all over will be selling school essentials at full prices.
You can get great discounts on these products as retailers would be looking for ways to clear out the stocks due to low demand. Not many people would be investing in school supplies as of now, so you can be sure to get the exact products you like.
Tip:
Use the Labor Day weekend sales to stock up on your kids' school supplies, such as backpacks, lunch bags, stationery, and activewear for gym class.
5. Outdoor gear
The summertime is when people get into their adventure mode and seek out fun and interesting activities. This year, in particular, has a lot of people looking for ways to make their day-to-day lives more interesting.
Labor Day sales offer excellent discounts on outdoor gear like camping essentials, bicycles, kayaks, and water sports gear. You can find amazing savings with online retailers as well. Websites like backcountry.com offer plenty of exciting deals around Labor Day.
Tip:
Although you may not feel like it's the right time to invest in outdoor gear, this is undoubtedly the best time of year to purchase these goods. You can keep them in top condition for the next summer adventure or even set up your backyard camping tent for the fall months.
6. Laptops
Usually, it's the Black Friday sales that see major discounts on laptops, but Labor Day savings on laptops are just as good. You can find discounts up to 25% on laptops from reputable brands.
If you're a student and you're told that the rest of your semester will be carried out through online classes, it's an ideal time to take advantage of deals on laptops to get you prepared for the new semester.
Tip:
You can find incredible discounts on laptops at stores like Best Buy, as well as company websites like Microsoft and Dell. You can also make use of Apple's education pricing on select models of Macbooks and iPads.
Treat Yourself and Your Family
Labor Day weekend sales are a great time to buy items that are on clearance. The best way to go about these sales is to make a list of what you need and keep aside a portion of your budget for impulse purchases that come with great offers. You might just come across the best deal ever!
At Quotacy, we understand the value of making life more comfortable and secure for you and your family. Life insurance will give your loved ones the means to recover financially and save them from leaving behind the life you've work so hard to provide.
To secure their financial future, start by comparing free life insurance quotes today.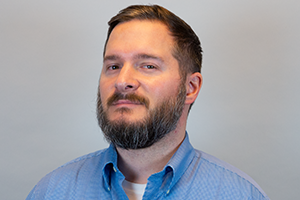 Greg Lewerer
Director of Creative Strategy
Greg is Quotacy's Director of Creative Strategy. He has an eclectic past from working on movie scripts to creating ad campaigns for major brands. His love of creative solutions drove him to strategy, and he now uses his powers to help families protect their loved ones. Outside of work, Greg spends his time off the grid hunting, fishing, camping, biking, hiking, and walking his dogs.