Term life insurance policies are only designed to last a certain length of time. Once that period ends, so does the coverage. Conveniently, many carriers include an option to convert a term policy to permanent, often a whole life policy.
Converting term life to whole life is an excellent benefit and an easy process if you need to take advantage of it. In this guide, you'll learn why a term conversion option is important and how the process works.
Table of Contents
Have you assessed your coverage needs? Knowing how much life insurance you should have is essential to ensure your loved ones are adequately cared for if you suddenly pass away. 
What Does Converting Term to Whole Life Mean?
A term policy provides coverage for a specific term. Commonly, 10, 20, 30, or 40 years. When the term is over, your policy expires, and coverage ends.
When the final policy year ends, coverage expires, and your insurance terminates.
However, most term life insurance includes a conversion option.
This option (also called a term conversion rider) allows you to transform your current term policy into a whole life insurance policy. Then, your coverage becomes permanent and lasts your entire life.
Converting term to whole life also means you don't need to go through the underwriting process again. Instead, you get to keep your original risk class assignment.
Term Life Insurance vs Whole Life Insurance
Life insurance policies fall under one of two broad categories: term and permanent.
Term life insurance is temporary and affordable. It's meant to provide financial protection for your loved ones when you need it most.
Whole life insurance is a type of permanent coverage. All policies in this category last until a lifetime.
What makes whole life unique?
It has a cash value account that accumulates at a guaranteed interest rate
You can choose a participating policy and earn dividends
Because of the added benefits, it's far more expensive than term
Take a deeper dive into the differences between term and whole life insurance to understand how they work.
Can All Term Policies Be Converted Into Whole Policies?
No. Not all life insurance companies offer conversion options on their term policies, but many do.
Depending on your carrier, whole life insurance may not be an option even if your policy is convertible. Some companies offer universal policy conversions instead. Whether you convert to whole or universal life insurance, the conversion process is generally the same.
Why Convert Term to Whole Life Insurance
Life brings many changes, which means your financial goals will likely change as well.
A convertible term policy provides the flexibility life requires. Take advantage of inexpensive term rates with the knowledge that you can convert to a permanent policy later in life if needed.


Terminal illness makes you uninsurable for new traditional life insurance coverage. If you have a convertible term policy, you don't need to go through medical underwriting again. Even if you were diagnosed with stage 4 cancer, you could convert to a permanent policy ensuring your family will receive a death benefit no matter when you die.
A serious medical diagnosis isn't the only reason to convert a policy.
Reasons to Convert a Term Policy
Declining health – If you're diagnosed with a serious medical condition, converting to whole life can protect your family's finances if you die prematurely.
Legal trouble – DUIs, misdemeanors, etc., can make you uninsurable for traditional life insurance. If you need more coverage but are also in some hot water legally, you can still convert your term policy.
Budget changes – Maybe you originally wanted a permanent policy but could only afford term. If you make more money now and still want lifelong coverage, you could convert.
Build cash value – A portion of permanent premiums goes into a cash value account that accumulates interest. You can access low-interest loans against this amount during your lifetime to use however you wish. The sooner you convert, the sooner your cash value will grow.
Protect lifelong dependents – After buying term life insurance, you may become responsible for an aging loved one. Or you may have a child with special needs who will need lifelong care. Converting to a permanent policy can ensure any dependents will be financially secure when you die.
See what you'd pay for life insurance
Comparison shop prices on custom coverage amounts from the nation's top carriers with Quotacy.
How Does Term Conversion Work?
Converting your term policy into a permanent policy is quite simple.
Step 1: Check that your conversion option has not expired.
Step 2: Contact the insurance company to determine what permanent life insurance products are available for conversion.
Step 3: Choose how much of your term coverage you want to convert.
Step 4: Complete the conversion application form and submit it to the carrier.
What Is a Term Conversion Expiry Date?
Every carrier lists a term conversion period in the policy. This is the time frame you're given to convert.
Some term conversion periods don't expire until the term policy expires. Some policies state that the term conversion option is only available within the first 5 or 10 years. Look at the fine print in your policy or ask your agent.
What Is a Partial Term Conversion?
Term life insurance is purchased to cover big-ticket things like your mortgage and the costs of raising children. Buying term life insurance with a large face amount (e.g., $500,000 or $1,000,000) is common since these financial obligations are substantial but temporary.
Most people don't need extensive permanent policies unless they have a high net worth and will owe a large estate tax bill. So, partial term conversions are more common than full term conversions.
A partial term conversion is when you only convert a portion of your term policy.
If you choose a partial conversion, you're left with two separate policies:
The remainder of your term policy and your new permanent policy
The premium on the remaining term policy will drop since the face amount has decreased.
How Much Does it Cost to Convert?
A term conversion rider is included for free on most term policies. There is also no fee to convert. Nonetheless, permanent life insurance policies are much more expensive than term.
When you convert, you get the added benefits of permanent life insurance, but with that also comes paying higher permanent life insurance premiums. Thankfully, your health won't impact the cost of your new permanent policy, but your age does.
Example:
A healthy 30-year-old male purchased a $500,000 25-year term life insurance policy for $25 per month.
At age 50, he decides to convert $100,000 to a whole life insurance policy. The cost of his new whole life policy is $118 per month.
His current term policy has five years left of the 25-year term, and the face amount drops to $400,000, which lowers his monthly premium from $25 to $22.
He now owns two life insurance policies. A $400,000 term life insurance policy with five years of coverage left and a $100,000 whole life insurance policy.
For the next five years, his total cost of life insurance is $140 per month. When the term policy expires, his monthly premium is reduced to $118.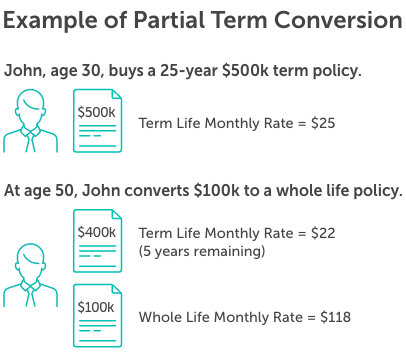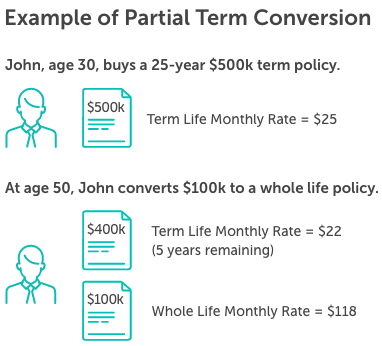 Pros and Cons of Converting Term Life to Whole Life
A conversion option is an excellent benefit to fall back on should you need it. Remember, it isn't always the best decision. Consider the pros and cons of a term life insurance conversion.
Pros:
No underwriting
No medical exam
Keep your original risk class
Lifelong coverage
Accumulate cash value
Full vs. partial conversion
Guaranteed death benefit payout to beneficiaries
Cons:
Converting means higher premiums
Age is still a factor in converted policy premiums
Limited policy options
Must convert during conversion period
Healthy individuals may consider taking advantage of a competitive insurance marketplace and apply for a new policy instead of converting
Converting a Group Plan to Permanent Life Insurance
When you get group life insurance coverage through your job, you may be able to convert it to an individual whole life insurance policy if you leave that employer or are terminated. These new rates will be age-based and higher than group rates.
Depending on your age and health, getting a new life insurance policy may be a better option than converting a group plan. Still, converting is a good idea if you're uninsurable for traditional life insurance or can only qualify for substandard rates.
Portability vs Conversion
Many group life insurance policies offer both portable and convertible options. Porting means taking the group coverage with you. The group coverage is typically term life insurance.
The differences between a portable policy and a convertible policy are summarized below.
Portable Policy
Convertible Policy
What type of policy do you get?
Term life insurance
Whole life insurance
What is the cost?
Premiums start low, but increase in five-year increments.
Higher premiums than term.
 
Because they are fixed, they'll never increase.
How long does the coverage last?
Up to a specified age (e.g. 75)
Entire lifetime
Do you need to answer any medical questions or get an exam?
Evidence of insurability is often required
No
Will my coverage change?
Coverage amounts often decrease when you reach a specific age
(e.g., 65)
No
Alternatives to Life Insurance Policy Conversion
A term life insurance policy doesn't provide coverage forever. If you want more life insurance coverage, there are alternatives to converting.
Buy a New Policy
Depending on your age and health, if your term policy is set to expire soon, you may be able to buy a new term life insurance policy for a better price than converting or renewing your existing policy.
To buy a new term life insurance policy, you'll have to go through the underwriting process again, but chances are you'll save a lot of money with this option compared to converting.
Ladder Policies
You may need term life insurance for different financial obligations. To save money, you can choose to buy multiple life insurance policies with different expiration dates. Using this strategy, called laddering, you get the coverage you need at the lowest price.
and have each expire at different times.
Renew Your Term Policy
Most term life insurance policies let you renew your coverage when the term ends. Like the conversion option, you do not need to prove you're insurable to do so.
Renewing a term policy yearly is not recommended. Each year premiums will get higher and higher.
If an individual is diagnosed with a terminal illness and their term policy will expire soon, renewable term life insurance can save their loved ones' lives.
Renewing may be better than converting if your life expectancy has significantly decreased and you only have a year or two left to live.
If you're interested in buying a new life insurance policy, use our term life needs calculator to determine how much coverage you need. 
Term Conversion FAQs
Converting a term policy can be a bit confusing. Here are some answers to additional questions you may have about term conversions.
Do Conversion Options Vary Between Life Insurance Carriers?
Yes, conversion options differ between life insurance carriers.
Not all life insurance companies offer a conversion option on their term policies.
The permanent products you can convert to can vary between carriers. Some carriers have multiple permanent options to choose from, some have limited conversion products to choose from.
The window of time you have to convert varies between carriers. Some carriers allow policy owners to convert any time before the level term policy is set to expire. Some carriers limit the conversion window to a certain number of years, e.g. the first 10 years following the date of policy activation. Some carriers base the conversion window on the insured's age, e.g. conversion available prior to 65th birthday.
How Long Does the Conversion Process Take?
If your request is in Good Order (application is complete and all information needed is submitted), a conversion typically takes a week or less.
What Happens to My Riders on My Term Policy if I Convert?
Some life insurance riders can be transferred to the new policy without evidence of insurability, such as accelerated death benefit riders, waiver of premium riders, and child riders. These rules can differ between carriers, however.
Some products you convert to have new riders you can opt to purchase, for example, long-term care riders are not available on term products but are on some permanent products.
Can the Owner of the New Permanent Policy Be a Different Person?
Some life insurance companies do allow you to change ownership when you convert. Depending on the carrier, the conversion application may include a Change of Ownership section to complete, or you may need to complete a separate form. Your agent or broker can help you gather the correct forms.
Get Dependable Life Insurance Advice in Quotacy's Blog
Getting life insurance may be one of the most impactful choices you ever make. We expect you to have questions. At Quotacy, we believe everyone deserves access to accurate and trustworthy life insurance resources. Get unbiased answers from our expert-written and expert-reviewed life insurance blog.
As an independent life insurance broker, we work with over 25 of the nation's top insurance companies. We can help you find life insurance coverage that fits your needs and budget. Compare term life insurance quotes without giving away any personal contact information and apply today.
Note: Life insurance quotes used in this article are accurate as of February 15, 2023. These are only estimates and your life insurance costs may be higher or lower.
Watch the Term Life Insurance Conversion Video