We'll start out by stating that term life insurance is the best choice for the majority of families. Term life insurance is far less expensive than any permanent life insurance product. That being said, permanent life insurance has many features and can be beneficial in certain circumstances.
» Learn more: The Differences Between Term and Permanent Life Insurance
If you need affordable lifelong coverage…
If you need permanent life insurance but are on a budget, consider guaranteed universal life (GUL) insurance. Guaranteed universal life insurance is a cost-efficient way to buy permanent insurance protection. It doesn't have the bells and whistles most permanent products have, so the premiums are lower than those other options.
Guaranteed universal life insurance offers coverage your entire life at a fixed rate. This means when you buy the policy, your premiums won't change as long as you pay the premium. You can see quotes for a GUL instantly through Quotacy's quoting tool. Simply move the "Length of Coverage" slider all the way to "Forever" to see GUL quotes.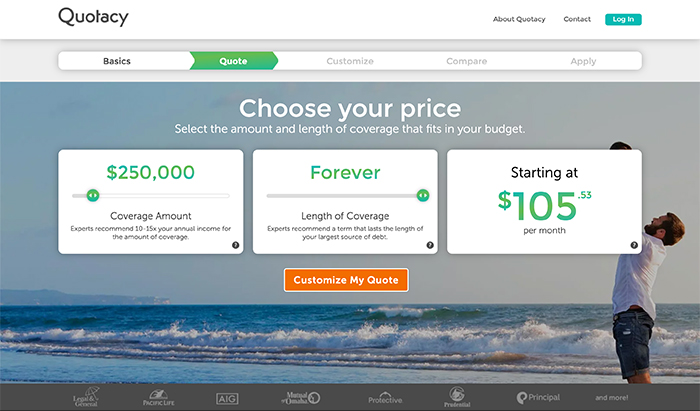 We work with over 25 of the nation's top life insurance companies, three of which offer GUL products. The quotes shown below are for a healthy, non-smoking 35 year old woman.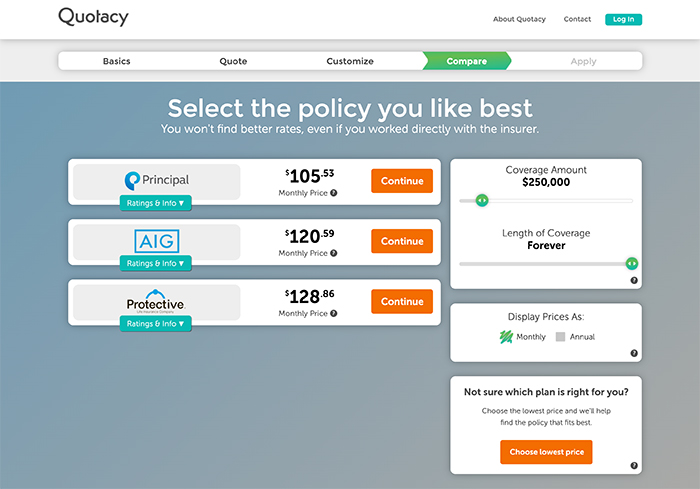 If you:
Have a special needs dependent
Have a small business
Have debt that is expected to last until or into retirement
Need estate tax protection
Want to leave an inheritance
Are older and your term policy ended but you still want coverage
then look into guaranteed universal life insurance.
See what you'd pay for life insurance
Comparison shop prices on custom coverage amounts from the nation's top carriers with Quotacy.
If you want uncomplicated lifelong coverage with benefits…
Whole life insurance is the most common and least complex type of permanent life insurance. Whole life insurance will stay in place your entire life regardless of your health and the premium amounts are fixed and won't change.
In addition to lifelong coverage, whole life insurance comes with a savings component that accrues cash value at a guaranteed fixed rate. Some whole life insurance products also pay dividends to the policyowner. Because of these features, whole life insurance is typically 10-15 times more expensive than term life insurance.
Monthly Quotes for a Healthy, Non-Smoking Male Applicant
Whole Life Policy
Age 30
Age 40
Age 50
$100,000
$76.13
$113.49
$177.01
$250,000
$146.34
$223.78
$359.41
$500,000
$287.44
$442.31
$751.63
If you wish to:
Build tax-free wealth
Equalize an inheritance without selling a family farm or business
Leave a guaranteed inheritance to your loved ones
Provide long-term care for someone with special needs or a disability
then look into whole life insurance.
While less complex than other permanent products, whole life is still more difficult to quote online due to the explanations needed when looking at illustrations. If you're interested in whole life insurance, complete the short form on our whole life page and an advisor will reach out and take some information to run personalized quotes for you.
The agent will also discuss your needs to make sure whole life insurance is the best option. Of course it's ultimately up to you, but, like we mentioned earlier, term life insurance is often the best choice for families.
If you want lifelong coverage with flexible payments…
Universal life (UL) insurance is a similar product to whole life, but trades some of the cash value accumulation potential for more affordable flexible payment options. Once there's enough cash value to keep the policy afloat, premium payments can be reduced or even stopped completely.
A policy owner should monitor a UL policy closely. If cash value runs out, the policy could terminate if you don't pay out-of-pocket premiums. In addition, the price for a standard UL policy can increase as you age if the illustrated interest rates drop or the internal cost of insurance increases.
There are many variations of universal life insurance in the market. The products vary as to how customizable the death benefit, length of coverage, premium obligation, and cash value accumulation are.
Contact Quotacy directly if you're interested in getting universal life insurance quotes. An agent will get information from you to run personalized quotes and discuss your needs so you know you're getting the best product for your unique situation.
If you want lifelong coverage and are willing to take some risks…
An indexed universal life (IUL) insurance policy functions similarly to a standard universal life policy, except that it accumulates value through investments in a stock market index rather than the typical low-risk investments that most dividend-paying policies use to grow.
The benefit of buying an IUL policy as opposed to simply investing in an index yourself is that there is a guaranteed 0% floor for your investment risk. If the stock market doesn't perform well, your policy won't lose value, it just won't grow.
Like anything tied to the stock market, its growth isn't something you can count on 100%. Because the price isn't guaranteed, there is the possibility that a long streak of poor market activity could raise your premium and make your policy become unaffordable.
Contact Quotacy directly if you're interested in learning more about IUL policies and to get cost estimates. An agent will get information from you to run personalized quotes and discuss your needs so you know you're getting the best product for your unique situation.
As you've read, permanent life insurance can be quite beneficial in the right situation. Permanent life insurance isn't inherently a bad product, it's just not the best option for some people.
If you're looking for simple income protection for your loved ones, term life insurance is by far the better choice. It's affordable and can be customized to fit your budget and needs.
Getting term life insurance through Quotacy is simple. Run as many quotes as you'd like without divulging any contact information. When you're ready to apply, your dedicated Quotacy agent will be your advocate to ensure you're getting the best price possible and keep you updated as your application moves through the buying process. Once your coverage is inforce, Quotacy will be here for your future needs as well.
» Learn more: Is Term Life Insurance Better than Whole Life Insurance?

Note: Life insurance quotes used in this article are accurate as of August 31, 2022. These are only estimates and your life insurance costs may be higher or lower.