Term Life Insurance Definition? It's Love Insurance.
What is term life insurance? We call it: love insurance. This simple term life insurance definition is true because for your family—for your loved ones—an affordable term life insurance policy could be the foundation of their future financial security.
What Is Term Life Insurance?
When figuring out what role term insurance will play in your life, you'll probably have a few questions. No worries. Here's the basics:
Term life insurance is the most common type of life insurance purchased in the USA. It is simple to understand how it works, so people (like you) buy term life policies to protect their families from financial hardship due to loss of income.
» Compare: Term life insurance quotes
Term life provides money for your beneficiary (or beneficiaries) if you, the insured, would die while owning your policy. Your term (as in term life insurance) is the length of time your life insurance policy will be actively insuring your life. That could be anywhere from 10 to 40 years, depending on what policy length you choose when you buy your term life insurance.
Your policy can benefit one person or more. Your beneficiary could be your (same-sex or heterosexual) spouse, your (biological and adopted) children, or an organization, like a business or charity, whom you designate to receive your life insurance money. This life insurance money is called your death benefit and it is paid by your life insurance company in one lump sum to your family upon your death.
You may purchase a single policy or multiple policies to provide different amounts of coverage over different lengths of terms, based on your needs. As long as your premiums are paid on time, your coverage will remain in force—you're covered!
How Do I Apply for a Term Life Insurance Policy?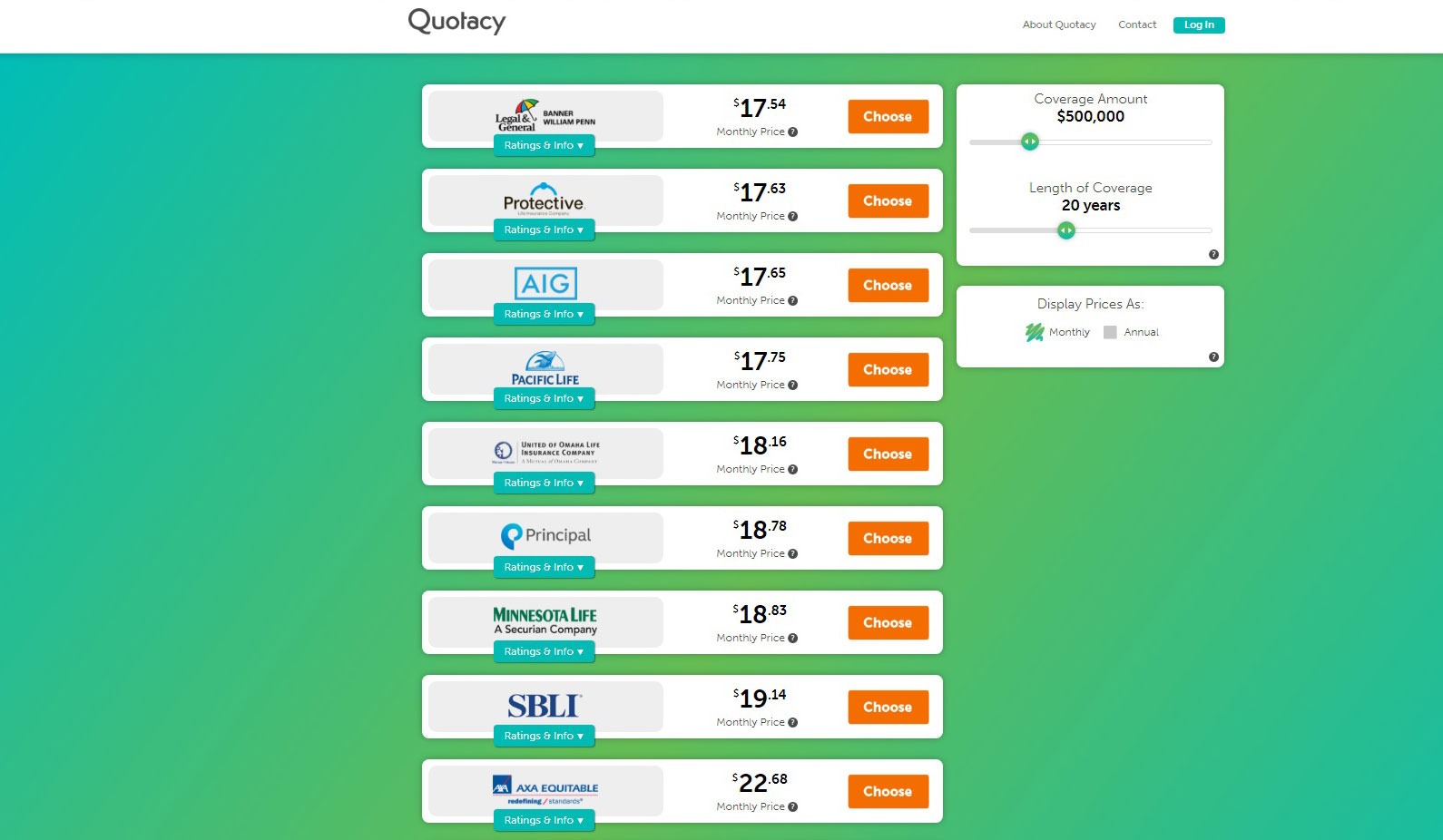 Quotacy makes it easy to get insured online. Our quoting and application process is the most streamlined, tech-savvy way to buy term life insurance.
We've researched and selected the best life insurance companies who are financially-secure and trustworthy. This cuts down on your research time as you can read our reviews and ratings of each brand before you select a quote for coverage.
When you use our online term life insurance quotes tool, you'll be able to compare policies side-by-side and see different quotes to select one that fit your needs.
This quote will tell you how much you will pay for your term life insurance policy. A 20-year term life policy with $500,000 in coverage is the most common type of life insurance that Americans buy as it is very affordable. In our example above, a great policy is less than $20 per month to own for a healthy, non-smoking 30-something female living in Minnesota.
You can save your comparison quotes to your dashboard and complete your application online at Quotacy from right within our term life insurance quoting tool.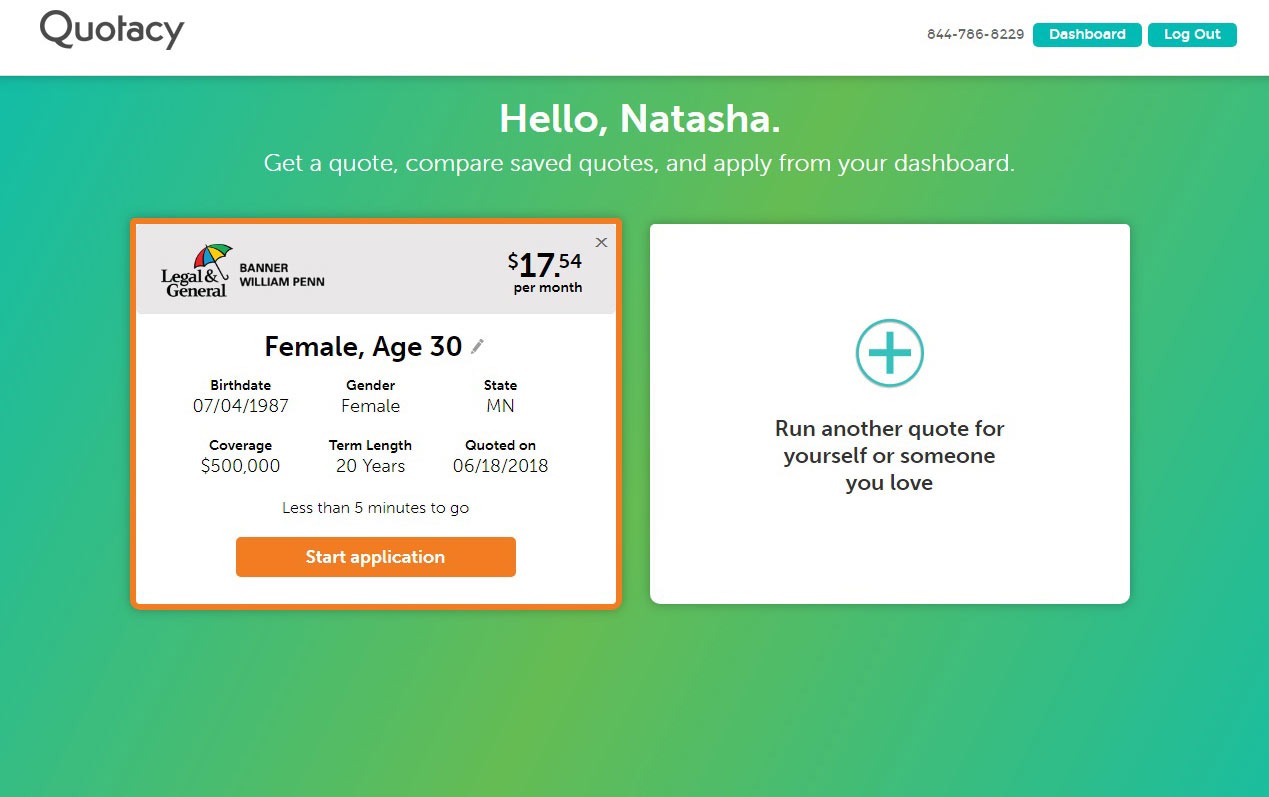 Most often, you will also undergo a medical exam before your life insurance company approves (or denies) your application, although no exam life insurance is available from Quotacy as well, if you are searching for a no medical exam option.
How Does Term Life Insurance Work?
Your premiums remain the same throughout the length of your term life policy and if you die during this time, your beneficiary (or beneficiaries) will receive your death benefit—a lump sum check equal to the total coverage amount of your policy. In short, a $500,000 term life insurance policy would provide your family with that amount of money to use however it would benefit your loved ones after your death.
Some families use a term life insurance policy's tax-free death benefit to pay off a home mortgage, so that they don't have to move from a beloved family home after a primary breadwinner dies. Others use it to pay for college education for their kids. You can also use the policy payout to cover any other debt that may exist after the death of a loved one. This could include medical bills, private students loans, car loans, credit card debt, or end-of-life expenses, such as the cost of a funeral, burial, or cremation.
How do we define life insurance? We call it love insurance. Term life insurance is one of the best gifts you can give your loved ones to secure their financial future.
Ready to get your life insurance quote?
You're a few minutes away from great life insurance
How much life insurance do you need?
Figure out your action plan with our needs calculator
How Do I Find the Best Term Life Insurance?
There are three ways to look for a term life insurance policy: You may purchase directly with a captive agent who works with one life insurance company or via an independent agent or broker.
Many times you'll see the terms life insurance broker and agent used as if there's no difference between them. If you're comparison shopping for life insurance, you'll want to understand who you're working with to buy your term life insurance policy:
A captive insurance agent sells life insurance from one insurance company.
An insurance broker sells life insurance from many competing insurance carriers.
An insurance agent will work with you to find the right type of policy and benefits for your needs when you make your application. However, your agent may represent only one or a limited range of insurance providers. That means you will only have access to information on the insurance companies that your agent has a relationship with.
A life insurance broker (like Quotacy) will be able to give you more access to competitive quotes from multiple, different term life insurance companies.
We provide you with quotes from a wide-range of leading term life insurance providers in just seconds with our online tool, allowing you to compare policies and insurance providers side-by-side with complete transparency. You can even complete your application online in under five minutes. And, we'll guide you through your application and review process.
So we've answered the question: What is term life insurance?
But, what does this all mean for you? As you think about your options, it's helpful to know what it means for you. We'll go through how people use life insurance as various stages of life so that you can discover your unique term life insurance definition for where you are in your journey.
What's My Personal Term Life Insurance Definition?
Regardless of your age, term life insurance provides you with a solid foundation for future financial security.
But for many of us, there are choices that we make at certain stages of life that impact what type of life insurance we may require. Here are a few points to bear in mind as you think about the role term life insurance may play in your financial future.
Your Term Life Insurance Definition in Your 20s: A Safety Net as You Settle Into Adulting
It might seem a bit early to think about term life insurance in your 20s, especially if you're single and without dependents. But there are several reasons why buying a policy when you're still young makes good sense. Here are a few:
Your premiums will be very low. If you are young and in good health, your term life insurance premiums—that are already very affordable—will be even lower for you now than in the future as you age. Just as you might lock in your mortgage rate for the next 30 years, you can do that with your term life insurance rate as well. If your health status changes in the future, you'll already have excellent coverage at a great rate that cannot be taken away from you (unless you decide to cancel your own policy).
Term life insurance will protect your loved ones from lingering debt. Even if starting a family isn't on the horizon, you'll want to think about debts you might have that will linger if you unexpectedly pass on. Private student loans—that aren't dischargeable after death and that may become the responsibility of co-signers (like your parents)—are a common situation for people in their 20s.
» Calculate: Life insurance needs calculator
Is there a cause you're passionate about? Name the organization as a beneficiary. Naming your favorite charitable organization as the beneficiary of your term life insurance policy can leave them with a meaningful legacy.
Your Term Life Insurance Definition in Your 30s and 40s: A Foundation for Lifelong Financial Security
Many people have found partners, begun families, launched businesses, or made significant purchases—such as a home—once they head toward middle age.
This is a great time to think about your priorities for the next decade as you head towards those golden years. These might include safeguarding your retirement fund, providing coverage for college education, and insulating your family from business debt. Here are just a few of many instances in which the right policy can serve as the foundation for your future financial security.
If you would die before your family had saved enough money for your children's college education, a term life insurance policy can be used to pay for their university classes or any other expenses they may have getting themselves launched in life.
If you've been asking your kids to do their homework so they can get into their dream college, you probably already are aware that top universities may cost as much as $100k per year in the next ten years.
Private student loans may be a real possibility and if you are planning to contribute to their tuition to lessen that burden, a term life insurance policy can make sure that you can support your graduate even if you've passed on.
Your policy can insulate your retirement fund from end-of-life costs. You and/or your life partner may be a long way from retirement, but it is important to assure that your nest egg is safe if the unexpected happens.
Even if you have a healthy savings account, if you were to die suddenly and debt were to become due, your family may have to cover your end-of-life costs (such as: funeral and burial expenses, legal fees, or probate costs) if the loss of your income results in a financial burden. The death benefit from your policy can ensure that your partner could cover any financial burden from the loss without prematurely dipping into their own retirement fund.
This protects your family's savings, leaving them with a solid foundation for the future.
Term life insurance can shield your family from business debt. If you personally guaranteed your business debt, when you first started your company, then those debts may impact your estate, should you pass away.
That means that your family may receive less than you'd hoped or planned for after you're gone.
When you buy a policy that provides enough coverage to absorb your personal business debt and also take care of your family's ongoing expenses, then your family can benefit from the sale of your business (if you've chosen to do so in the event of your death) or continue as the owners of your company without the burden of debt.
Your Term Life Insurance Definition in Your 50s and Beyond: Preparing a Legacy for the Next Generation
You can still become insured in your 50s as you near retirement. If you're considering getting a policy late in life, here are just a few ways that term insurance could help you care for your life partner and/or create a legacy for the next generation:
Provide funds to help pay for your grandchildren's college education and/or the purchase of their first home.
Help pay off your or your adult child's mortgage.
Set up a fund to pay for long-term care for a special needs adult child, grandchild, or your partner.
Create an endowment for your alma mater.
Support a political cause that you believe in.
Cover the costs of your spouse's (or domestic partner's) retirement.
Pay for medical insurance premiums for your family members through their later years.
Add to your family's investment fund.
Purchase a new residence for your partner, if you mutually decide to sell your home if you were to pass on.
As you can see, your term life insurance definition may change over the years, but it can be at the heart of your desire to protect those you love.
At Quotacy, we believe that the best term life policy for every family is different. That's why our quotes tool allows you to review and to compare a range of term life plans side-by-side. We're here to partner with you in securing your family's future. If you're interested in learning more, click on over to our term life insurance guide for details.
» Compare: Term life insurance quotes

Quotacy is the country's leading broker for buying life insurance online. We are obsessed with making it easy for everyone who has loved ones who depend upon them to have life insurance.