Having coverage through work is a great benefit. It's also a common reason people don't think they need their own. But before you rule out an individual policy, here are several things to consider.
The amount of coverage:
There's a significant difference in what your family needs and what your employer offers.
1-2x annual income is what employers typically offer
10x annual income is what experts recommend
Consider what your family may need to pay for:
Funeral and burial costs ($10,000 on average)
Current and future expenses
Medical bills and high-interest debt
Rent or mortgage payments
Cons of group life insurance:
Coverage through work will hopefully last as long as your employment, but it's not guaranteed. And employers are not required to offer it.
Things to consider:
Coverage will end if you leave your job
A policy from a new employer can take 30-90 days
A new employer may not offer life insurance
Pros of buying your own policy:
We recommend an individual policy as your base coverage and supplement it with your policy through work.
Things to consider:
Easy and affordable financial security for your family
Customize coverage amount and length to fit your needs
Coverage will follow you from employer to employer
If you have any questions:
Call us at (844) 786-8229 or livechat with an agent – we'd be happy to help.

» Want to know more? Group vs Individual Coverage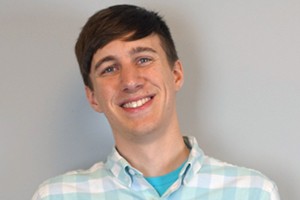 Eric Lindholm
Communications Coordinator
Eric started in Quotacy's sales department, but moved to marketing after helping hundreds of people through their life insurance buying journey. Aside from writing about buying life insurance, he also edits Quotacy's monthly newsletter, runs our YouTube channel and produces Real Life, our podcast. Eric lives in Minneapolis, where his coworkers are trying to convince him to take his humor into the spotlight. Connect with him on LinkedIn.