Some people may be surprised to find out you need to apply for life insurance. It's not like car insurance where you simply fill out an online form and sign up. Unless the life insurance is a group policy through your work or it's guaranteed issue life insurance, you're not automatically qualified for life insurance.
Your eligibility is determined after you apply and the life insurance company does their review. But don't worry. Most people can qualify for traditional life insurance.
Let's get into how you can qualify for life insurance.
Why do I need to apply for life insurance?
Life insurance companies need to have a chance to evaluate your health and lifestyle before approving your coverage. They need to balance their risk.
For every applicant they offer coverage to, there's a chance they will be paying out hundreds of thousands of dollars should that individual die. With some people, these chances are higher. For example, someone who is overweight, smokes, and has type 2 diabetes has a higher mortality risk than a healthy non-smoker.
If approved for coverage, the unhealthy applicants are required to pay higher premiums than healthy applicants.
See what you'd pay for life insurance
Comparison shop prices on custom coverage amounts from the nation's top carriers with Quotacy.
How do I qualify for life insurance and get approved?
To get approved for life insurance you first need to fill out an application. The life insurance company will then review your application and pull whatever records are applicable.
Records that life insurance companies review include:
Medical records
Prescription history
Motor vehicle report
Public records
Depending on your age and coverage amount you're applying for you may also need to complete a short medical exam. An examiner can come to your home or office. They will obtain a blood and urine sample along with recording measurements such as your height, weight, and blood pressure. The insurance company will review these results as well.
Once their evaluation is complete, the insurance company will inform your agent whether or not they are willing to offer you coverage. They'll also inform your agent which risk class you qualify for. The risk class determines your final price.
There are four main risk classes and they range from Preferred Plus (the best category) to Standard (average). People who use tobacco have their own risk classes: Preferred Tobacco or Standard Tobacco. Individuals who are unhealthier and riskier than the average American may not qualify for the main risk classes and will be Table Rated.
This review and evaluation process is called underwriting. This process varies. Below is a quick overview.
Full Underwriting
The traditional underwriting process requires you to fill out a questionnaire and take a life insurance medical exam. The insurance company will gather information from third-party sources. The process can take just a few days or it may take up to a few months.
While it takes longer and you're required to do the medical exam, traditional "full" underwriting can be worth it. Full underwriting will usually give you the best price if you're in generally good or average health.
Accelerated Underwriting
Also called no-exam underwriting, this process is similar to the full underwriting process but doesn't require you to take a medical exam. Companies who offer accelerated underwriting use technology to collect information about you.
Accelerated underwriting has a much faster turnaround. It's typically slightly more expensive than policies using full underwriting, but technology is advancing quickly making pricing between the two very competitive.
Simplified Issue
With this underwriting process, you only have to answer a handful of questions. If you answer yes to any you likely won't qualify for coverage. There is no medical exam. Because simplified issue policies require less information from applicants, they are more expensive.
Guaranteed Issue
You can't be turned down for a guaranteed issue life insurance policy. There are no health questions. And there's no medical exam. It's convenient, but it's also the most expensive way to buy life insurance.
It's referred to as "last resort" life insurance. It's meant for people whose health would make it impossible to buy other types of life insurance.
How do I get the best price on life insurance?
With car insurance, the best way to save is to comparison shop. Same goes for life insurance.
» Learn more: How Do I Get the Best Term Life Insurance Rates?

Not all insurance companies evaluate risk factors the exact same way. Because of this, your premiums can vary by hundreds of dollars annually depending on the insurer.
By applying through Quotacy, you have the ability to freely comparison shop multiple life insurance companies before applying. And all before even giving away any contact information.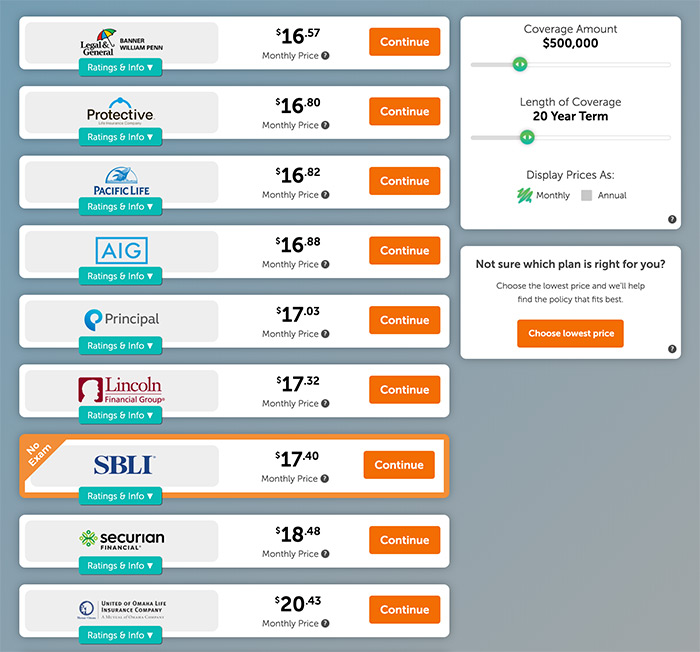 After you submit your online application, your Quotacy agent will do another round of comparison shopping.
We're very knowledgeable on how each of our insurers evaluates. So, if there is something in your application that sticks out as a potential issue with the insurer you chose through our website, we'll reach out and let you know if there is a different insurer who will be more lenient with your risk factors.
In other words, if the insurance company you picked is likely going to come back with higher pricing than your initial quote, we'll shop around advocating on your behalf and then provide you with other options. Ultimately you make the final decision, but this type of shopping can provide you with huge savings.
Quotacy makes it easy to comparison shop and apply for life insurance. Start the process by running term life insurance quotes today.
Note: Life insurance quotes used in this article accurate as of April 30, 2021. These are only estimates and your life insurance costs may be higher or lower.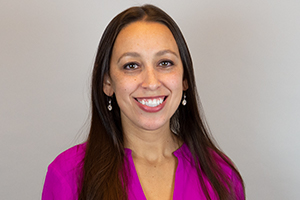 Natasha Cornelius, CLU
Senior Editor and Licensed Life Insurance Expert
Natasha Cornelius, CLU, is a writer, editor, and life insurance researcher for Quotacy.com where her goal is to make life insurance more transparent and easier to understand. She has been in the life insurance industry since 2010 and has been writing about life insurance since 2014. Natasha earned her Chartered Life Underwriter designation in 2022. She is also co-host of Quotacy's YouTube series. Connect with her on LinkedIn.